Isabell Werth will be tough to beat with Satchmo, says Robert Dover.
Want to see the full magazine version of our roster, complete with photos? Click here.
The World Cup is such a fun event because, especially in a place like Vegas, you have the jumpers and the dressage going on at the same time, and you have a lot of exhibitions. It's a special event. The Vegas feeling that adds to that event is always so much fun.
I've competed in World Cups in Gothenburg, Sweden, 's-Hertogenbosch, the Netherlands, and in Essen, Germany, but Vegas adds a glitzy, fun, show business kind of feeling to the competition. My most fun World Cups were in Vegas.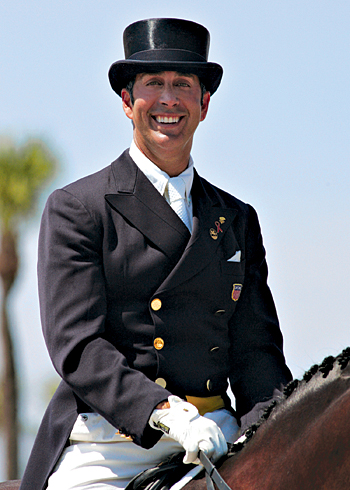 Naturally, I would have loved to see the great battle that is so fun to watch between two amazing horse-and-rider combinations—Anky van Grunsven on Salinero and Isabell Werth on Satchmo. Who doesn't love that in sport? They've set themselves so far apart so many times from the rest of the field when they've been competing. This is part of what the world loves to see. But this year van Grunsven will be bringing a younger horse, IPS Painted Black.
That being said, will it be a fun World Cup? It's always fun to go to Las Vegas, and it's always a big crowd pleaser to see the best in the world at the time doing their Grand Prix and freestyle.
The economy has been a real concern for everybody, especially considering the luxury of our sports. Even taking part as a spectator in an event like this may be a stretch. I'm very hopeful that the turnout for the World Cup will be as awesome as it has been in the past, and that all of the different events that take place there will make it a huge success again.
I am very proud of all three U.S. riders, and I wish all the competitors, but especially them, the very best of luck!
Robert Dover, as told to Sara Lieser
---
NORTH AMERICAN LEAGUE
1. STEFFEN PETERS (USA): age 44, San Diego, Calif.
RAVEL: dk. br. g., 11, Dutch Warmblood by Contango—Hautain, Democraat, owned by Akiko Yamazaki.

Ravel burst onto the scene impressively in 2008 by winning every U.S. CDI he entered. Steffen Peters and Ravel won all four Grand Prix tests at the U.S. Olympic Selection Trials at the Collecting Gaits Farm/USEF Dressage Festival of Champions (Calif.). The pair led the U.S. dressage team at the Olympic Games (Hong Kong) and placed fourth individually. Peters finished highest in the North American League with an average score of 78.21 percent in the freestyle.

Steffen will be right there for third place with Ravel. I think Steffen has shown he can do a great job. His competitions have been consistent in the Grand Prix, and he's had very high scores in the Grand Prix. I think the freestyle at the [Exquis World Dressage Masters (Fla.)], where he was below a few of these other horses, including Painted Black, shows that this is still a combination on the way up. They are not as set as some of the others. But that's a wonderful thing. Because the partnership between Steffen and Ravel is newer, there isn't an end in sight for how far he can keep on coming up the rungs of the ladder.
2. ASHLEY HOLZER (CAN): age 45, New York, N.Y.
POP ART: ch. g., 12, Dutch Warmblood by Amsterdam—Jody Prinses, Cabochon, owned by Ian and Moreen Nicoll and Rusty Holzer.
Ashley Holzer and Pop Art have been hard to beat ever since their days in the small tour. In 2008 the pair never placed lower than third in North America at Grand Prix and led the Canadian team at the Olympic Games (Hong Kong), where they placed 14th individually. Holzer won the last World Cup qualifier on the East Coast in 2009 at the Wellington CDI-W (Fla.) with a score of 77.35 percent. She qualified for the second spot in the North American League with an average of 76.91 percent in the freestyle.
Ashley is so great, and Pop Art has been doing so wonderfully. The only reason I'm going to place him in the sixth or seventh spot is that he's not had the chance to be in these indoor venues through the whole season like the others have. He hasn't had the chance to move up the ranks against the same competitors in Europe, to say to everyone, "I've already beaten these horses and riders in this kind of venue. So carefully watch how well I do this." Our sport is, without a doubt, "a who beats who, where" sport. I think Ashley is fabulous, and the horse is doing wonderful work. On any given day she can produce a low to mid 70s score in the Grand Prix and a mid 70s score in the freestyle. The only reason I have her behind Whisper and not in the top group is because Ashley hasn't had the opportunity to compete in those venues week after week like the Europeans.
TITLE DEFENDER
ANKY VAN GRUNSVEN (NED): age: 41, Erp, the Netherlands.
IPS PAINTED BLACK: bl. s., 12, Dutch Warmblood by Gribaldi—Litchy, Ferro, owned by Equestrian International, J. v. Uytert and J. Kelders.
Anky van Grunsven could rightly be called a dressage titan, and she's been one of the absolute best in the sport for almost 20 years. She won individual Olympic gold for a record three Games in a row, she attended five World Equestrian Games, winning team silver three times as well as four individual medals, and she's the undisputed queen of the freestyle with nine World Cup titles to her name. Van Grunsven would have preferred to ride her four-time World Cup champion, IPS Salinero, but she couldn't this year because he didn't compete in the two required qualifiers before the Final. The gelding had a long break after his individual gold medal at the 2008 Olympic Games. He was supposed to compete at the Gothenburg CDI-W in Sweden, but a back injury prevented van Grunsven from riding, so he only competed in the last qualifier at 's-Hertogenbosch, the Netherlands.
While there has been some dispute regarding the World Cup rules, Anky has decided for the good of the sport, the World Cup, its sponsors and the owners of the horse, that she will bring Painted Black to compete in Las Vegas. I applaud her decision and know that it was the right one, despite feeling sorry that this year we won't see the great Salinero attempt to defend his title again. Anky can still put in a wonderful freestyle ride on Painted Black, and I believe this will earn her either fifth or sixth place in this field, probably right behind Hans Peter Minderhoud.

WESTERN EUROPEAN LEAGUE
1. ISABELL WERTH (GER): age 39, Rheinberg, Germany.
SATCHMO: b. g., 15, Hanoverian by Sao Paulo—St. Pr. Legata, Legat, owned by Madeleine Winter-Schulze.
Isabell Werth needs no introduction as one of the world's preeminent dressage riders. She hails from the world's strongest dressage nation, and Werth stands alone above the Germans. She has three individual Olympic silver medals and one gold to her credit as well as four team gold medals. She has three more individual golds from three different World Equestrian Games. She won the World Cup the last time it was held in Las Vegas in 2007, and she placed second last year with Warum Nicht FRH. She won all three CDI-Ws she entered with Satchmo this season to easily finish at the top of the standings in the Western European League.
If everything stays exactly as it is, Isabell will be a great champion. She will set herself apart from the very beginning. She does that because she has this wonderful ability to produce incredibly animated and spectacular rides again and again on all of the horses she's ridden. She's got this magnificent feeling in her that creates huge impulsion over the ground, and she stays very concentrated on her horses throughout her performances. Even at the Olympics, where she had some difficulties, the rest of her performances were fantastic to watch. She's a definite champion, and I think she'll prove herself to be the champion here.

2. ADELINDE CORNELISSEN (NED): age 29, Beilen, the Netherlands.
PARZIVAL: ch. g., 12, Dutch Warmblood by Jazz—Fidora, Ulft, owned by H. Koers uit Hijken, W.P.J. Cornelissen and the rider.
A new talent for the Dutch team, Adelinde Cornelissen went to the 2008 Olympic Games as the reserve rider with Parzival. She scored impressive wins at the Stockholm CDI-W (Sweden), London CDI-W (England) and Mechelen CDI-W (Belgium). She ended the qualifying period with a second-placed finish at the 's-Hertogenbosch CDI-W
(the Netherlands) and placed second in the Western European League.
I think second place is going to be the one where we see greater tension in the air. Several people are going to be strong. I think Adelinde Cornelissen will ultimately get second place with Parzival by a narrow margin. What Adelinde has going for her, and this is something we have to consider in North America as we keep producing stronger and stronger teams and individuals, is that the European horses and riders have been competing indoors through their entire fall and winter season. In competition after competition they've ridden in an environment very similar to the environment they'll face during the World Cup. Adelinde just finished 's-Hertogenbosch with Parzival. She's very comfortable and used to that atmosphere. I think that's always been a little more difficult for North Americans and people from other countries who have been outdoors. They've competed in World Cup qualifiers, but not with anything like the atmosphere they'll have to deal with in Vegas.
3. HANS PETER MINDERHOUD (NED): age 35, Harskamp, the Netherlands.
EXQUIS NADINE: ch. m., 14, Dutch Warmblood by T.C.N. Partout—Charites, Roemer, owned by Team Exquis.
Hans Peter Minderhoud had a breakout year in the international Grand Prix ring in 2008 with Exquis Nadine. He rode in his first Olympic Games and earned team silver for the Netherlands. He's put in consistent, solid performances in the World Cup qualifiers over the season, finishing second at the London CDI-W (England), third at the Mechelen CDI-W (Belgium) and third at the Amsterdam CDI-W (the Netherlands) to finish third in the Western European League.
I think Hans Peter will be fourth. He's been doing some really fabulous freestyles since the Olympic Games with Nadine in many competitions in Europe. I think he could be the dark horse. If anything went wrong with second or third place, Hans Peter will be right in there to take one of those spots. He has really great highlights throughout his ride, and he's a really good rider.
4. MONICA THEODORESCU (GER): age 46, Sassenberg, Germany.
WHISPER: ch. g., 11, Württemberger by Welt Hit I—Widney, Weltstar, owned by Ann Kathrin Linsenhoff.
Monica Theodorescu has represented Germany at three different Olympic Games, most recently in 1996 in Atlanta. Now she has a new standout mount in Whisper, whom she rode at the 2007 European Championships and qualified as reserve horse for the 2008 Olympic Games. Solid placings throughout the World Cup qualifying season left Theodorescu and Whisper in fourth in the Western European League. She finished second at the Frankfurt CDI-W (Germany) and third at the Neumünster CDI-W (Germany).
Monica is seasoned. She's one of those riders you can always count on to do very artistic, beautiful performances. She was an Olympic reserve last year, and she's been a really solid German competitor for so many years. She's a cool, elegant and really beautiful rider. So I'm going to put her right behind the top group in fifth or sixth.
5. JAN BRINK (SWE): age 49, Hässleholm, Sweden.
BRIAR 899: ch. s., 18, Swedish Warmblood by Magini—Charis, Krocket, owned by Hans-Yngve Göransson and Kristina Gustafsson.
This will be Jan Brink's eighth and final World Cup Final with his fabulous stallion Briar. The pair has anchored the Swedish team in three Olympic Games, three World Equestrian Games and every European Championship since 2001. Still going strong at 18, Briar won the CDI-W in Gothenburg (Sweden) and finished fifth in the Western European League. Brink has said he plans to retire Briar after Las Vegas.
I'm going to choose Jan Brink for seventh or eighth place. Jan's horse just won in the Swedish qualifier at Gothenburg. He is so seasoned, and he has done this so many times. The indoor shows tend to produce greater electricity from the stallion and allow Jan to shine more than the outdoor shows. This will give him that little boost. His career with that horse is coming close to the end, but he'll pull it off.
6. JEANETTE HAAZEN (NED): age 54, Neeroeteren, Belgium.
NARTAN: b. g., 14, Dutch Warmblood by Jazz—Tanja, Le Faquin, owned by the rider and W.J.A. van Loveren.
This will be Jeanette Haazen's third trip to the World Cup Final for the Netherlands. She accumulated points in the Western European League with consistent placings just out of the top three and finished sixth in the Western European League. This was particularly impressive as she suffered a serious car accident on her way to the first qualifier in Odense, Denmark, in November. Haazen sustained severe bruising on her legs, but her horse, Nartan, was unhurt.
Jeannette Haazen has trained many horses in Holland. She's competed internationally since I started competing in Europe in the 1980s and maybe before that. She's a very seasoned and strong competitor. She's a little lady, and she's very cool. She has lots of experience, and I see her as the next one in line behind Michal Rapcewicz in 11th or 12th place.
7. MINNA TELDE (SWE): age 34, Sweden.
DON CHARLY: ch. s., 12, Swedish Warmblood by Don Gregory—Indiana, Inschallah, owned by the rider.
Minna Telde rode for Sweden in the 2003 European Championships and 2004 Olympic Games. This will be her first World Cup since 2003. She sold her Grand Prix horse, Bjorsells Sack, in 2005 and has been bringing along Don Charly ever since. Their best finish in a qualifier came in Gothenburg (Sweden) where she placed second. Telde grabbed the last spot in the Western European League.
I think Minna will closely follow Jan Brink, so we'll have the two Swedes together. Minna has consistently shown better and better results with her horse. I watched Don Charly on video, but I've never seen him in person. I think he definitely has some highlights, but in this particular venue with these horses, she'll probably come close but be behind Jan Brink because of their experience.

CENTRAL EUROPEAN LEAGUE
MICHAL RAPCEWICZ (POL): 27, Warsaw, Poland.
RANDON: b. g., 12, Polish Warmblood by Czuwaj SP—Rafa SP, Fanimo SP, owned by the rider.
Michal Rapcewicz is an up-and-coming rider who first represented Poland with Randon at the 2006 World Equestrian Games (Germany). He went on to contest his first World Cup Final in 2008 (the Netherlands) and competed as an individual at the Olympic Games in the same year. He did very well in the Central European League with wins at the Kapsovar CDI-W (Hungary), the Wroclaw CDI-W (Poland) and the Lipica CDI-W (Slovenia).
I've seen Michal on video. It's a strong horse with some really neat things. He can put in a very clean ride. I think he will finish in 10th or 11th place.

PACIFIC LEAGUE

HEATH RYAN (AUS): 50, Lochinvar, New South Wales, Australia.
REGARDEZ MOI: bl. s., 13, Hanoverian by Rubinstein—Chlotilda, owned by Margaret Evans, Rozzie Ryan and the rider.
Heath Ryan represented Australia last year in the Olympic Games with Greenoaks Dundee, but he'll be bringing his black stallion Regardez Moi to Las Vegas. The pair finished first in the Sydney CDI-W (Australia), the Melbourne CDI-W (Australia) and the Werribee CDI-W (Australia) to win the Pacific League. He also won the Australian Grand Prix Championship at the Sydney CDI-W, which he added to his three Australian Eventing Championship titles.
SOUTH AMERICAN/ASIAN LEAGUE
MARCO BERNAL (COL): age 46, Wellington, Fla.
DIAMORE: ch. m., 13, Danish Warmblood by Diamond—Kalinka, Frühling, owned by Meryl and Richard Cannon/Royalty Farms de Colombia.
Marco Bernal qualified in the South American League with strong results throughout the season in the Florida qualifiers. His best finish was his most recent when he and Diamore placed fifth in the Loxahatchee CDI-W. Bernal rides for Colombia and competed at the Pan American Games (Brazil) in 2007.
I always love the fact that we have countries like Australia and Colombia represented in a World Cup. I think it's fantastic to see that these countries have horses and riders up to that standard. It has a great effect on the people of those countries to feel that if they do great work there's a chance to make it into the super international competition. Both Heath and Marco Bernal are really a credit to the hard work and determination that they've shown as riders and trainers to produce horses that can compete in the top group of the world. I applaud both of them, and I can't wait to watch them go.
WILD CARDS
LESLIE MORSE (USA): age 44, Beverly Hills, Calif.
KINGSTON: b. s., 17, Dutch Warmblood by Voltaire—Gisnette, Burggraaf, owned by the rider and Laura Petroff.
Leslie Morse and Kingston contested their first World Cup Final in Düsseldorf, Germany, in 2004. Their best World Cup finish came in 2005 when they placed fifth. Soundness issues have prevented Kingston from showing consistently over the last few years, but Morse competed him in two World Cup qualifiers in California leading up to the Final, placing second in both to Steffen Peters and Ravel. She finished fourth in the North American League.
I love Kingston, and Leslie does a really great job. She has an amazing freestyle. The big question is that she hasn't been able to compete that frequently with her horse. Once again, our North Americans don't have the chance to compete in venues similar to those in which the Europeans have been competing, and they'll have to in Vegas. Leslie is the unknown with Kingston right now. They have the great ability to show magnificently, but they haven't done it as much. Leslie wasn't able to compete in her last show due to a shoeing problem, which has been completely resolved, but it remains to be seen if she can put it together in this short period of time without another competition to prove herself. If he has a great day, he can certainly place in the top seven.
JAN EBELING (USA): age 50, Moorpark, Calif.
RAFALCA: b. m., 12, Oldenburg by Argentinius—Ratine, Rubinstein, owned by Ann Romney and Amy Ebeling.
Rafalca performed a demonstration Grand Prix two years ago at the 2007 World Cup Final in Las Vegas, and this year she'll return with Jan Ebeling to compete in the real thing. This pair competed in several qualifiers, winning at the Pebble Beach CDI-W (Calif.) and placing third in the November Del Mar CDI-W (Calif.). They finished fifth in the North American League.
I believe that Jan Ebeling and his mare Rafalca are still an up-and-coming pair. Although they're green, I've watched the horse go many times, and she has some wonderful abilities. In the future, she will solidify into a very nice horse competing internationally with Jan.