Tallahassee, Fla.—March 12
Fernhill Fugitive has always been a solid campaigner for Phillip Dutton, but he may have moved up a few places in his string after his brilliant weekend at Red Hills.
The pair were second to Hannah Sue Burnett and Harbour Pilot after dressage, but show jumped clear this morning over Fuzzy Mayo's track, then proceeded to put in the fastest cross-country time over Mike Etherington-Smith's new CIC*** track to seal the win.
"He's not brilliant in any phase, but he's good in all the phases, and that's what you have to be to be an event horse. He keeps [showing] up every week," said Dutton. "He went well at the Wellington [Eventing] Showcase [Fla.,] and I went a bit quiet on him at Pine Top [Ga.] Obviously there was a situation where he could win today. You don't want to put too much wear and tear on their legs, but I thought it would be good for him to try and win."
Jennie Brannigan and the green Catalina moved up to second, adding 5.6 time penalties, while Burnett and "William" dropped to third with a show jumping rail and time penalty and 6 time penalties on cross-country.
Of 36 starters in the CIC***, only four had a single stop. Daisy Trayford fell from Normandy Solider early in the course at 4b, but both walked away. Time is notoriously difficult to make on the three-star track because of the way the course winds through the woods, but Dutton was closest, adding .8 to his score.
Dutton notably skipped Red Hills last year because he was unhappy with the cross-country course and footing, but with a new designer and many improvements, including a new water jump and better footing, he was glad to be back.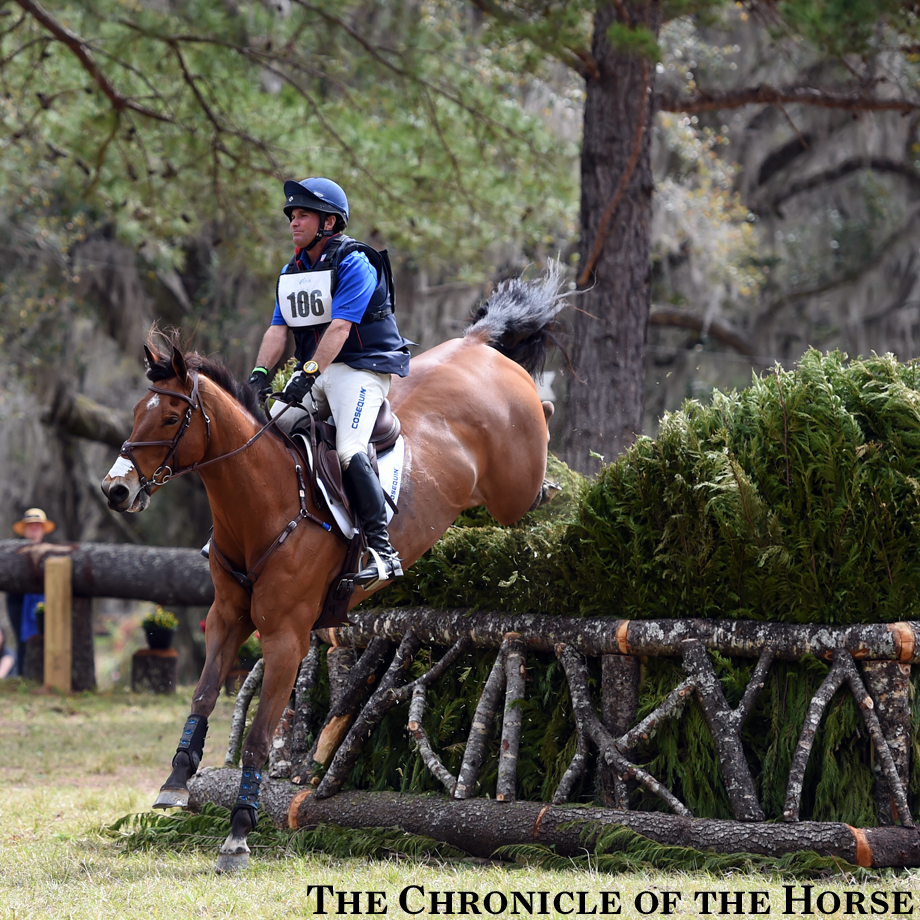 Phillip Dutton and Fernhill Fugitive. Photo by Lindsay Berreth.
"I do love this event, and they tried really hard," he said. "I think they should be really proud of what they've done, bringing in Mike E-S. They did a lot of work on the footing, and there's still a bit to go, but it's improving. I think the new layout and the arenas, it's got a bright future.
"There's nothing better than to start off with big, forward riding jumps, because I think that sets the tone for your riding as a rider, and also the horse that you've got to get into it," he added. "It wasn't the most difficult course I've ever seen, it wasn't the most technical, but I think it was about right for this time of year, especially for the first year coming in to build at a venue like this. You want to err on the side of under doing it rather than over doing it."
Brannigan was still surprised to be sitting in the press conference with Candice Kircher's 13-year-old mare, considering she's only had a handful of FEI starts at the level.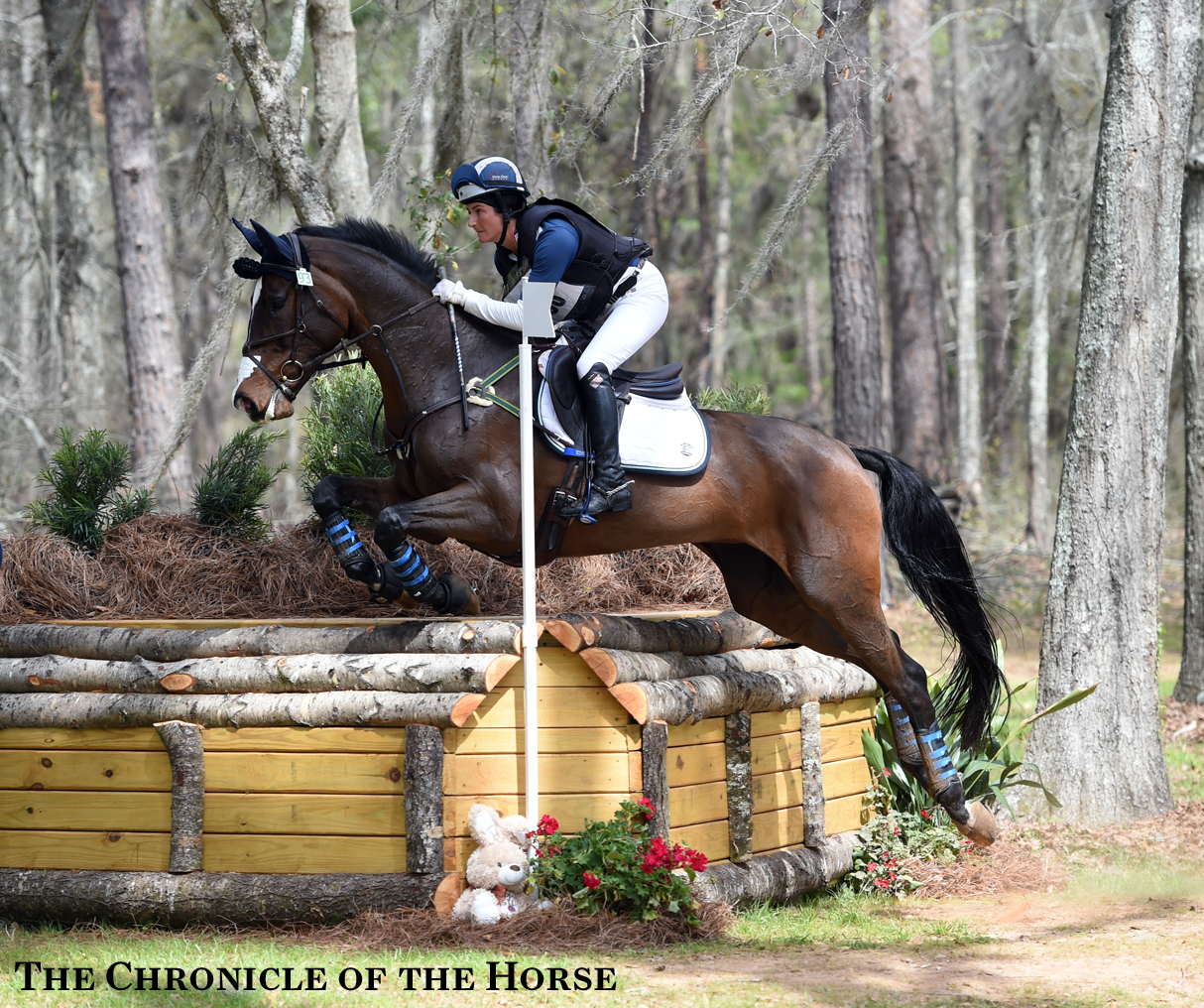 Jennie Brannigan and Catalina. Photo by Lindsay Berreth.
"I've pretty much taken this horse and thrown her in the deep end," she said. "[My whole team] always believes in the horse, and we really love her, but I knew that there would be a point at which she would be competitive amongst this quality and caliber of horses, but I didn't necessarily think that that was going to be this weekend. To be that high after the dressage…wow. I've always known she was a nice horse, but we're green at 13. I'm just over the moon—elated."
Burnett was disappointed with her rail in show jumping, but just happy to be back at the advanced level with William after he injured a tendon on cross-country at the Land Rover Burghley Horse Trials (England) in 2014.
"It's the first big event, and he's always better with cross-country first because he's a little bit tired and he listens! So hopefully we'll have him really tuned up for Kentucky," she said. "He was awesome [on cross-country.] He lost both fronts shoes early on. It's funny riding Jitterbug and Cooley Dream, who are green two-star horses and young, and getting on William after that, the jumps come a bit sooner than I expect because I'm kicking the other two a little bit and William's just on it all the time. It's a little bit of a switch for my eye, but he's so experienced and I have so much confidence in him, it's really fun."
Fredericks Holds His Lead
Clayton Fredericks held his lead in the CIC** with FE Bowman after cross-country, but dropped to third with FE Money Made, leaving room for Caroline Martin and Effervescent to move up with one of three double-clear cross-country rounds.
"I was super-pleased with my guys," he said. "I started off and just thought I would let them tell me how they're feeling. Money Made is pretty green and young, and he jumped super. Just coming to the fences he was a little bit looking everywhere but at the jumps. At the start he was a bit green. Bowman really locked on a galloped. That hedge [at 6b,] he hit the stride there and just jumped so big and so far out, it was unreal."
Fredericks, who's the Canadian team coach, hasn't competed at the top levels recently, and he appreciated the chance to keep his skills sharp.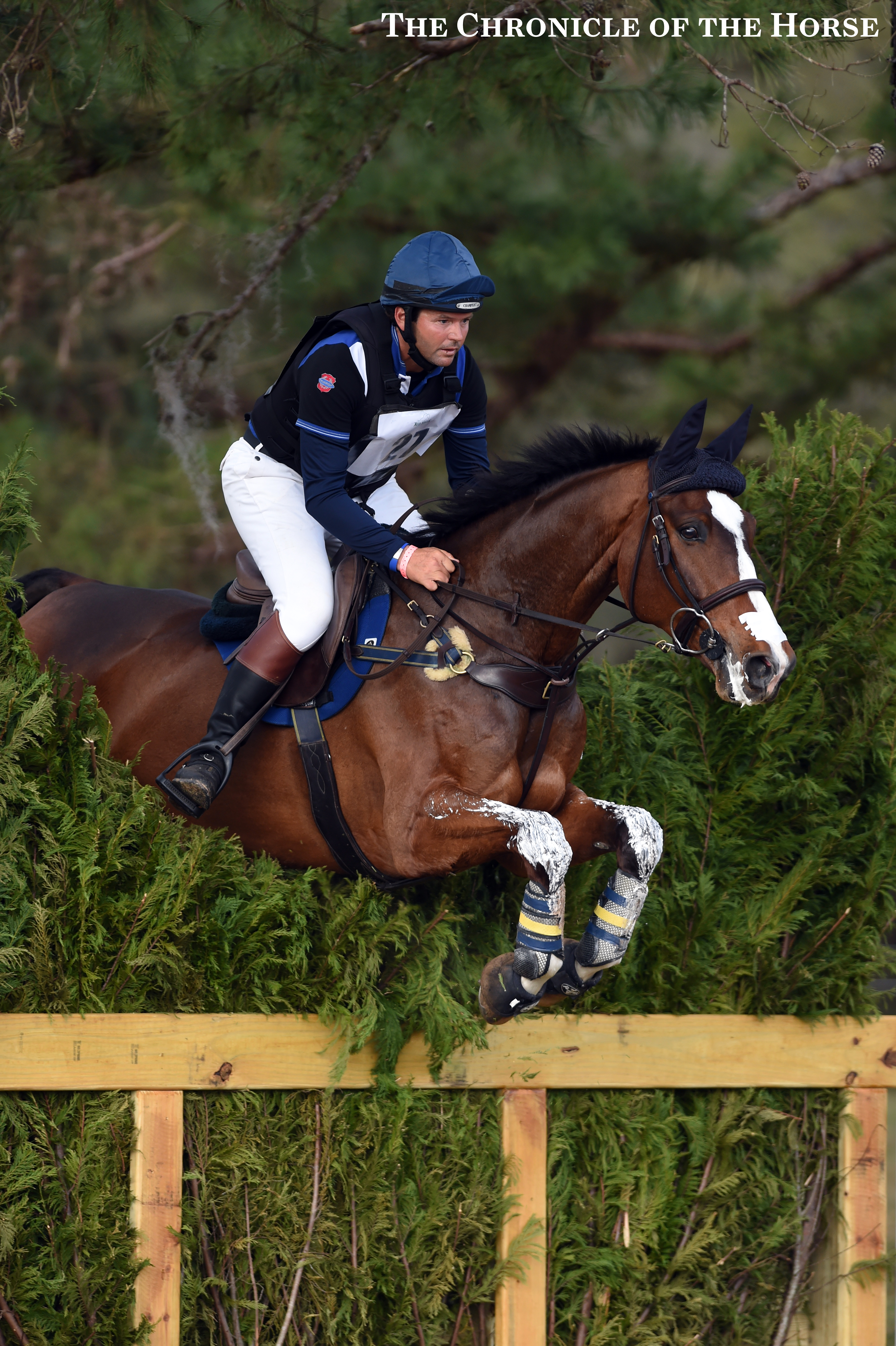 Clayton Fredericks and FE Bowman. Photo by Lindsay Berreth.
"It's interesting to be back at the level and under a bit of pressure and all that," he said. "I think it's important, even from the coaching perspective, to stay current and realize how much pressure the riders are [under] when they go out cross-country. You always walk the courses when you're not riding, and a little bit, 'Ah yes, this is OK.' But there's a lot to focus on. When you're riding, you really have to listen to your horse so much and just let it all happen."
Martin is getting ready to move Effervescent up to advanced, so she put her foot on the gas to see what she had.
"I found it very hard to get this horse to move his feet in the beginning," she said. "He's 10 this year. We're both growing together. I got him from J.P. Sheffield, who produced him to training level, so taking the reins over three or four years ago was a bit difficult to get him on my side because I was a young rider, so when I would make a mistake he didn't really accept it. It's been a growing process, but I think now we've definitely clicked. He really trusts me, and that's why it was easy to make time. I know I can just sit up with my upper body and he'll come back to me."
Show jumping for the preliminary, CIC*, CIC**, intermediate and advanced divisions will run tomorrow starting at 8:30 a.m. with the open preliminary.
Full results can be found here.