Kim Severson's 2014 Alltech FEI World Equestrian Games (France) partner Fernhill Fearless was euthanized on May 28 after breaking his leg when he kicked through the bars in the window of his stall.
"Sparky," a 17-year-old Irish Sport Horse gelding by Mark Twain, had been competing with Gabby Dickerson, a student of Severson's. She gave the ride to Dickerson last summer when she decided to step him down from the three- and four-star level.
Dickerson and Sparky competed at the Virginia Horse Trials CIC** over the weekend, but Dickerson withdrew before cross-country due to a hoof bruise on Sparky's right front, and they returned home to Charlottesville, Va.
Sparky's longtime veterinarian, Dr. Keith Brady, DVM, came immediately and helped her say goodbye.
"I called him in the middle of the night, and he came to put him to sleep," she said. "It was great that he was there, and he was so supportive. He's been a big mentor to me and helped me through it."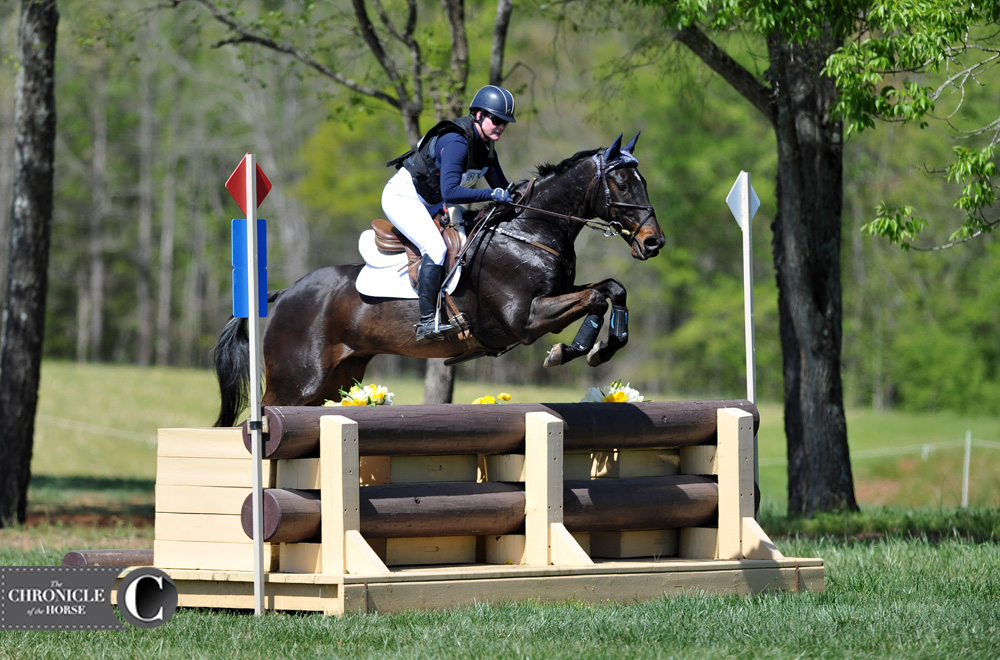 Throughout his competitive career, Sparky gave each of his riders a boost in confidence, according to Severson, who was given the ride on the gelding by her former student Nina Ligon.
Sparky started his international eventing career with Hayden Robert Hankey in Great Britain and made it to the CCI*** level.
U.S.-based Ligon, who competed for Thailand, bought him in 2010 as one of her string of horses in hopes of making the 2012 Olympic Games in London. She competed at the Olympics on Butts Leon, and then she sold her horses when she went to college. That's when she gave Sparky to Severson.
"It was really Sparky who gave Nina the courage to go on and pursue the Olympics," said Severson. "Being his fearless self as he is, he really taught Nina to just go and jump the jumps because you don't have a lot of say so when you ride Sparky!
"He did so many things for so many people—for Nina, and giving me a four-star horse when I really needed one, and of course for Gabby too," she continued. "The great thing about Sparky was that he was himself all the time, no matter what, no matter who the person was. You had to learn from him. He taught all of us a lot of things. He always did his own thing in his own way."
With Ligon, Sparky won the Fair Hill CIC*** (Md.) and was second at the Jersey Fresh CCI*** (N.J.) in 2011.
Severson took over the ride in 2013, and they were 11th at the Rolex Kentucky CCI**** the following year. They were chosen to represent the United States at the World Games in France and finished 22nd.
They took on Rolex again in 2016 but retired on course and rerouted to Jersey Fresh, where they placed sixth in the CCI***.
"Anytime jumping around a four-star was memorable. That was about the only time he didn't run off with you!" said Severson. "It was the only time the jumps were big enough—at Kentucky, at the Worlds, where he was actually rideable, and you could have a bit of a say so."
Dickerson competed Sparky to the CIC** level.
"It gave me a huge boost in my confidence riding cross-country and in all aspects of my riding," she said. "I called him The Professor. He knew everything, and he did everything his own way. It was his way or no way, and he was a fantastic horse to learn the upper levels on. I wish I had more time with him, and I wish it didn't get cut so short for his sake. He deserved a longer life and retirement. He was so fit and healthy and sound. It was really a shame for him and for Kim.
"It meant the world to me, Kim's gesture in giving him to me. It was incredibly selfless, and I'm so lucky to have had him for the short time I did," she added.