March 19—Raeford, N.C.
At age 18, Fernhill By Night knows his job and has been around some of the biggest four-star tracks in the U.S. and Europe.
A few years ago, Liz Halliday-Sharp decided to make "Blackie" a short format specialist, and he's found his niche, putting in competitive performances at nearly every CCI4*-S, eventing showcase and advanced horse trial he enters.
Coming off a win at last year's Stable View Oktoberfest CCI4*-S (South Carolina) and a third place finish a couple weeks ago at the $50,000 Liftmaster Grand Prix Eventing (South Carolina), Blackie is in a strong position to take another win this weekend at the Cloud 11-Gavilan North LLC Carolina International CCI4*-S (North Carolina), taking over the lead after a clear show jumping round today.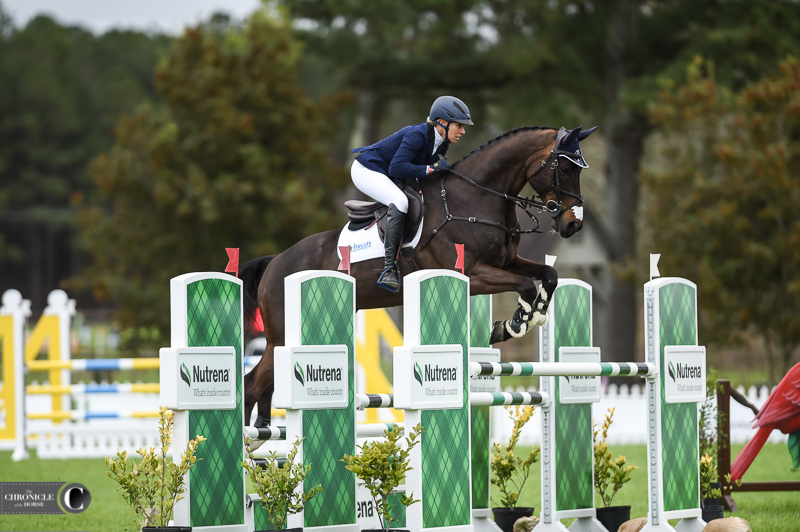 He and Halliday-Sharp won this division in 2019 and were second in 2018. With 4 points in hand ahead of Phillip Dutton and Carlchen going into tomorrow's cross-country, the win is theirs for the taking. Dutton had been leading after dressage, but a rail and .4 time penalties dropped them to second place.
"He's feeling great!" said Halliday-Sharp. "This sort of temperature is perfect for him because he's kind of a lazy person. He jumped amazing today. I was really proud of him. He's just really happy to be at the party and seems to really love the sport, which is really nice for him. He jumped his guts out today."
Halliday-Sharp had hoped to have her other top horse, Deniro Z, in the division, but an ill-timed sore foot meant she withdrew him after she'd arrived earlier in the week.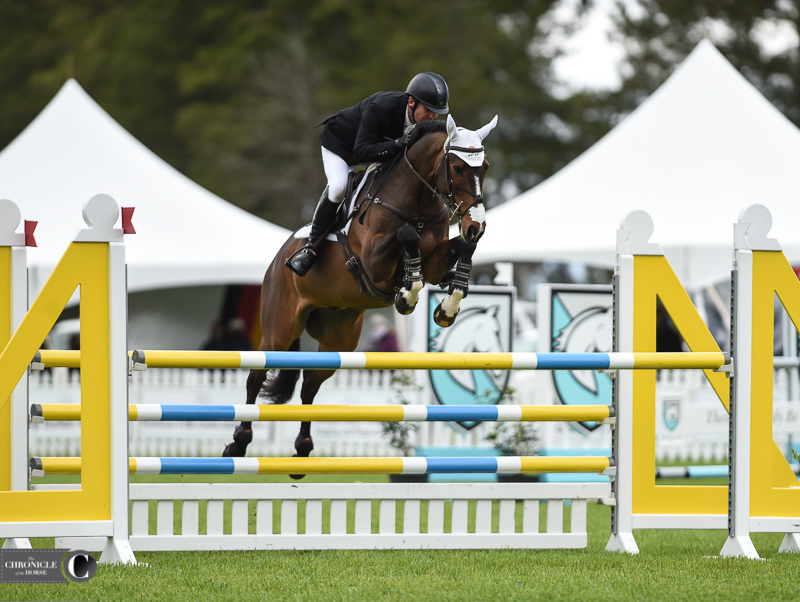 Marc Donovan's track produced 14 double clear rounds out of 34 to jump. As he often does, Donovan gave riders some different options and lines on the Carolina Horse Park's grass field.
"I always think that's pretty cool. It makes us think a little bit," said Halliday-Sharp. "The distances were definitely pretty short, which we don't see that often. It was fine for my guy because he's pretty seasoned now and knows his job. It's kind of fun to jump on grass because we don't get to do that often. The ground was really good. In England and Ireland I've jumped in some really hideous ground on the grass! In this situation, I think they've done a really good job at seeding and making that arena awesome. It was incredible how it held up with how much rain we've had. That was really impressive."
Halliday-Sharp says she doesn't change her riding too much on grass.
"Horses that have never jumped on grass can sometimes be a little cautious, especially if you don't have a great stud in and they're a little bit unsure," she said. "Most of my horses have spent their life in England, so they've probably done more of that that any horse here. That's the main thing I find. Sometimes if they haven't had that experience they can be a little surprised by not knowing where their feet are if it gets muddy and the ground changes in front of the fences."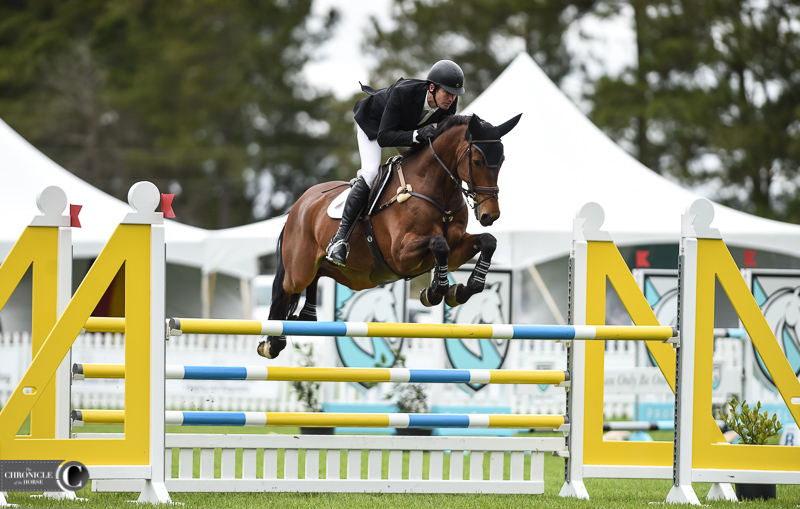 At his age, Halliday-Sharp lets Blackie tell her what he wants to do, and after the Aiken showcase, she made the decision to come to Carolina.
"He was feeling even better about himself when he got home than he had before we went, so that said to me, he wants to be a part of the party and is feeling well in himself, so why not?" she said.
At home, Blackie, an Irish Sport Horse gelding (Radolin—Argentina XII, Argentinus), has a varied schedule to keep things interesting.
"I don't gallop him a lot. He swims mostly and he has done for years," said Halliday-Sharp. "He's definitely not your typical event horse because he's very, very lazy on the flat. Our program is a little different. I haven't ridden him in a dressage saddle since the Aiken showcase until yesterday. I school him a lot in the jump saddle, I school him a lot in the field. I just do stuff to keep him fresh because he just gets fed up.
"The best thing for him has been taking him to a show. He loves it," she continued. "He's really happy to get on the truck and be important. He only jumps once a week. He knows his job now, so we keep it short and sweet and try to do something different every day. I still have to ride him the right way. He definitely needs looking after. If I stand him off a fence once, I better put him in deep to the next one! He's very careful, always has been. We've been together nine years, so we know each other pretty well, and I think that makes a big difference because he does fight for me. He's a good boy."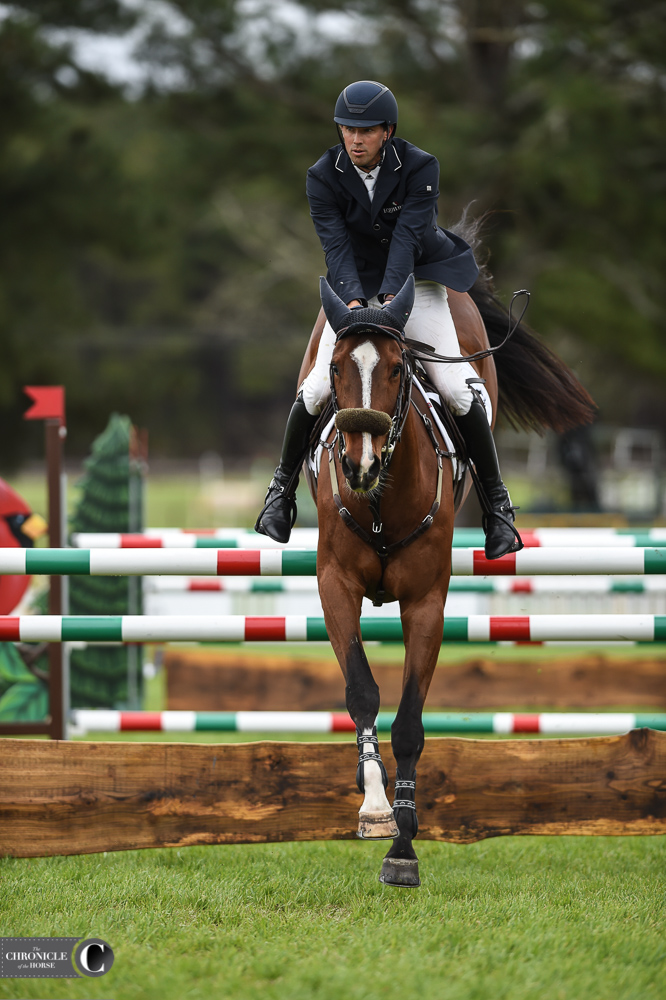 Looking at Ian Stark's course for tomorrow, Halliday-Sharp plans to ride for the win if Blackie's up for it.
"I think it's a typical good Ian track—big, bold, forward, impulsive riding," she said. "I don't need to make time, but I need to make sure I've got it planned what I can afford to have on him. He's not a racehorse, that's for sure, but he made the time here before, and he was actually pretty darn fast at Stable View last year. I just have to be very efficient with him and look after him a little bit. It's just who he is. I'll do the best I can without pushing him out of his comfort zone because honestly he doesn't owe me anything at this stage. I just want him to enjoy it as well. Luckily he's a horse that benefits from a pressure ride."
Cross-country for the CCI4*-S begins at 10:30 a.m. tomorrow.
Scores I Website I Schedule I Live Stream I COTH's Coverage