On April 6, the Fédération Equestre Internationale released a list of six riders whose horses had tested positive for prohibited substances during competition, and three Americans were among those sanctioned, including Olympic dressage rider Adrienne Lyle, Grand Prix dressage rider Kaitlin Blythe and grand prix show jumper Paige Johnson.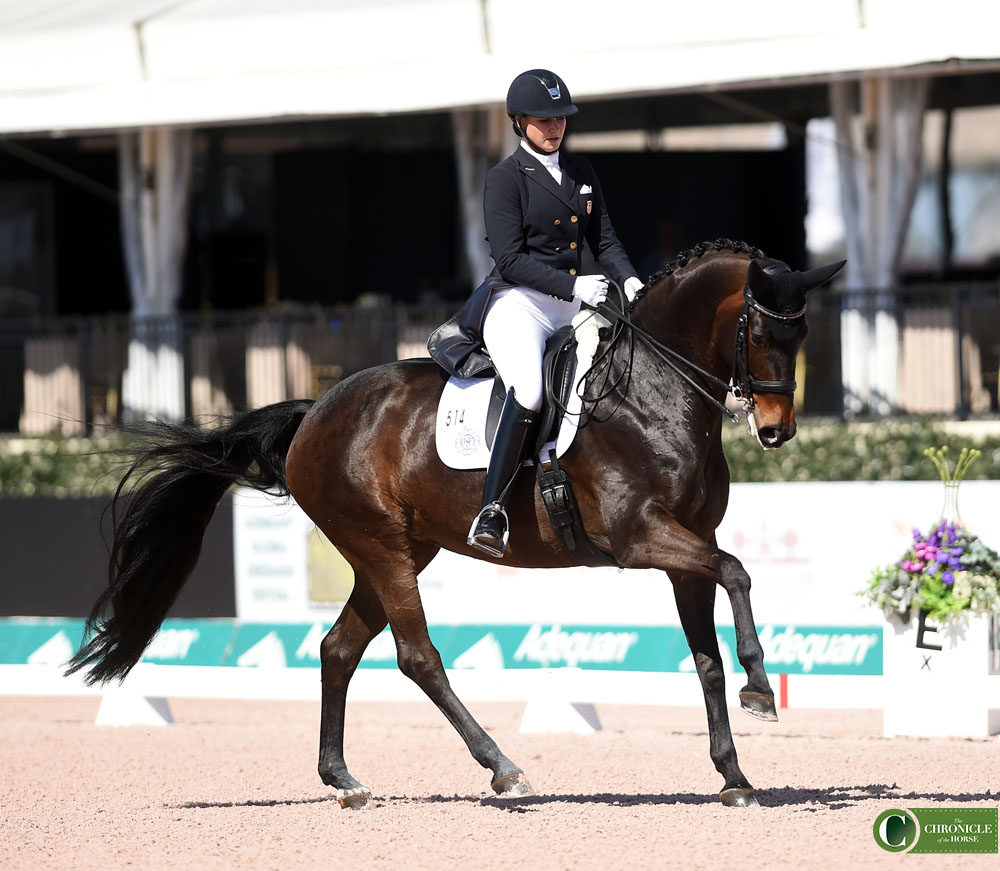 Lyle, of Wellington, Fla., and Ketchum, Idaho, was showing Horizon in the CDI small tour at the Adequan Global Dressage Festival (Fla.) Feb. 8-12, when the 10-year-old Oldenburg mare tested positive for ractopamine. This FEI banned substance is a beta agonist that increases protein synthesis. It's a controversial feed additive for swine—banned in many countries but legal in the United States—and it's used to add weight and muscle without increasing fat.
"All I can say at this time is that I am shocked and devastated to learn of this news," said Lyle in a statement to the Chronicle. "I am beyond careful about everything that goes in or near my competition horses, and we have no idea how this substance could have ended up in Horizon. We are conducting a thorough investigation in hopes of finding some answers."
"I fully support the FEI clean sport policies," continued Lyle, 32. "And I would never knowingly let a banned substance come in contact with one of my horses."
Blythe, 24, was showing Don Principe in the U25 Grand Prix at the same CDI as Lyle when the 18-year-old Hanoverian stallion also tested positive for ractopamine, although the riders knew of no connection between their horses.
"I am completely shocked and heartbroken to hear about Don Principe's positive test results, with a substance I have never heard of," stated Blythe, Rougemont, N.C. "I am 100 percent behind the FEI's clean sport policy, and myself and my support team do everything within our power to ensure that Don Principe and all of the horses in our stable are completely safe from any banned substances. We are doing all that we can to get to the bottom of this, and I am hopeful that we will be able to find the cause of this substance coming into contact with Don Principe. I am immensely grateful for all of the kind words and support during this time."
Johnson's Luke Skywalker 46 tested positive for the FEI banned substance pramoxine while showing at the Winter Equestrian Festival (Fla.), Jan. 17-22. Pramoxine is a topical anesthetic found in many over-the-counter antibiotic ointments and hemorrhoid treatments like Preparation H. Johnson, 31, did not wish to comment on the matter when contacted by the Chronicle. Her Salamander Stables are based in Wellington and Middleburg, Va.
All three horses have been provisionally suspended for two months, and the riders are provisionally suspended from April 5 until the FEI Tribunal renders a decision. Learn more about FEI Clean Sport and the prohibited substances on the FEI website.