Calgary, Alberta–July 8-9   
For the second year in a row, the current world No. 1 rider from the United States, Kent Farrington, jumped to the win in the ATCO Queen Elizabeth II Cup Grand Prix at Spruce Meadows.
Farrington has won this class not twice but now three times in his career. Riding the amazingly fast and athletic mare Gazelle, owned by both Kent Farrington and Robin Parsky, the level of competition was brought to an outstanding high after a challenging first round brought back the top 12 riders, representing eight different nations.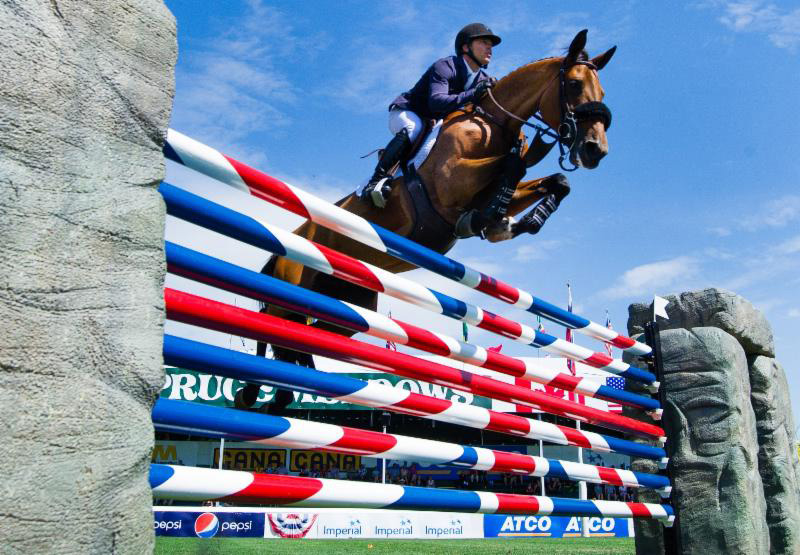 "Today was a very nice course set by Santiago as he usually does and I believe these two round grand prix's are usually built with the first round as a qualifier to the second—then the second he'll turn the screws a little tighter, the jumps are bigger and the time is quite short so it definitely puts more pressure on the riders. I think you saw the quality of the field today with Eric Lamaze, Phillip Weishaupt and myself on the horse that won last year in the final throes," said Farrington. "To have the win here on the final week of the summer series, on a two-round grand prix with top prize money, I am just thrilled with the horse today."
The first athlete to set the pace for the jump-off was Philipp Wieshaupt of Germany aboard LB Convall, a 10-year-old Holsteiner stallion owned by Ludger Beerbaum Stables. Wieshaupt maneuvered the jump-off course as fast as he could in hopes to put the pressure on Canadian great Eric Lamaze and Farrington, two athletes known for their speed.
Weishaupt commented, "having these two athletes behind you, I could not take any chances with my track. My horse is naturally slower, so I tried to put on as much pressure to encourage a mistake, but unfortunately I was the one with the mistake." He continued, "after the first two rounds I could feel my horse getting tired and I needed to give him a little bit more room to Fence 3, so it was absolutely my error. But I was second with a rail and I would have still been second on a clear round so I am super happy with my horse."
Ending with third place was Lamaze aboard Fine Lady 5, a 14-year-old Hanoverian mare owned by Artisan Farms and Torrey Pines. With the slightest toe touch on Fence 2, Lamaze would end up with a four-fault score in the jump-off with a time just 0.34 seconds behind Weishaupt.
"From going last in the second round to having just the three-horse jump-off there was a very quick change, so I felt like a ran out of horse a little bit because she was still catching her breath from the second round," Lamaze said. "I didn't see Kent or Philipp go but I knew I couldn't hold back on anything, so I did the eight strides down the first line and had the unlucky rail. I just didn't have enough—but I'm absolutely thrilled with the horse," said the Canadian star.
Not all was lost for Eric as he made Spruce Meadows history with this placing in the grand prix as the first ever athlete to reach the $5 million dollar milestone on the Top 20 All Time Prize Money Winnings tally. Eric had this to say about the milestone, "I've had a lot of great horses who've brought me great wins but I know I owe a lot of this to Hickstead. Spruce Meadows has been very good to me and my career and I think this is a big honor and I'm incredibly happy to have that title."
See full results of the ATCO Queen Elizabeth II Cup. 
Cristallo Just Keeps Winning 
In the final competition of the Spruce Meadows North American Tournament, the Sun Life Financial Derby, U.S. rider Richard Spooner jumped to the top of the North American Derby with the amazing 19-year-old Cristallo. Spooner and Cristallo have quite a derby record at Spruce Meadows, having won the Nexen Cup Derby three consecutive years (2015, '16 and '17).
An amazing crowd of nearly 29,000 guests rode each fence along with the American great and his veteran mount Cristallo, ending in an eruption of cheers after witnessing such a great feat. The 19-year-old Holsteiner gelding gave his all to Spooner and crossed the finish line as the only clear round performance in the lengthy 16-obstacle course.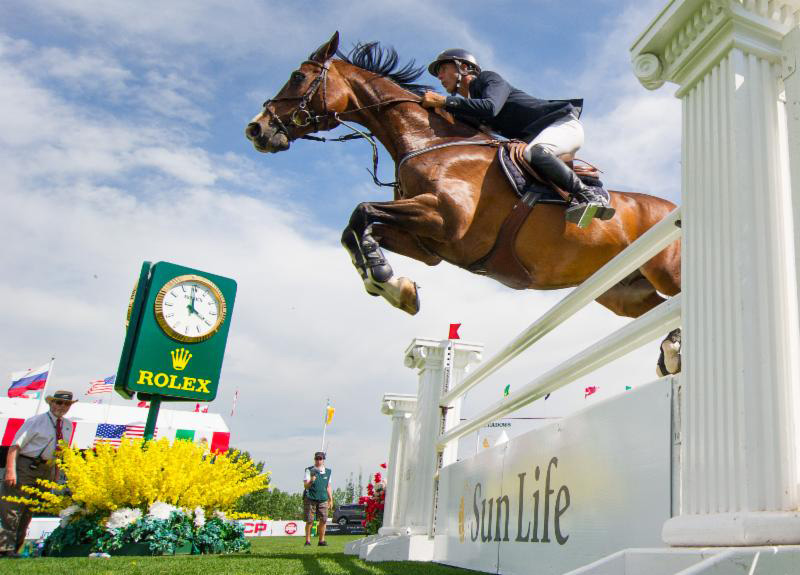 "He just keeps giving," Spooner said. "As a horse gets older you just know you're on borrowed time. When they're young you think that they're going to last forever and jump forever and you don't even think about the fact that it's finite—which is unfortunate. Now obviously towards the end of his career he's a finite resource and the fact that at this age he is still able to produce that kind of win for me is just a testament to his resilience and greatness in my opinion."
Placing second was Luis Alejandro Plascencia of Mexico. The young man once again rode Salamara de la Nutria, an 11-year-old Selle Francias mare who took Plascencia to a fantastic second place finish in last month's CNOOC Nexen Cup Derby. "Going earlier in the order I was in the lead for the majority of the competition, and near the end I was thinking—wow maybe I can win!" Plascencia said with a laugh.
"I knew there was still Spooner and [Rich] Fellers behind, but I was really excited and already thinking of my victory speech." He continued, "well it didn't work out like that, but I was very lucky because I was very close in the time to Rich and I ended up second. But I was incredibly happy that Cristallo won again!"
Following close behind Plascencia on a matched four-fault round was Fellers aboard Lux Lady, a 12-year-old Irish Sport Horse mare by Diamant de Semilly. It looked as though Fellers would be challenging Spooner to a jump-off against the clock as he came around to the final line, a double of liverpools combination to the Canada wave planks. The crowed wore their heart on their sleeves through the entire round and once again erupted, this time with disappointment to see the final fence fall.
"It's unfortunately nothing new, for me or anyone of us in this sport, to have the final fence down on course—and I'll do it again I guarantee—not on purpose!" Fellers said jokingly. "Everyone knows the derby is fatiguing; we don't practice physical fitness with any of our horses for that length of a course. We never jump that length of a course at all. I actually changed my plan a bit and decided to gather her up after the double of liverpools and make eight strides in there to get her back on her hind legs. She was jumping so well and never touched a rail until the out on that double—I would be good at the plank and the seven strides was right there and she just nicked the plank behind for the 4 faults."
See full results of the Sun Life Financial Derby.
Ward Makes It Four In A Row
With four competitions encompassing the inaugural Spruce Meadows Canada 1.45-meter Speed Series, McLain Ward captured top spot in each of the first three events to own the top of the podium. In the fourth, he and HH Carlos Z earn one more red ribbon to add to the collection with the concluding event, the Lafarge Cup.
Ward had the good fortune to enter two of his great speed horses into the series, Tina La Boheme that earned him his first and third win, along with HH Carlos Z who he rode to victory in the second and final events.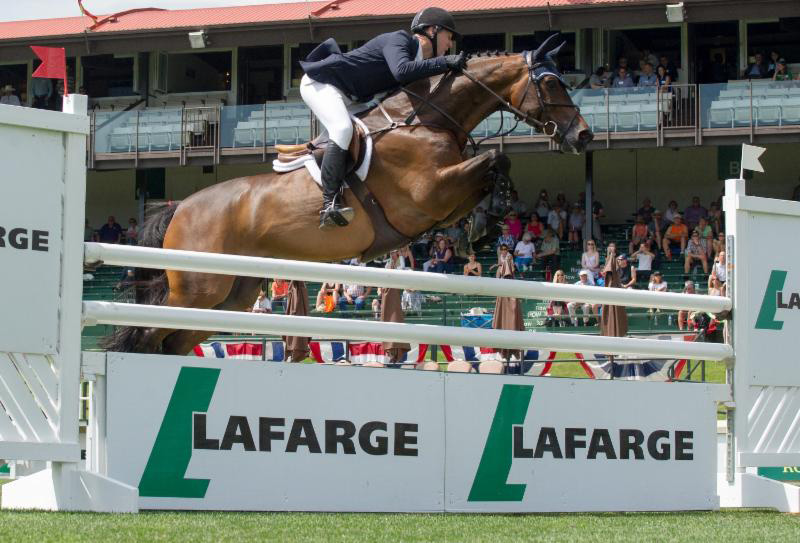 When discussing his unchanging strategy over the Leopoldo Palacios-designed course, which was the same for each of the four classes, Ward said, "the experience my horses have over this course has definitely helped. With each round I've been able to ride a bit more aggressively around the track." With each first-place finish Ward managed to cross the finish line with an improved time on each horse.
Finishing second in theLafarge Cup was the queen of competitive—Leslie Howard. She laid down a fantastic round aboard Donna Speciale, a 9-year-old Dutch Warmblood mare by Cavalier. Howard crossed the finish line with an impressive time of 69.99 seconds, but was not able to hold onto the lead with Ward riding Carlos to an epic finishing time of 63.60 seconds.
While Ward won all four of the classes, his points were split between HH Carlos Z and Tina La Boheme, so the series title was won by none other than Beezie Madden aboard her new and incredibly exciting mount, Con Taggio. The 8-year-old Oldenburg gelding stayed managed to maintain a top-12 placing in each of the four Canada 1.50-meter series events to earn Madden the championship title, cooler and stunning bronze.
See full results of the Lafarge Cup.