Prior to the jump-off of the Rolex Grand Prix at the CHIO Aachen, in Aachen Germany on July 21, course designer Frank Rothenberger commented that Kent Farrington is one of the fastest riders in the world. Those words proved to be prophetic.
With the Belgian-bred Kashmir van Schuttershof daughter, Gazelle, Farrington took top prize. It was a very special victory for Farrington, and one he had very worked hard for. Daniel Deusser was the last to go in the jump-off with Scuderia 1918 Tobago Z and had the chance to steal away Farrington's triumph. Tobago gave his very best, but ultimately Gazelle did her name justice. Tobago flew over the last oxer and crossed the finish line in 44,35 seconds, the clock had stopped at 43.98 seconds for Farrington and Gazelle—which meant second place for Deusser and the victory for Farrington, accompanied by 330,000 of the prize-money—one million Euros in total—and the chance to win much more, because he is now the current contender for the Rolex Grand Slam of Show Jumping!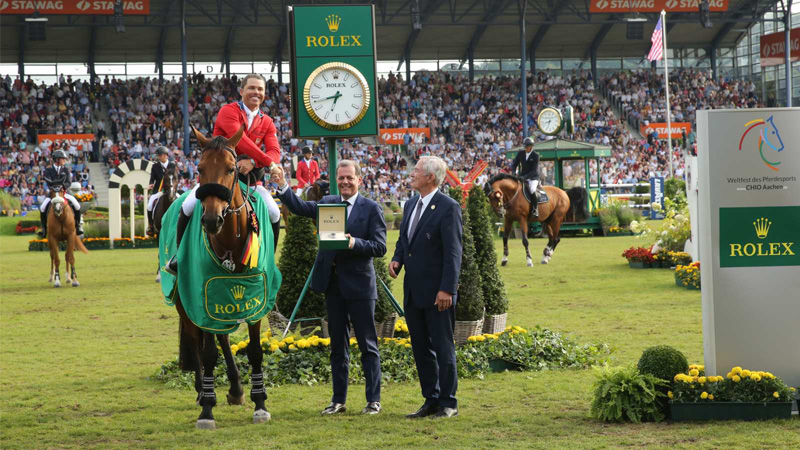 Third place went to Ben Maher and his four-legged jumping star, Explosion W. The British rider and the Chacco-Blue son had already demonstrated their skills in the Prize of Europe, and the pair also looked like they might take the victory, up until the last but one fence, when the rail fell. The time would have sufficed. Maher was four-hundredths of a second faster than Farrington and Gazelle. The World Champions Simone Blum and Alice, who also picked up four faults, finished behind them in fourth place.
The Tactics Of The Comeback
Kent Farrington had one thing in mind when he entered the ring for the jump-off: Not to come second again! That had been the case in 2014 when he was indeed the fastest with Voyeur, but he knocked a rail. "I wanted to have my name eternalized on the winners' board." So, his tactic was to ride fast but not take too many risks. "I didn't want to have the fastest four-fault ride again. It is such an impressive list of fantastic riders, who have won the Grand Prix of Aachen. I am so proud to now be one of them!"
Farrington was hungry for the victory. In 2017, he won the Rolex Grand Prix in Geneva and as number one in the world rankings and commenced the 2018 season as the contender for the Rolex Grand Slam. However, while he was training a horse at the Winter Equestrian Festival in Wellington, Florida, he fell and suffered a compound break of his lower leg, which had to be operated on and meant he was out of action for months. "It was really bad and a real test of how much I really wanted to do all of this here. The reason he is once again the contender for the Rolex Grand Slam has four legs: "Gazelle has helped me fight my way back to the top again."
Deusser was pipped at the post in the Rolex Grand Prix, but he was nevertheless more than satisfied with his second-placed finish: "My horse jumped clear three times. Of course, I would have loved to have won the Grand Prix of Aachen. But I am overjoyed at coming second." Especially since the CHIO Aachen 2019 has been an incredible show for him. Third place in the Prize of Europe with Tobago, second place in the Nations Cup with Calisto Blue and the victory in the Prize of North Rhine-Westphalia with Killer Queen and ultimately also second place in the Rolex Grand Prix with Tobago. What a week! Particularly when one takes into account that his eleven-year-old Tangelo van de Zuuthoeve son is hardly taller than the obstacles he flies over: "Yes, I sometimes feel like I am riding a pony," Deusser confirmed with a grin. "But he has a huge heart and always gives his very best however high the obstacles are in the ring."
Maher admitted that he was disappointed "but at the same time also very happy!" No wonder, because the entire show jumping world is jealous of his horse: "Explosion is incredible! He is so uncomplicated and loves the sport!"