Lexington, Ky—Nov. 1
Earlier this week, Kent Farrington sat in the press conference for the $130,000 GP Grand Prix, which he won aboard Willow, and discussed how he'd planned out the entire CP National Horse Show to best play to his mounts' strengths. All that planning? It paid off as Farrington not only won Thursday's class but also today's $250,000 Longines Grand Prix CSI-W with Voyeur.
"I brought two horses that I thought would be competitive," he said. "I rode my best horse in the grand prix [today], and they both performed up to expectation. I couldn't have asked for more."
Out of the 36 original starters, 13 returned for the jump-off. Out of those, 11 went clear, so it quickly turned into a race for the finish almost as furious as yesterday's Breeder's Cup Classic. Farrington's time of 33.19 seconds boosted over Laura Kraut and Deauville S (34.05) and Olivier Phillipaerts of Belgium was third on H&M Challenge V/D Begijnakker Z (34.07). Farrington was ninth to go out of the group.
"Laura and I watched the first couple together. It really comes down to which plan suits your horse," said Farrington. "The first line [in the jump-off] was seven strides to the wall, and Laura and I both did that the same, and then it was just really what suited your horse and how tight you could roll back to the vertical and how fast you could go to the double and the last fence. Today I was just on a much more experienced horse than Laura."
Voyeur, a 13-year-old Dutch Warmblood (Tolano van't Riethof—Loma, Goodwill) owned by Amalaya Investments, had a successful tour with Farrington at Spruce Meadows in Alberta this summer and was Farrington's mount for last year's Alltech FEI World Equestrian Games (France). But even with their victories, Farrington remarked that the horse isn't the easiest.
"He's pretty wild, actually," he said. "Laura [Kraut] and I were joking about what we consider a normal horse and what others consider a normal horse. We're known for riding erratic horses. He's very fresh, and he has a lot of blood. He's an aggressive horse. You have to be a little bit awake when you're riding him because he can spin very quickly. He spooks at a lot of things, and he's a handful, but I think most of the good ones are."
Kraut's mount is a 9-year-old Holsteiner (Diamant de Semilly—Touch Of Class, Lux) owned by Old Willow Farm, and she rode the gelding to third in Thursday night's class.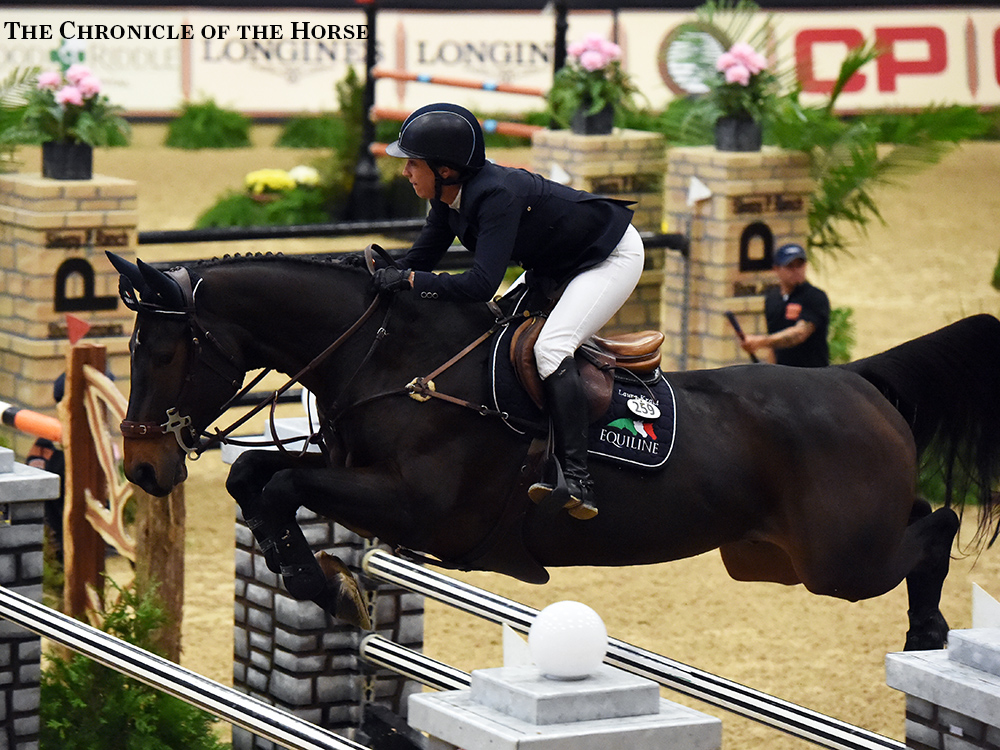 (Laura Kraut and Deauville S. Photo by Lisa Slade.)
"I went after Kent [in the jump-off] and had the advantage of seeing him go," she said. "I tried to stay on with what he'd done, but I couldn't quite get the momentum to the last fence. I knew I was close enough, and I thought I'd be maybe second or third, so I played it maybe a little safe going to the last."
Guilherme Jorge set the tracks for this afternoon's class, as well as for the class Farrington won on Thursday.
"We want to start a little easier and make it tougher throughout the week," said Jorge. "The riders had the same plan I did because they kept jumping better and better. I thought it was a big track—obviously it wasn't that big because they jumped it really well. If I had to look back and see, I could have made the time allowed a little shorter. I had a grand prix last month, and I had the time allowed a little short, and I ended up with three riders less than I wanted [in the jump-off]. Today if I had the time allowed 1 second shorter, I'd have had eight to nine riders in the jump-off, which is what I expected. But I think the riders today jumped it great, and that's the reason we had 13 clear for the jump-off."
See full results on the CP National Horse Show website, or check out a gallery of photos from the class.