Calgary, Alberta—July 12
McLain Ward kind of shook his head and conceded that Kent Farrington was simply unbeatable in the $400,000 Pan American Cup, the last class of the Spruce Meadows summer series during the Pan American tournament.
"It was one of those rounds that Kent does where the day is over basically," Ward said.
That's not to say Ward didn't try, as did fellow American powerhouse Beezie Madden. But in the end, Madden had to settle for second with Simon and Ward third aboard Rothchild as Farrington flew to the top check with Voyeur.
Thirty-three entries contested course designer Guilherme Jorge's first-round track, with nine combinations earning the chance to jump-off, and five clear rounds over the short course.

Colombia's Roberto Teran set the standard in the jump-off aboard ARK Partners LLC's Arkos des Rosiers Z, clear in 42.36 seconds, to eventually fifth. Charlie Jayne and Alex R. Jayne's Chill R Z immediately upped the pace, finishing with a time of 39.56 seconds to earn the fourth place prize.

Ward jumped the next clear, and easily took the lead with his remarkable partner, Rothchild, in 38.98 seconds. The lead quickly changed hands, however, as Farrington and Voyeur blasted through the course in 36.71 seconds. Last to go, Madden and Simon jumped into second with their time of 38.09 seconds.

Rich Fellers and Harry and Mollie Chapman's Flexible clocked in at 38.14 seconds, but brought down the final fence to place sixth with the fastest 4-fault round.

Farrington won the same competition in 2014 aboard RCG Farm's Uceko and was back this time aboard the talented Voyeur, a 13-year-old Dutch Warmblood gelding (Tolano van't Riethof x Goodwill).

Farrington and Voyeur most recently won the $400,000 RBC Grand Prix, presented by Rolex, during June's National Tournament and have been on a hot streak all season.
"I had the advantage in the jump-off today of going after McLain," Farrington noted. "He is one of the most competitive riders in the world, and we always have a good rivalry between us, so I got to watch him go. Unfortunately, coming after me was one of my other rivals, also one of the best in the world [Beezie Madden]. It was a tough day of sport today and I thought my horse was fantastic.
"My horse has a huge gallop," Farrington commented on his jump-off. "Between the second and third fence I think I did one less stride than everybody else in the competition. The rest of it, I just kind of stayed on the same pace. He has a monster gallop, and he is naturally fast across the ground anyway and that is a big advantage in a field like that."

In the first course, Voyeur was exceptionally strong and caused Farrington to adjust his ride to accomplish the clear round.

"When he is very fresh and he is really jumping, the downside is that he gets really strong," Farrington explained. "He jumped out of the double really high, and coming towards the gate he got very strong with me. I had to do an extra stride that I did not plan on. It was a bit more work than I was expecting, but he pulled it off."

Madden worked hard for her clear round as well, as Simon was also extra strong throughout the first round. In the jump-off, she then rode the plan that she knew was best for her horse.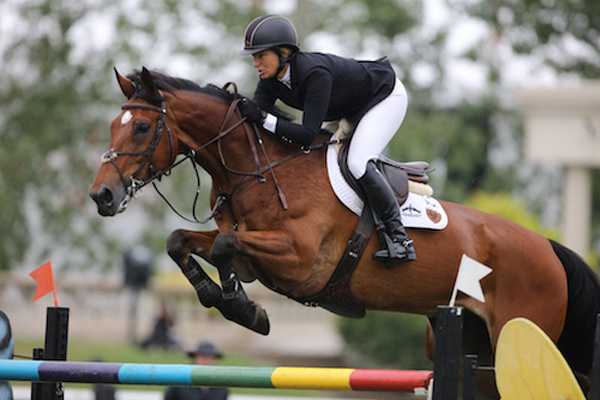 Beezie Madden on Simon jumped to second place.
"He was actually a little stronger than usual today," Madden detailed. "I don't know that I have ever shown him this many weeks in a big field, so I think it is catching up with me a little bit, but the good part about him is you get him to the jump even within range and he tries his heart out to make it over."

"When I have him in a jump-off, I almost don't watch the others because I want to just stick to my plan and do what I know I can do," Madden added. "I have some limitations with how much I can let him out of the bag, but he is surprisingly fast anyway."
Ward and Rothchild are always ones to watch in the jump-off, and they did not disappoint, with a fantastic clear round to land in third place. It had rained most of the day and throughout the competition, and Ward noted that the conditions were not ideal for "Bongo."

"I was thrilled with Bongo. He has had two great competitions here building up to the Pan American Games," Ward remarked. "Traditionally, he has not been great in the wet going. The footing was actually very good considering the amount of rain we had, but that has always been an uncomfortable type ground for him.

"To be frank, that was the round I could do today in that situation," Ward said of his jump-off. "I would never have been able to beat Kent with his horse's stride. I felt with the Pan Am Games coming, and with the conditions, that was the right round to do and I am just thrilled with his performance. He came here, he did two grand prixs and jumped two double clears, so I can't really be too upset with that."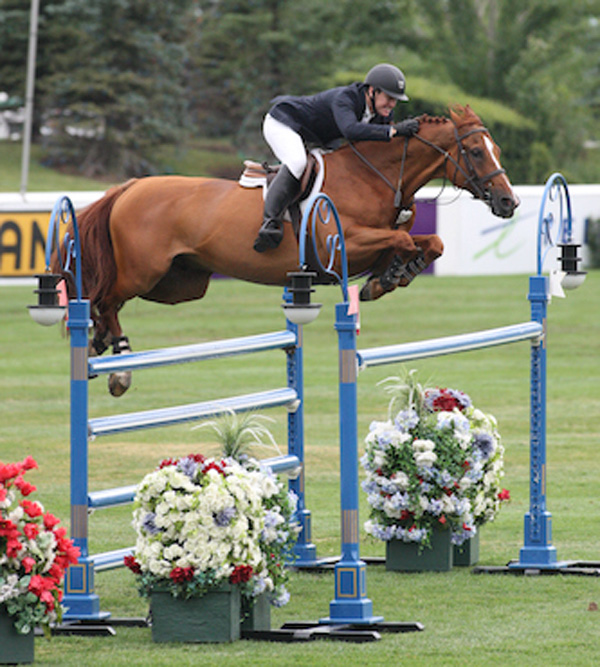 McLain Ward and Rothchild did what they could but had to settle for third place.
Ward explained where he left the door open with his time, specifically two strides that could have made a difference, stating, "I did one too many rolling back on the double. I was a little bit worried about the vertical coming in because he (Rothchild) will cut right on you. For sure to the last jump, I knew both Beezie and Kent could do one less stride. In the wetter going, he does not cover the ground quite as well as he would when it is firm, but even leaving out those two strides I could never have caught Kent. It was a pretty significant margin."
With a fantastic summer series under their belts, Farrington and Ward are now off to Toronto where they will compete in the 2015 Pan American Games. Ward will pilot Rothchild in the Games, while Farrington will jump up-and-coming talent, Gazelle. Madden is on her way to Europe for the rest of the summer.

Final Results: $400,000 Pan American Cup, presented by Rolex
1. $132,000 VOYEUR Dutch Warmblood / G / 13 Tolaro Vant Riethof x Goodwill
KENT FARRINGTON (USA) WELLINGTON, FL Amalaya Investments: 0/0/36.71
2. $80,000 SIMON Dutch Warmblood / G / 16 Mr Blue x Polydox
BEEZIE MADDEN (USA) CAZENOVIA, NY Abigail Wexner: 0/0/38.09
3. $60,000 ROTHCHILD Warmblood / G / 14 Artos Z x Unknown
MCLAIN WARD (USA) BREWSTER, NY Sagamore Farm: 0/0/38.98
4. $40,000 CHILL R Z Zangersheide / S / 12 Chellano Z x A Lucky One
CHARLIE JAYNE (USA) ELGIN IL Alex R Jayne: 0/0/39.56
5. $20,000 ARKOS DES ROSIERS Z Zangersheide / G / 10 Air Jordan Z x Baloubet Du Rouet
ROBERTO TERAN (COL) BURLINGTON, ON ARK Partners LLC: 0/0/42.36
6. $15,000 FLEXIBLE Irish bred / S / 19 Cruising x Safari
RICH FELLERS (USA) SHERWOOD, OR Harry & Mollie Chapman: 0/4/38.14
7. $10,000 POLINSKA DES ISLES Selle Francais / M / 12 Diamant de Semilly x Valespoir Malabry
 FRANCOIS MATHY (BEL) BELGIUM Team Harmony & Francois Mathy: 0/4/38.66
8. $8,000 FIRST CHOICE 15 Warmblood / G / 12 Unknown x Unknown
YANN CANDELE (CAN) CALEDON, ON Watermark Group: 0/4/41.12
9. $7,000 DARLING Westphalian / M / 11 Cornet Obolensky x Gralshuter
AINSLEY VINCE (CAN) MILTON, ON The Darling Group: 0/4/42.76
10. $6,000 CABALLITO Oldenburg / G / 13 Contendro x Argentinus
ANDRES RODRIGUEZ (VEN) WELLINGTON, FL Arao Enterprises LLC: 4/77.74
11. $5,000 SUMAS ZORRO Irish Sport Horse / M / 11 Ard Vdl Douglas x Unknown
SAMEH EL DAHAN (EGY) BALLYCLARE Joanne Sloan-Allen & Sameh El Dahan: 4/78.00
12. $4,000 CYLANA Belgian Warmblood / M / 13 Skippy II x Darco
REED KESSLER (USA) LEXINGTON, KY Kessler Show Stables: 4/78.46