From the moment she toured a college campus as a teenager, Sarah Coltrin knew that college life wouldn't be for her and that she needed to work outside with horses.
She'd grown up eventing in Schaumburg, Illinois, with the St. James Pony Club and trainers Erin and Kenny Dierks, but knew the life of a professional rider would be tough, so after graduating high school early, she started on the path towards becoming a professional farrier.
As she worked her way through farrier school and an apprenticeship, Coltrin kept eventing, and now she runs two successful businesses from Harvard, Illinois, Iron Rose Forge and Iron Rose Eventing, where she gets the best of both worlds on her own schedule.
"One of my favorite things about shoeing horses, especially once I was out on my own, was that I was still able to go and compete and do all of that, and I'm able to set my own schedule and work around a show season," she said. "It works out really well for my shoeing clients. I really try hard to stick to my scheduling."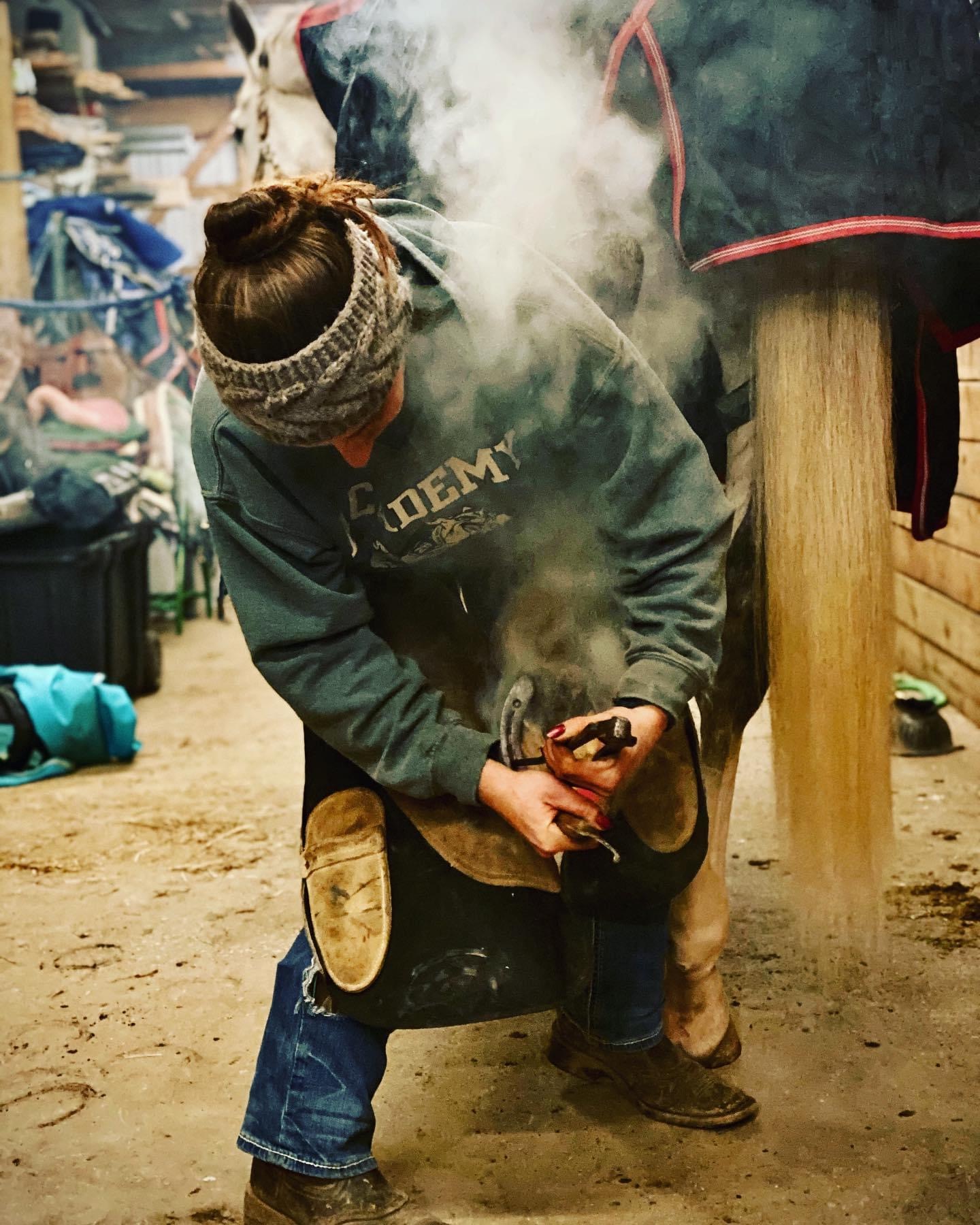 Coltrin was introduced to horse shoeing as a teen, when her family's farrier asked her if she wanted to learn.
"Every time he would shoe my event horses, he would let me borrow his tools and watch me trim two retired horses we had at our house," she said. "That got me hooked."
Coltrin graduated high school early so she could attend the Midwestern Horse Shoeing School, which is now owned by the University of Illinois-Urbana Champaign.
She credits Pony Club for preparing her to pass her American Farrier's Association certification next, which involved a written test, demonstrating forging skills and shoeing a horse in front of examiners.
After a four-month course in farrier school, she did a two-year apprenticeship under Alan Dryg, then worked with a few other farriers before striking out on her own in her early 20s.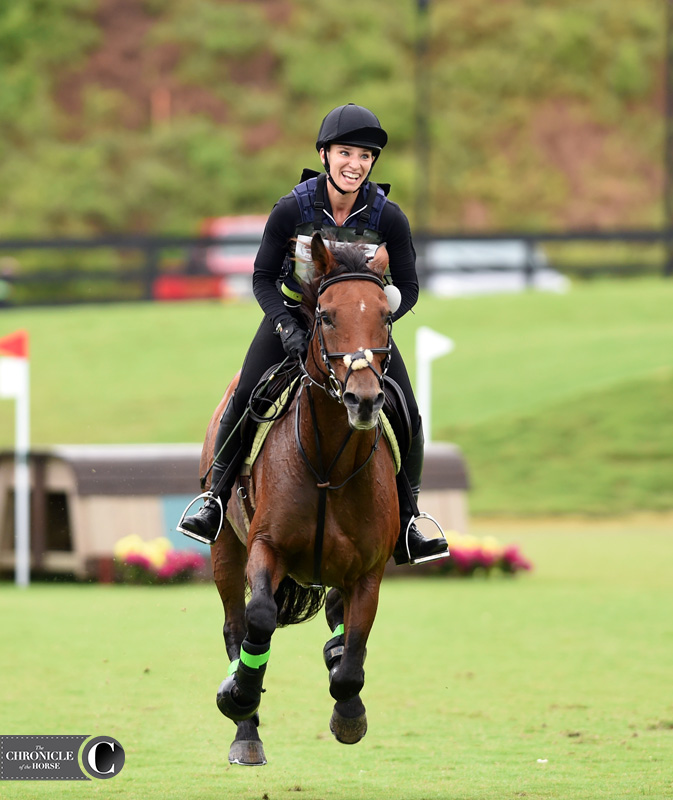 She also took the time to take on some professional riding gigs, heading to Pennsylvania in 2018 to work for Grace Boynton at Hidden Acres Farm. She stayed for nearly two years before heading back to Illinois and settling in Harvard.
It was at Hidden Acres that she met Madam Dragon, or "Penelope," a 14.1-hand 8-year-old Welsh-Dutch Warmblood mare (Smoke Tree Dragon Tail—Crazy Madam) who was in for sale.
"She came to be a hunter sales pony and quickly flunked out of hunter school," Coltrin said. "She has a lot of knee and hock action, so that kind of checked her off the list, but she is also not for children! She has enough fire in her spirit for probably three horses twice her size. She is all 'go out there and get it,' and she absolutely loves cross-country. She is fierce. I decided to keep her at least until she can't go up the levels anymore."
Coltrin and Penelope have competed through training level, with hopes of going preliminary this season, and Coltrin hopes to take her as far as she wants to go. "She has really blossomed into a beautiful jumper, and her gallop has come so far," she said. "My previous personal horse was only 15 hands. I would say the hardest part for me with her is that she has a huge jump for being so small, so the biggest key for me for riding her is to keep my core strong so that she doesn't push me forward out of the saddle. She's very strong in her hind legs when she jumps, so to keep my core strong and stay off of her neck and shoulders and really allow her to power over the bigger fences has been key."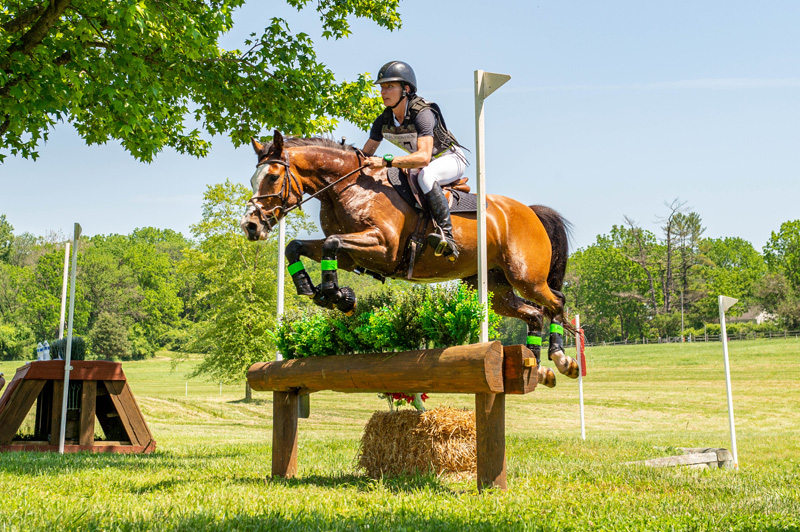 Coltrin also has novice ride Here Comes The Sun, a 12-year-old Standardbred mare of unknown breeding who was found in a ditch by her previous owner Kelsey Allonge as a yearling.
"I broke her out to ride in 2013," said Coltrin. "I gave her back after about 60 days, then in 2014 I took her on because I needed a lesson horse. Kelsey gave her to me, and I used her as a lesson horse until 2018, and that's when I retired my prelim mare. I didn't have anything to ride, so I kicked my students off 'Sunny' and put them on my retired mare. I started showing Sunny for fun. She's a blast. She jumps anything you want her to. She's very quiet for all the trauma she's been through in her life. She's probably done more Pony Club ratings than most people will ever do! I've lent her out. She's probably got her D1 at least 10 times."
Coltrin, 28, now works for Cheryl Quick at Finishing Touches Farm in Genoa City, Wisconsin, where she brings along off-the-track Thoroughbreds primarily for eventing. She teaches Quick as well as a small group of students and then spends her late afternoons and evenings shoeing for clients. She keeps her personal horses at home, and her boyfriend, James McKinnon, helps out with some grooming and support at horse shows and enjoys riding one of Coltrin's retired Thoroughbreds on trail rides.
As a female in the male-dominated horse shoeing industry, Coltrin says she rarely feels like she doesn't belong. "The one thing that probably bothers me the most is when people say, 'Oh my gosh, you're so small to be a horseshoer!' That drives me crazy, but other than that I don't run into too much of an issue," she said. "I get the occasional poke and prod if I'm at a blacksmithing clinic, but most people are so welcoming in the industry."
Her advice to women wanting to become farriers is to make sure to build strength.
"The stronger you can make yourself and the more correct you can stand in your body the better off you're going to be," she said. "That's been a lifesaver for me. Have the strength to do it and not be wearing myself out."