Dressage winner and American's Most Wanted Thoroughbred—Lauren Turner on…
Fairway King: 4-year-old gelding (Leroidesanimaux—Par Golfer, Robyn Dancer), four career starts, $19,790 in earnings.
Lauren Turner couldn't hold back her tears when the announcer at the Retired Racehorse Project's Thoroughbred Makeover called her number for the winner of the dressage competition. A horse she happened upon less than a year ago had just bested 80 other Thoroughbreds in the dressage competition.

Lauren Taylor was all smiles on Fairway King after winning the America's Most Wanted Thoroughbred title. Photo by Sarah Andrew
"I picked him out of a field," Turner, 26, said. Her impulse buy also ended up being crowned the overall winner, the title of America's Most Wanted Thoroughbred, at the Oct. 28-30 event in Lexington, Ky.
Turner, who trains event horses out of River Birch Farm in Jasper, Ga., was on her way to an event in August 2015 when she stopped by Diane Cross' DEC Training Center in Georgia to check out a few different horses, including Fairway King.
"I actually left him," Turner said with a laugh. "But then [Cross] called back and said, 'I'll make you a deal—you can have your pick of the three of them.' My best friend and I went and flexed him in her driveway and threw him on the trailer!"
Turner says Fairway King was a bit of an ugly duckling when she first started working with him.
"His neck was upside down. He was so ugly, my friends were like, 'Lauren, why did you pick that one? Why didn't you pick the big pretty one?'" Turner said, smiling and shaking her head. "I was like, 'Oh I don't know, I just like him.' "
Truth be told, the delicate bay gelding reminded her of another horse very near and dear to her.
"There's something about him that reminds me of a horse that I just retired, something about his eye and his personality," Turner said. "And the horse I retired is my heart horse. That's why I started crying in the beginning [of the Makeover], because I wouldn't be here without him. So it's just really cool that this guy has just won."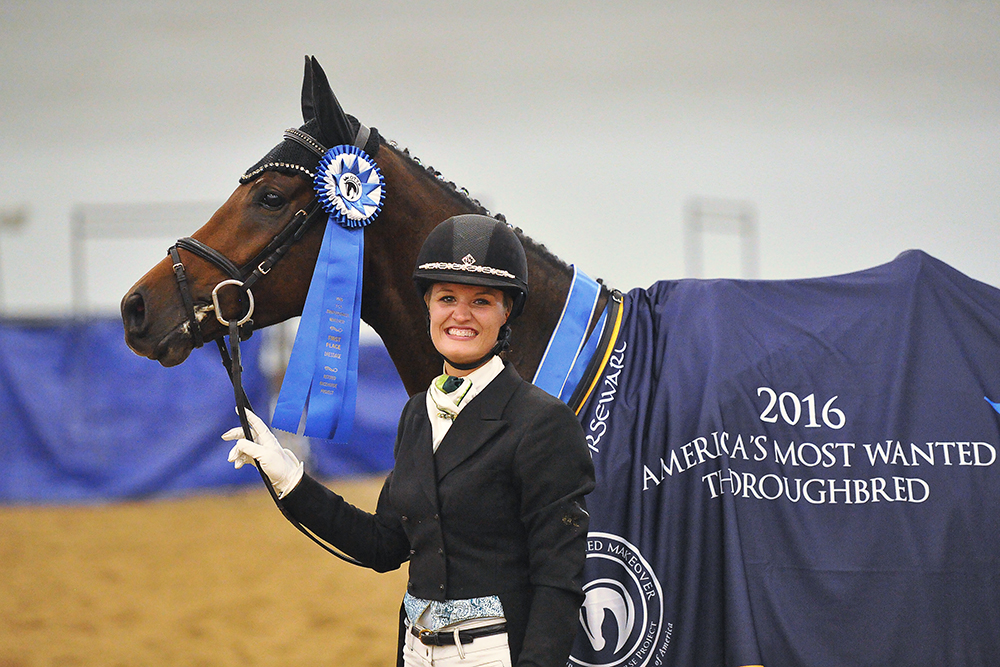 Lauren Taylor and Fairway King. Photo by Sarah Andrew
Cross congratulated Turner and Fairway King in a Facebook post: "Thank you so much, Lauren Turner, for taking a chance on the little 3-year-old, OTTB gelding with the fantastic elastic trot, named Fairway King. Nobody wanted him, because he was 3 and small. He came off the track because he was body sore and just fed up with track life. Thank you for seeing past the young age and his size. You saw beyond that and knew he had plenty more to grow and saw his big bold heart along with his big bold trot! Thank you for seeing the potential and taking him all the way!" Cross posted.
The dressage competition at the Thoroughbred Makeover starts with all competitors (80 horses competed in the discipline) riding the USEF training level, test 2, followed by three minutes of performing movements the rider feels show off their horses' abilities. The top three from the field of 80 were invited back for the finale to perform a demonstration ride to music of any movements they felt best showed off their horse.
Turner competed in both the dressage and eventing disciplines at the Thoroughbred Makeover; Fairway King has completed one beginner novice event.
Along with winning the dressage competition, Turner won the America's Most Wanted Thoroughbred award and a check for $10,000, which was given to whichever winner of a discipline received the most applause (measured by a decibel meter) at the final awards presentation. Each discipline winner also received a $5,000 prize.
Show hunter winner—Tyler Weith on…
Greeley's Magic: 3-year-old filly (Greely's Conquest—Los Altos, Robin Des Pins), three career starts, $256 in earnings.
Before young professional Tyler Weith met Greeley's Magic, he had never competed a Thoroughbred horse before. It's safe to say this little bay mare has won him over.
"This is the easiest horse I've ever ridden," Weith, 24, said. "Every nice warmblood I've sat on, this is the nicest one."
At just 3 years old, the stunning bay filly "Maggie" put in a nearly foot-perfect trip around the hunter course to take the top call in the hunter competition. While some of her fellow competitors jigged and spooked at the applause from the crowd or the tractors dragging the ring during the award presentation, Maggie didn't move an inch—in fact, she practically fell asleep—and no amount of paper tossing, jumping or whistling could get her to perk up for the presentation picture.
Maggie is the definition of steady, and it's what makes her shine in the show ring with Weith, who started working with her in January of this year.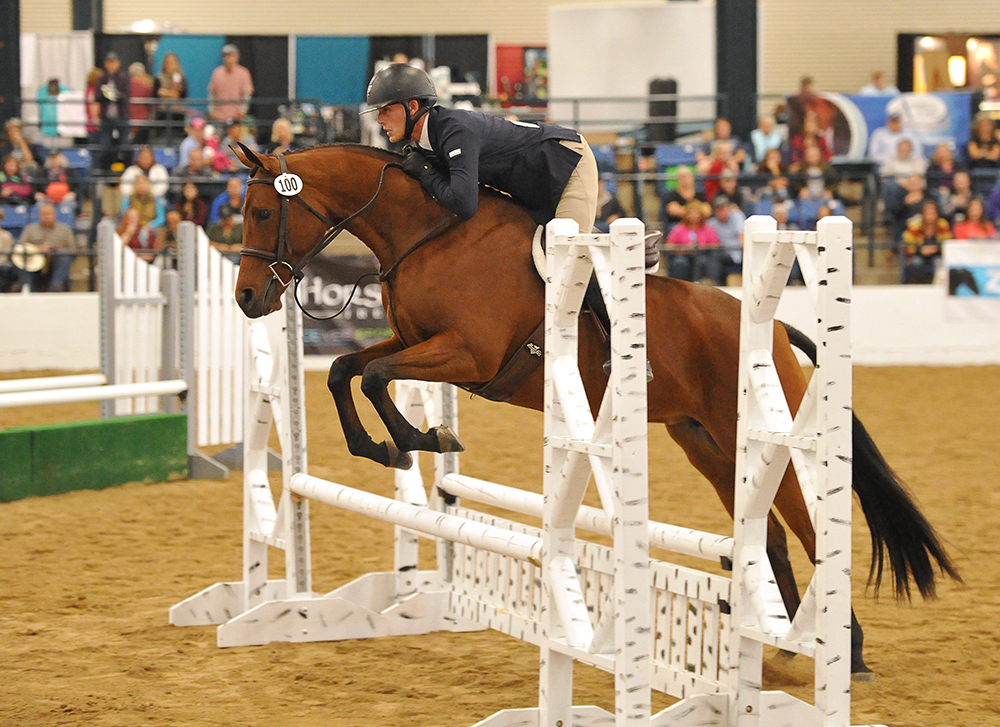 Tyler Weith on Greeley's Magic. Photo by Sarah Andrew
"Once we started jumping her, she jumped incredible and just landed slow and the same pace," Weith said. "We can't ask for more; you can't always get that in an older horse, so for her to have that as a 3-year-old is amazing."
Weith owns Maggie with race horse trainer Jean Carmichael. Carmichael helped pick the filly out for Weith from the Kentucky Training Center to start retraining at Weith's W Show Stables in Lexington and coached Weith through the retraining process. Watching Maggie doze off in the sun on an uncharacteristically warm fall day, it's hard to believe the mare was ever anything but mellow, but she used to be quite the feisty character.
"When she came in she went out in this little paddock, and she would rear in your face when you walked her. She was wild; she was a fiery, wild girl," Weith said with a laugh. "She stayed that way until the summer, but like Jean said, that's just babies, you ride them through that."
Once Maggie figured out her job though, she didn't need much practice at it before coming to the Makeover ready to win. Weith showed the filly in one unrated show in Lexington and once at the Tryon International Equestrian Center (N.C.) in the hopeful hunter division.
"She was second in the hopefuls against some nice horses [at Tryon], some horses that show at [the Winter Equestrian Festival], so we geared up for [the Makeover] with that show. This is her third show, and her rideability here has been great."
At the Makeover, horses in the show hunter competition jumped a course of fences set at 2', 2'6" or 3' and participated in a hack class. The top three finishers from the original field of 77 hacked and jumped again.
Maggie may have been Weith's first Thoroughbred horse, but she certainly isn't his last—Weith has bought and sold a number of Thoroughbreds since meeting Maggie, and he hopes others in the horse show world will give the breed a chance.
"I think this program is really, really awesome, and I think it's really sad that people aren't taking the Thoroughbreds seriously. I've been told by numerous trainers that I can't sell a Thoroughbred," Weith said. "They say, 'I get a nice Thoroughbred, and I can't sell it,' and it's just not true. The horse quality is the horse quality, and at the end of the day if I walk in that pre-green ring and I jump around 10s on all the jumps, I should get a ribbon against these other horses. There's no reason I shouldn't get ribbons against warmbloods." 
Field hunter winner—Sarah Davis on…
J.J.'s Local Law: 6-year-old mare (Deputy Rokeby—Home Deed, Alydeed), 16 career starts, $45,093 in earnings.
While most riders don't meet their mounts for the Thoroughbred Makeover until their career on the track has come to a close, Sarah Davis got to watch her mare J.J.'s Local Law run and even helped train her to race.
"My best friend bred her," Davis said. "I exercised her on the track, and I saw her through getting gate-broke."
Davis runs her own Sarah Davis Eventing facility in Montpelier, Va., and has always had a passion for the Thoroughbred horse.
"When I started really wanting to understand the Thoroughbreds and where they start and get a complete understanding of everything they go through, what better way to do that then to go get experience galloping on the racetrack?" Davis said.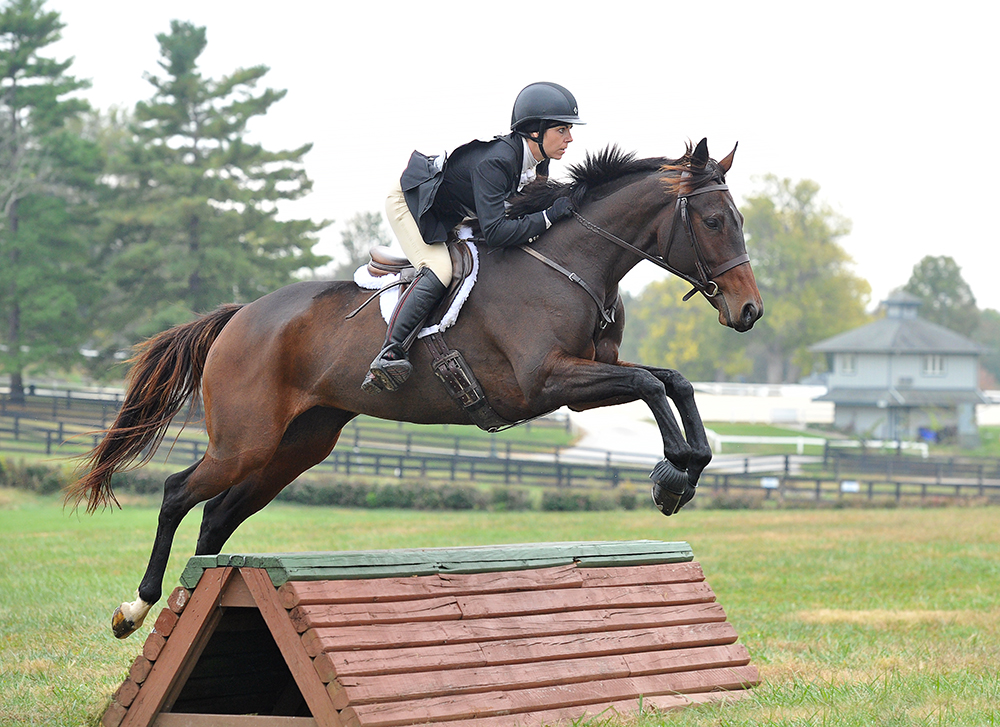 Sarah Davis on J.J.'s Local Law. Photo by Sarah Andrew
When "J.J.'s" career on the track came to a close late last year, Davis took the mare to retrain. Davis doesn't hunt a lot herself, but she has taken a few sales horses out with hunts to get them experience in the field with the hounds.
"I mainly retrain off-the-track Thoroughbreds for amateurs to take and do whatever discipline seems to fit the horse, and I'm doing a lot more fox hunting now, because its seems really popular," Davis said. "It's a good place for a really good, quiet, well-brained and good-temperamented Thoroughbred to have a job."
In the fox hunting competition at the Thoroughbred Makeover, riders first rode on the flat demonstrating a walk, trot, canter, hand gallop and halt. Then all 30 entries followed a master on a mock hunt with hounds over natural hunting fences up to 2'6" in height. Horses were judged on their performance, manners and suitability to hunt in a field, and the top three pairs were invited back to demonstrate a field hunting test in an arena, which included jumping, halting and standing, dismounting and remounting, and hacking.
"She can be a whole lot of horse, so for her to come out here and do this all week for me and be so good and do everything asked of her, I'm just thrilled to death," Davis said. "I'm tickled, and I'm so proud of her, words don't even describe."
Show jumping winner—Isabela de Sousa on… 
Carajillo: 4-year-old gelding (Medaglia D'Oro—Prospective Saint, Saint Ballado), six career starts, $29,380 in earnings.
Thoroughbreds are in Isabela de Sousa's blood—the 15-year-old rider from Lexington is the daughter of an equine vet and a race horse trainer, so it's no surprise de Sousa has taken a liking to the breed.
De Sousa returned to the Thoroughbred Makeover this year to defend her title from last year's competition, where she won the show jumping discipline aboard Dewey Squared, and she was able to make it two in a row aboard Carajillo.
"Just for him to be here made me really, really happy, because he was pretty sick earlier this year," de Sousa said. Carajillo had a very bad case of tapeworm that nearly claimed the gelding's life in early spring.
"He was the definition of skin and bones," de Sousa said. Luckily Carajillo was able to recover, and after a few more weeks off in a pasture regaining some lost weight, de Sousa started retraining him herself at her family's farm over the summer.
Despite losing a good chunk of training time, de Sousa and Carajillo turned in an extremely polished performance over their show jumping course. Riders show their horses through a flat test similar to an equitation class, and jump their mounts through two gymnastic exercises before showing them over a course of fences. Horses were judged on their adjustability, carefulness and relaxation.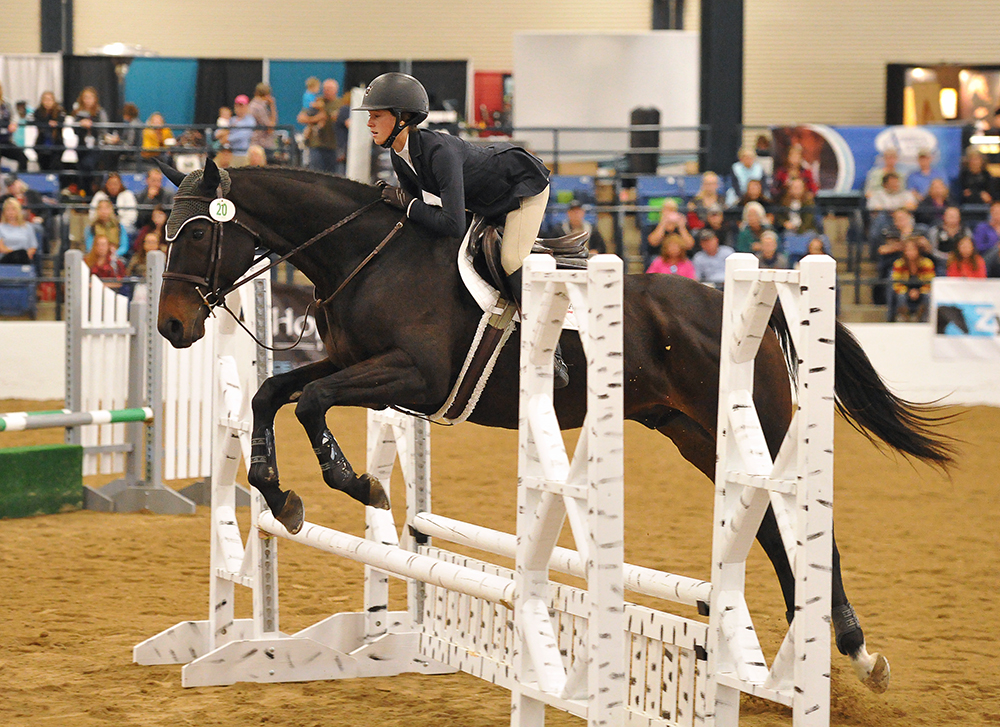 Isabela de Sousa and Carajillo. Photo by Sarah Andrew
De Sousa and Carajillo jumped their course beautifully, including flying changes, to take home the win.
"He's been very easy to train. I mean, he's only 4—I forget, and I think he's a 9-year-old," de Sousa said. "Because he acts like he knows what he's doing."
Carajillo is also remarkably calm—in the finale round, de Sousa toured the show ring with the gelding at a walk on the buckle for about five minutes while judges were finishing tallying their marks for the previous rider, and de Sousa said she warmed up the 4-year-old in the morning riding bareback.
"Everybody has a stereotype on Thoroughbreds, saying 'Oh they're so hot, they're this and that,' and they aren't," de Sousa said. "If you see them, they're so willing, you see here they do 10 different disciplines; you can see how versatile they are."
When she's not retraining Thoroughbreds, De Sousa competes at horse shows in the low junior jumpers and equitation classes. She's hopeful that with programs like the Retired Racehorse Project to showcase OTTBs, more people in the show world will consider purchasing them.
"I really hope people don't listen to these stereotypes, and they make a comeback in the hunter/jumper world, because they're just as good," de Sousa said. "They might not look as good right at first, but you've just got to give them time. You can't just say this isn't a hunter or a jumper; you have to work with them. You have to give them a chance."
Eventing winner—Cathy Wieschhoff on… 
Speed Rail: 6-year-old gelding (Purge—It's Five Oclock, Saratoga Six), 17 career starts, $95,144 in earnings.
Four-star eventer Cathy Wieschoff has been working with Speed Rail since March of this year. "He's just been fantastic, so level-headed," Wieschhoff said.
Wieschhoff's CW Event Team is based in Lexington, but Wieschhoff travels to Florida for the winter season, so her wife Jessica Bollinger started working with Speed Rail a bit over the winter before Wieschhoff returned in the spring.
"I didn't start by riding and getting on him—I do a lot of natural horsemanship with them first," Wieschhoff said. "And then we started riding him in a rope halter at walk, trot, and canter."
In fact at the Throughbred Makeover, along with competing in the eventing discipline, Wieschhoff also entered "Speedy" in the freestyle competition to demonstrate what he learned from his early training.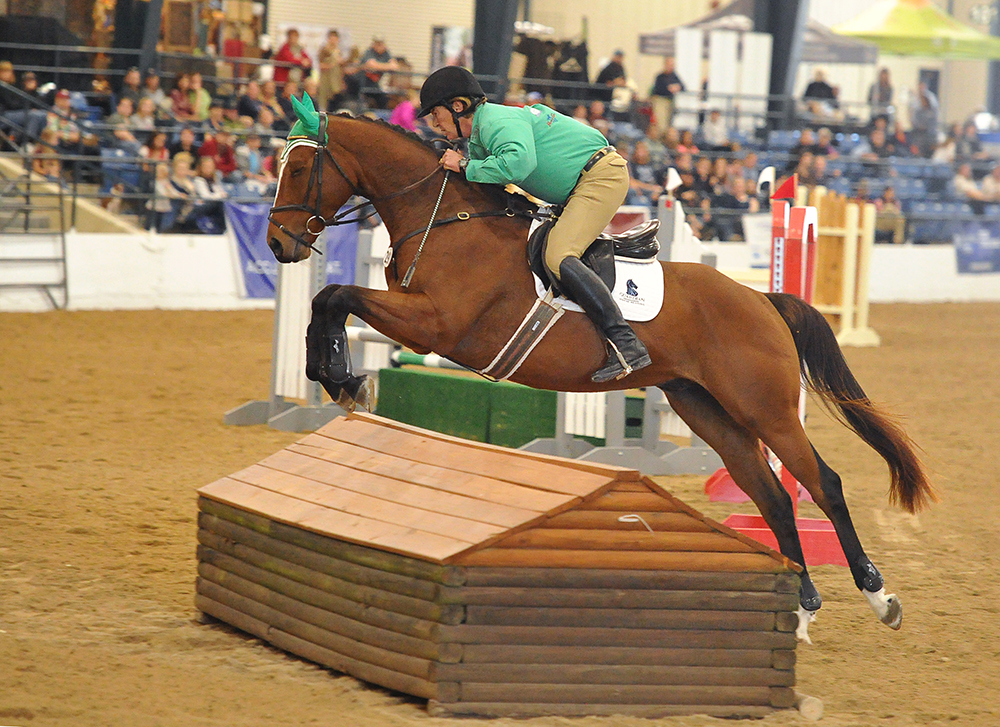 Cathy Wieschhoff on Speed Rail. Photo by Sarah Andrew
"I was able to ride him bridleless [and halter-less] and jump a fence in the covered arena for the freestyle," Wieschhoff said.
The eventing competition at the Throughbred Makeover started with all 75 entries performing the USEF beginner novice dressage test A. Competitors then completed a course of four show jumping fences and six to eight cross-country obstacles. After completing the jumps, riders were asked to demonstrate a 520 meter-per-minute gallop. Horses were judged on their bravery, carefulness and rideability, and the top three entries were invited back for the finale to demonstrate another hybrid show jumping/cross country course.
Speed Rail is owned by Bollinger, and she plans to take over the ride from Wieschhoff following the Makeover.
"[Bollinger] used to event at the preliminary level, and she kind of got out of it for a while, and we found this guy," Wieschhoff said. "He's awesome, so I'm happy to hand the reins over to Jess knowing she'll have a great level-headed horse to start riding."
See full results from all divisions of the RRP Thoroughbred Makeover.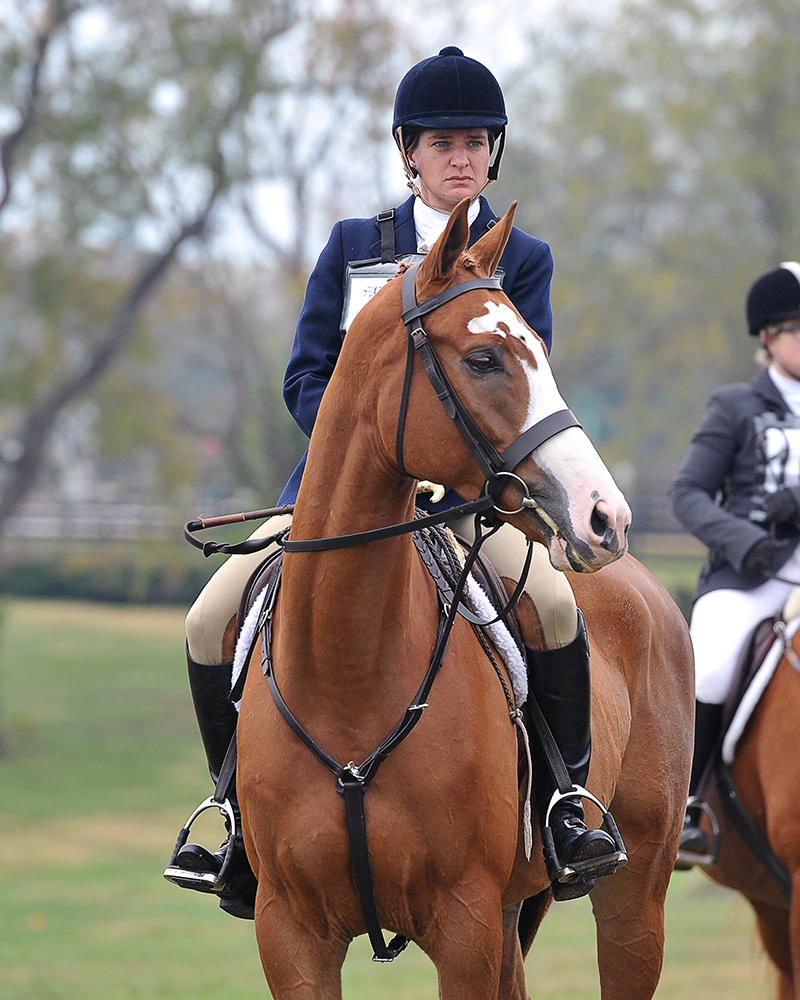 Michelle Craig and Youmightbearedneck competed in the field hunter and show jumper divisions at the Thoroughbred Makeover and won the Thoroughbred Ambassador's Award, given to the competitor who most effectively inspired appreciation for the talent and trainability of the Thoroughbred. 
Craig spent much of her time training Youmightbearedneck bridleless after the gelding broke his jaw in a trailering accident this summer. Read more about it in the COTH story "Michelle Craig Is Finding The Bright Side By Going Bridleless." Photo by Sarah Andrew

Last year's America's Most Wanted Thoroughbred winner, Lindsey Partridge, won the competitive trail division on Trivia Time. Photo by Sarah Andrew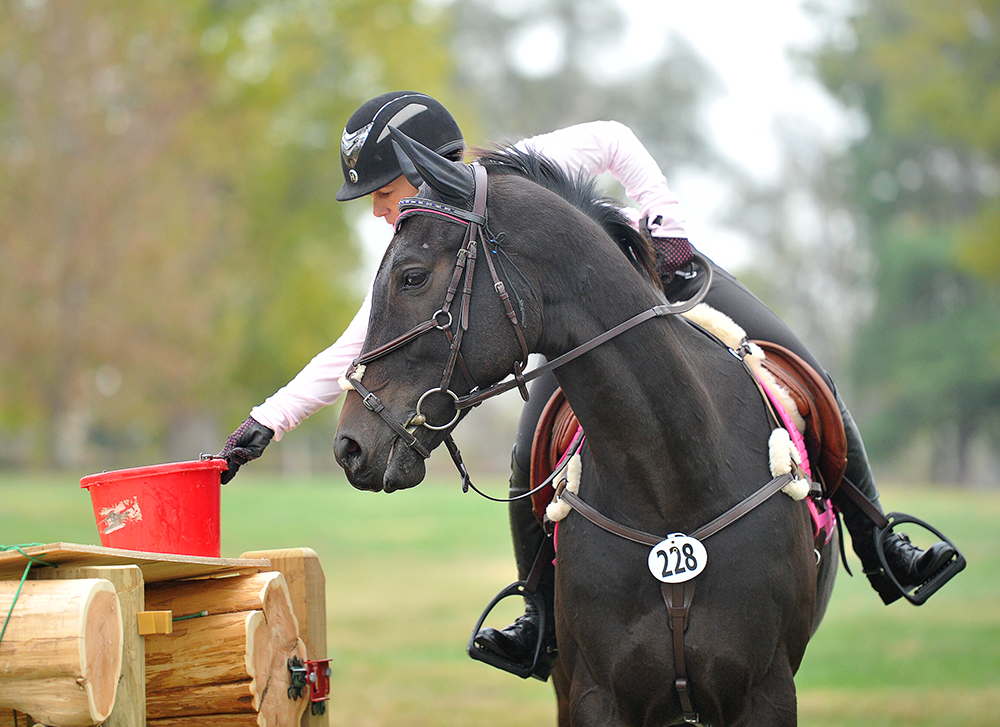 Gelt and Nikki McKinley competed in the competitive trail division, where riders had to pick up a bucket of water, trot a loop, then put it back on the jump. Photo by Sarah Andrew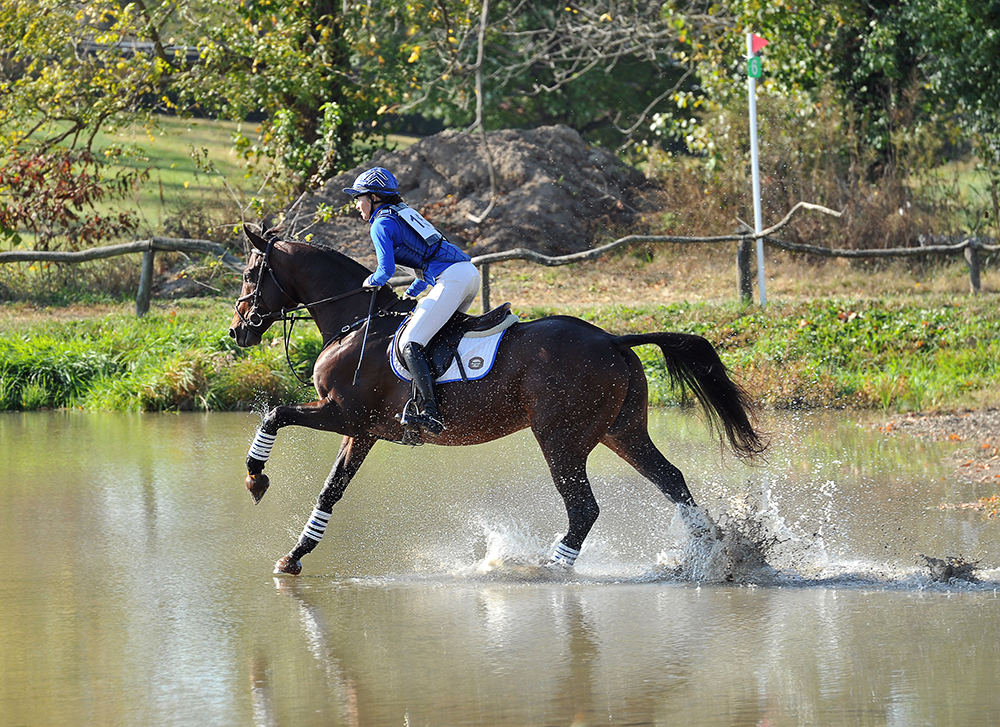 Saketini and Audrea Dyer galloped through the water during the eventing competition. Photo by Sarah Andrew