A meeting of the minds results in many new proposals to make the sport safer.
For much of this year, the sport of eventing has been thrust into an uncomfortable position in the spotlight, due to a spate of terrible falls and the accompanying media coverage. At the first USEF/ USEA Safety Summit, held June 7-8 in Lexington, Ky., eventers sought to reclaim the sport they love, wresting it off of a track that many find dangerous and unsustainable.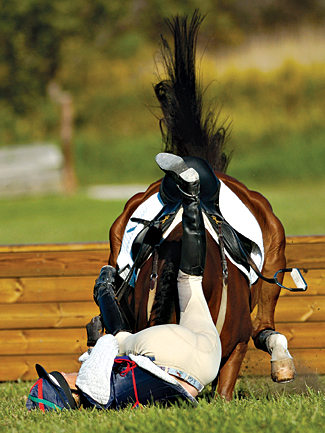 "We're here today because eventing, a sport we know and love, is in trouble," said U.S. Equestrian Federation CEO John Long. "Things need to change. It can't be business as usual anymore."
The summit drew about 250 audience members, including many of the sport's most prominent riders, trainers, event organizers, course designers, veterinarians and officials, as well as amateurs, young riders and parents. More than 1,000 e-mails with suggestions and comments were received in the weeks preceeding the summit, Long said.
Although a handful of concrete actions were set in motion at the summit, it served primarily as a jumping-off point, with USEF President David O'Connor and U.S. Eventing Association President Kevin Baumgardner pledging to take the ideas back to their respective organizations for consideration and to work out the details of implementation.
Both the leaders and the participants seemed apprehensive about the direction the summit would take. But when the group reconvened on Sunday morning, O'Connor said the session had exceeded his expectations. He asked for a show of hands from those who had entered the summit fearing that the sport would be significantly altered. As it turned out, the ideas discussed revolved not around changing the sport but becoming better participants.
In the end, the focus was primarily on rider responsibility and education and enacting sensible safeguards to save those without enough of either from themselves.
"We want to learn our three phases better and take care of our horses doing it," O'Connor summarized.

The Enemy: Horse Falls
O'Connor distilled the essence of the summit down to one simple goal: reducing falls of horses. He noted that falls of rider only result in injury about 2 percent of the time, while non-rotational horse falls carry an injury rate of about 50 percent. Rotational falls, however, result in injury in a sobering 85 percent of cases.
What You Can Do
Most of the safety summit focused on changes that need to occur within the USEA and USEF—rule changes, educational initiatives and data collection, for instance. It might seem as though the lion's share of the work to be done is out of the hands of the sport's rank-and-file—as David O'Connor stressed, the summit was focused on the .2 percent of trips that end in the fall of a horse, not the other 99.8.
But over and over again, O'Connor and USEA President Kevin Baumgardner emphasized that a "cultural shift" is needed and that eventers need to become "evangelists" for safety.
So, what can the rank-and-file do?
"Realize the responsibility you have when you get on your horse is the ultimate responsibility," O'Connor said. He stressed that riders should always keep in mind the idea that "you are going to be safe today," and if it's not your horse's day, stop and go home.
He emphasized that the sport is not about qualifying on a timeline. "The horse doesn't know that the Olympics are in two months, or Morven [Va.] is in the autumn," he said, adding that the horse needs to dictate when he's ready to move up, not a rider's timeline.
Baumgardner said that change can be effected when riders get involved in their areas and stay in touch with their local organizations. And he urged eventers to keep in mind, every time they enter the start box, that they have "a serious responsibility to the horse, and to the sport of eventing."
He also complimented the members, praising their ideas and initiative. "What I came away with yesterday was how great it is to work with people in this sport,"
he said.
He cautioned that change will be difficult and will take time, but he was optimistic that a change in culture could be achieved. "We are self-starters. Eventers are people who go out and get it done," he said. "This is a motivated group of people who want to go out and do their own thing, and we have to balance that now with a culture of oversight."
Data collected on horse falls seems to confirm the perceived increase in accidents. Although horse falls are relatively rare at the lower levels, occurring only about once every 1,100 starts at novice and every 850 starts at training, they become markedly more frequent at preliminary and up. In 2007, a horse fall occurred once every 264 starts at preliminary, a 63 percent increase in frequency since 2003. At intermediate, a horse fall occurred once every 156 starts in 2007, a 50 percent increase over 2003 levels.
Course design and fence construction have faced increased scrutiny as those numbers have increased. Tremaine Cooper, an FEI I-rated course designer and chairman of the USEA Course Designer Committee, and course builder Eric Bull served as "discussion framers."
Frangible pins and deformable jumps are still hot topics in the discussion on cross-country safety. Bull brought a large model of a log supported by a frangible pin, and Cooper demonstrated their use. He noted that jumps suitable for frangible pins, which interrupt and reduce the severity of rotational falls by allowing a rail to drop when a certain force is reached, can be easily and quickly retrofitted and that there's no reason not to use the pins on any appropriate jump.
O'Connor asked the event organizers in the audience how many jumps on their courses use frangible pins—most reported only a handful, if any. Although pins have limited applications (they can only be used on certain types of fences and to support logs up to a certain weight), their implementation seems to be lagging even on jumps where they can be employed. In response to this, O'Connor announced that the USEF will supply pins free of charge to any event organizer who wants them, eliminating what may have been a perceived hurdle of cost and availability. The USEA Eventing Standards Task Force has also put forth a rule change proposal that would require pins to be used on certain types of fences.
O'Connor presented information on two systems of his own design—a ditch and brush fence with a collapsible brush box, which would give way if struck with enough force, and a break-away support system for heavier logs to be used in conjunction with frangible pins.
Several riders expressed skepticism that collapsible jumps would be a magic bullet for improving safety. Danny Warrington noted that hurdles are deformable fences, but horses still fall. Eric Dierks, an upper-level rider and trainer, expressed concern that riders would go even faster and take more risks over cross-country jumps that would give way.
General course design and fence construction were also discussed. Dorothy Crowell, one of the most vocal upper-level riders in attendance, said that she had not noticed much difference in four-star courses upon returning to that level after a 10-year break but believes that lower-level courses had changed dramatically and were no longer as enjoyable and educational as they once were.
That opinion was shared by many, who felt that some courses at the lower levels had become "mini Rolexes," asking questions unsuitable to the level. Sally O'Connor, David's mother and a longtime judge and official, echoed that sentiment, noting that height is not the issue—it's the questions that horses are asked to solve. She emphasized that the lower levels need to ask questions that horses can easily process and suggested revising the specifications for novice and training to ensure that those levels remain introductory and educational.
Speed Kills
"Anyone who comes in 20 seconds under optimum time at Rolex Kentucky is going too fast," declared the event's organizer, Jane Atkinson.
The statement summed up the feelings of many who worried aloud that riders were simply riding faster than is safe or were not educated enough about riding at speed to do so safely.
"Speed is not necessarily a bad thing," said upper-level rider Robert Costello. "It's when people don't know how to ride at speed in balance," he noted, to a round of applause. Course designer Mick Costello added that going too slow can be as dangerous as going too fast.
Rider and trainer John Staples, who has a background in engineering, presented the results of a study he conducted with amateur rider Reed Ayers, an assistant professor of metallurgical and materials engineering at the Colorado School of Mines, to measure the speeds of riders on cross-country. They used radar guns and global satellite positioning watches to track how fast competitors were going as they negotiated a course.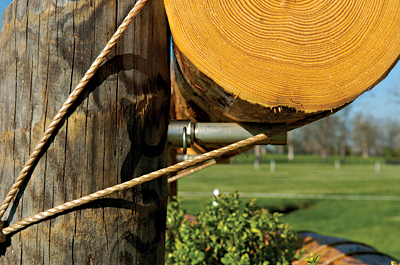 Their results showed that speeds varied greatly throughout the course, as would be expected, but that some rides exhibited more frequent and extreme changes in speed. Staples hoped the data would help course designers better understand the real-world applications of their designs and could also be used to determine how speed correlates with accidents.
Many ideas were raised to address problems related to speed, including forbidding the use of watches on course at the lower levels, providing minute markers on course at the lower levels to help riders gauge their speed, allowing the ground jury to adjust the time as weather and course conditions warrant, assessing
penalties for coming in too far ahead of optimum time, and not posting riders' cross-country times until competition has concluded.
Capt. Mark Phillips, chef d'equipe for the U.S. eventing team, said that the focus on finishing inside the time is primarily a U.S. phenomenon and reminded riders that they should focus on the questions of the course first.
From the discussions of speed came ideas about addressing the issues posed by a competitor running his horse too fast or otherwise riding unsafely. Leslie Law—one of the panelists for Saturday afternoon's discussion of qualifications, along with Staples and Costello—recalled that officials in the United Kingdom developed a "watch list" system in response to safety problems several years ago. Those riders who were considered "an accident waiting to happen," Law explained, received a phone call from chef d'equipe Yogi Breisner warning them that they were riding dangerously.
Phillips added that from a pool of more than 10,000 active eventing participants in the United Kingdom, the watch list only contains about 25 names at any given time.
Support seemed strong for a similar system in this country—the list would be kept private, as would the identity of anyone who reported a dangerous rider. An individual like Phillips would be charged with contacting riders and cautioning them that they should move a particular horse back down a level, for instance, or that they were riding too fast. Once a rider seemed to have solved whatever issue existed, he or she would be removed from the list.
Major Ideas Proposed At The Safety Summit • Institute a licensing system for the four-star level
• Establish an equestrian version of the National Transportation Safety Board to investigate fatal accidents and publish their findings
• Improve post-incident forms to collect more useful information
• Provide more qualified "eyes on course" to identify competitors who are riding dangerously and stop them before accidents occur
• Establish a "watch list" of unsafe riders and allow for anonymous reporting of unsafe riding
• Require that riders carry catastrophic health insurance and consider offering it through USEF
• Make frangible pins available through the USEF free of charge
• Allow the USEF to pay for the necropsy of any horse that dies during competition
• Implement a point-based qualification system under which a horse-and-rider
combination can lose points and be required to move down a level
• Reward effective cross-country riding with special awards
• Reach 500 instructors certified through USEA's ICP program within two years
• Introduce speed penalties for finishing too far under optimum time on cross-country at preliminary and above
• Implement a medical card for horses to track injuries and falls
• Allow officials to "yellow flag" competitors on cross-country to warn them that they're riding dangerously, but allow them to continue
• Revisit the course specifications for the novice and training levels to ensure the questions being asked are appropriate for the level
• Improve course descriptions in the Omnibus to better allow competitors to choose appropriate levels of difficulty for their horses
• Offer guidelines on rider fitness
• Make technical delegates professionals who are paid by USEF, not individual events
• Improve data collection on falls, injuries, and withdrawals
• Fund research to improve understanding of cardiac and pulmonary issues
• Expand the USEA's National Course Advisor Program to include the lower levels
For unsafe riders who need more immediate intervention, the idea of a red/yellow flag system was discussed. Officials already may disqualify a rider on course (the "red flag") if he is deemed unsafe, although the option seems to be underutilized, according to many participants. O'Connor offered the idea of a "yellow flag," where an official could visually warn—or physically stop and then allow to continue—a rider who seemed to not be having a good round but still had a chance to salvage it. He's been pushing for a rule change to implement the yellow-flag system, but it has yet to be accepted.
Licensing, Qualifications And Education
As expected, the idea of ensuring rider preparedness and competency through more stringent qualifications, or even a licensing system, was a primary topic. Several audience members voiced support for the idea of some kind of official clearance to compete at a certain level or of holding coaches more accountable for ensuring that their riders are safe and ready for the level they are attempting.
Malcolm Hook, a member of the Board of Governors, proposed a points-based qualification system, where a horse and rider combination would need to accumulate points to compete at a certain level and could also lose points for being eliminated or having a fall, for example.
Hook noted that only a small percentage of riders are "in trouble" at the level they're trying to contest, perhaps without realizing it. "Licensing affects 100 percent of riders," he cautioned, not just the small fraction who might be struggling.
In the end, there was support for exploring the idea of licensing by starting at the top, at the four-star level.
Licensing for coaches was also debated, with Phillips voicing support. But other participants noted the difficulty and expense involved in completing the USEA's Instructor Certification Program, suggesting that licensing might be unreasonably difficult or expensive for coaches.
Strong support was expressed for the ICP program, however, with Baumgardner referring to it as the USEA's "flagship program." A goal was established to have 500 certified instructors within two years, up from the current 135.
Although many rules-based changes to ensure rider safety and competency were suggested, with varying degrees of support, there was an overwhelming interest in a focus on educational initiatives, which O'Connor addressed as Sunday's sessions got under way.
"The world has changed," he said, noting that many of eventing's newer participants are not coming from fox hunting or racing, as they have in past generations. "The sport is getting to the place that we need to replace experience with education. That's the shift."
A common theme in that vein was rewarding good riding. Phillips floated the idea of a "harmony score" for cross-country—riders would be observed over a portion of the course and judged on how well they rode. There was strong opposition to incorporating a subjective component in the cross-country score, but interest existed in a "pilot program" of sorts to explore how the idea might be implemented. Support seemed strong for special awards for "best cross-country ride," similar to a best-conditioned award.

Data, Data And More Data
One major theme that emerged again and again was the collection of data in order to be better informed about the issues facing the sport. It was stressed that any data should be made public whenever possible, although the logistics of that are complicated by legal and medical privacy concerns.
The formation of an equestrian version of the National Transportation Safety Board, which investigates airplane accidents, was proposed to review serious accidents in competition from a "holistic" perspective. Andrew Ellis, chairman of USEF's Safety Committee, noted that current investigations are sometimes thwarted because competitors won't release information, like video of an accident.
The need to better understand why horse deaths occur in competition (as a result of exercised induced pulmonary hemorrhage, for example) was addressed. In response, O'Connor announced that the USEF would foot the bill for a necropsy for any horse that died at a competition.
The veterinary meeting produced more than 40 suggestions for topics to be researched, including tracking of horses' speed on course and investigating cardiac and pulmonary issues. Dr. A. Kent Allen emphasized that "if we are all, as we suspect, going faster between fences, that's an area we need to comprehend, and we need to do it fairly quickly." He added that work is already underway on that issue.
A database for collecting information on horse falls, fatalities and injuries was proposed, as was the possibility of raising funds for such initiatives by including a donation box on event entry forms.
The Role Of Officials
Although much discussion centered on implementing new rules, many participants noted instances in which existing rules were not properly applied or officials were unresponsive to rider concerns.
O'Connor proposed the idea of professional technical delegates who would be paid by the USEF rather than hired by individual competitions. Such a change would help weed out technical delegates who don't execute their duties effectively.
Officials were also urged to do a better job on event paperwork, including accident reports.
Malcolm Hook reminded upper-level riders that they need to report poor officiating to the Licensed Officials Committee, since a mechanism is already in place to handle complaints about poor performances from officials.
"The Federation is more than willing to act," he said, but riders need to put aside fears of repercussions (even though, he emphasized, names of complainants are not made public) and set the process in motion.
Erin Harty