Long Beach, Calif.—Dec. 10
Eventing has faced some strong and vocal criticism this year, but eventers are tough, and when the going gets rough, they pull together.
United States Eventing Association members flocked to the Westin Long Beach hotel in Long Beach, Calif., for the Annual Meeting and Convention on Dec. 7-10 to discuss rule changes, meet the new high performance director and discuss continuing ways to improve safety in the sport.
President Carol Kozlowski spoke to a packed room at the Annual Meeting of Members on Saturday, summarizing a year that was strong on paper for the organization but full of outward challenges.
Kozlowski referenced the Strategic Planning meeting that took place in June, which will be revealed soon.
"It was exhilarating, it was exhausting. Suffice to say, no one participating in those sessions predicted that eventing, or the USEA, will go along as we currently exist," she said. "Change is the true eventuality of our sport, of all sports, and it's essential that we honor our roots but embrace that change. We'll be fluid, we'll be realistic, and offer that forward to our new generations. That in a nutshell, frankly is a challenge."
Kozlowski said that the sport is not perfect, and never will be, but the USEA hopes to find ways to make the sport better for everyone involved.
"We had particularly vocal criticism of the trends in our sport this year. It's my belief that when people care enough about what we do to speak up, it's an opportunity for dialogue and an exchange of ideas," she said. "I was so appreciative of participants of our Safety Summit roundtable, and The Chronicle of the Horse was willing to platform that and facilitate that discussion. It brought to light many of the improvements that have been made in recent years and showed us where we still have a lot of work to do.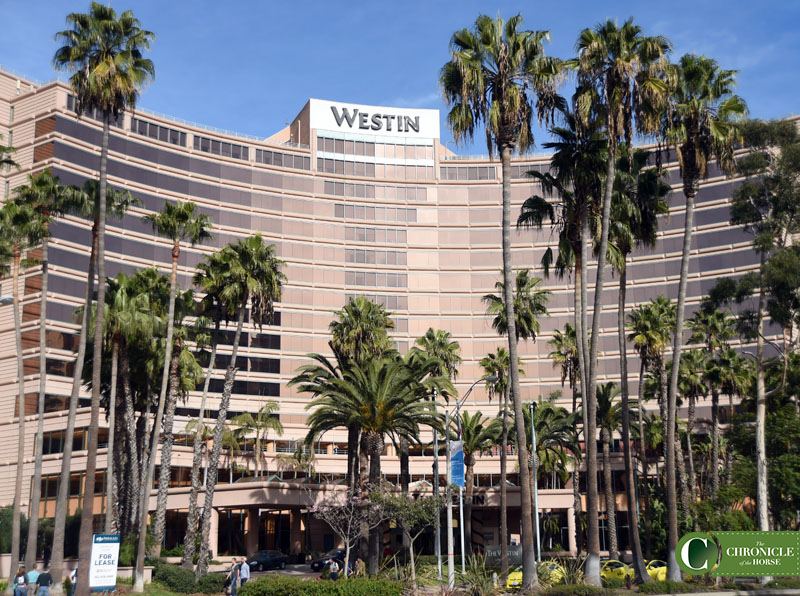 "Believe me, there is a lot of work to do, lest we ever give the impression to the public that we've become complacent and accepting of injury or death to horses or riders in the sport. We look to everyone who plays a part," she continued. "The reality is, we can do better. We're going to keep examining the data, we're going to look at new data. We're going to keep producing better coaches and riders.
"We are and will continue finding ways to make the route to an event easier for everyone involved without losing the character of our sport that brought us here in the first place. It's not a them or us, it's all of us. Everyone who cared enough to question how or why we're doing something is giving us an opportunity to do it better, and so we're going to respond to that. We're really proud of where we are and what we've done, but the journey continues, and our work will never be done."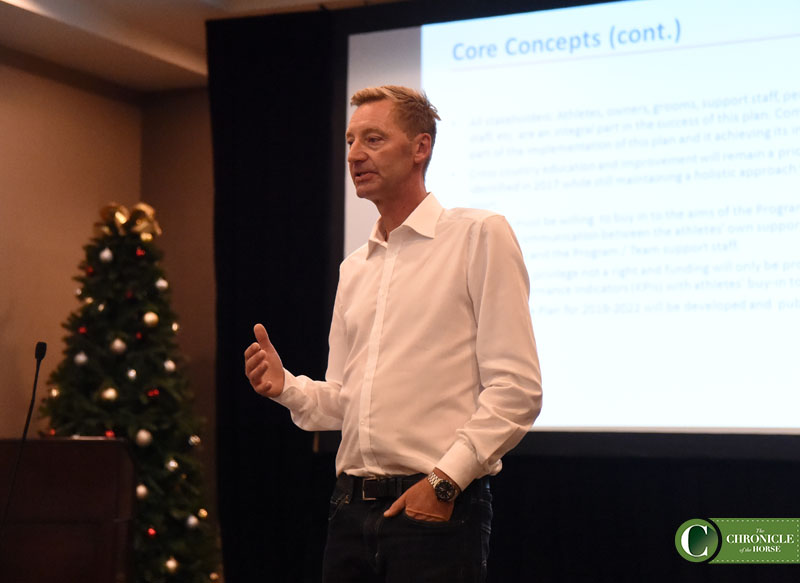 New USEF Eventing High Performance Director Erik Duvander led the USEF High Performance Athletes meeting on Saturday where he introduced his philosophy and plans for the team.
While he admitted he hadn't had a lot of time to come up with a comprehensive plan beyond the FEI World Equestrian Games (N.C.) next September, having only been hired to the position in October, his presentation went over well with the athletes.
"As I see it, to get success takes a team effort. It's going to take a lot of people and a lot of support to get this team running," said Duvander, who's spent the last seven weeks traveling the country to meet individually with riders to see them working in their home environment with their own coaches, farriers, vets and support team.
Each rider's individual performance plans will provide clarity, purpose and focus. The plan will be a "living, breathing document," subject to change as needed.
"It's a difficult job being a high performance rider because you need to bring in the money to be able to afford to be a high performance rider. That's consistent amongst all the riders I've been around. I must say, being around the team now, I think the American riders are possibly the hardest working riders in the world. It's a difficult balance."
Duvander stressed that riders need to have an open mind and be prepared to embrace the system. He said that KPI, or key performance indictors, will determine funding for athletes.
"I don't believe in just making the base wider to include more and more people because no country has that much talent that we have a wide base. My focus will very much be at the top, and that will set the standard so everyone else has to work even harder to get better and to get to that standard and fight their way to the top," he said.
Riders will focus on qualifying for the WEG between Jan. 1 and June 17, with the Luhmühlen CCI**** (Germany) being the final selection trial. Most WEG hopefuls will likely target the Land Rover Kentucky CCI****, while the Great Meadow International CICO*** (Va.) and Aachen CICO*** (Germany) will be used to practice a team competition. The new Bromont CIC*** (Quebec) in August may be a final run before the WEG.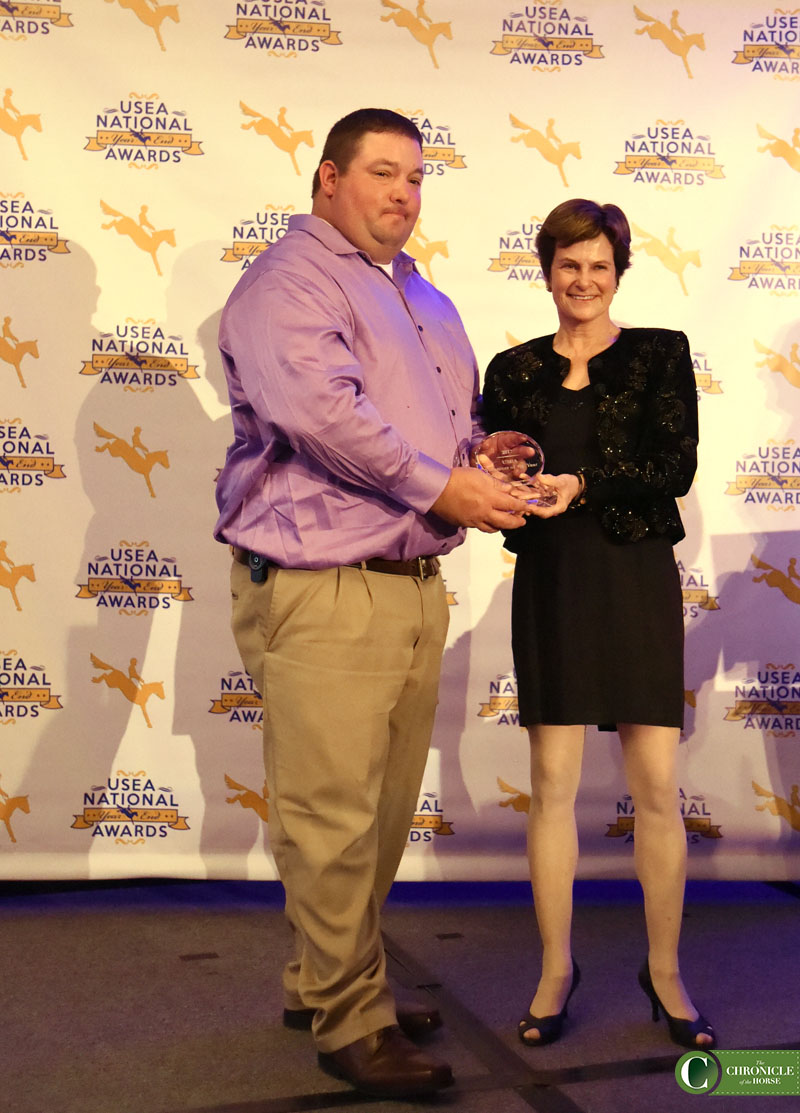 The Organizers Open Forum started with a focus on volunteers with a quick question and answer session with Nick Hinze, of eventingvolunteers.com, who encouraged organizers to adopt the system for their events.
While some have been reluctant to switch over to the new website, several organizers including Carolyn Mackintosh of the Maryland Horse Trials and Irene Doo, volunteer coordinator for Pine Hill Horse Trials (Texas) touted the ease of use.
Volunteers are the backbone of the sport, and last year the USEA worked to develop the Volunteer Incentive Program leader board to honor them. This year's inaugural Volunteer of the Year winner was Mike Smallwood, Dickerson, Md., who logged 221 hours in a variety of jobs including jump judge, announcer, mechanic, safety coordinator and course builder.
Matt Brown, incoming chair of the Professional Horseman's Council, asked organizers how the professional riders could make their jobs easier, and most agreed that encouraging their students to volunteer would go a long way in continuing eventing's spirit of volunteerism.
Mary Coldren, a popular secretary in Area 2, spoke up and said that she appreciated professional riders volunteering, even if they might be too busy to do it on a weekend. She reminded people that there's plenty to do before the event including painting jumps and decorating, and she encouraged organizers to reach out for help on a Monday when riders might not be as busy.
Course designer Tremaine Cooper presented a rule change proposal to the Board of Governors on behalf of the Course Designers/Builders Committee to EV140.9 addressing frangible technology.
The new rule addresses the modified level and above. Cooper explained that because many frangible devices require one meter to drop and activate, lower level fences aren't high enough to be effective.
The rule would require frangible technology to be "employed on all rail fences, including but not limited to verticals, gates, open corners and all open oxers in all cases."
The Board voted to make an extraordinary rule change proposal for EV140.9, and also voted to change EV140 to make it more in line with the FEI change regarding measuring the spread of a fence "on the line where the average horse is expected to jump."
Tidbits
– In 2017 there were 42, 851 starters in 238 events. The number of competitors was down about 1.5% from last year, but USEA CEO Rob Burk said it was likely due to an "off year" championship cycle.
– As of Nov. 30, more than $230,000 has been raised for frangible fence research, officials education and emerging athletes.
– Membership is at an all-time high of 12,913, helped in part by the requirement of membership for beginner novice riders this year. The USEA reported that there's been virtually no pushback on that requirement from members.
– After stepping up at the last minute in 2017, Rebecca Farm (Mont.) will host the eventing portion of the FEI North American Junior and Young Rider Championships again in 2018, but Kozlowski said the entire NAJYRC continues to struggle, and its future is in question.
– The USEA finished the year in the black.
– The USEA's Intercollegiate program is growing by leaps and bounds. This year's second annual championship, held at the Virginia Horse Trials in May, tripled its starters, with 21 teams participating. Kate Lokey, Director of Programs and Marketing, said there will be an outreach push to get more colleges and universities involved, including a focus on the West Coast. She said there have been thoughts of splitting the championships into East and West, but for next year the championships will be held once more at the Virginia Horse Center before opening bids for a new location.
– Lokey also noted that the Future Event Horse and Young Event Horse championships had record numbers this year. A central championship has been added for FEH to be held at the Texas Rose Horse Park.
The scoring for the YEH will be redesigned with new, shorter dressage tests. Lokey encouraged competitors in both programs to reach out for any suggestions on improving their experience.
– Donald Trotter and Pam Duffy of Sunsprite Warmbloods brought forward the idea of a new award for foreign riders based in the United States to the Board of Governors.
Duffy, who was born in Mexico, was inspired by Captain Mendivil-Yucupicio, the 1980 Olympic bronze medalist in eventing at the Moscow Games, so she decided to create the $5,000 award in his honor. The Board unanimously agreed to the creation of the award and trophy, which will be crafted in Mexico, to be given out starting in 2018.
– Madeline Backus was the big grant winner of the night. She took home the $10,000 Rebecca Broussard National Developing Rider Grant and the inaugural Wilton Fair Grant, which awarded her $45,000 to spend on an extended period of time training and competing overseas.
Erin Sylvester earned the "Big Becky" grant of $30,000 to be used on international travel.
We'll have much more from the USEA Annual Meeting and Convention, including rule changes to know, tons of award winners and more on the new high performance program, in the Dec. 25 print edition of the Chronicle.