Lexington, Ky.—Aug. 18
Most riders tear up after a phenomenal performance in the ring—Evan Coluccio struggled to keep tears from his eyes as he trotted into the ring to begin his course with Love Game in the first round of the USHJA International Hunter Derby Championships. For Coluccio, just entering the ring with Love Game was an incredible personal victory.
"Everyone is astounded. People told me I was crazy because I said, 'He's coming back. He's going to come back and do this.' And everyone told me, 'No, no way,' " Coluccio said.
Two years ago, when Love Game was a recently imported 6-year-old owned by Coluccio, he had an extreme allergic reaction to a routine joint injection that turned into a serious case of laminitis. The bone in his right front foot rotated nine degrees, and veterinarians were telling Coluccio to call it.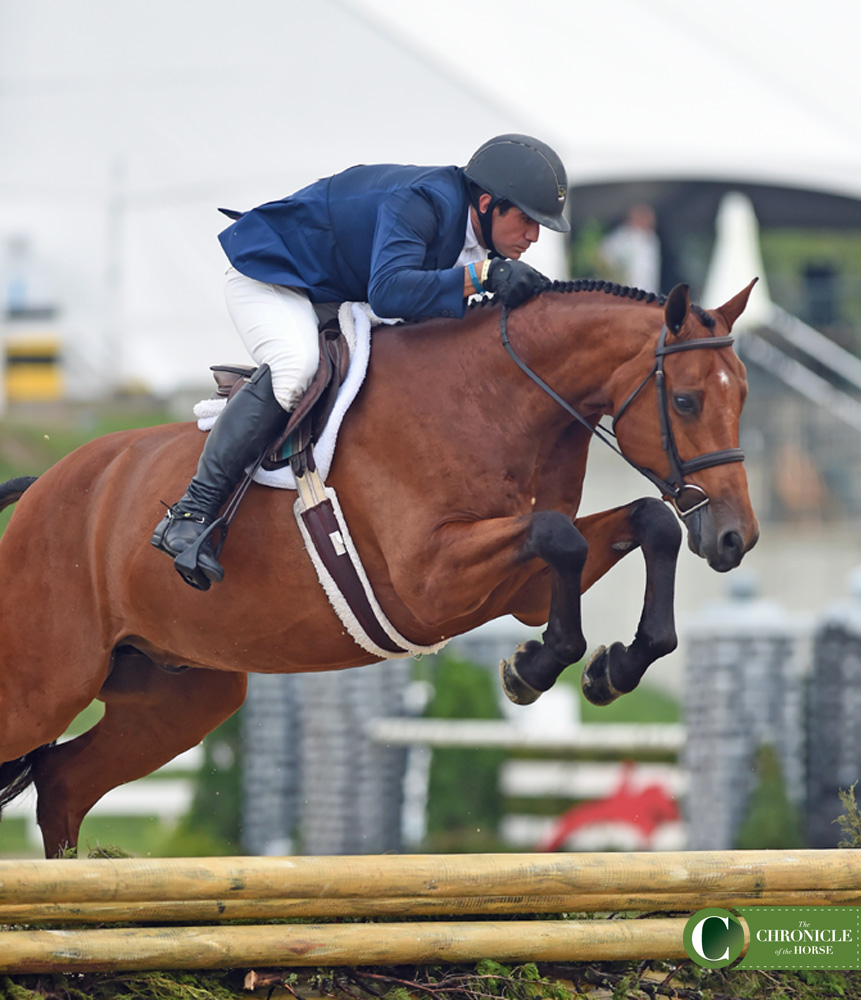 "We tried everything, a cast, six different shoeing things, but the bone came to the bottom of his foot," Coluccio said.
Every vet he asked told Coluccio to let the horse go, because it would be a miracle if he even was able to be pasture sound, but Coluccio wasn't ready to give up on him.
"That horse, he fought. He would nicker when you came to see him. He fought for it," Coluccio said. "It was a very emotional thing, because he has so much personality and character, and he was so young and so talented. He did one derby when he got here, and he won it."
Grasping at straws, Coluccio found one vet who had a last shot-in-the-dark idea to save the horse.
"I personally made him a wooden shoe that we elasticoned on to the foot," Coluccio said. "The vet had me cut a piece of wood about two inches, inch and a half, thick in the shape of his foot, and I sanded out the center of it, so it was hollow."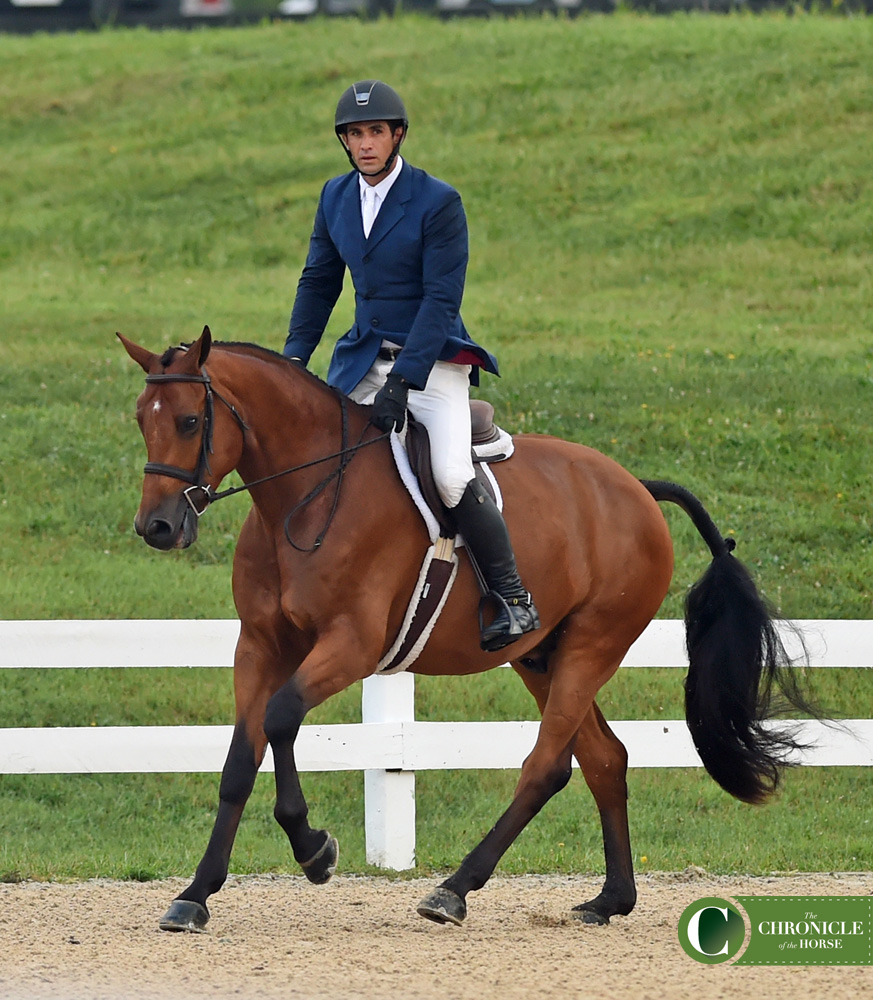 The piece of wood was essentially shaped like a small right side up bowl that kept as much weight as possible on the hoof wall. Coluccio put a plain piece of wood on the other foot to keep "King" even, and all that was left to do was wait.
"We elasticoned it on to his foot, and Rebecca my assistant and I would go back and forth every eight to 12 hours readjusting it, so it stayed stable for him," Coluccio said. "But when it was on he was comfortable, and it kept him comfortable enough for us to save his life."
After two months of wearing his custom clogs, King was able to start transitioning to a more normal life and shoeing schedule. That winter when Coluccio left his home base in Middleburg, Va., to show in Florida, King was sound enough to go outside.
"I left him and my other horse Batman, who is retired, home for the winter, and they got 'cold therapy' going out in the snow," Coluccio said with a laugh. "And outside he had his special shoes, and we kept him on a special diet, and he stayed sound."
When Coluccio returned in the spring, he started King in light flat work, and still the horse stayed sound.
"Even then, they still said, 'I don't know that he'll ever hold up to jumping, but try it,' " Coluccio said. "So we started, and he was sound and good, and then we x-rayed the foot, and it looked great. It was really solid."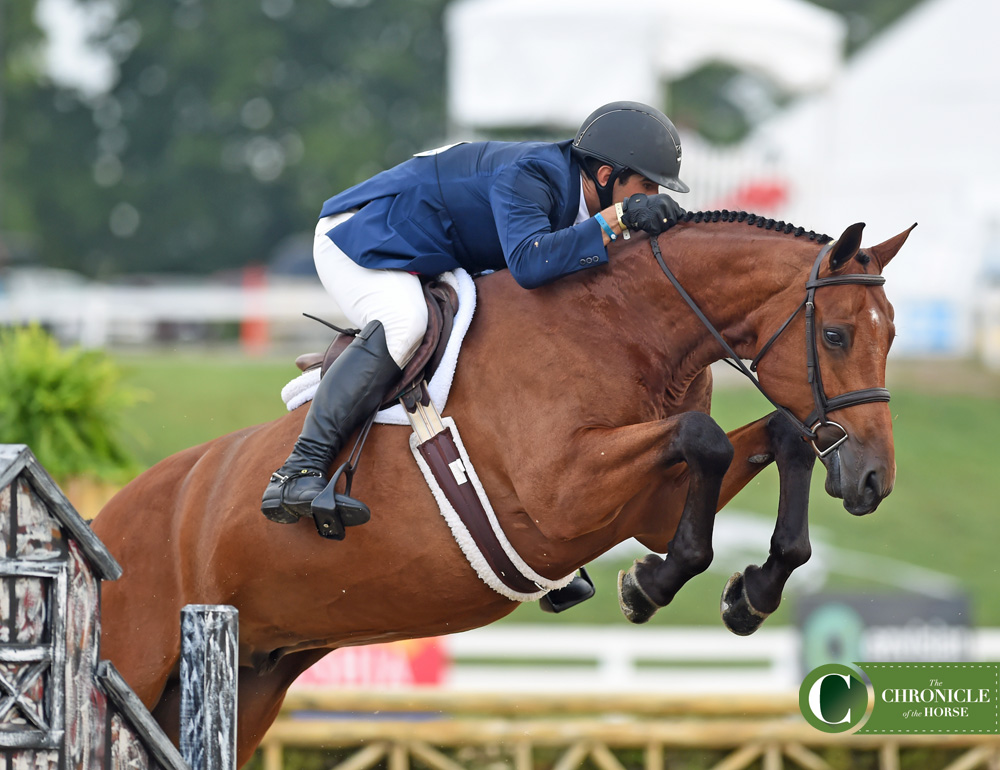 So in July 2016, Coluccio made good on his promise to rehab the horse back to the show ring. He did the 3'6" performance division at the Kentucky Summer Series horse show, and he won the championship. That was only the start of his rise back to the top of the sport—Coluccio continued cautiously campaigning the horse, always with the big hunter derbies in mind. That's why he already had tears in his eyes trotting into the ring to start his round—because next to the harrowing ordeal he had been through with this horse, those 4′ fences looked like nothing.
"It's just one of those things that if you love the horses, and you believe in it, you keep pushing, don't lose faith and stay hands on," Coluccio said. "Because if I had listened to the vets, he wouldn't be here. If it wasn't for the one vet that told me differently, Dr. Cle Toledano, because she knew my emotions toward the horse, he wouldn't be here. She really helped me to think outside the box."
King was quite impressed by the derby track, resulting in some seriously beautiful and athletic efforts, but a bit of spookiness and a rail put them out of contention.
"Honestly for me it was, sure, I hope it pans out, and we blow it away and get huge scores. But at the same time it was so incredible just going in and doing it, because everyone said he wouldn't get here, and that was my goal," Coluccio said.