There isn't an award for the busiest student at the IHSA National Championships, but if there were, it would go to Shelby Cashman. Captain of both the English and Western IHSA teams at Centenary College (N.J.), and daughter of IHSA vice president and coach of the West Point (N.Y.) team, Peter Cashman, Shelby is as diverse a rider as she is busy.
"[My parents] both coach at West Point now, and when they started there they had to teach both English and Western, so it was just part of growing up," Shelby said. "We always did both."
Shelby's family lived on property at West Point, so horses were in both her DNA and her locale.
"It was really nice way to grow up; I had 50 horses in my backyard all the time," Shelby said. "I was really lucky growing up like that and with my parents always around to teach us. We had a lot of different horses to ride."
Shelby grew up showing on both the AQHA and hunter/jumper circuit, riding both West Point-owned horses and her family's stock. She eventually honed in on the equitation classes and high children's/adult jumpers, but never dismissed or forgot her cowgirl skills.
"We took English more seriously than we took Western, especially in high school, but we liked it and it was fun. It was something different to get to do rather than just always doing one thing," Shelby said. "I think it makes you a more well rounded rider being able to do both."
So when Shelby chose to attend Centenary College, it was only natural to dust off her cowboy boots and ride for both the English and Western teams.

Shelby Cashman showing for Centenary's Western IHSA team.
"My team really enjoys it, they think it's the funniest thing ever," Shelby said with a laugh.
As captain of both discipline teams, Cashman has a whole lot of responsibilities to both when it comes to competitions.
"I'm not showing this year, but I'm schooling and helping my team, because my school brought 10 horses," Shelby said (when she was a freshman, she actually showed in both Western and English at the national final). "I do a lot of organizing on that end; it keeps me busy."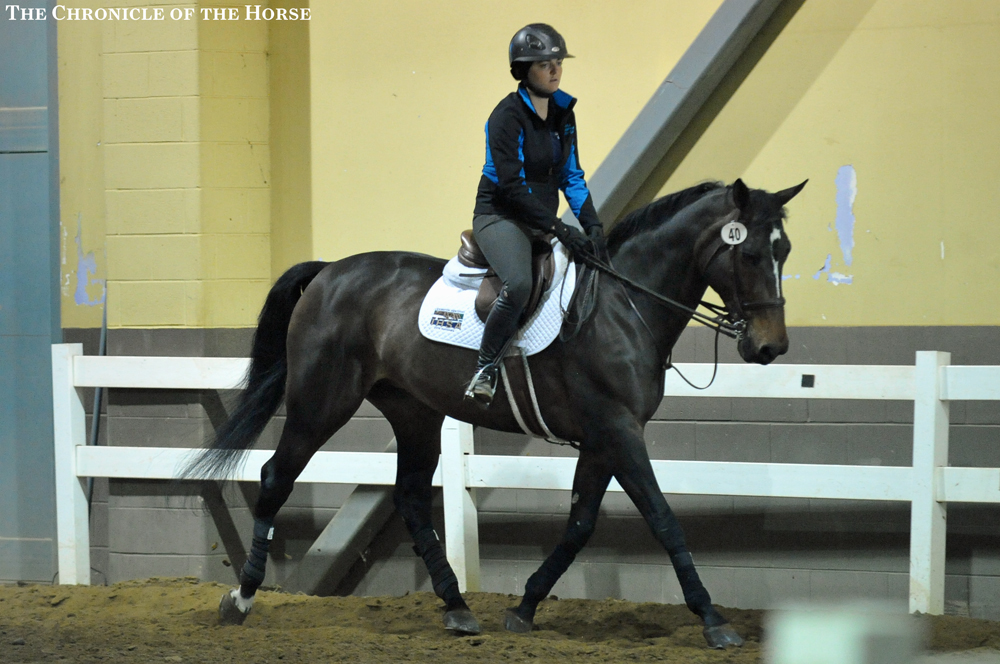 Shelby Cashman warming up West Point's Lucy at the IHSA National Championships. Photo by Ann Glavan
Shelby is getting ready to graduate with a degree in political science and follow in her family's footsteps—or hoof prints, rather. She will be taking up a training position at Saddle River Equestrian Center (N.J.), where she will be working with her sister, Randi Cashman.
"It's a hunter/jumper facility—no Western unfortunately," Shleby said with a laugh. "I'm excited, I think the school has honestly prepped me a lot for it," Cashman said. "Just going to school is helpful, but because of my roles in the school, I've gotten to learn a lot more about running shows and management and organization, because we host horse shows and use 60 horses at a time."
COTH's Ann Glavan is at the IHSA National Championships bringing you all the news and stories on www.coth.com all weekend.