Harrisburg, Pa.—May 3
May is the season of finals: final exams, final competitions and final days in school for seniors. For the riders who spend all year striving for the Intercollegiate Horse Shows Association National Championships that pressure, expectation and hope means that the results—good or bad—are felt deeply.
Molly Murtha felt ecstatic after winning the individual novice flat division. She stood in line trembling and grinning at the same time as nine other riders were called in ascending order.
"[Bob Cacchione] told me I could finally stop shaking," Murtha joked in the safety of the awards staging. Murtha began her college career at the Savannah College of Art and Design (Georgia), but the now-junior returned to her hometown of Orlando, Florida, to attend the University of Central Florida last year.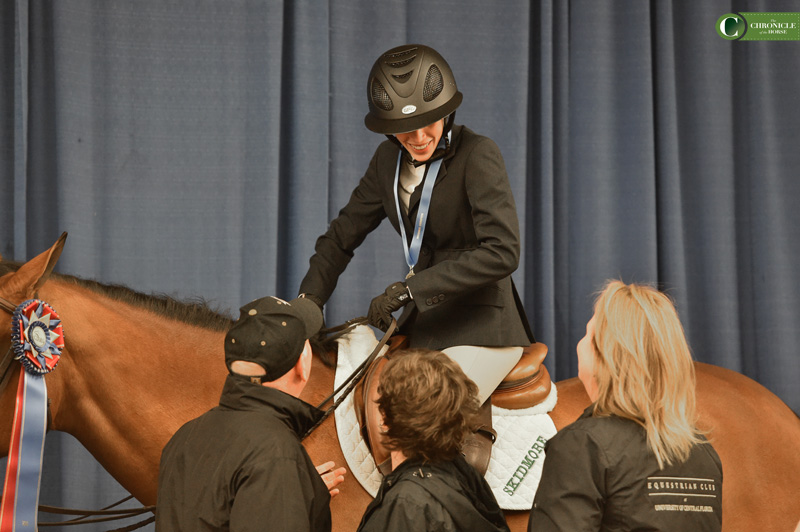 "UCF was my first choice college growing  up," Murtha said. "I grew up riding at that barn and watching those girls train, so I always thought I would stay. Then I got older and wanted to travel, so I found SCAD and tried it, but it didn't quite work out. Coming to UCF felt like coming home. I couldn't be happier. I'm still shaking."
Skidmore College (New York) struck first in the Collegiate Cup competition when Sheriden Beard of Simsbury, Connecticut, won the novice equitation over fences class. Beard rode Giovanni, a horse from Mount Holyoke College (Massachusetts) whose first impression left something to be desired.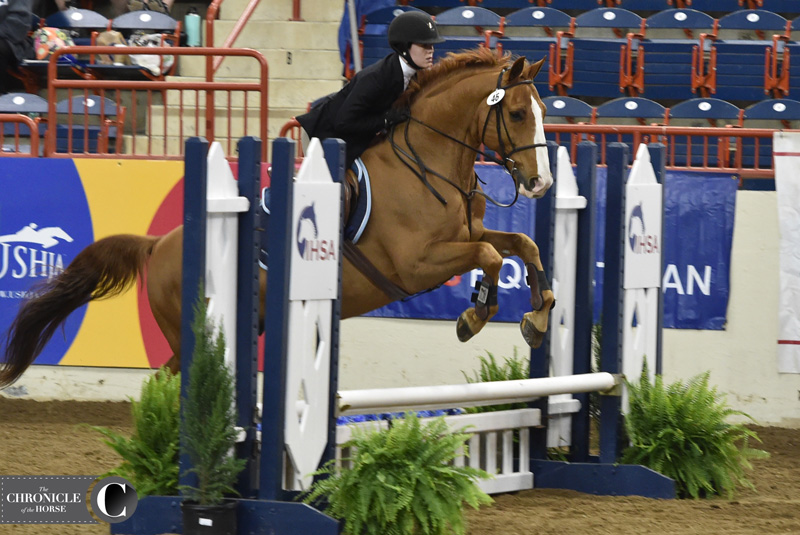 "I adore this horse," Beard said. "He had stopped in the class before me, but [his handlers] said, "Just be a rider," so I went in there and had confidence and trusted myself. I felt he was with me from the second we stepped into the ring. It was great."
The Savannah College of Art and Design, defending national champions, answered by winning the Collegiate Cup novice flat class. Freshman Brady Martino could barely hear his name called over the cheers of his teammates.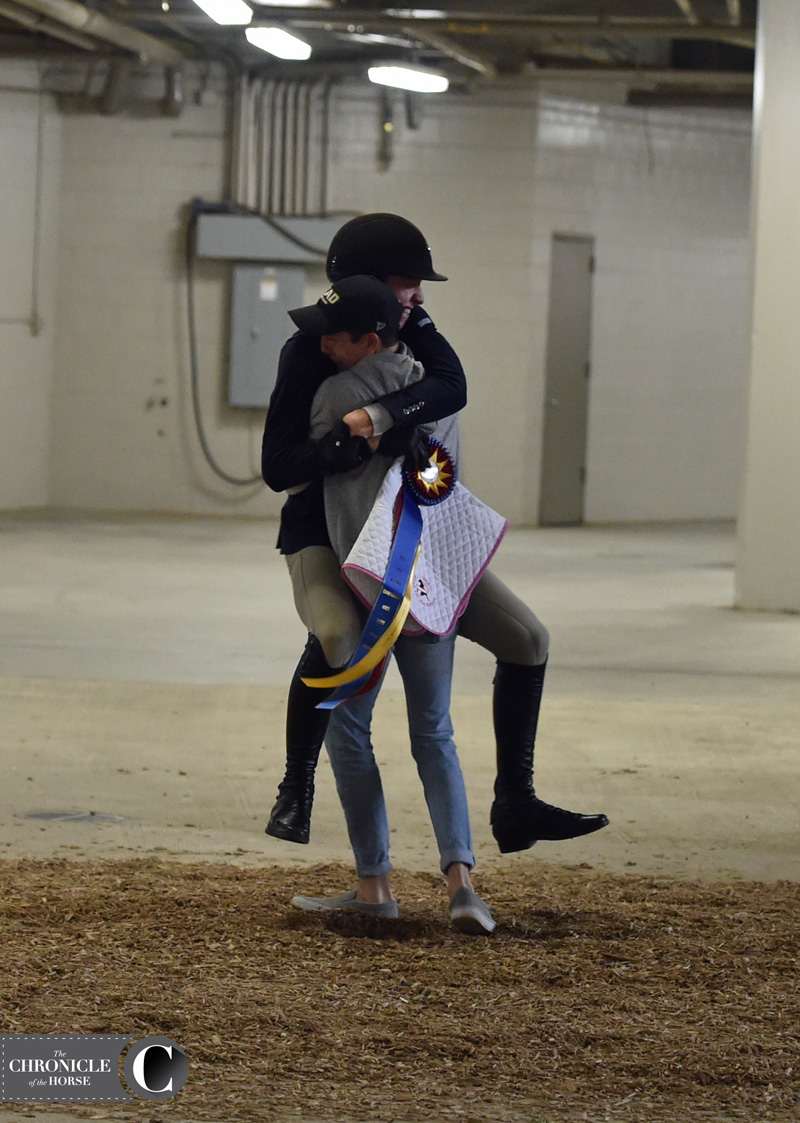 "It's a very big deal to win as a freshman," said the 18-year-old from Easton, Pennsylvania. "Working on this team has been amazing. We have a great coach, assistant coach and personal trainer; there are just a lot of moving pieces that have to come together, so it's great when they do. There was a lot going through my head in the line-up. You've worked so hard, and you want to do well so badly, and then suddenly it's over. I'm very excited for the rest of my career at SCAD. Hopefully there will be many more wins."
Skidmore holds the overnight lead after Maeve Foley of Shrewsbury, Massachusetts, won the Collegiate Cup intermediate equitation on the flat class. Otterbein University (Ohio) gathered enough points from the novice equitation (flat and fences) and intermediate equitation on the flat classes to claim second place in the standings.  
Thursday Results:
Individual open equitation over fences – Michael Andrade, Centenary University.
Individual intermediate equitation over fences – Jennifer DePietro, Johnson & Wales University
Individual novice equitation over fences – Marcus Livermore, Morrisville State College
Individual intermediate equitation on the flat – Emily Wilmot, Delaware Valley University
Individual novice equitation on the flat – Molly Murtha, University of Central Florida
Individual walk-trot-canter equitation – Carol Hayes, University of Florida
Individual open equitation on the flat- Caroline Molther, University of Kentucky
Collegiate Cup novice equitation over fences – Sheriden Beard, Skidmore College
Collegiate Cup novice equitation on the flat – Brady Martino, Savannah College of Art and Design
Collegiate Cup intermediate equitation on the flat – Maeve Foley, Skidmore College
Top 3 Team Standings:
Skidmore College – 15
Otterbein University – 12
Savannah College of Art and Design – 7