Four years ago, Siglavy Brezica was enjoying a sedate life as a trail horse for his owner Caroline Lemaire, but now he's taking the CDIs by storm. In 2014, Lemaire saw that the gray gelding was showing talent for dressage and asked professional rider Emanuelle Bressan to take over the ride on the Lipizzaner.
Bressan has been working with the 16-year-old Slovenian-bred gelding (Siglavy Dubovina—Brezica, Pluto Troja) for four years, and they've begun to see success at small tour CDIs over the last year.
In 2017 they competed at the prestigious Dressage At Devon CDI (Pennsylvania) and the Adequan Global Dressage Festival in Wellington, Florida, and they're back again this year to try to improve their scores during their last season together. "Siggy" is for sale and will be moving on to a career as a schoolmaster soon.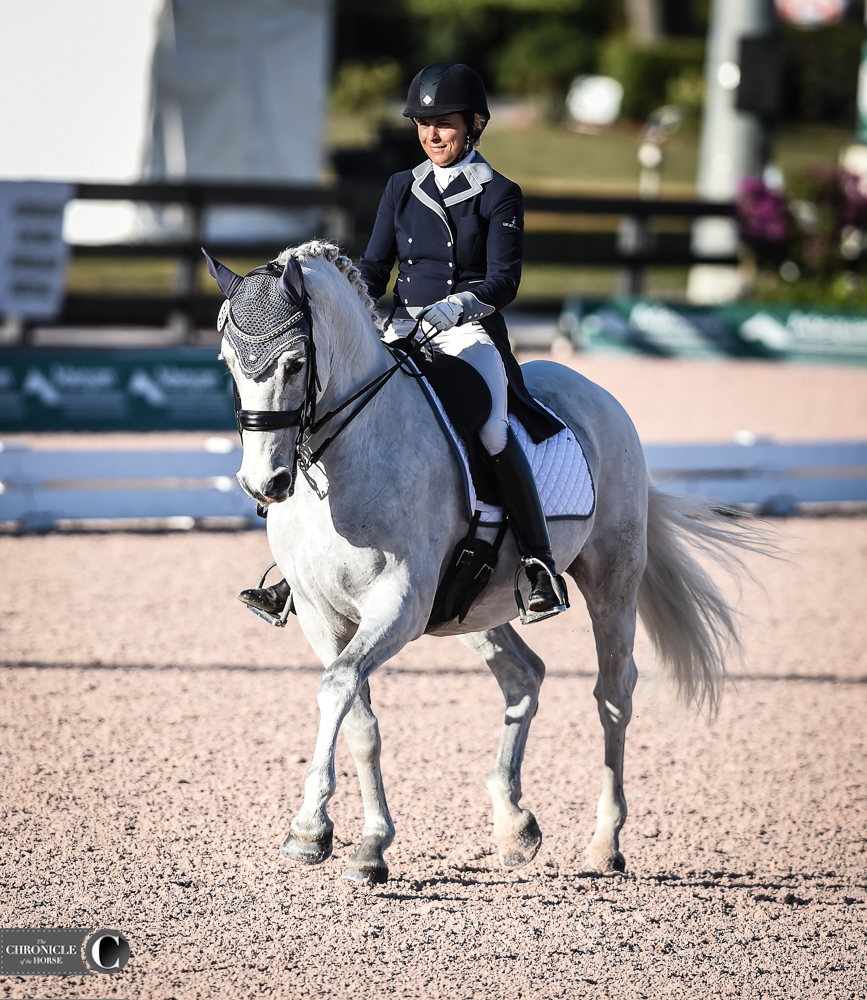 Although their final score at AGDF Week 5 on Feb. 8-11 wasn't quite what Bressan had hoped, they've been earning mid- to high-60s for much of their small tour career, including a 67.23 percent in the CDI Prix St. Georges at AGDF 5.
"Today he was really spooky," said Bressan after her Intermediaire I ride, which scored a 59.35 percent. "It's not his style. I think I was a little emotional because it's supposed to be our last season. I would like to try another CDI to get a better ride than today."
Bressan, who's from Montreal, Quebec, Canada, worked for DeLys Farm, a Hanoverian breeding farm in Quebec, for several years before being hired as a trainer for Lemaire's family. They own jumpers and enjoy trail riding and dressage for fun, but when Bressan took on Siggy, they decided to continue to support her in her quest to ride at the upper levels.
Bressan had ridden to Intermediaire and Prix St. Georges at the national level in Canada aboard a Hanoverian mare named World Lady (Weltmeyer—St. Pr Amsella) and trained extensively with Albrecht Heidemann, and taking on Siggy was a fun challenge.
"In the beginning I was a little surprised how much the judges liked him because he's really small," she said. "He's a marshmallow! But overall he looks like a cutey, and he has an active hind leg. Last year we were around 64 percent in the Prix St. Georges," she said.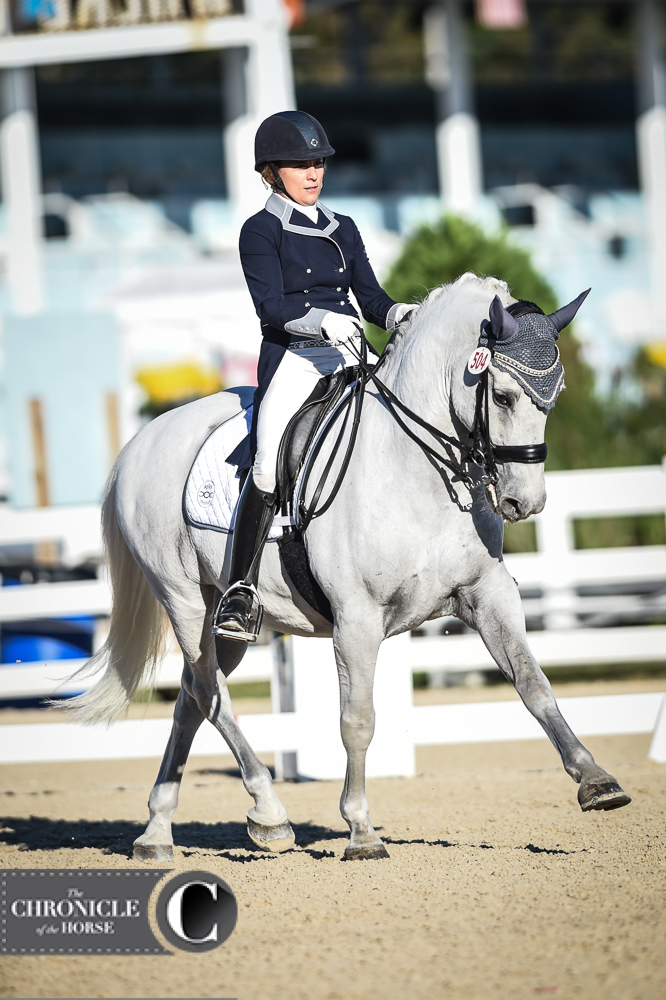 While Bressan acknowledges that Siggy won't score as well on movement as other horses due to his diminutive size and breed, "overall I think he's got his place finally in this big ring with all the horses.
"He's fun to ride," she continued. "He's such a good horse. Today he surprised me, but I was maybe not the same rider. Otherwise he's super with me in the ring. When we go to the shows he's more rideable than at home, and he is rideable at home, so when you're ready to show it's really fun to come with him because he brings you and himself up."
Bressan said Siggy is very obedient in the ring and gives her a lot of confidence. "Before I was a little shy and afraid to make a mistake, but because he's so good I learned to ride each step in the ring and be super calm. Now I can ride anywhere," she said.
Siggy is quite the character in the barn and could live on air he's such an easy keeper.
"I can let him stand with no cross ties, just with the lead, and I can forget him there in the barn, and he'll just wait until I come back," she said. "Everybody who knows him before he started his dressage career told me he was like a little dog-like human, a little savage. But the day he started scheduled training and doing a job he felt really comfortable and was more friendly. He really likes his job."
Bressan works with fellow Canadian Brittany Fraser now, and also has an 11-year-old FEI-level Welsh Pony-American Sport Pony, Crown Gucci, as well as a horse, Ferruccio DeLys, a Hanoverian gelding (Fürst Nymphenburg—St. Pr Weltdame), she bought from DeLys Farm as a 3-month-old and is hoping to compete soon.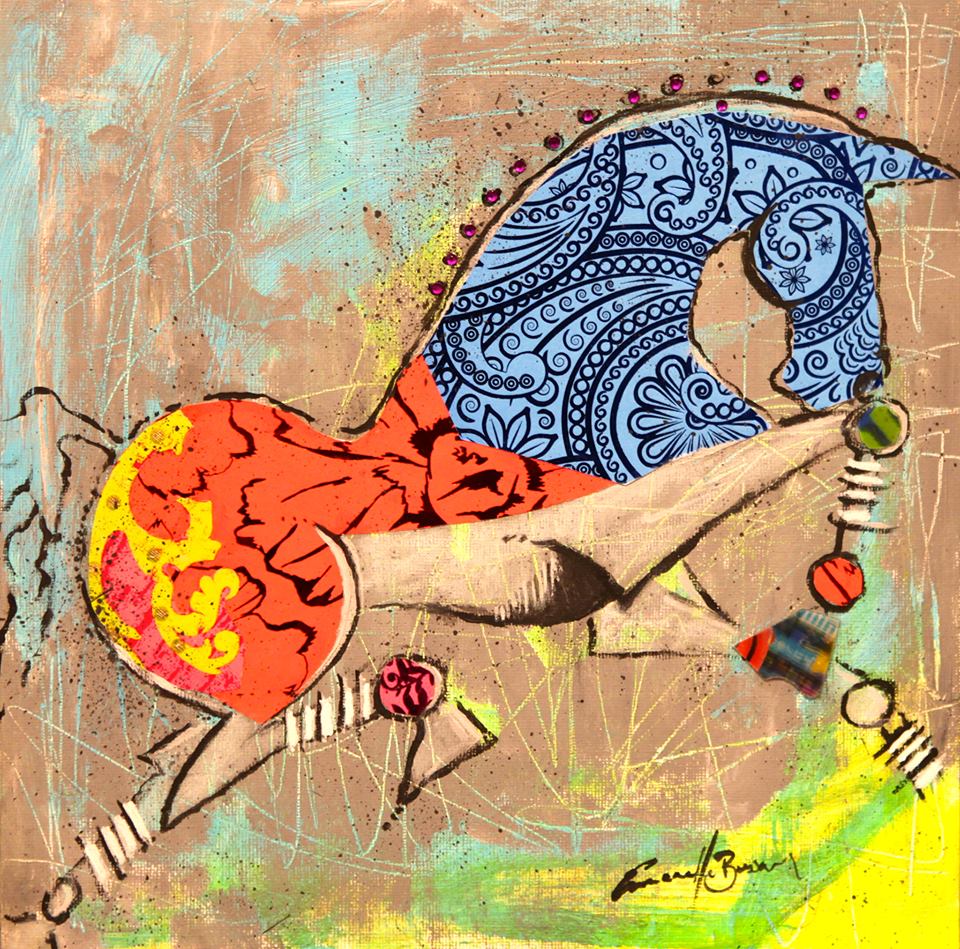 When Bressan isn't busy riding, she's working in her studio as an accomplished visual artist.
Her mother, Pauline Bressan, is an international visual artist and has a studio in Montreal. Emmanuelle attended Quebec University and earned a bachelor of art degree in visual arts and media.
Horses, and dressage, inspire Emmanuelle's work. She donated three paintings during U.S. PRE Week at AGDF, and Canadian rider Chris von Martels bought the dressage-inspired piece.
Emmanuelle works with mixed media, including holograms, and likes to experiment with different textures.
"I use not just the image of the horse but also the print of the hoof or the hair," she said. "I use all the universe of the horse to produce my art. I really use it as a pretext to play with the color and the texture. I'm so inspired by the horse and the sensibility of the horse. A horse is really aesthetic. Sometimes it's more realistic, sometimes it's a movement. I like to play with it. I have a couple of series I'm developing. I really want to take the time to do it. I always have a lot of horses and no time to paint!"
Bressan's time with Lemaire's family is coming to an end this season once Siggy is sold, but she's open to finding another sponsor or spending more time working on her art to support herself fully.
"I think it's important to have my own security," she said. "If I can do more art, I would be able to have my own ride to show. My idea would be to do the horses in the morning and paint in the afternoon. That sounds perfect! I'm pretty sure it's possible to find a balance."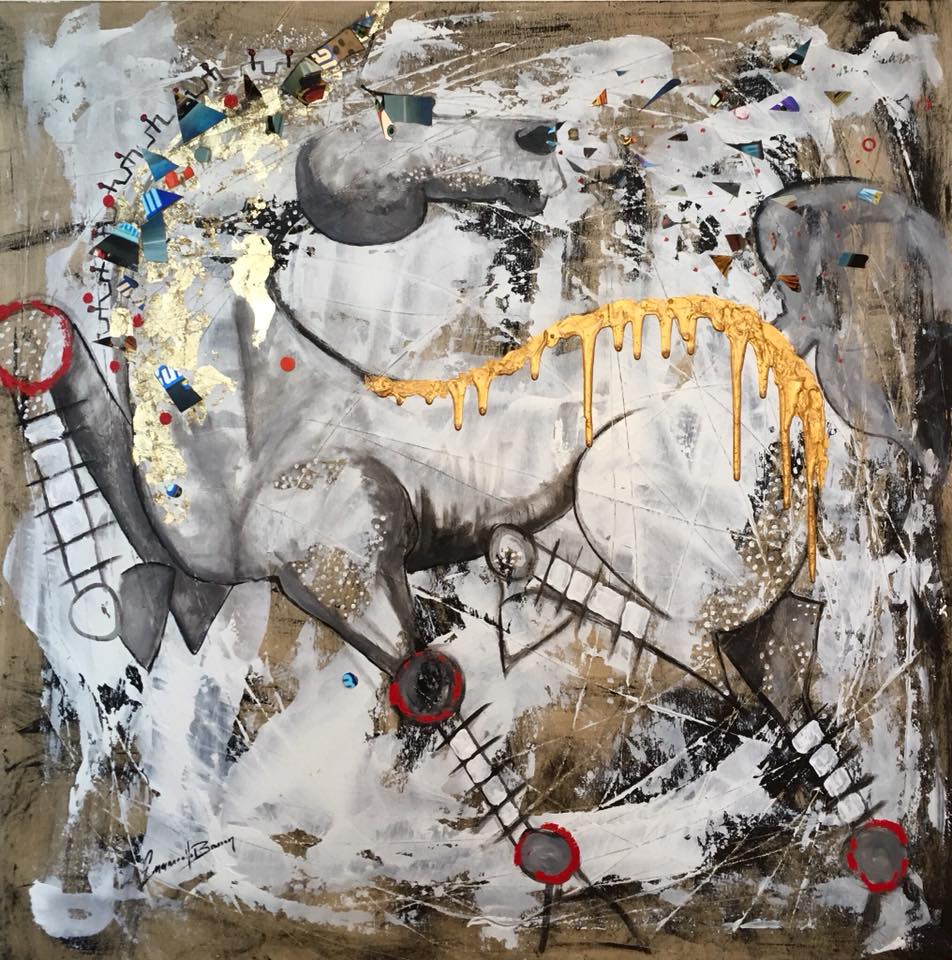 Emmanuelle has an 11-year-old daughter, Isis-Emmanuelle, and her husband Alexandre Belliard is a singer-songwriter who specializes in writing about important French-speaking figures throughout the world. He mixes his music with history and poetry and travels the world for speaking engagements.
Emmanuelle is using her time in Wellington to connect with potential clients, develop her audience and gather inspiration for her work.
"Last year when I came with my horse and owner, I was like, 'Wait a minute. I can do something here!' " she said with a smile.
For more coverage from AGDF, click here.