Lexington, Ky.—Nov. 3
Emma Walters and Crisp definitely took the road less traveled to the championship finish in the low junior hunter, 16-17, division at the National Horse Show.
Walters doesn't own a horse of her own—she's a working student with Susie Schoellkopf and the Buffalo Equestrian Center in Buffalo, New York. Her mount, Crisp, is owned by the Buffalo Therapeutic Riding Center, a lesson program for children with physical and mental disabilities that operates out of the same facility as Schoellkopf's SBS Farms.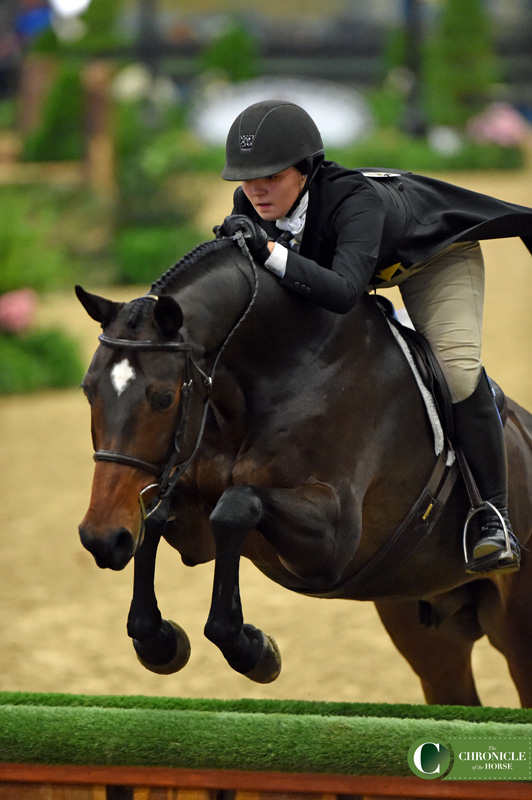 Crisp was at the beginning of a bright career in the show ring as a pre-green horse for his owners the Wheeler family and rider Hunt Tosh when he developed health issues that looked to be career ending. The Wheeler family decided to donate him to the Buffalo Therapeutic Riding Center. Crisp spent a year walking, trotting and cantering in the low-impact lesson program setting, and his heath improved.
That's when Walters came along—Walters first came to Schoellkopf for lessons before starting as a working student, and Schoellkopf was looking for a great horse for the young rider to compete aboard.
"I knew Crisp had gotten a lot better and was up for it, and Emma just works her tail off. I really wanted to get her on a good horse, so I called the Wheelers, and they were all for it," Schoellkopf said. "So I had Emma start showing him, and we started doing the children's hunters, and it all went on from there."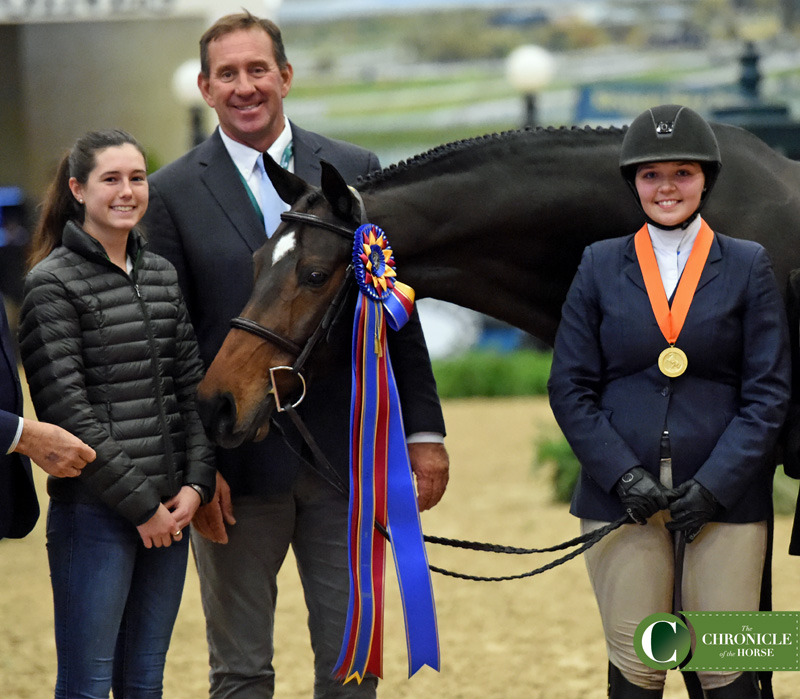 Walters took reserve champion in the low large junior hunter division at the Pennsylvania National Horse Show in Harrisburg, Pennsylvania, before coming to take the division win and overall grand title at the National Horse Show.
"It feels really great," Walters said. "He's just really special, and I'm just glad we were able to pull it off."
In the younger division of the low junior hunters it was Stella Propp and the very adorable, very sassy chestnut mare Maraschino who took the win.
"I'm not trying to sound cheesy; it really is like I'm living a dream," Propp, 15, said. "I really used this year to build up my confidence in the 3'3″, and to end with a win at the National is more than I could have ever imagined. It's really amazing."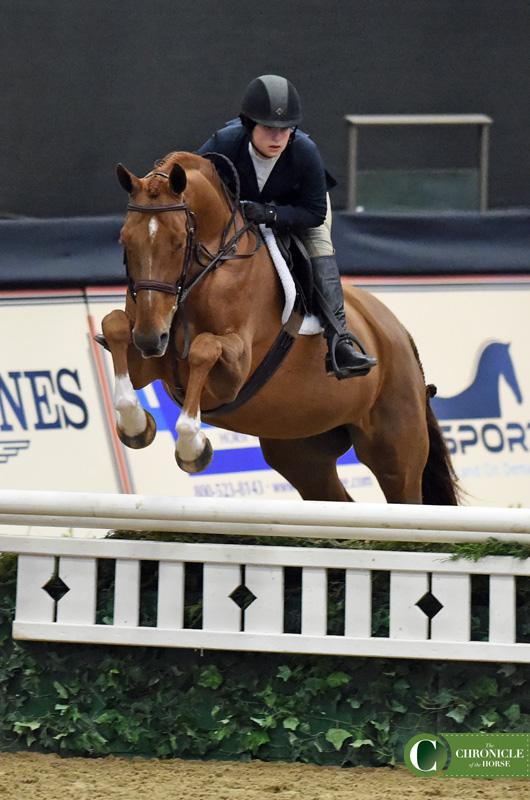 Propp has been riding "Cherry" for two years and has really gotten a handle on what keeps the mare happy.
"She's a princess; she's definitely the typical chestnut mare and reacts to a lot of things," Propp said with a laugh. "If you have everything just right she's happy, and if you make a little mistake she can get irritated, but it's OK. We give her treats and treat her right, and she's perfect."
Propp has some really good eyes on the ground helping her with Cherry. She started training with Brianne Goutal-Marteau at the beginning of this year. Goutal-Marteau also had a great career win at the National Horse Show. She topped the ASPCA Maclay Final here in 2005 and became the first—and only— rider in the sport's history to win all four of the modern major equitation championships.
"I was a little intimidated at first like, 'Oh my gosh, she's this amazing rider. What am I going to do?' " Propp said. "But she's honestly helped me so much to improve my position. My position hasn't always been so great, and she's helped me work on staying consistent. I used to freak out before the second day of showing and now my second day was actually better!"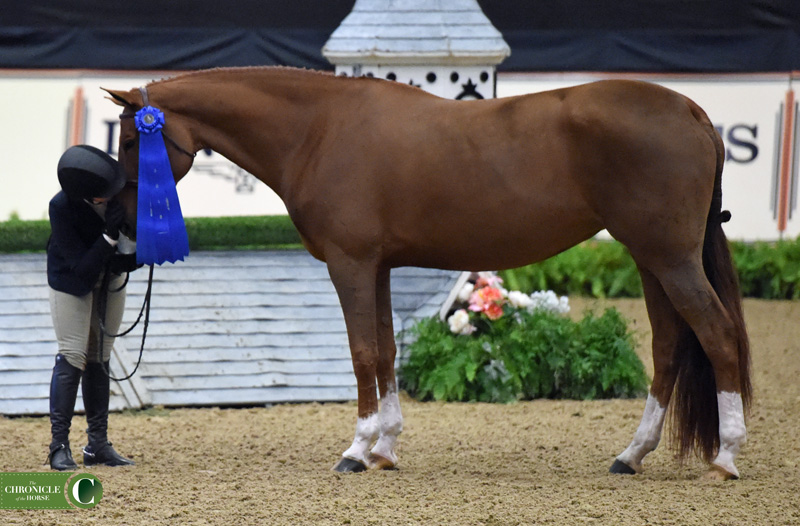 New York City-based Propp will move up to the 3'6" juniors next year with Cherry, but until then it's time for a well-deserved break for them both.
"It's been such an awesome year, and I'm so glad to have it end this way," Propp said. "I'm so amazed, and I'm so thankful to have my whole team and my horse and my parents supporting me."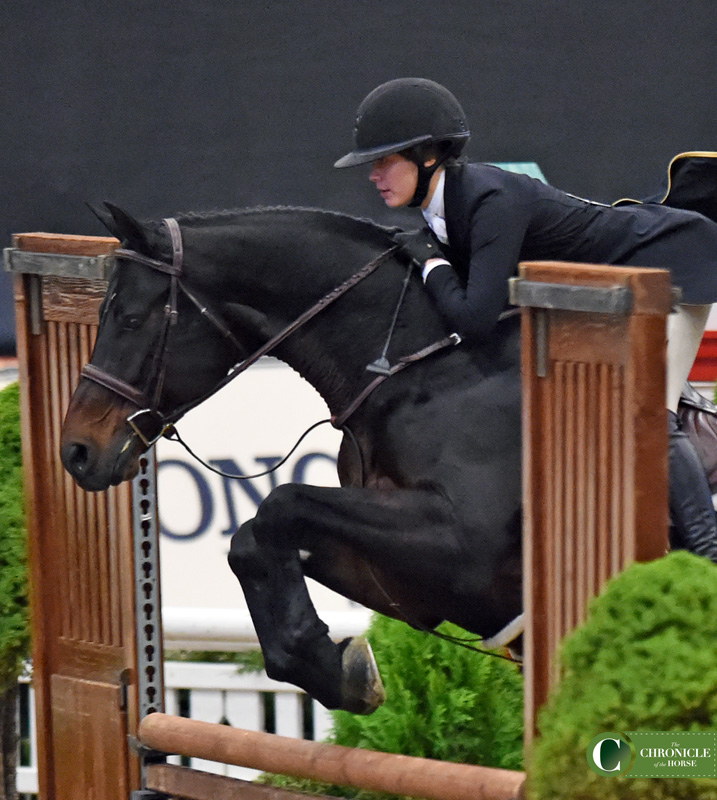 Click here for full results, and check back with the Chronicle for more from the National Horse Show!