When Jen Ellms-Millet unloads Pia Nye Liv at an event, without fail someone will come up to her to ask about the mare's breeding. Many guess the 8-year-old mare is part-Fjord, but where did the spots come from?
From what Ellms-Millet, 27, recalls after meeting "Pia's" breeders, there was a Spotted Saddle Horse stallion living among the Fjord mares, which is how Pia came to be.
"There's no show that we go to where people don't comment about her, and it's overwhelmingly good," Ellms-Millet said. "People say she's so cute, and she's a very kind horse and is quite personable, so that's nice. I occasionally get people asking if she's a Fjord cross. I laugh and say she's a Fjord sport horse."
Ellms-Millet has owned the mare since Pia was 8 months old. Whether celebrating a marriage, starting a new career, or dealing with a medical diagnosis, Ellms-Millet has weathered the triumphs and challenges with her 14.2-hand partner.
Now, the pair is getting into eventing and has qualified for the 2021 USEA American Eventing Championships (Kentucky).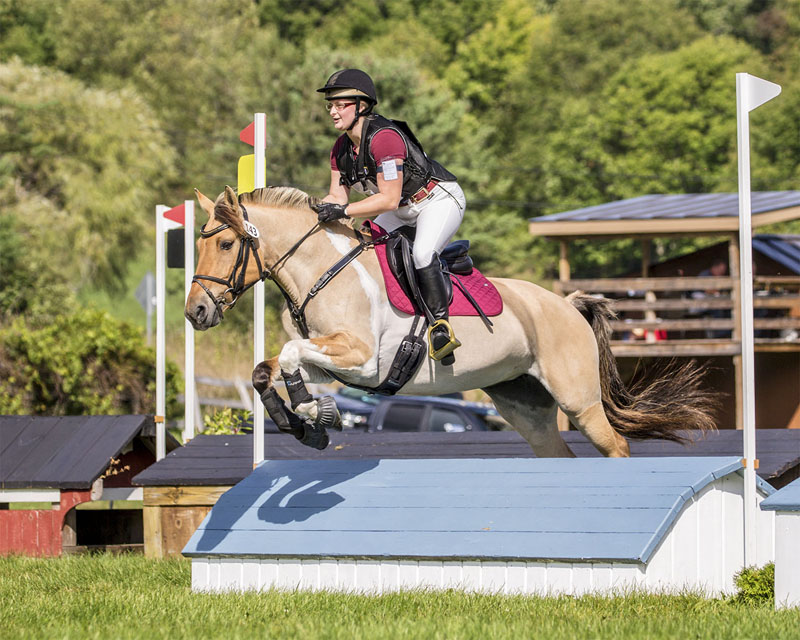 Ellms-Millet found Pia via Craigslist.
"The people I bought her from absolutely adored her and were so kind," she said. "I think they had enough horses, so they were looking for a new home for Pia and one of her siblings that year."
She came with the name Pia, and Ellms-Millet expanded that to the show name: Pia Nye Liv. "In Norwegian [it] means, 'Pia's new life or breath,' " said Ellms-Millet. "I thought that was a sweet show name for her because when I got her it was a fresh start for us both."
As she was "figuring out where she was going in life," Ellms-Millet spent lots of time with Pia, using groundwork and trail riding to build a partnership. When Ellms-Millet discovered eventing, she found a  barn near her home in Springfield, New Hampshire, called 8T Acres. Trainer Ashley Glynn helped the pair get started in eventing and has since become Ellms-Millet's best friend.
Ellms-Millet, who works as a talent acquisition specialist at a bank, is grateful that Pia accommodates her amateur mistakes.
"There's just something about her eyes," she said. "You look at her, and she has some of the kindest eyes of any animal I've ever met. She really has a wonderful way of knowing when somebody needs a little bit of extra attention and can stand there for hours. It's incredible to watch her. My friend has small children, and they are able to work around her and ride her. She's just so wonderful and so calm, and then I get on her, and she's a blast and drags me to fences and loves to gallop through fields."
Ellms-Millet says show jumping is a weak area, but she's able to jump fences that terrify her because Pia is brave.
"She's one of the most stubborn creatures I've ever met, but in a wonderful way," she said. "[In the beginning] I had three weeks where she just stood in one spot and didn't want to move. When she understood what we were asking of her, she just excelled and has truly been one of the easiest animals I've ever dealt with. At the end of the day, I'm just an adult amateur who really doesn't know what I'm doing, and the fact that she's just always taken care of me—of course I've made a lot of mistakes, and yet to still be able to walk away with this horse who's so forgiving of all these mistakes—I feel very lucky."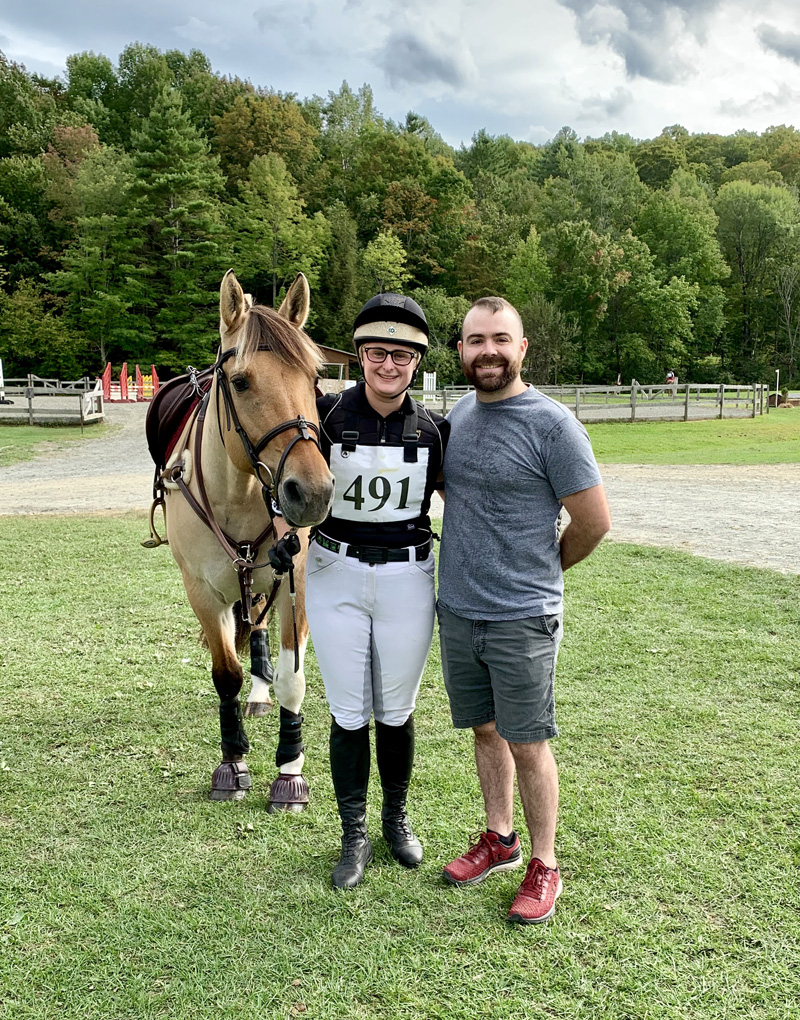 An Explanation For A Lifetime Of Pain

Ellms-Millet has dealt with chronic pain her whole life, and it wasn't until last year she finally had a diagnosis.
"Like most people with chronic illnesses, you're sort of told, 'You're growing; you're going to be fine.' I did finally find out that it's psoriatic arthritis, which is an inflammatory arthritis," Ellms-Millet said. "It was a little tough for me to hear that because, in my mind, riding is something that I'm going to be doing the rest of my life and something that's really where I find my happiness. To hear that was difficult because I know a lot of people with chronic pain sometimes lose the more physical sports. It was a tough year to figure out the right medications while also quarantining and making sure we're finding the right combination, but there's something about riding that if I even spend three days not riding, I'm more sore than when I'm riding every single day."
This summer, she jumped a 3' course for the first time in her life. "It was remarkable for me to be able to jump over these fences I never thought I would," Ellms-Millet said.
"[Getting the diagnosis] was tough, but it's been a lot easier when you have a good friend [Glynn] and a wonderful horse that will take care of you," she added. "I'm really lucky to have a great team of medical professionals helping me."
Now that Ellms-Millet's found the right combination of immunosuppressants and medications, she's able to control her psoriatic arthritis. She sees an occupational and physical therapist and does regular massage therapy.
She married Jon Millet in June, in a Zoom ceremony in her backyard. Glynn and her husband and children attended, as did another friend to officiate, and, of course, Pia.
Do you know an amateur with a cool story? Email Lindsay at lberreth@coth.com.