Harrisburg, Pa.—Oct. 19
The start list for the pre-green hunter division reads as a who's who of top hunter professionals—and a 24-year-old young professional beat them all to earn the very first Pennsylvania National championship title of her career.
Cassandra Kahle guided Eermette to the top of the 3-foot pre-green division with steadily improving scores of 86, 86.5, 87 and 88 over fences and a seventh placed finish under saddle. The reserve title went to Peter Pletcher and Serena.
"She was champion at Capital Challenge [Md.], and that was my first [championship] there too, and then this," Kahle said, shaking her head. "This is just absolutely unbelievable. I can't believe it happened, I'm very, very excited."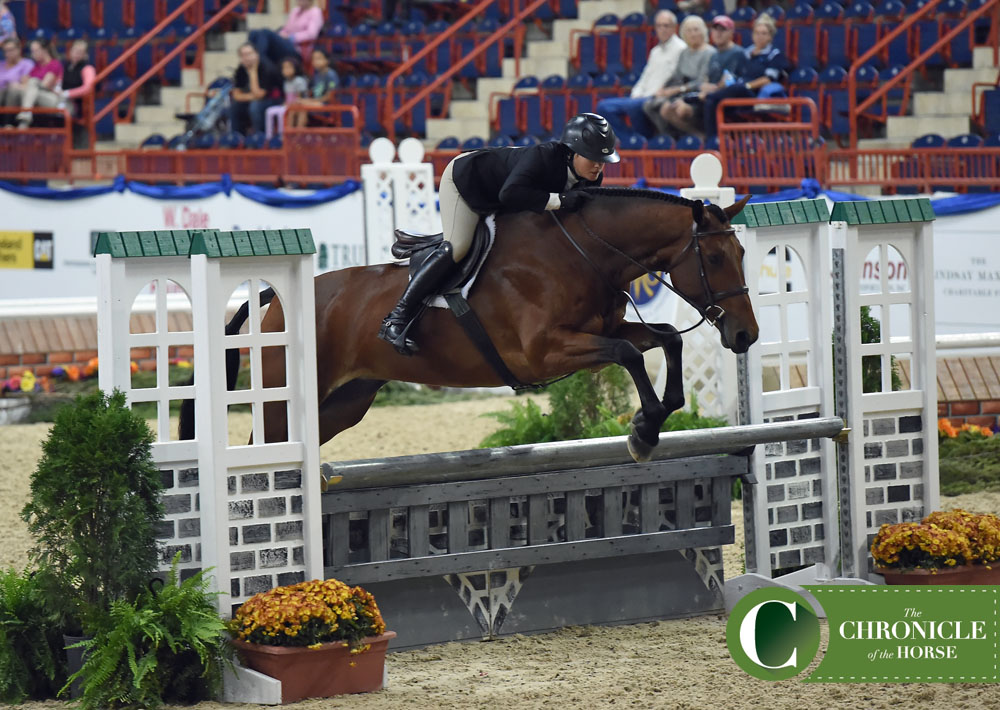 Cassandra Kahle and Eermette took the 3-foot pre-green championship. Photo by Ann Glavan
Kahle hails originally from Vancouver, British Colombia. Her mother, Natasha Brash, runs the Silver Fox Horse Sales, and Kahle grew up showing sales horses in the junior hunters and equitation divisions mostly in Canada before spending her final junior year as a working student for Jim Hagman at Elvenstar in Moorpark, Calif.
Kahle turned professional out of high school, and has been working for Emil Spadone, who owns Eermette, out of Redfield Farm for the past three years. Like many of the horses Kahle grew up showing, Eermette is also for sale.
"But I'm hoping she'll stick around so I can do her in the first years in Florida, but that's kind of the story of my life," Kahle said with a laugh. "Whenever there was a good one, it was always out the door really quick."
Ermee was imported from Paul Hendrix early this year and kept a low profile at Redfield Farm while Kahle and Spadone were busy with other mounts.
"She was a little bit on the back burner at first, we started showing her over the summer," said Kahle of the 7-year-old. "She's just come so far in such a short period of time. She had one or two foals [in Europe] so she was a little bit late starting in general, and she's really just been so easy and nice to work with. She loves her job."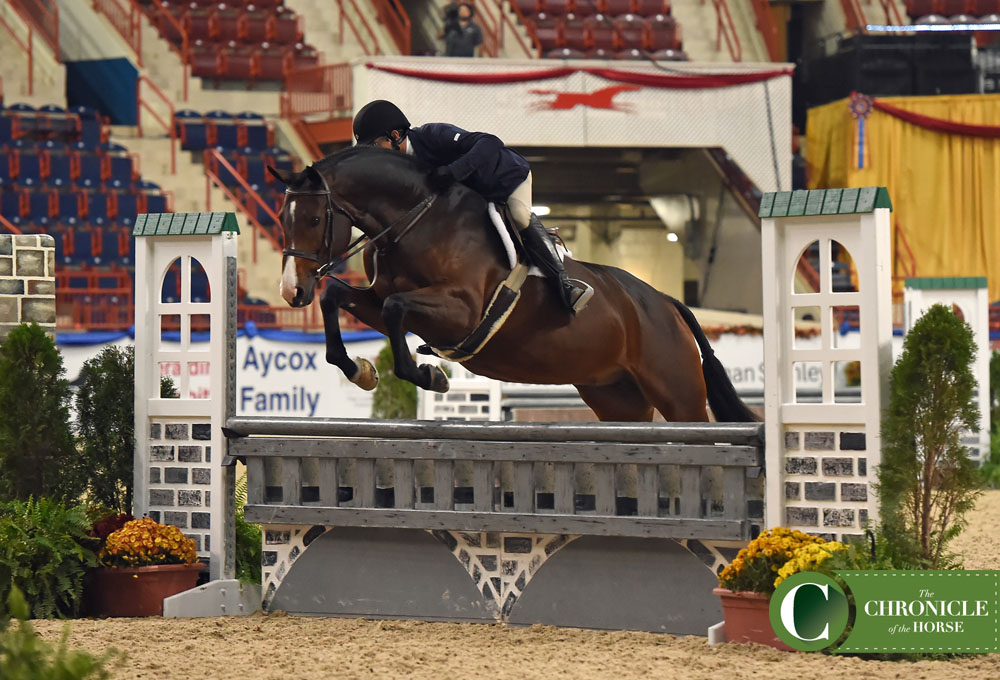 Peter Pletcher rode Serena to the reserve champion finish in the 3-foot pre-green division. Photo by Ann Glavan
Eermette was Kahle's only hunter at the Pennsylvania National as a first year horse she would have shown sold right before indoors, but she will suit up for the jumper division—she has a horse of Redfield's in the under-25 grand prix.
"I'm so lucky with my opportunity with Emil, I get to ride so many different horses, and this is my first time showing the jumpers [at the Pennsylvania National], so I'm really excited."
Daniel Geitner flew right to the top of the 3'3" pre-green division aboard Walk The Moon, owned by Lynn Seithel. Kristy Herrera and Girl Cursh took the reserve championship title.
Seithel's trainer Don Stewart and his assistant Megan Wexler found Walk The Moon for Seithel, and it was love at first sight.
"I saw two jumps on a video, and I bought him without riding him," Seithel said.

Daniel Geitner and Walk The Moon captured the 3'3″ pre-green championship. Photo by Ann Glavan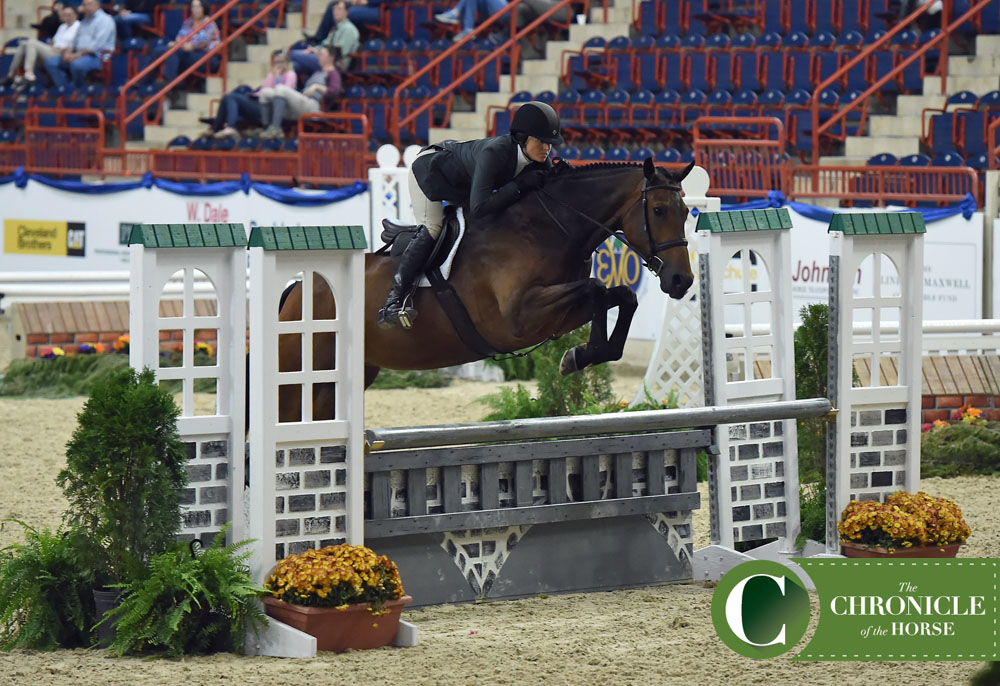 Kristy Hererra piloted Girl Crush to the reserve championship title in the 3'3″ pre-green division. Photo by Ann Glavan
Seithel keeps Walk The Moon at home on her farm in Charleston, S.C., and trailers him to horse shows to meet up with Stewart and Geitner. The Pennsylvania National marks Geitner's third show with the horse—it came a week after they won the $10,000 Pre-Green Carolinas Cup together at the Tryon International Equestrian Center (N.C.). Geitner wasn't worried about how "MoonPie" would handle the Pennsylvania National, his very first indoor show.
"He just went out on that big field in Tryon last week and didn't bat an eye, if anything he does better when there's bright lights and a bit of an atmosphere," Geitner said.
"He's got the best personality; he's always happy," Seithel said. "He's a little bit laid back, and a perfect gentlemen."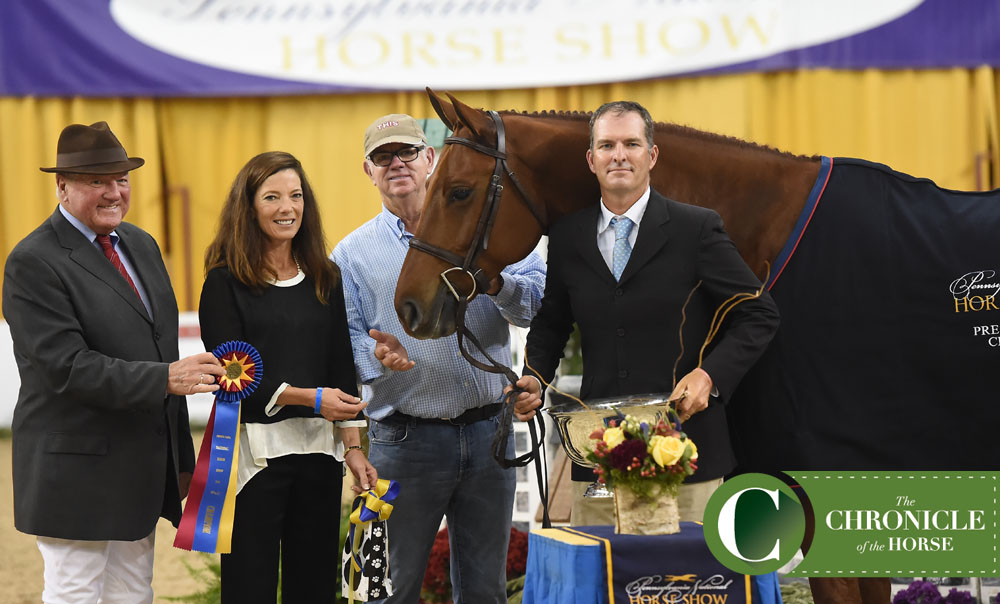 Lynn Seithel (second from left) was thrilled with Walk The Moon's championship finish with rider Daniel Geitner (first from right). Seithel's trainer Don Stewart (second from right) joined Seithel and Geitner center ring for the presnetation. Photo by Ann Glavan
Along with the two pre-green divisions, the Pennsylvania National also hosted a USHJA Pre-Green Incentive Stakes class, which was won by Patricia Fulchino's Best Regards, who was ridden by Jennifer Hannan.
"Enzo" was just imported in March of this year from Belgium where he had been showing in the young jumper classes, but the natural fences and slower pace of the hunter ring seem to suit him.
"He's beautiful, he just has an amazing brain, and his balance is beautiful," Hannan, 33, said. "You just get on and all of the parts go in the right direction, he was kind of made to be a hunter."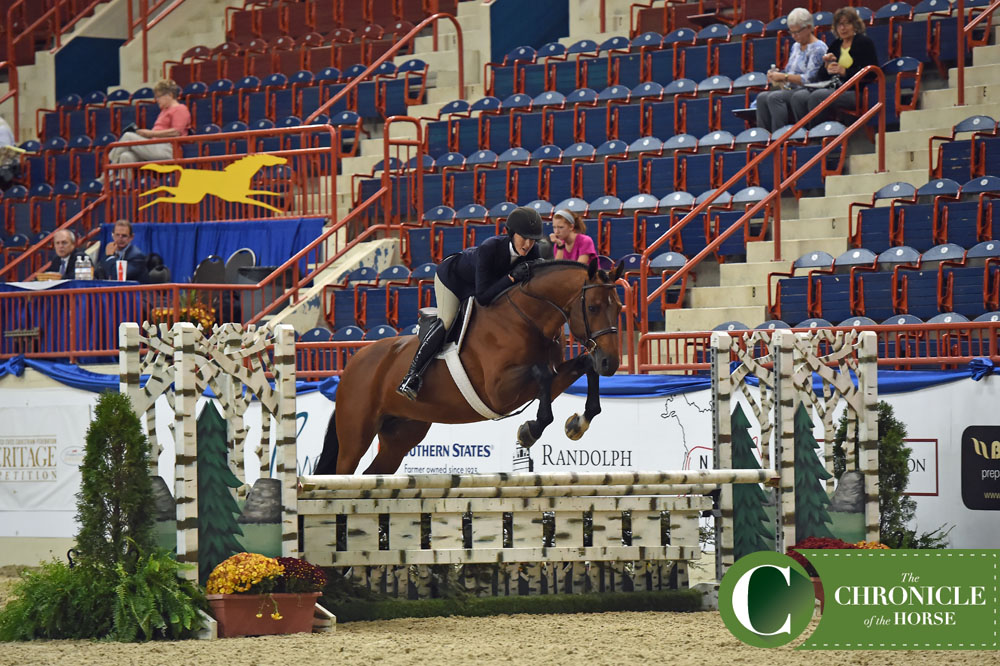 Jennifer Hannan guided the stallion Best Regards to the top of the $10,000 Pre-Green Incentive Stakes class. Photo by Ann Glavan
When Enzo isn't winning classes with Hannan—the pair also won the pre-green incentive class at Capital Challenge—the stallion goes for hacks with his owner.
"She doesn't show him, but she rides him on a daily basis and can take him out on trails," Hannan said. "He's just a lovely stallion, and so easy to deal with, really a pleasure to have. He is an angel, he's really, really well behaved."
Enzo will get the rest of the year off before stepping up to the first year green division in the 2017 season.
See all of the Chronicle's Pennsylvania National coverage. Click here for full results from the Pennsylvania National Horse Show, and don't forget to check out the Nov. 7 issue of The Chronicle of the Horse for more in-depth coverage from the show!