Wellington, Fla.—March 4  
The order of go for the Deeridge Derby Weekend's $50,000 USHJA International Hunter Derby includes some intimidating names of experienced derby winners—Scott Stewart, Tori Colvin, Molly Ashe, Patricia Griffith, Havens Schatt.
But after the conclusion of the first round, young professional Meagan Murray-Tenuta is leading them all. She rode Rebecca Price's Editorial to the top of the classic round with a total score of 180.75, just a fraction of a point ahead of Kristy Herrera on Candid.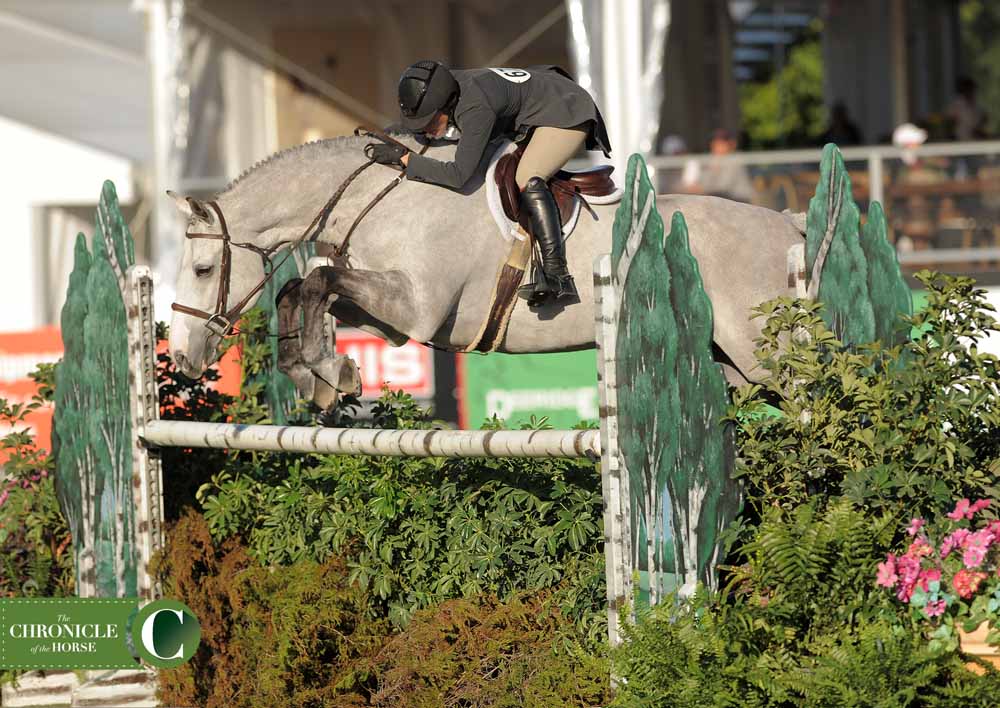 "He loved the field," said Murray-Tenuta, a professional who works at Buena Vista Farm in Zion, Ill. "[The grass] has great traction for him to keep springing higher and higher and higher. He got more confident as we went for sure."
Amateur rider Rebecca Price bought Editorial to her herself, but turned the reins over to Murray-Tenuta last summer. "He started jumping too big and too high and she said I could have him. So I'm happy with that," Murray-Tenuta said. She shows the 10-year-old gray in the high performance division. Together they were fourth in the 2016 $50,000 USHJA International Hunter Derby at the Chicago Hunter Derby and they competed in the USHJA International Hunter Derby Championship (Ky.) in the fall.
"My horse has gotten better in the handy round," said Murray-Tenuta. "It's been a work in progress. We used to not turn very well, but we are getting better at it. I feel pretty confident that it will be good."
Out of a class of 40 entries, Murray-Tenuta will enter the handy hunter phase tomorrow on top with Herrera and Jennifer Alfano's Candid following closely at her heels.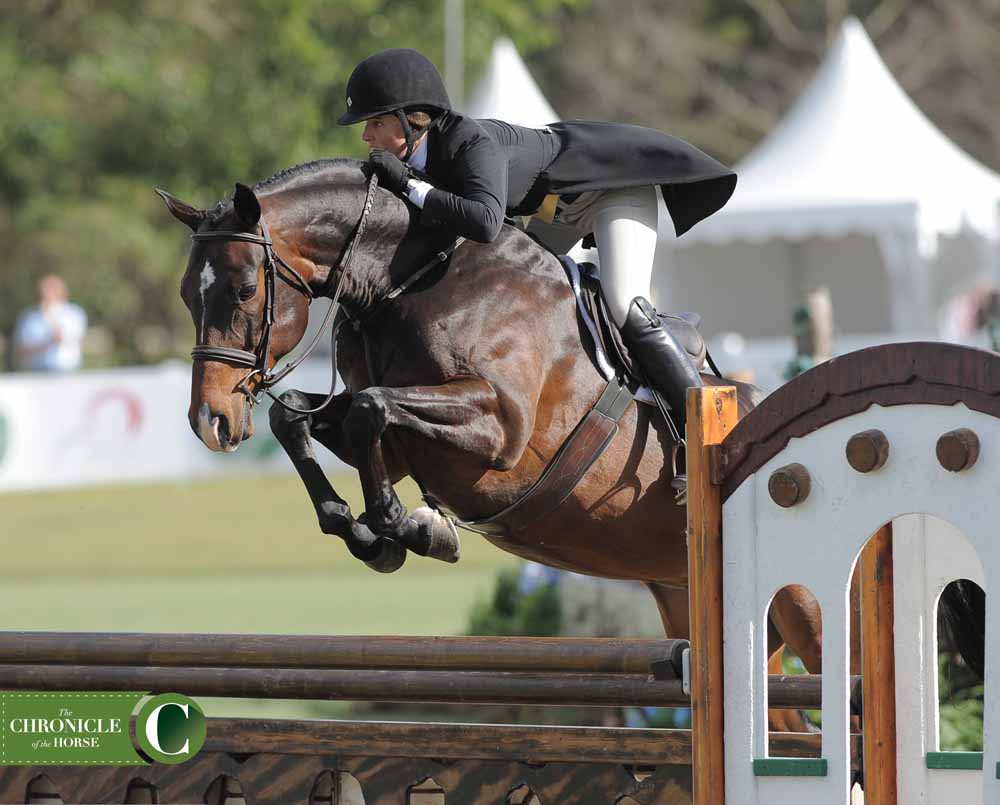 Herrera also stands in the eighth spot with her 2016 USHJA International Hunter Derby Championship winning partner Miss Lucy.
"Miss Lucy is Miss Lucy—she's a winner at heart and is a dream to ride out there," Herrera said. "And Candid is a little new to this but has been game and is so fun to ride. All he did today is jump higher and higher."
The top 24 combinations from the classic round will be asked to compete again tomorrow in the handy hunter round to complete the Deeridge Derby Weekend.
Also read about Jacob Pope and Augusta Iwasaki's triumphs in the $5,000 National Hunter Derby at Deeridge.
Results: $50,000 USHJA International Hunter Derby Round 1, presented by the World Equestrian Center
Editorial, Meagan Murray-Tenuta, 180.75
Candid, Kristy Herrera, 180.00
Cuba, Victoria Colvin, 180.00
Celebration, Scott Stewart, 177.10
In The Know, Samantha Schaefer, 177.00
Charisma, Taylor St Jacques, 175.50
Breeze, Havens Schatt, 172.00
Miss Lucy, Kristy Herrera, 171.75
Skorekeeper, Callie Seaman, 169.00
Captivate, Scott Stewart, 169.00
Autumn Rhythm, Molly Ashe, 168.50
Celtic Fire, Erica Quinn, 168.50
Clearline Z, Patricia Griffith, 166.75
Small Adventure, Augusta Iwasaki, 164.75
Comissario, Laura Sexton, 164.25
Privateer, Havens Schatt, 163.25
Poker Face, Jennifer Bliss, 162.00
Quirino, Peter Pletcher, 161.00
Generous, David Oliynyk, 159.50
Monterrey, Kelli Cruciotti, 159.00
Wonderly, Scott Stewart, 158.50
Galan, Amber Henter, 157.50
Uppercut, Jennifer Hannan, 156.00
Onyx RCF, Victoria Colvin, 148.00
Save