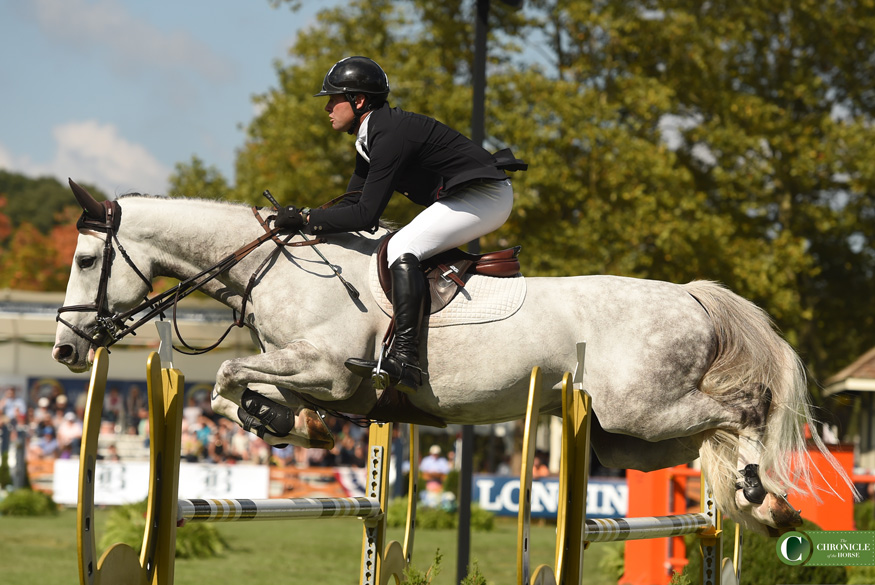 Old Salem, N.Y.—Sept. 17
A betting man probably wouldn't have picked Eddie Blue to win the Longines FEI World Cup Qualifier of New York. Sure, the horse has been picking up big ribbons as he's moved up the levels under Devin Ryan's saddle over the last four years, but Eddie Blue was making his World Cup Qualifier debut at the American Gold Cup CSI-W, and the competition was tough.
But the 8-year-old Dutch Warmblood (Zirocco Blue VDL—Silvana, Marlon) stepped up for his longtime rider to win the $216,000 Longines FEI World Cup Qualifier over McLain Ward (HH Callas) and Hardin Towell (New York), giving Ryan the biggest win of his career so far, and to have his name engraved onto the American Gold Cup Perpetual Trophy alongside a legion of legends.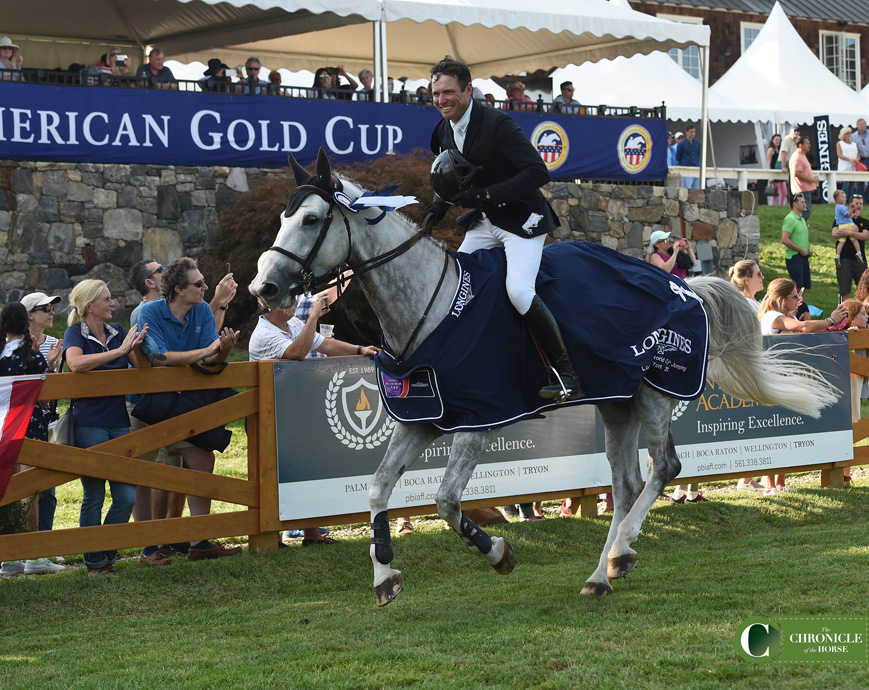 "I knew going into it that I have a great horse," said Ryan, 35. "I knew that there's a great field out there. But I was probably the least experienced of all the riders in the jump-off, and I've been watching them all season. I just went out there today and rode my plan and it worked out."
See Eddie Blue's jump-off round below, courtesy of Shownet.
Five of the 36 riders made it through Alan Wade's first round track fault free, held on the undulating grand prix field of Old Salem Farm, with Paul O'Shea (Terceira) picking up a single time fault to finish sixth.
For the short course pathfinders Brianne Goutal and Nice de Prissey rode a relatively conservative path, ticking a single rail to finish an eventual fourth. Mario Deslauriers and the went for broke, slicing the turn to the third fence, but the greenish Bardolina slammed on the brakes, touring the course before Deslauriers collected her to walk out of the ring together.
Ward, who lives only a few miles from Old Salem Farm in Brewster, N.Y., laid down a clear with HH Callas, a relatively new mount he paired up with in February.
"Devin is a very fast rider," said Ward. "He's always going forward and the horse has a very big stride. I knew I couldn't do the same numbers, so to be frank I knew it had to be a very good round to win. In hindsight you see an inch here or an inch there, but you also risk having a jump down. I did the best round I thought I could and he was a little better today."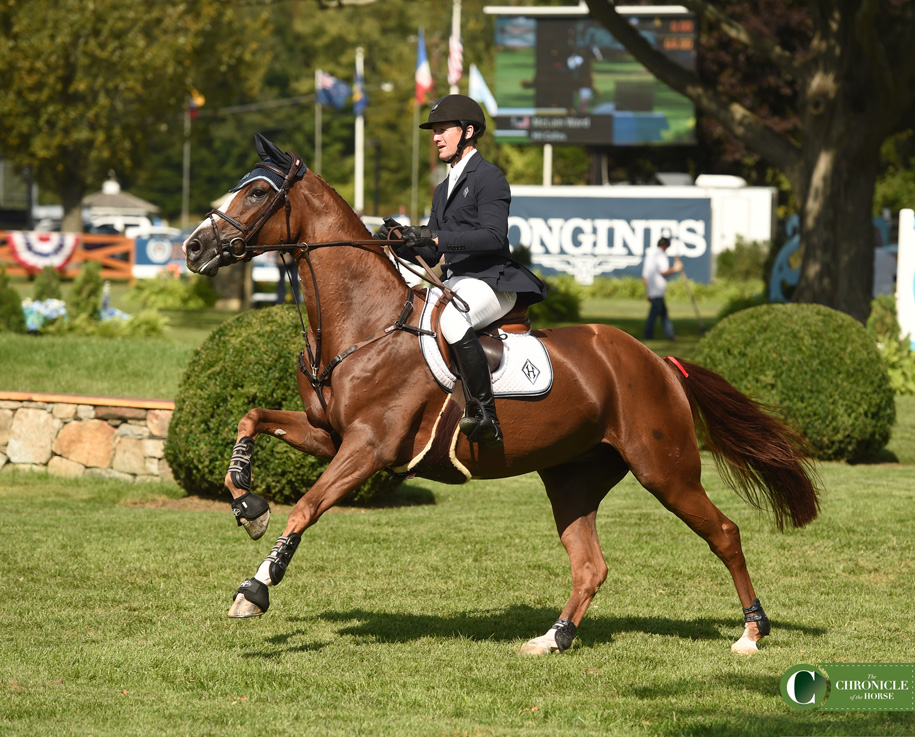 Ryan shaved over half a second off Ryan's ride before Towell made a bid for the blue. But Lucifer V ticked a rail to put the pair in third.
"I was disappointed with myself," said Towell. "My horse jumped very well and I should have taken more of shot. I was too slow, and if I didn't have the rail I still would have been too slow. I think I should have left out [at stride from] the first two lines. It wasn't my horse's fault, I just wasn't on it from the start."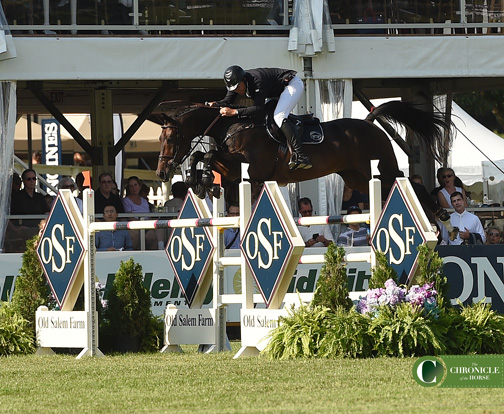 Check out more photos from the Longines FEI World Cup Qualifier Of New York.
Eddie Blue has spent most of the season as Ryan's second horse behind Cooper, but at the last few shows he's started stepping up, including at the Saugerties $1 Million HITS Grand Prix (N.Y.), where he finished sixth after ticking a single rail in the first round.
"This was a little test," said Ryan, Long Valley, N.J. "He's a very brave horse and field like this suits him. He has a lot of stride and a lot of scope, so there is time to organize him. Because the field fits the horse I thought this was a great place to step him up.
Next up for Ryan and Eddie Blue? Testing him out in an indoor arena. He'll go to the Washington International (D.C.) and the CP National Horse Show (Ky.) where Ryan can gauge whether those venues suit his horse as much as he hopes.
Check out more photos of the Longines FEI World Cup Qualifier of New York.
For in-depth coverage of The American Gold Cup CSI-W, including how Devin Ryan produced Eddie Blue from a green-as-grass 4-year-old with one month under saddle, made sure to read the Oct. 9 issue of The Chronicle of the Horse magazine. 
Check out Longines Timing for results, course maps and orders of go.
Follow along all our coverage from this year's competition, and make sure you're following us on Facebook, Twitter and Instagram at @chronofhorse.
2017 American Gold Cup CSI-W Sunday
Mollie Bailey / Sep 22, 2017 12:41 am