Coatesville, Pa.—Sept. 18
Phillip Dutton admitted he hasn't given as much time to Mr. Candyman this year with his campaign for the Olympic Games, but the gelding stepped up today to take the win at the Plantation Field CIC*** and remind his rider just what he's capable of.
"I couldn't be more pleased with what he did this weekend," said Dutton. "It raises my hopes for him because it hasn't been a good year [Dutton retired him on course at the Jersey Fresh CCI*** in May.] At the end of last year I was so excited about him, and things haven't gone well. He's quite quick to lose his confidence, and I have to make sure I do a good enough job to keep him confident all the way. I rode him accordingly today."
Four of 35 starters made the time over Mike Etherington-Smith's course (Lisa Marie Fergusson and Honor Me, Boyd Martin and Cracker Jack and Sharon White and Cooley On Show). Thirty-two riders finished, and two finished with jumping penalties.
Phillip Dutton and Mr. Candyman. Photo by Lindsay Berreth.
Dutton went slower on his overnight leader I'm Sew Ready and picked up 10.8 time penalties to fall to third. Martin and Cracker Jack moved up to finish second. They were held on course about half way around when Buck Davidson fell from Park Trader at fence 14, a parallel oxer. He was up quickly and left the course with a suspected collarbone break.
"He feels like usual. He's not the easiest horse to ride cross-country. He's very keen to get to the jump and often his idea of taking off and my idea of taking off are different," said Martin. "This course didn't quite suit him because it's a CIC. He's better on the CCIs where you can get him settled on a longer course.
"I'm very pleased with him," he continued. "There were a couple of moments where I held my breath, but he jumped well, and we got a nice 5-minute rest about halfway thanks to Buck who fell."
The ground was hard, but competition grounds manager Jamie Hicks laid down sand, watered and aerated the track.
Boyd Martin and Cracker Jack. Photo by Lindsay Berreth.
"The ground's definitely hard. Jamie Hicks did everything he possibly could to make it as good of going," said Dutton. "I think each rider had to make a decision based on what they'd done for the summer. My guys haven't run much, so I was prepared to put the foot down a bit. You have to practice that on your horses as well. You can't get a much better course than this to educate horses and riders. It's not always about knocking the field out, it's how they come away from it. Boyd and I are pretty closely involved with Mike and what he's doing, and he's got a great vision. I think it's incredible for our sport to have him here—really good, educational courses."
"There's no question he's one of the best course designers in the world," Martin added. "It's funny, you walk this course, and it's big with big hedges and corners, and all the riders are pulling their hair out saying, 'how are we going to do this?' And then all the horses jump it really well, which is a credit to Mike ES. When we ride different courses, some don't feel like that with traps and tricks around the course, and horses don't jump that well. One of the reasons Phillip and I were so adamant to get Mike is we know this is a big event on everyone's calendar, and it's also more important as a preparation event for CCIs at the end of the year."
Martin's looking towards the Pau CCI**** (France) with "Crackers," while Dutton will head to the Dutta Corp. Fair Hill International CI*** (Md.) with "Elmo."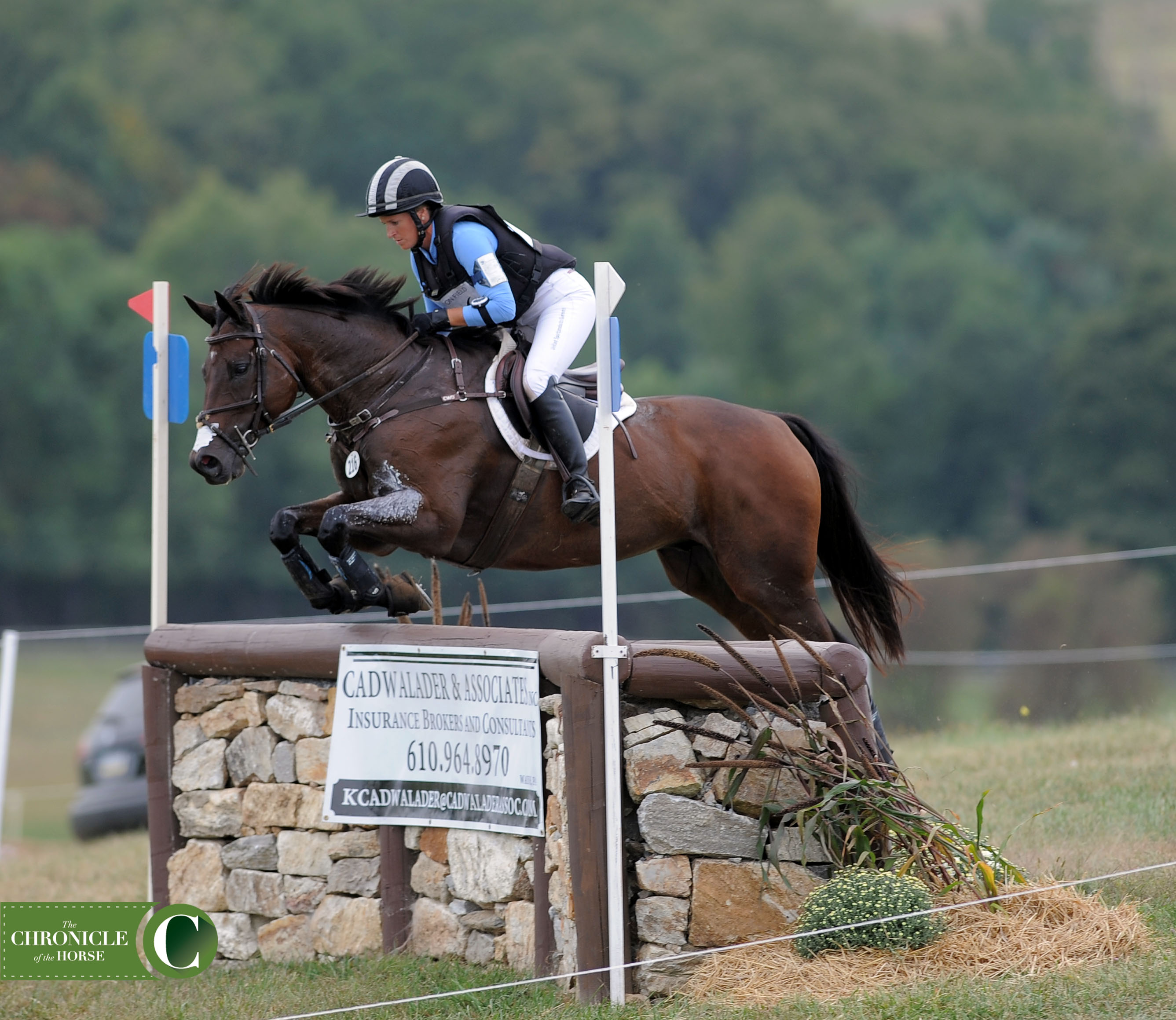 Erin Sylvester and Paddy The Caddy. Photo by Lindsay Berreth.
Erin Sylvester led the advanced division from start to finish on Paddy The Caddy, a Thoroughbred who was started for steeplechasing but never raced.
After a string of second places recently, Sylvester was thrilled to get the win.
"He was great yesterday [in the show jumping,] as he showed with his little bucks after," she said. "I was prepared for him to be really green [today.] He struggles with the right corners and combinations, so they were like wham, bam right after one another with a gigantic table in between, so I took it slow through that area of the course. But he locked on to both corners like he's not done before. He's in a good place mentally, and when he went out of the box, he went out in a straight line and was much easier to ride at the start of the course. I thought, 'OK, I can kick him on a little bit.'"
Sylvester added that she felt that "Paddy" gained confidence as he went around.
"He was really locking on to stuff. I wasn't the faster round, but that was definitely the fastest he could have gone at this stage because he needs the time in the combinations," she said.
Click here for full results.
Check out the Oct. 10 print issue for more from Plantation Field.