After giving themselves a narrow lead after Thursday's Grand Prix, the Dutch dressage team clinched the win in the FEI Nations Cup in Rotterdam, the Netherlands following the Grand Prix Special and the freestyle. The Swedish team ensured a thrilling competition by competing head-to-head with the Dutch right until their final rider Tinne Vilhelmson's performance. The Swedes came up second. The American team were third. Edward Gal and Glock's Zonik N.O.P. were the stars of the Dutch team by taking the win in the Grand Prix freestyle in striking fashion. Swedish rider Therese Nilshagen and Dante Weltino OLD were victorious in the Grand Prix Special.
"There were so many highlights in Edward's test," said Dutch Chef d'Equipe Rien van der Schaft. "That's fantastic to see, and I'd almost consider it his trademark. Hans Peter  [Minderhoud] performed very well too. These guys prove that they can bring their best when the moment demands it. They really give it their all. As team captain, that makes me very happy. It feels really good when your riders are able to deliver something extra, like they have done tonight. Hats off to all four riders. Besides [Emmelie Scholten's horse] Apache, who is by no means old, they all have really young horses, which promises a lot for the future."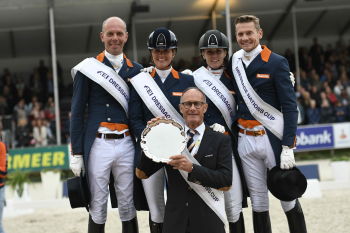 The FEI Nations Cup rankings are calculated with place points. In Thursday's Grand Prix, the three best results per country counted towards the end result. The same applied tonight for the Grand Prix Special and Grand Prix freestyle combined. Tonight, The Netherlands beat Swedes by one point.
"This Nations Cup concept is a good thing for dressage as a sport," sad van der Schaft. "It ensures that you don't just win if one rider has a score over 80 percent. You really need the whole team to do well. That ensures excitement in the competition right until the last moment.''
Gal and his beautiful horse Glock's Zonik N.O.P. already won Thursday's Grand Prix and did the same in the freestyle. ''Zonik felt really good. In the warm-up area he reacted very strongly to Patrik Kittel's mare, and in the ring he was a bit nervous, but he carried on wonderfully," said Gal. "I was glad we got to ride in this stadium today, because he has to get used to an atmosphere like this. We made an error in the pirouette that cost us, but I'm very pleased. There were some really good."
With this victory, Gal finishes a fantastic week at CHIO Rotterdam. He won all four categories he competed in, two with Glock's Zonik N.O.P. and two with Glock's Voice.
Minderhoud pushed to the limit in the Grand Prix Special with Glock's Dream Boy. His efforts paid off, as he rode a terrific test. "It's the best test I've ridden so far with this horse," he said. "Dream Boy doesn't get spooky in this entourage and he never complains, but just does his thing. I'm really happy with it."
With The Speed Of A NASCAR Pit Crew
Led by Chef d'Equipe Robert Dover, the Dutta Corp. U.S. Dressage Team  of Olivia LaGoy-Weltz, Adrienne Lyle, Kasey Perry-Glass, and Steffen Peters delivered solid performances in the team's first European Nations Cup of the season to take bronze.
Sitting in third after the CDIO***** with a few points separating them from the leading teams of the Netherlands and Sweden, Dover was pleased with their continuing performances in the Special and freestyle.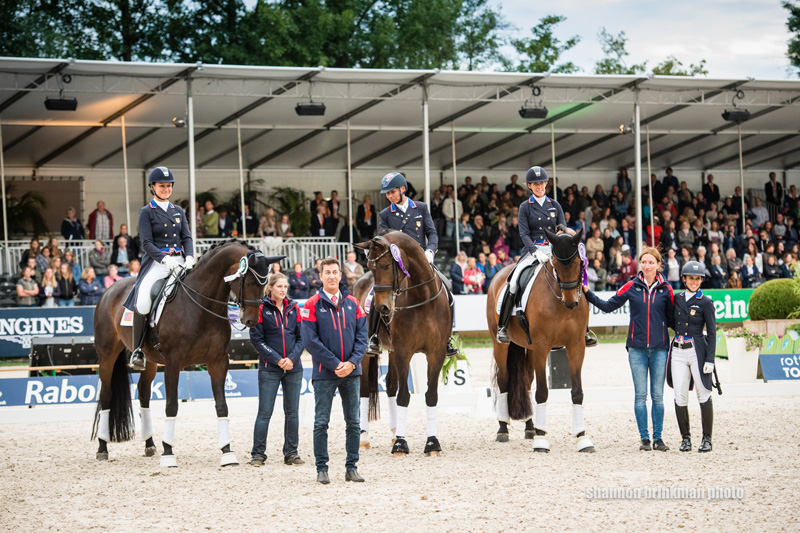 Setting the tone for the U.S., LaGoy-Weltz with her own and Mary Anne McPhail's14-year-old Danish Warmblood gelding Lonoir, were the first U.S. combination to enter the ring in the Grand Prix. The pair moved onto the Grand Prix Special where they finished with a 71.21 percent.
Peters riding Four Winds Farm's 11-year-old Rheinlander mare Rosamunde, led the team after the Grand Prix finishing on an impressive score of 74.13 percent, advancing them as the anchor combination to ride in the freestyle where they finished third with a score of 77.13 percent.
Lyle and Salvino, Betsy Juliano LLC's 11-year-old Hanoverian stallion, were hot on the heels of Peters's Grand Prix score with a 73.91 percent. Prior to the start of the Grand Prix Special, Salvino's noseband broke, but quick thinking from the U.S. teammates allowed the pair to fix it and get down centerline. Lyle and Salvino's performance in the Grand Prix Special earned them a final score of 71.91 percent.
Perry-Glass piloted Goerklintgaards Dublet, the 15-year-old Danish Warmblood gelding owned by Diane Perry, to wrap up the Grand Prix in style, confirming a third top-10 U.S. placement with a score of 73.06 percent. Perry-Glass and Dublet shined in the Grand Prix Freestyle for a final placement of 77.06 percent.
"A year ago, the United States won the Nations Cup in Rotterdam with great riding on super horses and some good luck that day," said Dover. "This week we did not have the same luck going our way; however, the thing I will remember forever, besides our superb riders and horses, is the moment when Adrienne Lyle had the misfortune of having Salvino's noseband snap for no apparent reason. Her teammates, all of whom are actually still competing against her for one of four cherished spots on our World Championship team, ran to help her take off the failed noseband and in record time, only rivaled by pit crews at NASCAR events, placed a new noseband on Salvino and allowed Adrienne to go on to masterfully ride the stallion to well over 71 percent! It is because of times like this that I am reminded why I am so proud to be the chef d'equipe of the fabulous U.S. team!"
In the CDI***,  the relatively new partnership of Peters and Suppenkasper, Four Winds Farm's 10-year-old Dutch Warmblood gelding, had a successful outing in the international arena earning a top-three placing in the Grand Prix with a score of 72.63 percent and earning a 74.21 percent in the freestyle.
Fellow U.S. competitors in the three-star shared in the success as Lyle piloted Horizon, Betsy Juliano LLC's 11-year-old Oldenburg mare, to top marks in the Grand Prix Special with a score of 70.68percent. Followed by Shelly Francis  and Danilo, Patricia Stempel's 14-year-old Hanoverian gelding, earned a 70.42 percent with Ashley Holzer and Havanna 145, Diane Fellows's 11-year-old Hanoverian mare, producing clean and consistent tests in the Grand Prix and freestyle.
In the their first European competition in the CDI-U25, part of their Discover Dressage™ USEF/USDF Emerging Athlete Program membership, consistency was key as Natalie Pai and Unlimited, Melanie Pai's 17-year-old Dutch Warmblood gelding, continued their impressive season as the highest-placed American with a score of 66.48 percent in the Grand Prix and a 67.50 percent in the freestyle. Kerrigan Gluch and Bolero CXLVIII, Hampton Green Farm's 14-year-old P.R.E. stallion, proved to have an equally positive first European outing, earning a 65.25 percent in the Grand Prix and 67.27 percent in the freestyle.
Find out more about CHIO Rotterdam and view results.