An intriguing day of competition saw a potential close finish to the Longines FEI Para Dressage European Championships' team competition begin to take shape today with nations in Grades I, II and III in contention for the coveted title.
Leading the way in Grade I was Norway's Jens-Lasse Dokkan. Fresh from his individual title win on Wednesday, Dokkan and Aladdin scored 76.53%. "I'm really happy and satisfied with that," he said.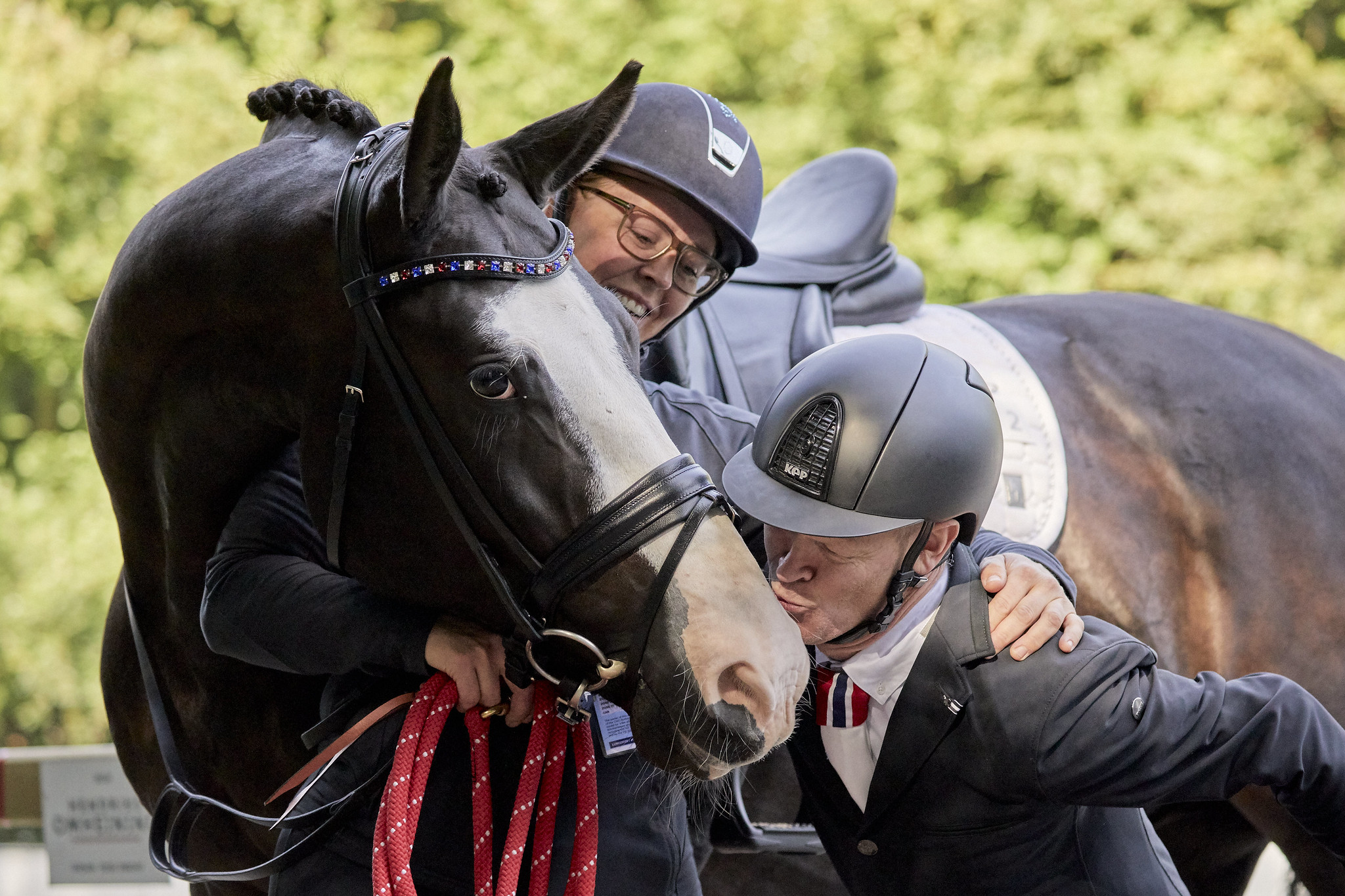 Close behind him was Italy's individual silver medallist Sara Morganti and Royal Delight, who scored 74.75%. Third highest score in the Grade went to Finland's Katja Karjalainen on Dr Doolittle with 73.64%.
The second competition of the day saw another tussle between Grade III's new individual European Champion, Tobias Thorning Joergensen, and The Netherlands' triple world gold medallist Rixt van der Horst. Joergensen came out on top again with an impressive 76.38% on Jolene Hill, while van der Horst and Findsley N.O.P. scored 74.02%. Joergensen's teammate Caroline Cecilie Nielsen and Davidoff had the third best score in the Grade, 70.08%.
Speaking after his ride Joergensen said: "I'm feeling very happy although she was a bit more tense today. I was scared I may have done too much. I wish I had a better feeling, but I will sit down and watch the video and look at the scores the judges give and see what we can do better."
In the final competition of the day, for the grade II riders, there was delight for Great Britain's European Championship debutant, Georgia Wilson. Having picked up a silver medal in her grade's individual test earlier in the week, she came out on top with a score of 74.75% riding Midnight.
In doing so she knocked Austria's Pepo Puch into second place. Puch rode Sailor's Blue to score 74.15%, edging out The Netherlands' Nicole Den Dulk and Wallace N.O.P, who scored 73.36%.
Clearly enjoying every minute of her first major championships, Wilson said: "He felt very good. We practice and practice our transitions so they go nice and smoothly and I was really pleased with my free walk. And my accuracy and halts were apparently square.
"I'm finding the whole experience very different to a normal international. I get a day off between rides and have been able to enjoy the show jumping and dressage too. My medal ceremony was amazing and scary at the same time. I said to Pepo (Puch, the gold medal winner) 'This is my first time. You have to show me what to  do.' "
Germany, traditionally a strong team contender, are effectively out of the competition now. Their two riders from today, Elke Philipp in Grade I and Steffen Zeibig in Grade III, both failed to break the crucial 70% mark, making it now virtually impossible for the country to make the podium.
Officially, the current lead in the competition belongs to Portugal. Its three riders all competed today and scored of 188.59%. Austria are in second place with 145.22% with one rider left to perform, and Italy are third with 144.35%, also with one more rider to come.
That will change tomorrow though as the main competitors for the three medals all have two more riders to perform in Grades IV and V. They include The Netherlands' Frank Hosmar and Sanne Voets, Great Britain's Sophie Wells, and Belgium's Michele George.
Crunching the numbers suggest that The Netherlands remain the favorites for the gold, with fierce competition between Belgium, Denmark and Great Britain for the other two medals