Rotterdam, the Netherlands—June 24
The World and European champions from the Netherlands threw down a stunning to win the fifth leg of the Furusiyya FEI Nations Cup™ Jumping Europe Division 1 League in Rotterdam (the Netherlands).
And it was a particularly satisfying result, because it was the first time since 2003 that they have reigned supreme on home ground. "It was thrilling!" said team-member Willem Greve after a double-clear performance with Carambole NOP that has confirmed them in the frontline for selection for the Rio Olympic Games.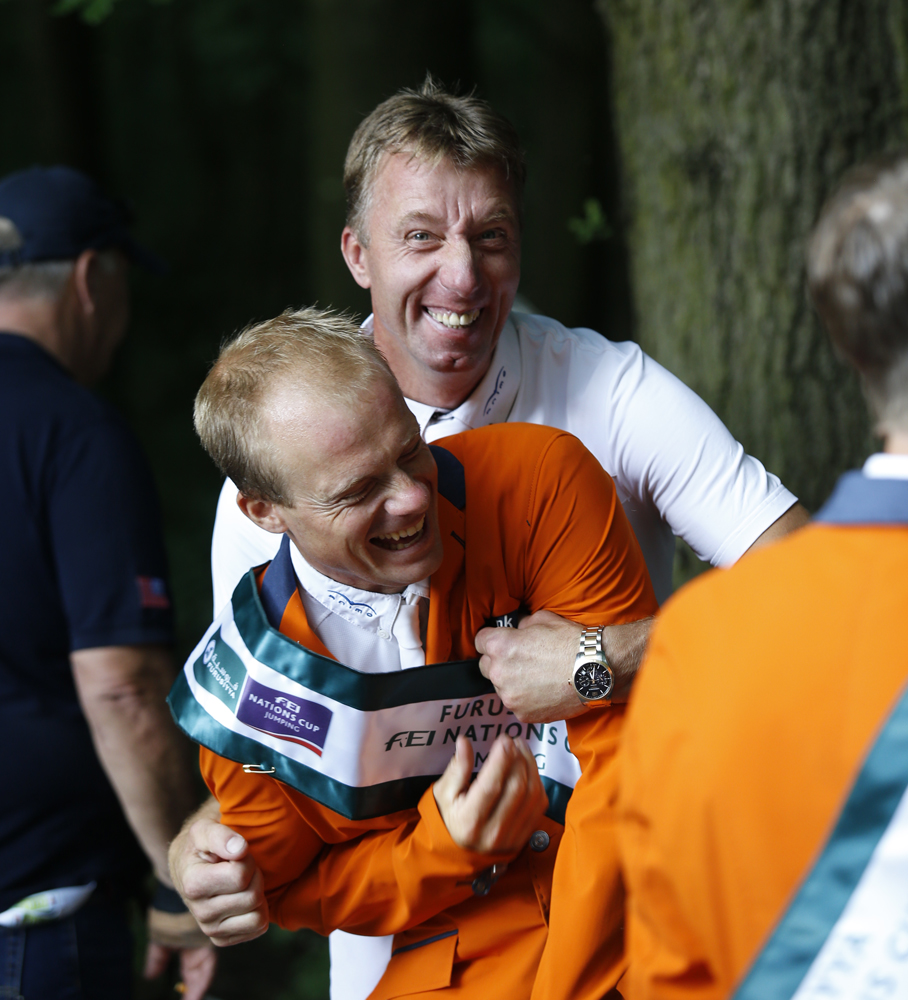 Jur Vrieling (left) and William Greve celebrate the big Dutch win at Rotterdam. Photo by Tiffany van Halle
The Dutch were virtuually foot-perfect on the day, with their only fault on the scorecard 1 time fault from Harrie Smolders and Emerald NOP, the pathfinders for the team. That was their Round 1 drop score, and when Smolders, Jur Vrieling on VDL Zirocco Blue NOP and Greve on Carambole NOP all jumped clear in Round 2, their fourth rider—Maikel van der Vleuten on VDL Groep Verdi TN NOP—didn't have to jump again.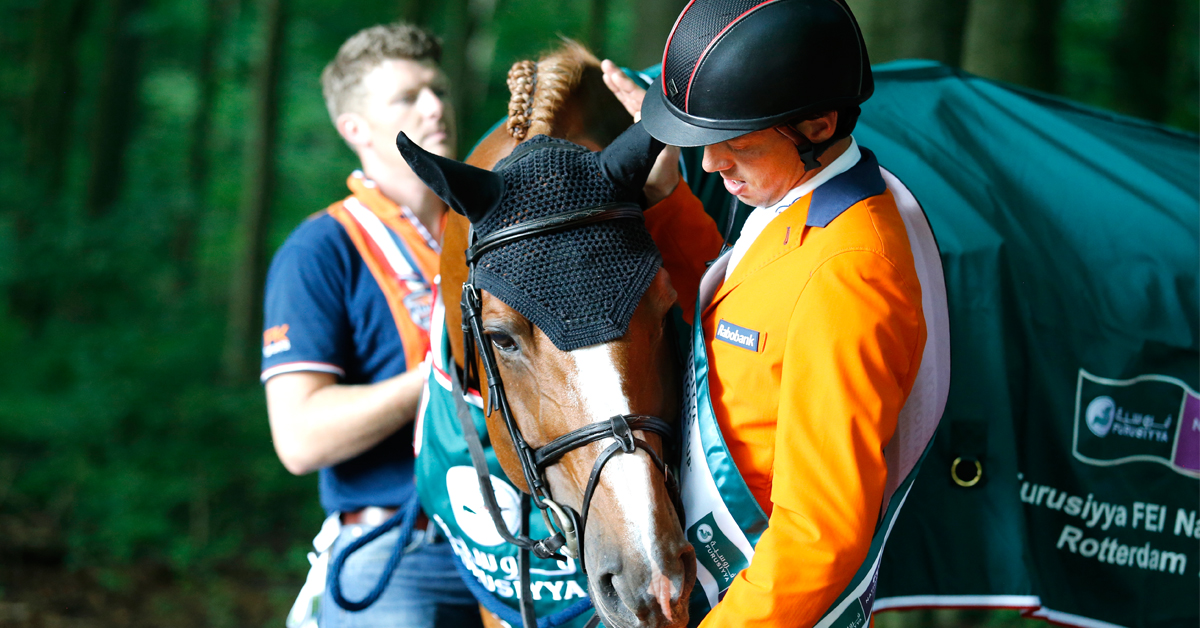 Harrie Smolders sharing a moment with Emerald NOP after the Dutch team's win. Photo by Tiffany van Halle
The U.S. team had a rough start in Round 1 with no clean rounds, which saw them sitting on 16 faults. But they rebounded in Round 2 to add nothing more after clean rounds from Laura Kraut, Kent Farrington and Beezie Madden. They finished up in fifth place.
Only a few short weeks away now, the Olympics are on everyone's minds, and there was plenty of tension in the air during the first half of the competition. But the home runners kept their cool to go out in front on a 0 score and they never looked back. "We were firm and focused," said Greve, and that was exactly how it seemed as they had the luxury of watching the Swiss overcome the Germans in the battle for runner-up spot.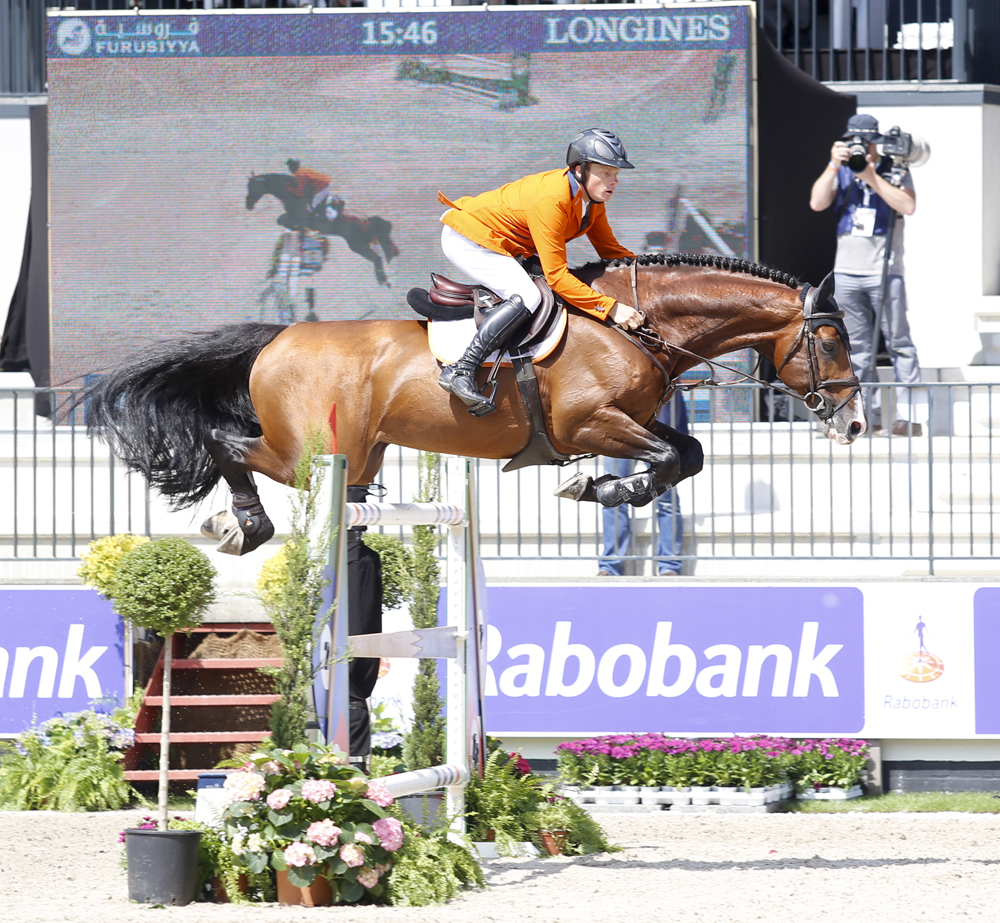 William Greve on Carambole NOP, whose clean second round helped clinch the Dutch victory. Photo by Tiffany van Halle
Brilliant rides from Malin Baryard-Johnsson and Peder Fredricson helped secure fourth spot for Sweden, while USA, Belgium, France and Great Britain filled the remaining places.
Clever Test
Dutch course designer, Louis Konickx, presented a clever test in the oddly-shaped Rotterdam ring which is much wider at one end. "It was more tricky than we thought when we walked it, not the biggest course we ever jumped but there were some technical lines. After the triple combination there was a long line to the difficult oxer with water under it, and the spread was wide there—it wasn't that easy to go clear," explained Dutch anchorman Maikel van der Vleuten.
However three of the four Dutch team-members returned fault-free at their first attempt, while pathfinders Harrie Smolders and the chestnut stallion Emerald NOP picked up only a single time fault when exceeding the 79 seconds time-allowed.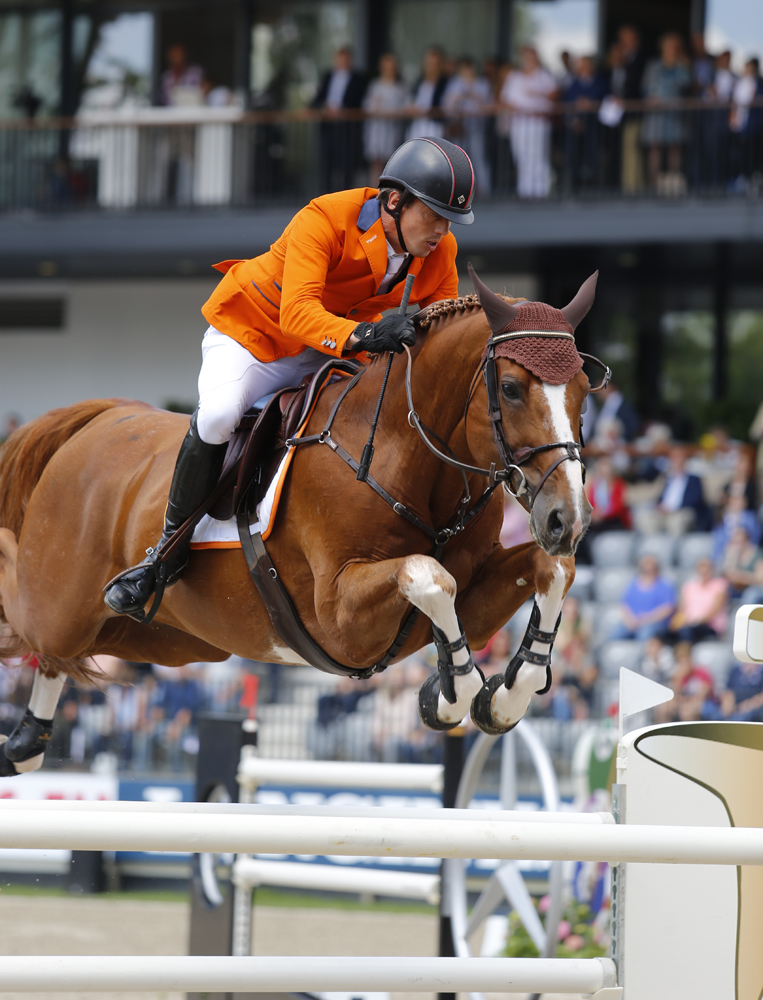 Harrie Smolders on Emerald NOP, the pathfinders for the winning Dutch team. Photo by Tiffany van Halle
In all there were 10 clears in the first round, and with just 4 faults apiece the Swiss and German sides were on level pegging at the halfway stage, with the Swedes next in line with 9 faults on the board.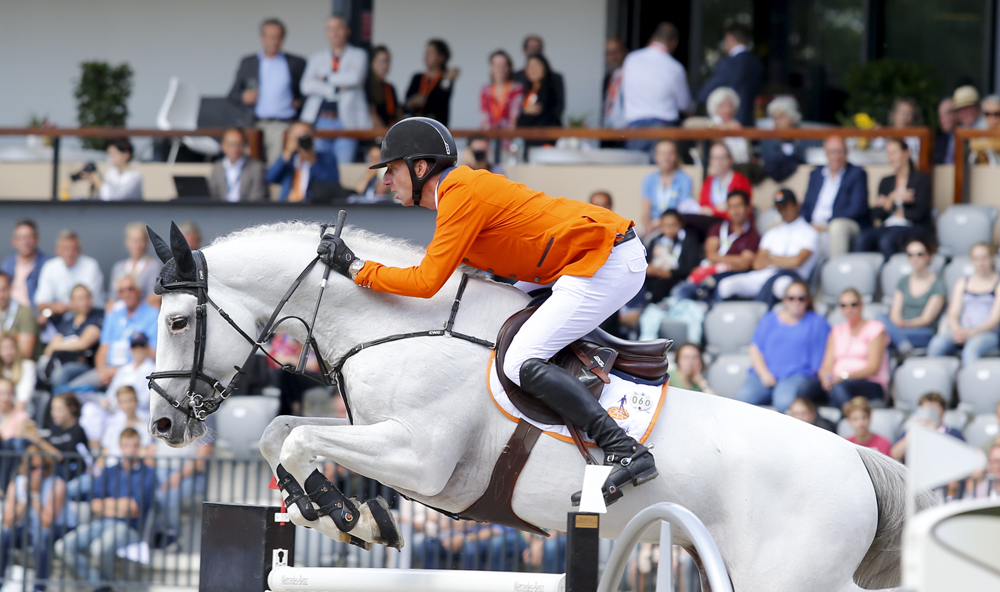 Jur Vrieling and VDL Zirocco Blue NP turned in two clear rounds for the Dutch. Photo by Tiffany van Halle
The British came to Rotterdam on a high after their victory in Rome four weeks ago but were already out of touch when sharing a 12-fault tally with the French at the halfway point, and things deteriorated even further in the second round for both sides who plummeted down the leaderboard with big scores to add.
The Americans and Belgians on the other hand dramatically improved when posting zero second-round scores, but it was too late to affect the final result.
Cemented
The Swedes cemented their position with just four more to add for a final tally of 13 after single second-round errors from Henrik von Eckermann (Yajamila) and Charlotte Mordasini (Romand du Their) and brilliant clears from both Baryard-Johnsson with H&M ue Channa and Peder Fredriscon with H&M All In.
The smile on Baryard-Johnsson's face said it all as she cleared the line for the second time knowing that she couldn't help but have impressed her Chef d'Equipe Sylve Soderstrand with the mare who was purchased at the end of last year with the sole intention of making the Swedish Olympic team. And the effortless ease with which Fredricson's stallion tackles the strongest courses must also make him a major contender, his second-round tour once again looking like a walk in the park. A total of seven horse-and-rider combinations jumped double-clear today.
The Germans began to lose their grip on runner-up spot when Marco Kutscher, now well-recovered from the nasty fall he took with Van Gogh in the Grand Prix in Rome last month, put 12 on the board with Balermo as Round 2 got underway.
Fellow countrymen Daniel Deusser (Equita van T Zorgvliet) and Marcus Ehning (Funky Fred) steadied the situation with good clears, but when Ludger Beerbaum's Casello hit the water-tray oxer at Fence 9 then those 4 faults would prove costly.
Foot-Perfect
Because Janika Sprunger and Bonne Chance CW and Martin Fuchs and Clooney were both foot-perfect so, despite a pole down for Paul Estermann and Castlefield Eclipse who had endured a much more eventful first run over the course, the Swiss could rely on the reigning Olympic individual champions to keep them secure.
Steve Guerdat has been taking the greatest of care with his London 2012 Olympic ride, Nino des Buissonnets, in order to have him in the best possible condition this season and today the pair just sparkled, the 15-year-old horse showing that intensity and excitement that is his trademark and never missing a beat the whole way around the track. This ensured a four-fault finish for their country, and runner-up spot with a fence in hand over Team Germany in third.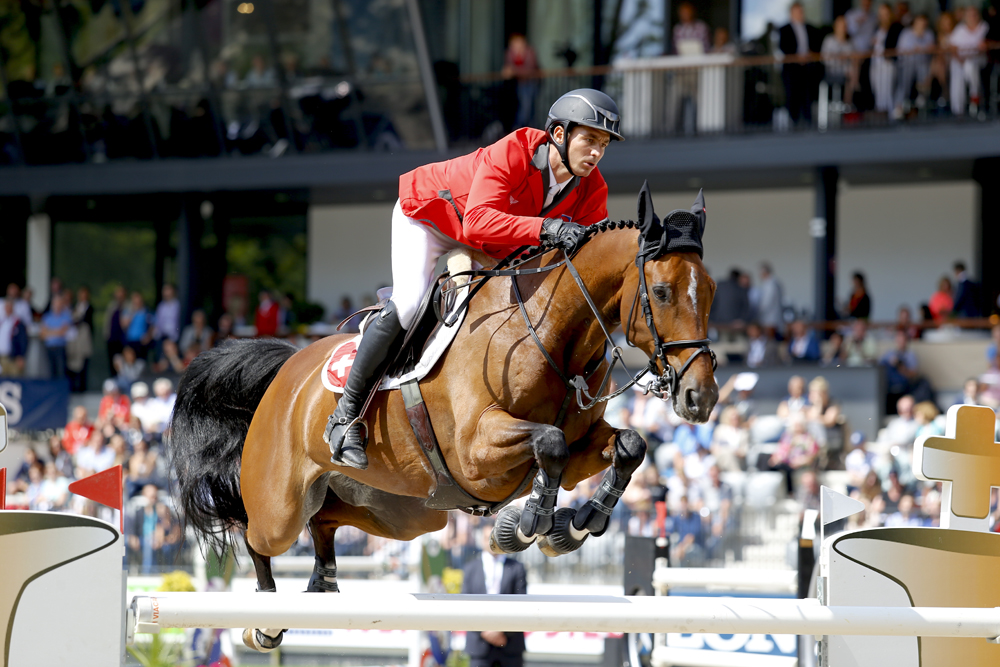 Steve Guerdat on Nino des Buissonetts. Photo by Tiffany van Halle
While all that was playing itself out however the Dutch were already sitting pretty. Smolders came home well within the time at his second attempt with his fabulous stallion while Jur Vrieling and VDL Zirocco Blue showed exactly why they are one of the most trusted partnerships in the sport when leaving all the fences intact once again.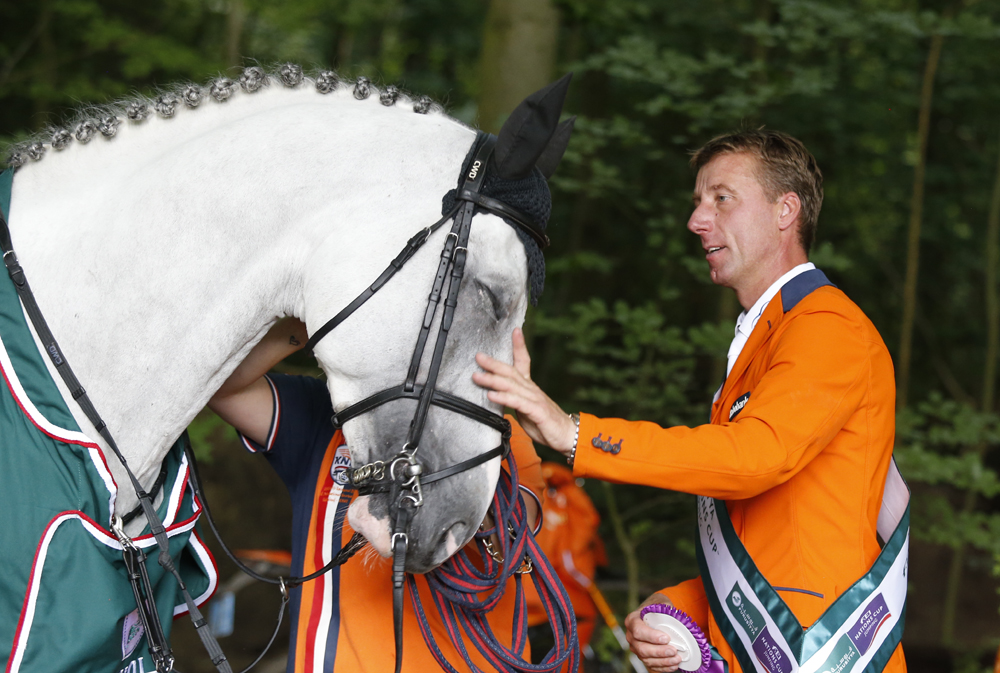 Jur Vrieling and VDL Zirocco Blue NOP. Photo by Tiffany van Halle
So when Willem Greve steered Carambole through another exhibition of jumping then the job was done, and as he cantered past his fellow-countryman and reigning world champion Jeroen Dubbeldam who was standing in the crowd, they shared a "high-five" in celebration. Maikel van der Vleuten didn't have to go again with VDL Groep Verdi—their first-round clear had already confirmed their form.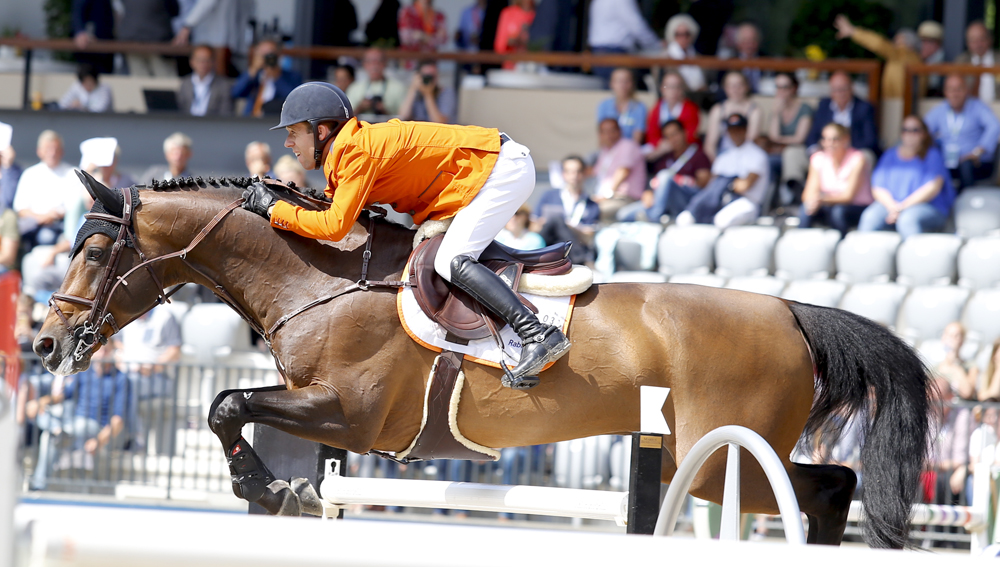 Maikel van der Vleuten on VDL Groep Verdi TN NOP. Photo by Tiffany van Halle
"My horse has been fantastic all year, very consistent and he did two beautiful rounds today," Greve said. "All four stallions on our team were fantastic! With my horse I know if I ride well he does his best and you can trust in him, he is a great partner. I'm very happy with my teammates—to win like this at home in front of our Queen [Princess Beatrix who watched the competition today] was altogether like a dream come true!"
Elusive
Chef d'Equipe Rob Ehrens joked afterwards that the win on home ground was so elusive that "I was thinking I would need to go and buy the victory for Rotterdam! It was the perfect victory after a long wait!" he said.
He has a difficult job ahead of him because he has so many talented horse-and-rider combinations from which to choose his Olympic side. "The decision is on my small shoulders," he said with typical modesty, "and we hope to have the best riders go to Rio. The job is not easy but it is definitely looking bright!"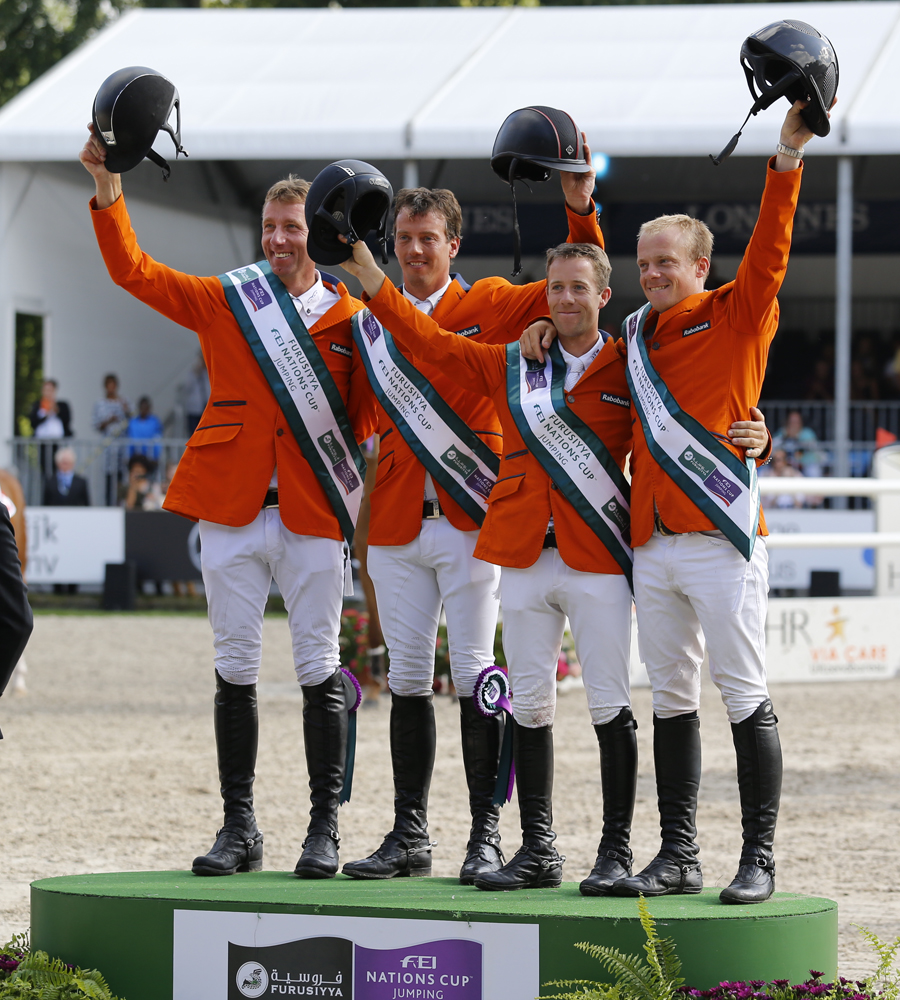 The winning Dutch team of (from left) Jur Vrieling, Harrie Smolders, Maikel van der Vleuten and William Greve. Photo by Tiffany van Halle
The Dutch team have two more big events before Olympic selection is finally decided. First up is the next leg of the Furusiyya FEI Nations Cup™ Jumping 2016 Europe Division 1 League at Falsterbo (Sweden) in two weeks' time followed by Aachen (Germany) a week later.
Talking about the pressure in the weeks leading up to the selection decision, Maikel van der Vleuten said tonight, "it is difficult to keep it completely out of your mind—we have a big group of riders and there is no room for mistakes, but the pressure is the same for all of us and I know my horse very well so I just try to do my thing. And today we are all very happy!"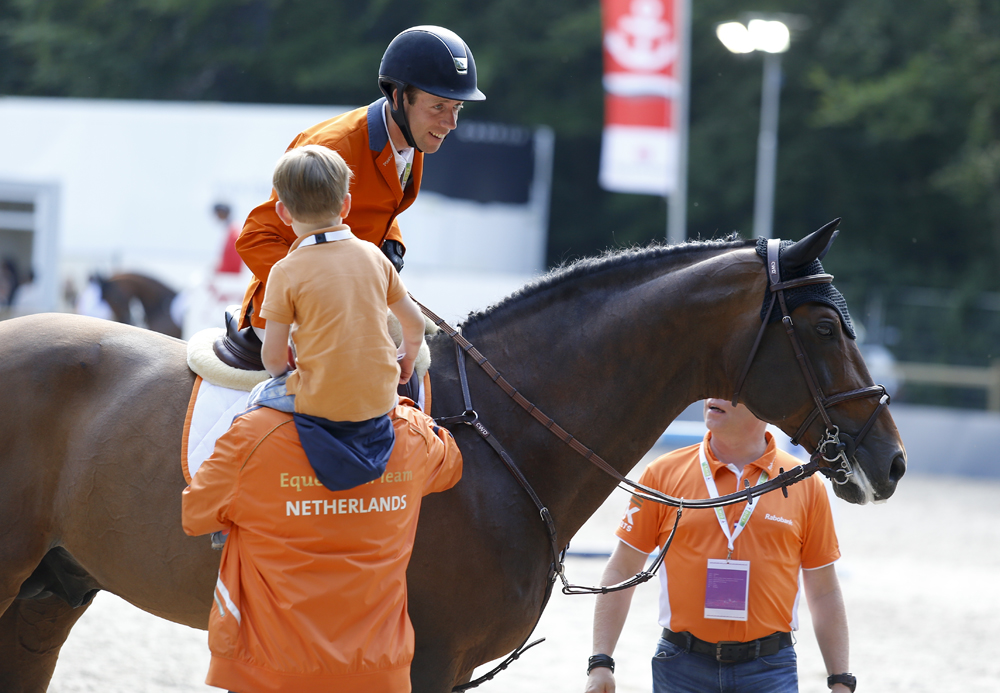 Maikel van der Vleuten celebrating the Dutch win with the team's supporters. Photo by Tiffany van Halle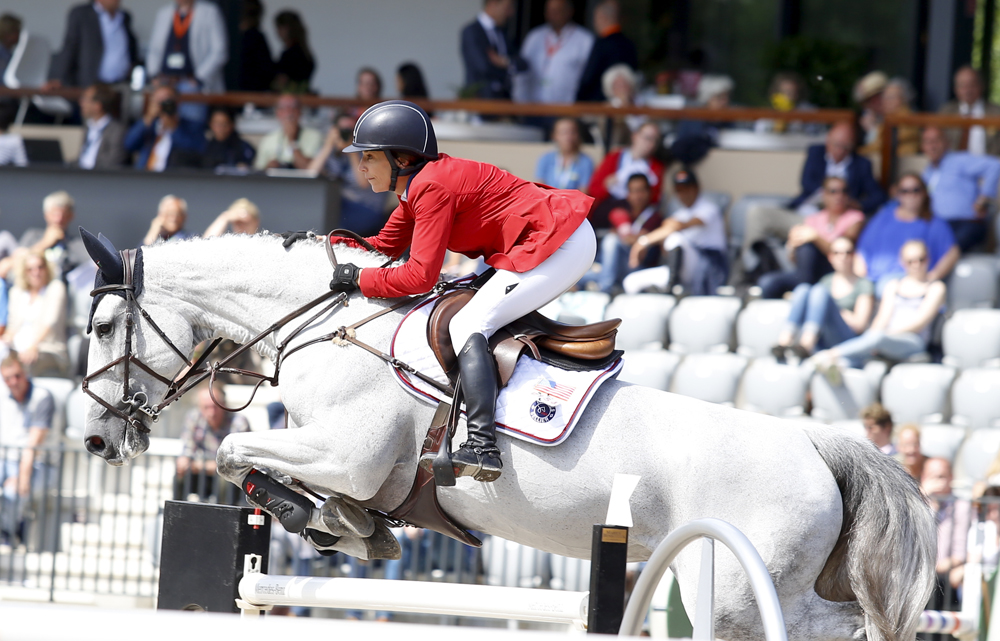 Laura Kraut on Zeremonie for the U.S. team—they had 4 faults in Round 1 and a clear in Round 2. Photo by Tiffany van Halle

Laura Kraut talks with U.S. chef d'equipe Robert Ridland as she walks up to the ring on Zeremonie. Photo by Tiffany van Halle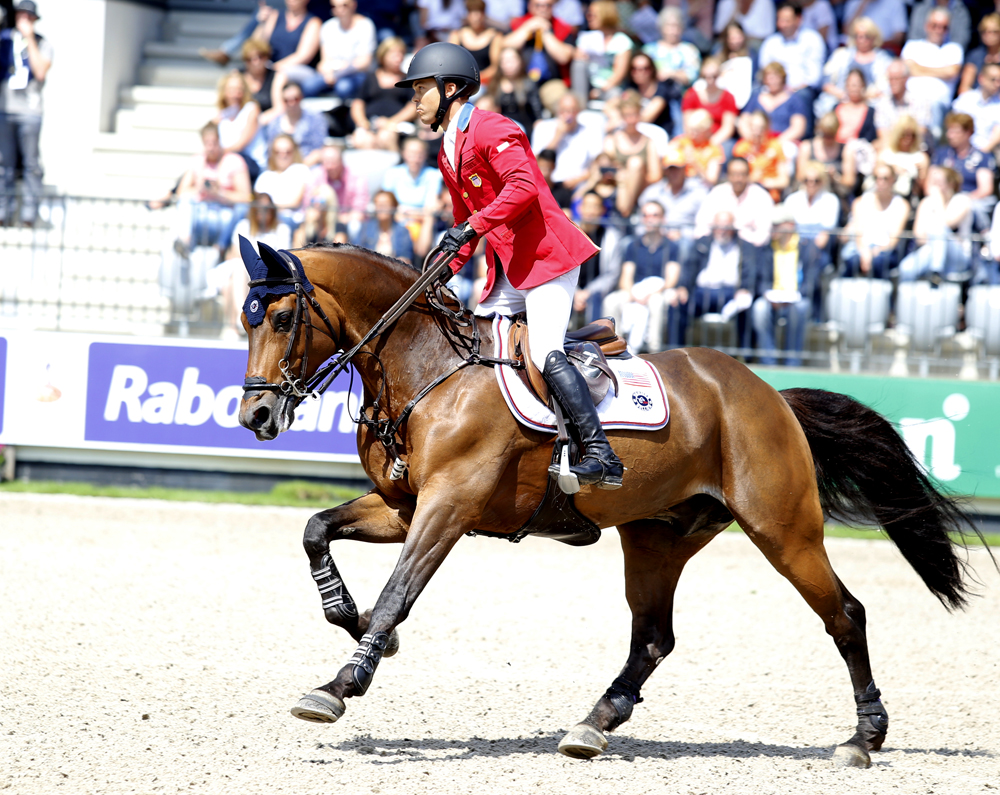 Kent Farrington and Voyeur led the way for the U.S. team's second round with a clear aboard Voyeur, but they had 4 faults in Round 1. Photo by Tiffany van Halle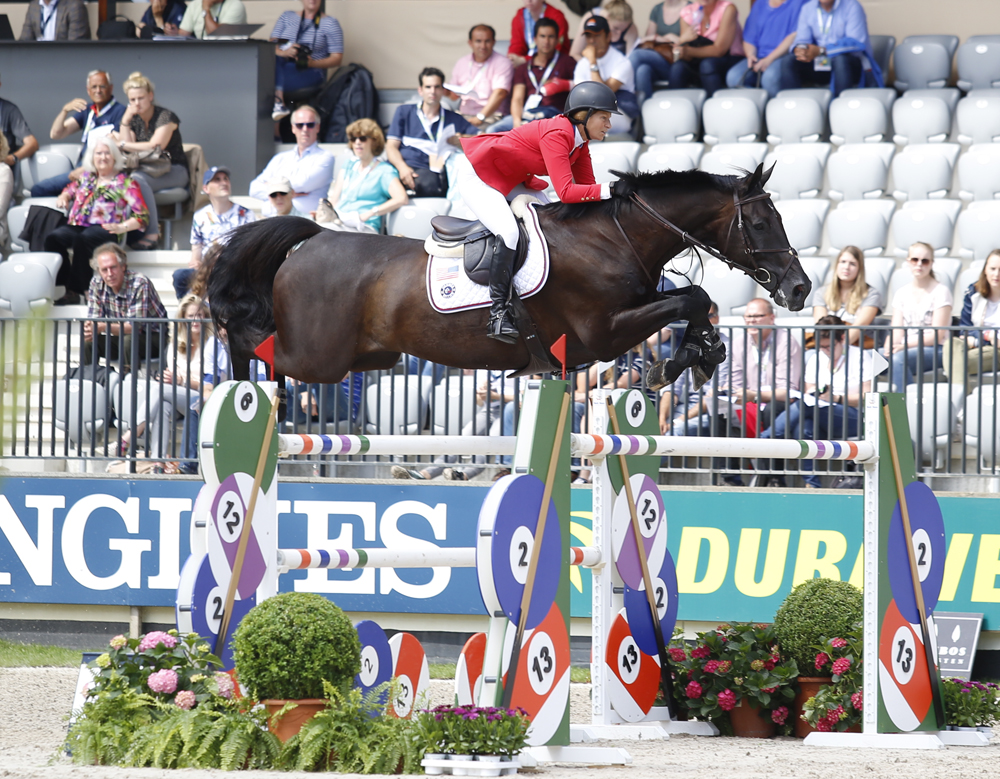 Beezie Madden and Cortes 'C' had an uncharacteristic 8 faults in Round 1 but rebounded with a clear go in Round 2. Photo by Tiffany van Halle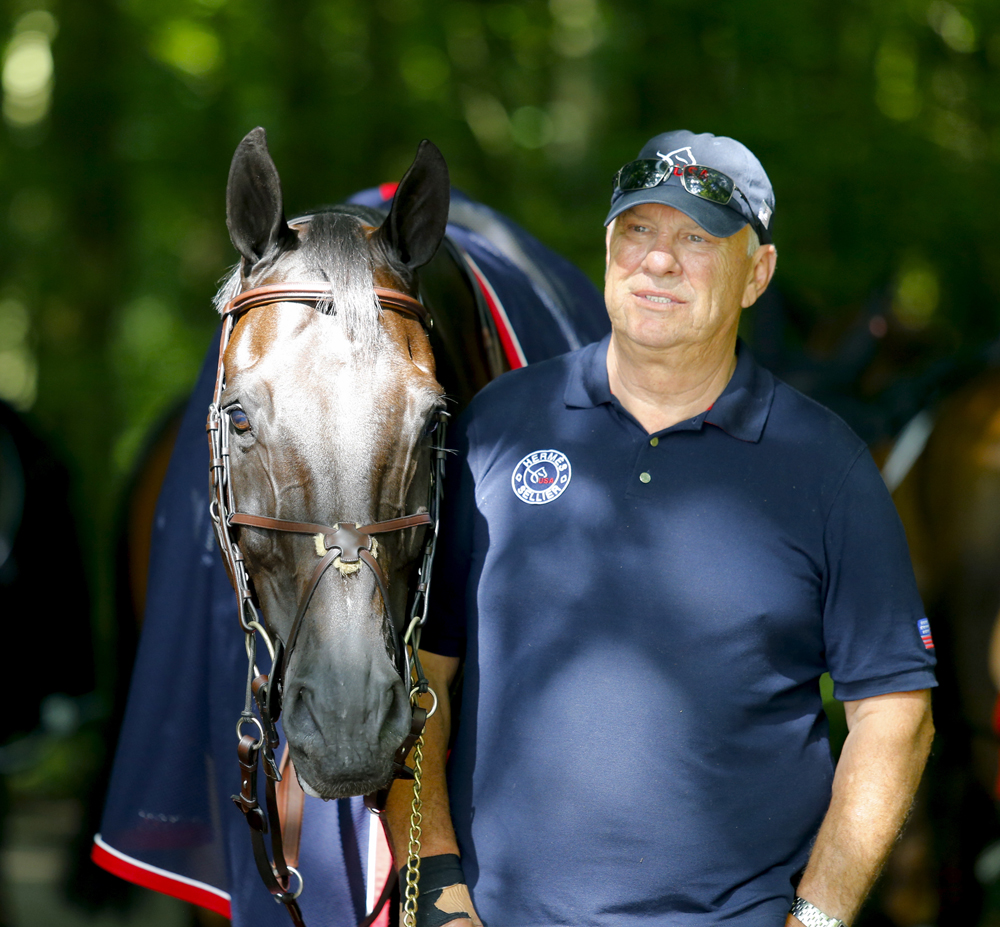 Cortes 'C' walking up to the ring with longtime groom Clark Shipley. Photo by Tiffany van Halle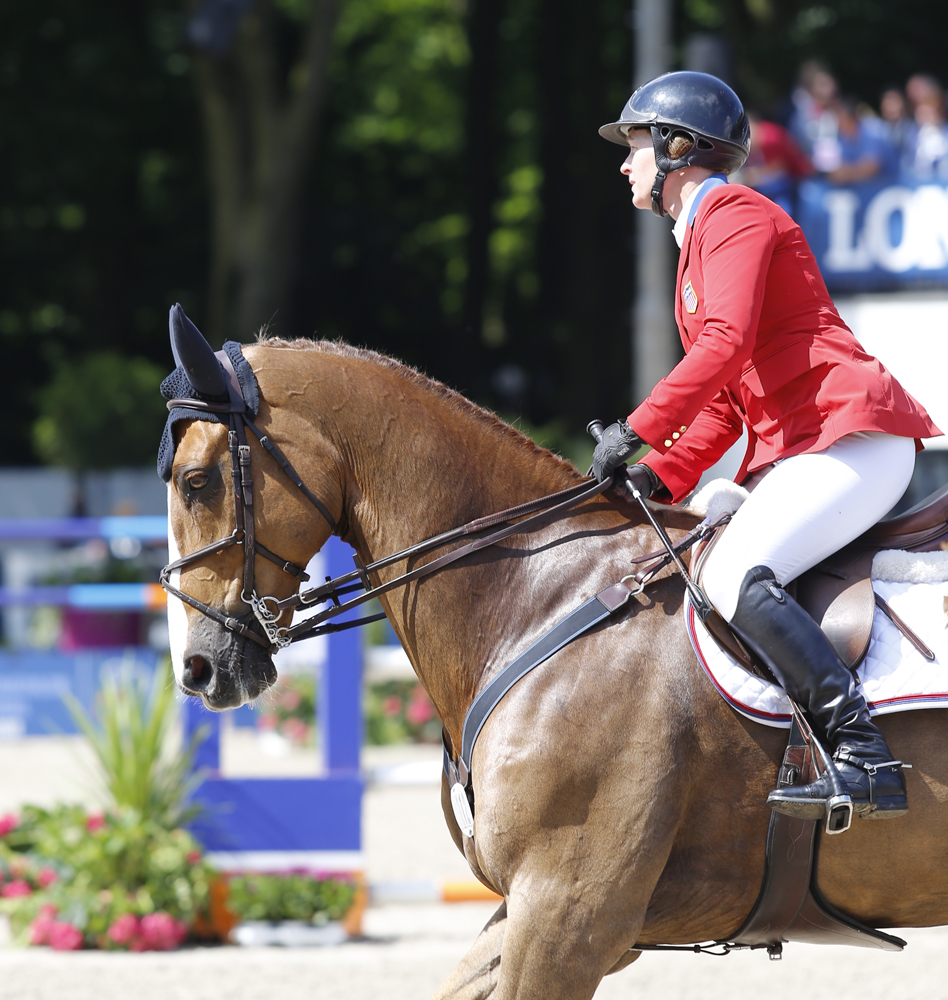 Callan Solem didn't have the day she wanted on VDL Wizard for the U.S. team with 8 faults in both rounds. Photo by Tiffany van Halle

Voyeur with groom Denise Moriarity. Photo by Tiffany van Halle
Result:
1. Netherlands 0 faults: Emerald NOP (Harrie Smolders) 1/0, VDL Sirocco Blue NOP (Jur Vrieling) 0/0, Garambole NOP (Willem Greve) 0/0, VDL Groep Verdi TN NOP (Maikel van der Vleuten) 0/DNS
2. Switzerland 4 faults: Bonne Chance CW (Janika Springer) 4/0, Clooney (Martin Fuchs) 0/0, Castlefield Eclipse (Paul Estermann) 19/4, Nino des Buissonnets (Steve Guerdat) 0/0.
3. Germany 8 faults: Balermo (Marco Kutcher) 4/12, Equita van T Zorgvlist (Daniel Deusser) 9/0, Funky Fred (Marcus Ehning) 0/0, Casello (Ludger Beerbaum) 0/4.
4. Sweden 13 faults: Yajamila (Henrik Von Eckermann) 8/4, H&M Cue Channa 42 (Malin Baryard-Johnsson) 1/0, Romane du Theil (Charlotte Mordasini) 8/4, H&M All In (Peder Fredricson) 0/0.
5. USA 16 faults: Voyeur (Kent Farrington) 4/0, VDL Wizard (Callan Solem) 9/8, Zeremonie (Laura Kraut) 4/0, Cortes C (Beezie Madden) 8/0.
6. Belgium 21 faults: H&M Legend of Love (Olivier Philippaerts) 9/0, Gautcho da Quinta (Catherine Van Roosbroeck) 4/0, As Cold as Ice Z (Judy-Ann elchior) 8/0, Algorhythem (Gregory Wathelet) 13/DNS.
7. France 28 faults: Qlassic Bois Margot (Simon Delestre) 8/12, Reveur de Hurtebise HDC (Kevin Staut) 4/4, Orient Express HDC (Patrice Delaveau) 8/16, Flora de Mariposa (Penelope Leprevost) 0/0.
8. Great Britain 32 faults: Tic Tac (Ben Maher) 0/4, Spirit T (Jessica Mendoza) 4/9, Catwalk IV (Robert Whitaker) 8/8, Utamaro D'Ecaussines (Joe Clee) 16/17.