Saugerties, N.Y.—July 21  
Bebe Davis shot to the top, claiming the young rider individual gold medal at the Adequan/FEI North American Junior and Young Rider Championships. The 20-year-old's performance at HITS-on-the-Hudson has been untouched—she followed up her winning score (73.92%) in the Young Rider team competition the day before with the top individual score of 71.81 percent on Fiderhit OLD.
The scores rose with the heat as the 29 entries narrowed down to the last section of riders. Rebekah Mingari rode boldly to a 68.78 percent on Allure S—earning bronze. The penultimate rider, Chase Shipka, secured a score of 71.52 percent on Zigal. Davis held true to saving the best for last and completing her test just a fraction ahead of Shipka—who ended up in second.
"The end of the competition was very exciting," said Janet Foy, president of the ground jury. "Everyone had us on the edge of our seats. And all three of these ladies really went for the win today. They all made an effort and pulled off some wonderful marks and some wonderful scores. I know all of them got 8s and 8.5s for their riding, because we really appreciated the quality of the horses and the quality of the riding. We're very proud of all three of them."
Foy added, "No pain, no gain," and explained high scores don't come without a certain amount of risk.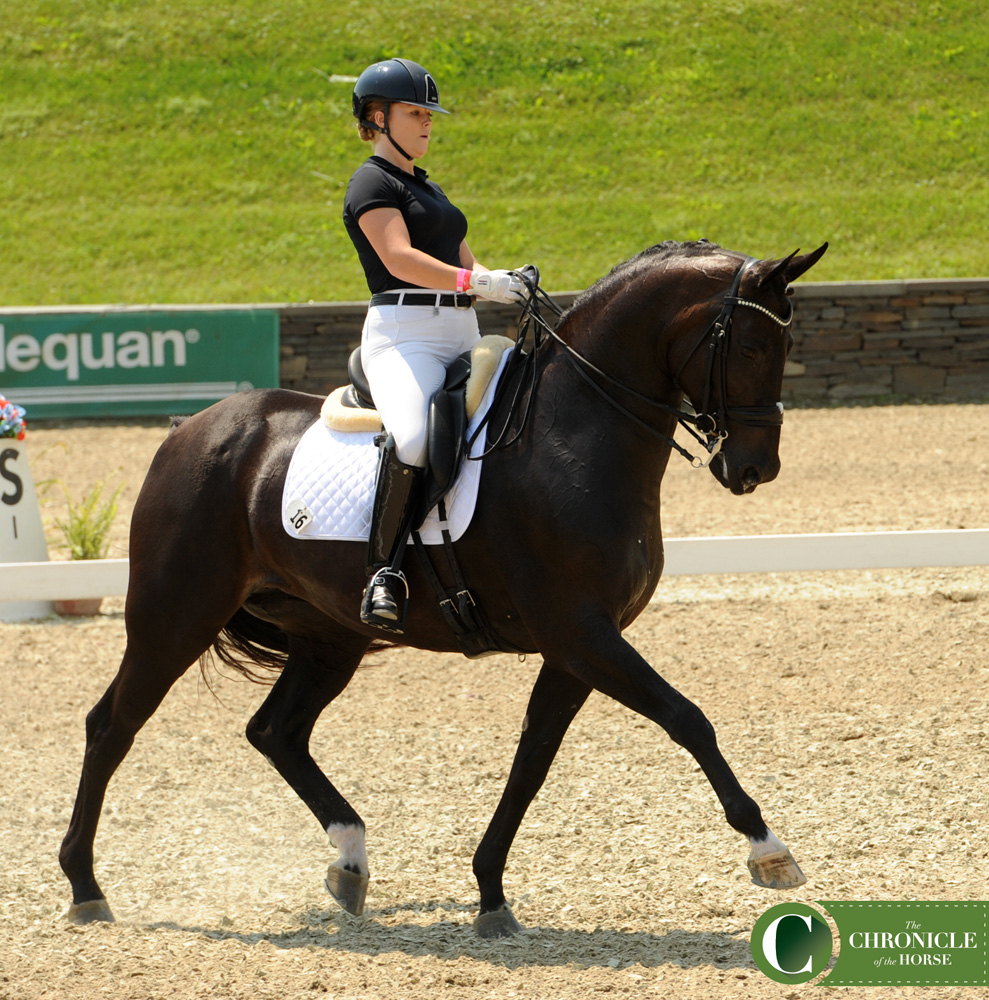 Clive Hassall, the judge from Great Britain—agreed. "Today I think we saw quality horses, quality riding—these girls did a great job," he said. "They are your future, and your future looks very bright. Well done."
Davis took a leap of faith in her NAJYRC performances. The young rider from Wellington, Fla., decided to take Fiderhit OLD or "Fanta," instead of her veteran Feivel Mousekewitz to the championships.
"I ended up choosing [Fanta] because I wanted the experience with her," said Davis referring to her newer partnership with the 9-year old Oldenburg (Fidertanz—Fleur). "She's such an incredible horse, and we've recently clicked. With mares it's always a learning curve, because you have to listen to them a bit and can't tell them exactly what to do all the time. They kind of tell you, 'No this is what I think we should do.' And I'm like, 'No, it's not quite like that.' She really puts in that extra 10 percent that only mares can give you. This is my first time bringing a mare to NAJYRC, and I'm over the moon with her."
Davis went into the ring trying to "feel every part of [her] horse, riding into each movement and feeling Fanta out to see how much [she] could push the mare."
Although there was a slight miscommunication in one of the lead changes, the pair recovered and pushed pass the error with precision in the remainder of the test.
"It's important to calculate your risks in the ring—and knowing yourself and your horse, what your strong and weak points are," Davis said. "Unfortunately, I made a mistake, but that happens with horses, but we still recovered and finished our test. One of my harder movements is the extended walk, and it's something that I took a risk on today, and it really paid off. Taking risks boosts your confidence as a rider and helps you get to know your horse better and you improve as a pair."
Looking to the future, Davis hopes to be selected again for the European Tour, which helped her riding "immensely" last summer and also aims to compete in the U-25 next summer. Next year will be her last eligible for Young Riders.
"It's melancholy knowing it's not my last year, but my second to last year," she said. "I'm starting to feel like I might be getting old."
The three medalists all spoke of the risks taken in their riding to compete successfully at the NAJYRC.
"If you don't take risks, you'll never get anywhere in life. So you've got to risk it in the show ring especially," said Shipka, who equated the dressage ring to a battlefield.
A year and a half ago, Shipka took the risk of switching to pure dressage when she had evented most of her life. It's her last year at Young Riders, so her next step is to continue training and bring the three 3-year-olds she purchased up through the dressage levels.
Earlier in the week, Rebekah Mingari earned a 66.78 percent for her Region 2 team—which took silver—but today she took a risk to land a higher score.
"Our ride today was a lot bolder," said Mingari. "We rode a little more conservatively [in the team test] just to get a feel for each other and the competition itself. So today we went out there and rode a lot bigger than we normally would have."
Mingari's trainer pushed her to "do more" and had faith in her to challenge her riding.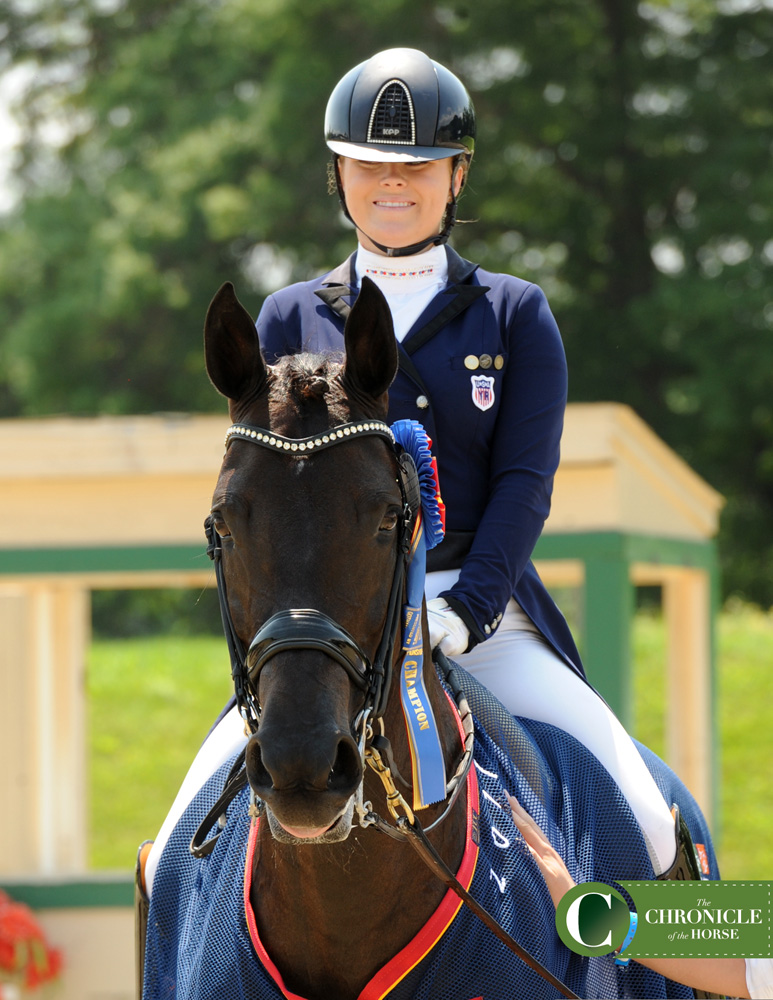 Dunn Stunned With Two Gold Medals
Aleyna Dunn, the 15-year old from Rancho Santa Fe, Calif., is undefeated thus far in the junior section of the NAJYRC. Dunn's high score of 68.97 percent on Wednesday sealed the gold for the Region 7 team, and today she earned the top score again with a 71.23 percent on Bivera in the individual championship.
"It feels absolutely unreal [to win again]," exclaimed Dunn after the whirlwind of awards and victory gallops.
Dunn was proud of her ride on the bay Dutch Warmblood (Florett As—River Dance).
"We had a solid warm-up, which was a good foundation built for the test," said Dunn. "[Bivera] went around like a pro, and it was really her doing all the work."
After reciting a lengthy list of thank-yous to sponsors and family, she said her next step was not to let her win go to her head.
"It's about staying humble and continuing on as if you're still on the bottom," said Dunn, who hopes to do NAJYRC again.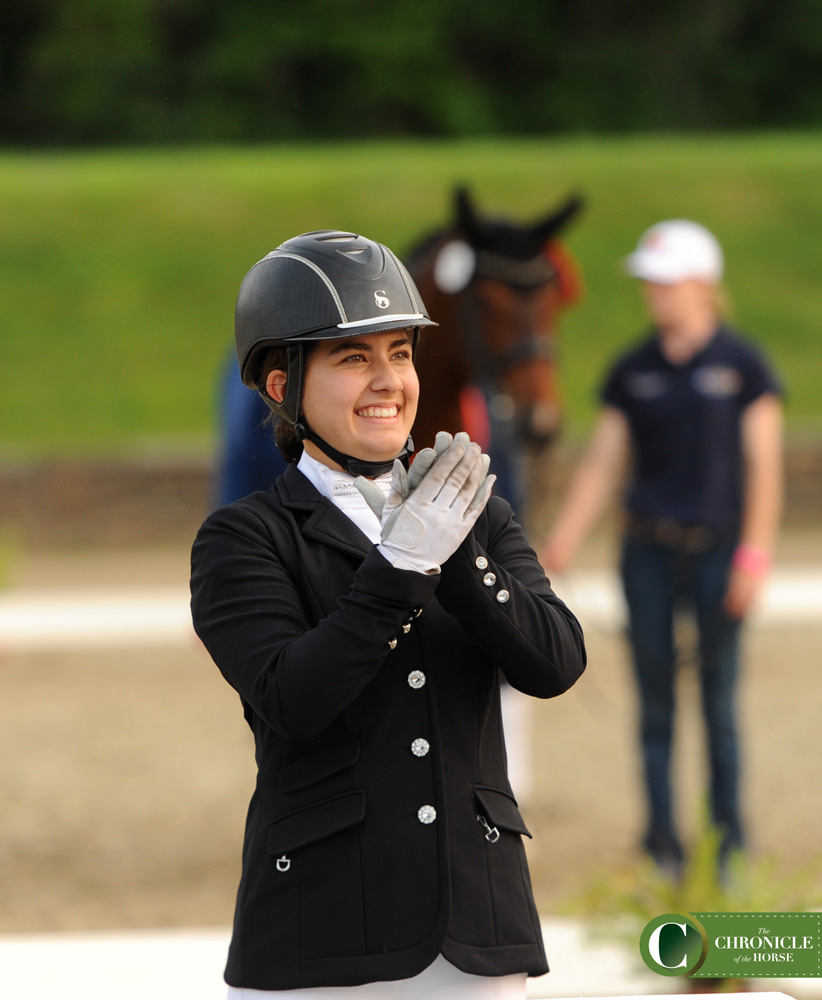 Christian Simonson—also a junior Region 7 gold medal recipient—scored a 70.92 percent on Herzkonig, earning individual silver. He agreed with Dunn that the experience was "surreal" and as a 14-year-old, he still has several more years of eligibility.
Tillie Jones rounded out the top three with a score of 70.78 percent aboard Apachi, adding a second bronze to her collection after helping her Region 4 team take third.
"It's been an amazing experience to win two medals so far. Ever since I was little, I was dreaming that one day I'd be here standing on a podium, and now I've met that goal," she said.
Jones, Lincoln, Neb., was mainly grateful her horse made it through safe and sound, as he went to the hospital for a colic scare just before the competition.
"I'm very lucky to be on the podium," she said. "It's been a very long journey."
See full individual results of the NAJYRC individual dressage competition.