Repetition and mindful riding are some of the most important parts of producing a dressage horses, so on the first day of the Basic To Basics: A Masterclass with Charlotte Dujardin held Jan. 20-21 at the Kentucky Horse Park in Lexington, that's exactly what Dujardin encouraged riders of all levels to focus on.
Dujardin began the event by outlining the characteristics she likes riders to look for in a prospective mount. It is not necessary to spend a lot of money on an inexperienced prospect, because Dujardin encourages riders to focus on areas they can improve, such as trot work.
"For me, I love hot horses. The hotter and the crazier they are, the better," she said. "Lazy horses make police horses. Not interested. When you get to top level Grand Prix and you have to ride three days, the last thing you want to be doing is kicking through the first test.
"Breeding isn't that important," she continued. "A really nice temperament, that's the first thing I look for. A good walk with a good rhythm, and a horse that moves through his whole body. I am not looking for a walk that's a 10. Horses that walk for a 10 are pretty difficult to collect."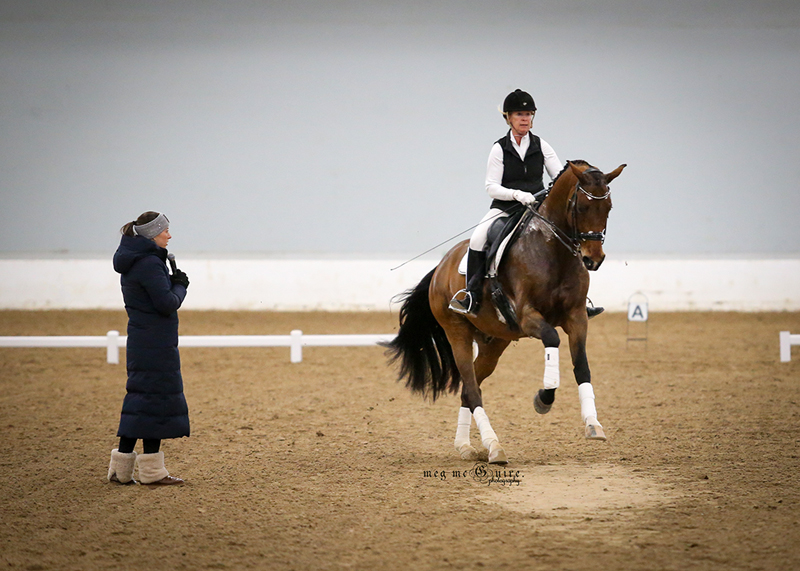 In fact, Dujardin said people seem to get a little too enamored with a flashy walk or trot, but then fail to give the walk the attention it deserves in training.
"From the lowest level up to Grand Prix, the walk has a coefficient of times two," she said. "People probably don't work on their walk enough because they think 'Oh it's a walk. That means I'll pick up my phone and send a text, or I'll chat with my friends on neighboring horses.' We all do it. You don't think about it. It's such an easy mark to throw away."
Dujardin encouraged riders of all levels to ride every transition with focus and intent, which she said many often neglect, particularly when they are coming down to a walk for a break or to finish a training session.
"Every transition you ride has to be a good one," she said. "If it's not a good one, repeat it. How many of us go into the arena and say, 'Oh he just fell into the walk'? He does that because you taught him to do that."
Corners are another area Dujardin sees riders lose points unnecessarily. When coming across the diagonal for a new movement, a horse that is not properly balanced is destined to lose marks on the movement before it has actually begun.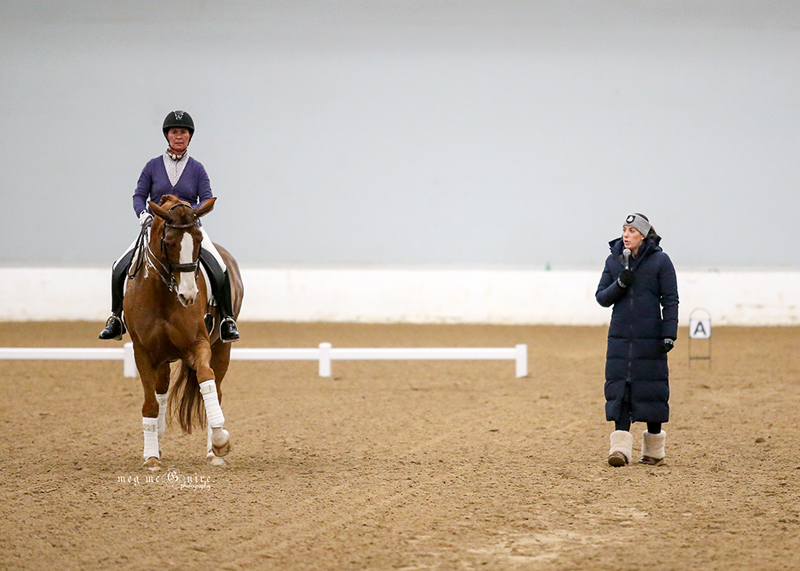 For rider Ashley Madison and training level mount Erdstern, Dujardin focused on trot-walk-trot transitions, designed to strengthen and prevent Erdstern dumping into the forehand during the downward transition. Later in the day more advanced riders worked on collecting and lengthening within a gait but universally struggled with keeping their horses consistent through the canter to walk transition.
Forevermore, ridden by Jennifer Strauss, was noticeably nervous about the sizable clinic audience. Dujardin said that perhaps counter-intuitively, it's critical to keep legs on hot horses and keep legs off lazy horses, who are inclined to grow too reliant on the rider pushing them and may lose their own sense of 'go.'
For sensitive horses like Forevermore that are still gaining experience, Dujardin said it's important to consider how big a difference horses may feel between a small local show and a slightly busier event.
It's common for riders to forget how green a horse really is and come away from a bad test with a lot of frustration. She stressed the importance of remembering the whole process of getting on and off the truck, warming up, and performing can be a lot for sensitive horses until they've been through it many times over. Frustration only tends to worry the horse.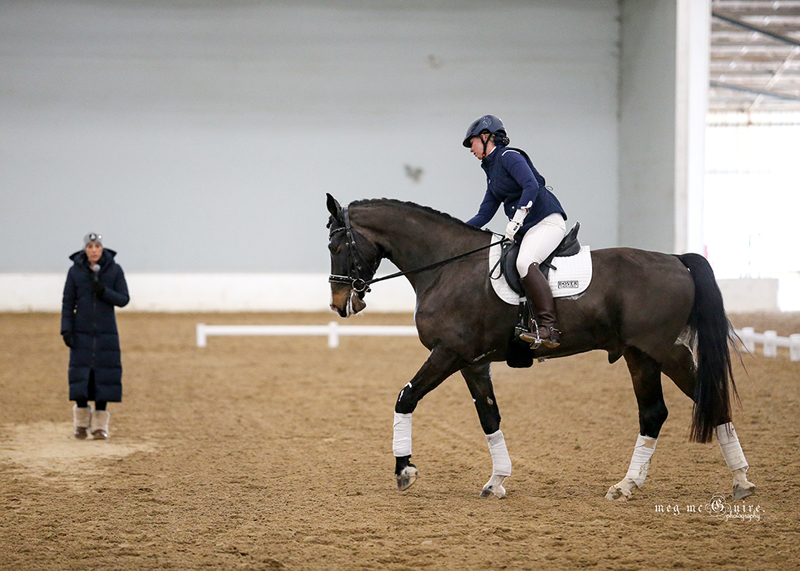 "It's not always about going to a show to compete," said Dujardin. "Take your horse there to educate him. Take him there to ride him round. You don't always have to compete. Let him see other environments; let him see the horses; let him see other arenas. Coming away from it having a good experience, that's what makes your horse become better."
Dujardin also shared her thoughts on the whip. Earlier riders were permitted to keep their whips, but Grand Prix rider Mel Montagano surrendered hers to calm mount Police early on. Dujardin took the opportunity to share her thoughts about the limitations of whips.
"The whip is not there to keep the horse going," she said. "The whip is there to help you if you need help to put rhythm in or make the horse a bit more active—that's absolutely fine—but you can't rely on the whip to make your horse go. When you do have to put the whip down, the horse is no longer in front of your leg and you end up coming out very, very hot and steamy, and your horse comes out laughing."
Read Day 2's coverage: "Ride Forward To Create Enthusiasm Says Dujardin On Day 2 Of Masterclass."