Mentor, Ohio —Nov. 12
Peter Wylde said he doesn't get many surprises on the last day of the EAP National training session, but even he didn't anticipate Kendra Duggleby's horse to slide to a stop at the second fence of the first round of the Nations Cup final. Duggleby flipped over "Enzo's" head and almost stuck her landing.
"We had a really nice canter, the distance was there and Enzo just said, 'No,' " Duggleby, 18, said. "I got up, walked out of the ring and just said "OK, how are we going to fix this?' "
After a weekend of clinics, lectures, and early morning barn chores at Lake Erie College, the 16 EAP riders were broken into four teams for a Nations Cup style competition. The teams jumped two rounds and team Gem Twist, which included Sydney Shelby, Maura Cherny, Cece Manze, Kelsey Campbell and stable managers Alexis Di Pasqua and Natalie Radosevich ended on the best score. Team Cedric, made up of Bella Canzano, Kelby Kane, Caroline Molther, and Isabelle Heckler, finished second.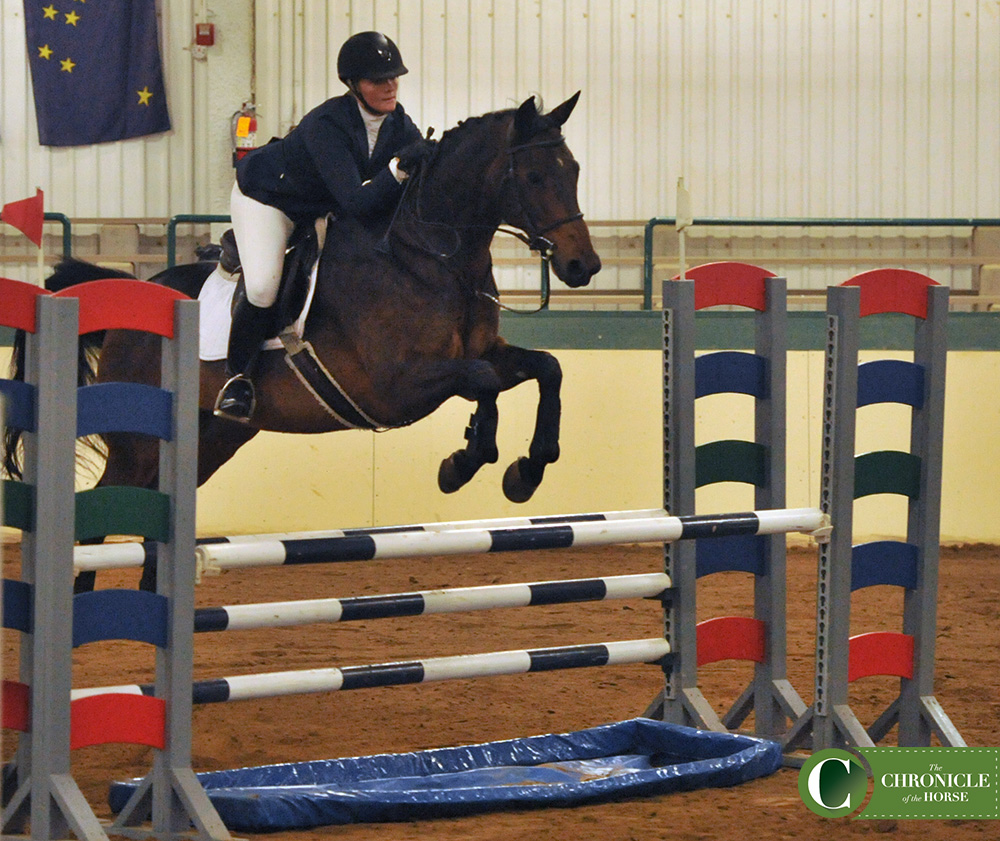 The fix for Duggleby, a Cleveland, N.Y., native, was to let Enzo retire for the day. Duggleby originally wanted to stay on him for the second round, but upon careful examination the EAP committee discovered soreness in Enzo's lower leg so Duggleby switched to Lucchese, Sydnie Young's horse.
"I got on Luc, did two jumps on him and went in the ring," Duggleby said. "That horse has the biggest jump, he was a lot of fun. I hadn't watched him in the clinic because of the way our groups lined up so I really didn't know much about him but he was excellent."
Once the team competition concluded, the EAP committee plus Wylde and Anne Thornbury, recalled six riders to work off for the individual title. Sydney Shelby, Kelsey Campbell, Nicole Beales and Cecily Hayes joined Duggleby and each one was assigned a horse they hadn't ridden yet. Duggleby partnered with Ciano, "Charlie," for the work off.
"I knew I had to show off in the jump-off and handy hunter courses are actually my favorite so I went in to give it my all. My 'go big or go home' attitude kind of kicked in. And, I mean, I'd already fallen off, so I had to do something bigger than that!" Duggleby said.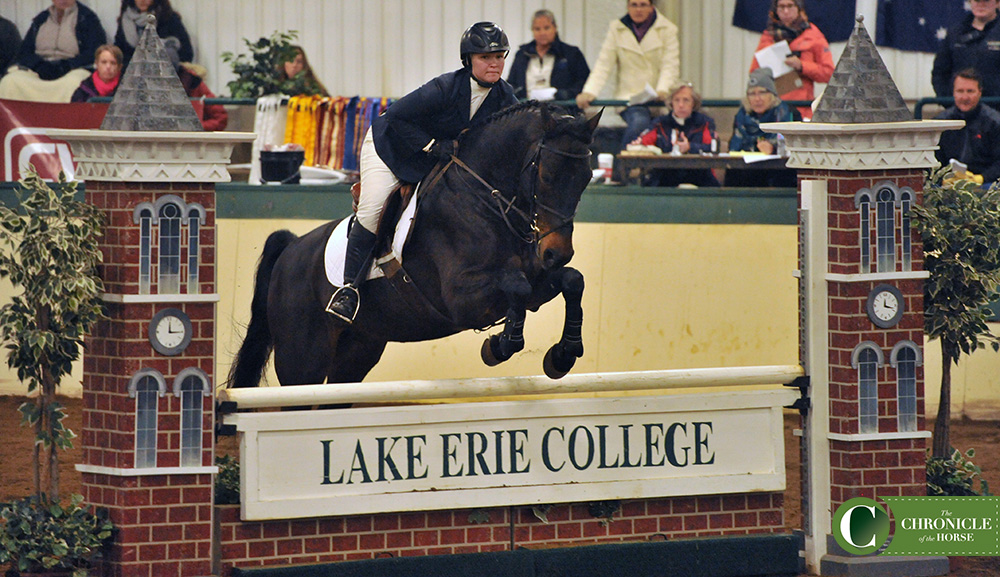 The individual EAP awards were based on a participant's performance throughout the weekend, including the riding sessions, barn duties, and a written exam. The two winners were invited to the George H. Morris Horsemastership Training Session and Cecily Hayes will be joining Duggleby in Wellington, Fla., for that clinic in January.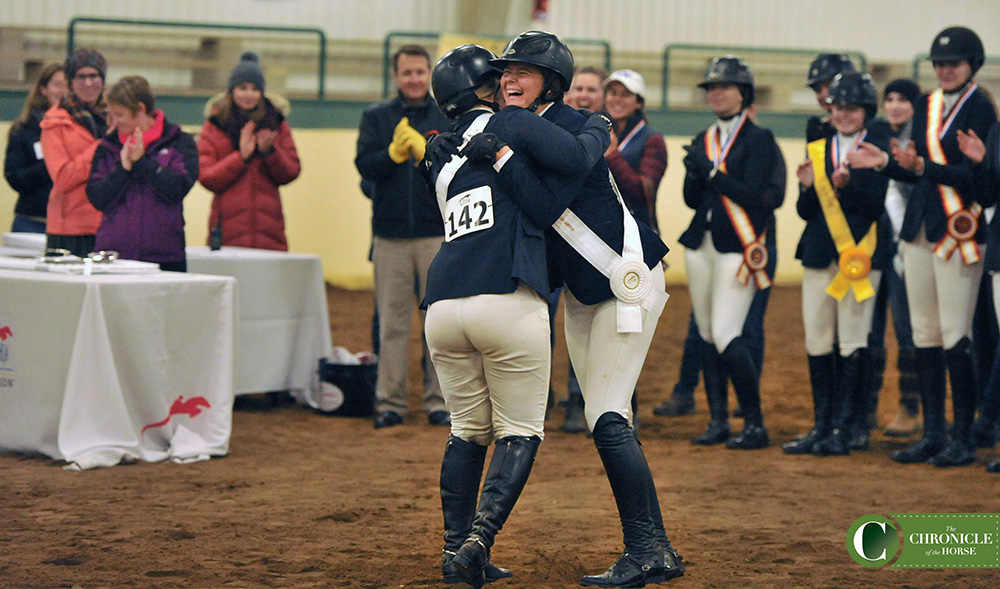 Hayes, from Brentwood, Calif., rode Ocean View, a horse from Lake Erie College that proved to be a difficult ride, even for Wylde. But 17-year-old Hayes is professional trainer Reagan Hayes' daughter, and as the child of a trainer she grew up riding, "Anything that bucked, bolted, or reared," she said.  So "View" was a welcome challenge.
"I made a joke that she wants to be nice but she doesn't know how to express herself," Hayes said. "It felt like she wanted to work with me but she wasn't sure how to. Today she felt like a completely different horse—I could trust her to soften if I softened. From Day 1 to today it was such a big change. I can't believe I'm going to the George Morris clinic; it's something I never thought I'd be able to do and I feel like it's going to open many more opportunities."
Duggleby is equally excited about riding in the famous training session, but she suggested asking her in a few days for a description of her feelings that went beyond, "surreal."
"This made my month. Actually, it made the next 10 years of my life," she said.
During the press conference all 24 participants were asked to summarize what they would take away from the training session. Amid mentions of putting the horse first, working on a team, and adapting quickly to whatever life throws at them, the young riders all said they valued the friends they made throughout the process. The age limit for EAP was recently raised to 25 and several riders noted their excitement at being able to possibly return next year even though they aged out of the junior divisions.
"If you think about it, someone who goes to college and then wants to get into the sport, I think it's almost more applicable to them," Wylde said. "Someone who's a little older and more experienced and knows they want to be a professional, rather than someone who's 14, 15, 16 and might not really know yet, can really benefit from this program."
Other Award Winners:
Best Turned Out Horse: Pogo Avantos "Pogo" provided by Lake Erie College
EAP Outstanding Horse: Billy De Laubry "Billy" provided by the University of Findlay
Sportsmanship Award: Taylor Wohler
Outstanding Stable Manager: Tie between Taylor Wohler and Natalie Radosevich
George Morris Horsemastership Training Session Stable Manager Invitees: Taylor Wohler, Natalie Radosevich and Michael Golinowski
Read more about the EAP National Training Session in the Chronicle's overage of Day 1: "Making It Work On Day 1 Of The EAP National Training Session" and Day 2: "Winning Attitudes On Day 2 Of EAP National Training Session"