Cathrine Dufour's weekend at CHIO Aachen (Germany) couldn't have gone any better. The Danish Olympian won all five of the classes she entered over the week, culminating Sunday by completing her sweep of the CDIO5* classes with a victory in the Grand Prix Freestyle on a score of 88.37% with Vamos Amigos. She also won the CDI4* Grand Prix and Grand Prix Freestyle with her Tokyo Olympic partner Bohemian.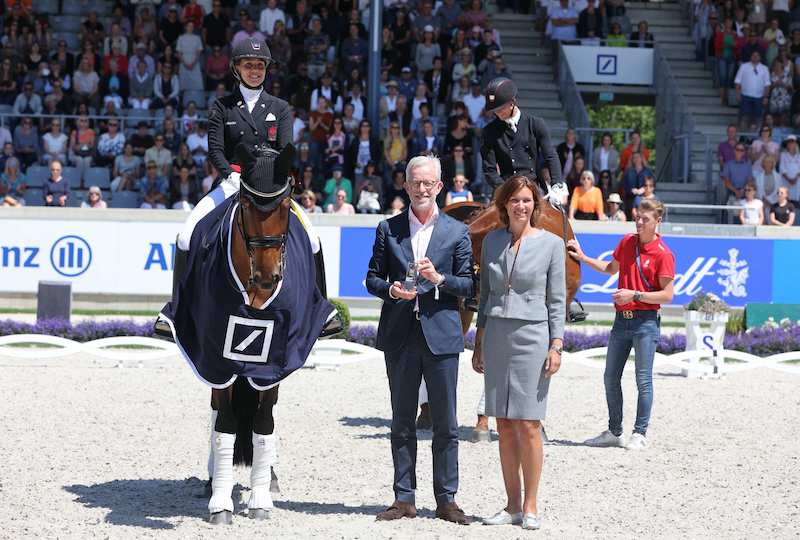 "It is a huge dream to perform like that in five classes with two different horses," a visibly emotional Dufour said.
Dufour premiered new freestyle music with Vamos Amigos, a 10-year-old Westphalian gelding she co-owns with Sarah Pidgley, from the soundtrack of the film "Warriors."
"It sort of describes what it is like to fight your way to the top—the  daily struggle and then to go on to ride the freestyle in Aachen," Dufour said.
With two horses that both won every class they entered at Aachen, Dufour recognized she is in a luxurious position in the run-up to the upcoming 2022 Blue Hors FEI World Dressage Championship in Herning, Denmark.
Although she was quite sure who her No. 1 horse is—her 19-year-old Atterupgaards Cassidy, who helped her reach the top of the sport—she said wouldn't choose between her current top horses, Bohemian and Vamos Amigos, for Herning "until the very last day."
Behind her, Germany's Frederic Wandres and Duke of Britain came in second for the third time of this week. The pair achieved a further personal best, this time with a score of 83.88%.
Steffen Peters, the only U.S. rider to qualify for the freestyle, finished in 10th place with a score of 79.71% aboard Suppenkasper, a 14-year-old Dutch Warmblood gelding owned by Akiko Yamazaki.
Visit the CHIO Aachen website for full results, schedules and start lists.
For all of the Chronicle's CHIO Aachen coverage, click here.