Pirouettes were in focus Saturday for young riders participating in the annual Robert Dover Horsemastership Clinic Week, as many asked clinicians for advice on improving the difficult movement.
Clinicians Olivia LaGoy-Weltz, Jan Ebeling and Sabine Schut-Kery each came up with a different approach for helping their young student improve during the sessions at the Adequan Global Dressage Festival showgrounds in Wellington, Florida.
Walk Straight Circles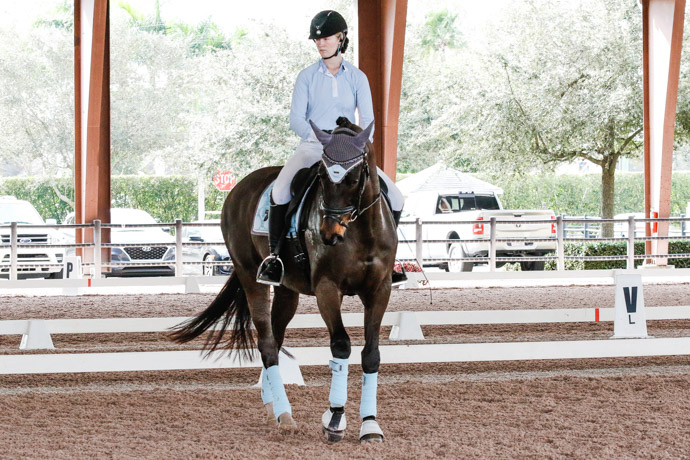 LaGoy-Weltz straightened out Tessa Geven and Sir Frederico's walk pirouettes by asking them to start with 10-meter walk circles.
"What I usually find, especially when you say, 'OK, we're going to go four times around,' is it's going to bring out if he's going to go haunches-in or he's going to go out," LaGoy-Weltz said.
She recommended beginning from the rail to accurately gauge the size and geometry of the circle, and then focusing on the horse's straightness.
"It's not that there's no curve to the body but it has to be the exact amount of curve warranted by a 10-meter circle," she said.
She used the metaphor of installing a little train track along Geven and Sir Frederico's circle:
"I want that track to run right through the middle of his head, his neck, his withers, his spine, and all the way to his tail," she said. "And I want you to think, 'Can I ride it with two equal reins?' Do you have equal feel of both sides of the bit in his mouth? Can you really balance that bit in his mouth?"
Once the head is straight and balanced, often a horse will try to get a different body part out of line, she cautioned.
"And you go no-no-no; the whole body!" she said. "If he had a little unicorn horn, his unicorn horn has to look on the line of the circle you're riding and that you can see juuuuust a little inside eye. That's why you've got to do it for several laps and have a very high standard of what you're looking for."
Next, she wanted to add some haunches-in to the equation, but she also wanted the gelding's head, neck and chest to stay on exactly the same circle that they were walking. "The reason it's that picky—and this also has to do with half-passes—is horses can go sideways while throwing their ribs into you," she said.
So, instead of "busting through your inside leg," the horse stays on the bend without added wonky haunches or shoulders, LaGoy-Weltz said.  "Then later, when you are doing a canter pirouette, he's trained to do this so that he turns this way and he comes around like that."
Next, she had Geven do a "little" haunches-in while reminding her to stay sitting on the horse's inside back muscle. She cautioned the rider to be careful not to let the circle get smaller just because the gelding's haunches went in.
"Now, can you turn a smaller circle with the front end?" she asked. "When I say make the circle smaller, I want you to be suuuuper picky with this exercise. No matter how small you make it, he doesn't get to rock back behind you and say, 'I got you kid, I'm doing a walk pirouette'  And you're like, 'No I want to own every single step of this. It's not just a walk pirouette, I am riding you on a small circle with haunches-in, in which I control everything."
Keep Your Balance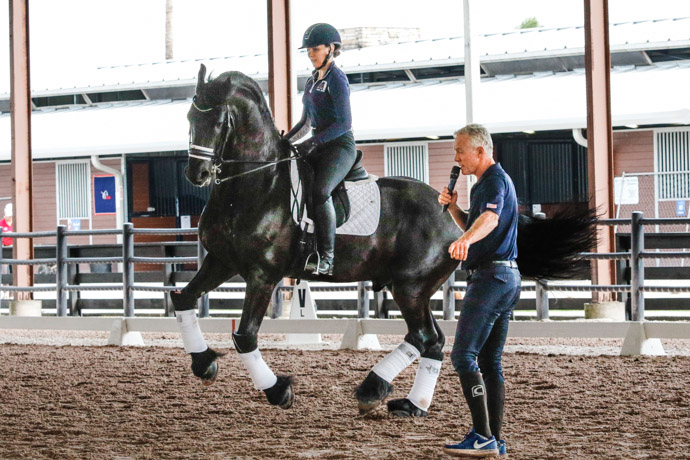 When McKayla Hohmann asked Jan Ebeling to help her with canter pirouettes on Djoerd, Ebeling suggested a different exercise for the rider and the Friesian stallion. He had them start with a few steps of shoulder-fore, then come to a half-pass to the quarter line, go back to shoulder-fore and then come into a schooling pirouette.
"Keep you left shoulder back and half-pass out," he coached. "Now to the right: shoulder-fore, and half-pass, back to shoulder-fore, then collect him."
While still tracking to the right, Ebeling had the rider do a 10-meter circle and the make it a little bit smaller and slower. Then, she was told to go out on the diagonal and change rein. "The last strides make sure the right rein is there and he doesn't start drifting to the right," he said. "Spiral down and collect."
When Djoerd's haunches drifted out, the trainer told her to apply more outside leg, while thinking about less bend and pushing the horse out into a slightly bigger circle.
"That may only be 2 or 3 feet or it may have to be 3 meters," Ebeling said. "Kind of see what works. Then, when you fix it, then you can go smaller again. Collect him, slow down the miles per hour. If he leans into the rein, the balance is off and he is no longer on the outside rein. So let go of the inside rein and go out on the larger circle to put him back into the right balance."
Then, she could once again decrease the size of the circle.
She Can Sit But She Can't Stay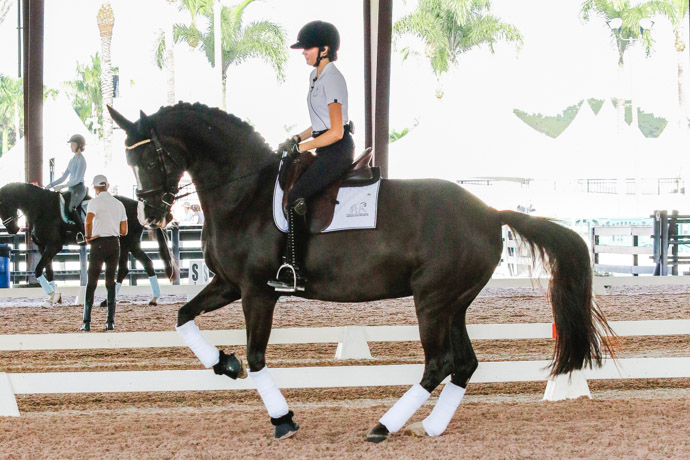 Sabine Schut-Kery told Devon Pomeroy that Royal Dark Chocolate had the same issue in the pirouettes that the mare has in general: She doesn't want to stay in front of the leg.
"But she has quite the ability to sit," the trainer told Pomeroy. "So be careful. I know what you feel in the hands and it feels not good, right? Because she braces, but she braces because she drops the back and she doesn't want to go through the rein."
She cautioned Pomeroy that there is only so much she can do with her hands and the rest has to come from the mare being in front of her leg. Once the mare is in front of the leg and moving into the hand, she said, Pomeroy would be able to supple her.
"So when you school a pirouette with her, I would make a full one and start small," Schut-Kery said. "Like you're doing, you're doing that very well. And then check on [your] ability that [you] can write the pirouette bigger, but she is off of your outer leg, not big by going out of it. Just the radius of the hind legs makes the radius of the turn bigger."
The 2022 Robert Dover Horsemastership Clinic ended Sunday with the riders practicing what they learned in dressage tests ridden in front of FEI 5* judge Gary Rockwell, who provided immediate feedback. Over the week, clinic participants also attended lectures on equine health, hoof care, athlete fitness and nutrition during the week in addition to their daily lessons with dressage superstars George Williams, Jan Ebeling, Olivia LaGoy-Weltz, Sabine Schut-Kery, Guenter Seidel and Charlotte Bredahl.
Watch the Robert Dover Horsemastership Clinic Week on demand at USEF Network.