Want to ride cleaner dressage tests? Florida-based trainer Amber Kimball might suggest you try competing on a draft horse.
The Belgian cross she rides at Intermediaire I has taught her a few things about precision.
"I know I'm not just going to walk into the ring and have the judges go, 'Wow!'" Kimball said. "I have to be really, really accurate to get good marks. I can't count on them. I have to be really on my game."
Kimball does more than just sharpen her skills aboard Kellen, a cart-trained Belgian cross of unknown lineage. In the past eight years, he's become the star of her Morriston, Florida, barn, thundering to a U.S. Dressage Federation All Breeds Award at Intermediaire I in 2019 and scoring in the 70s at FEI levels.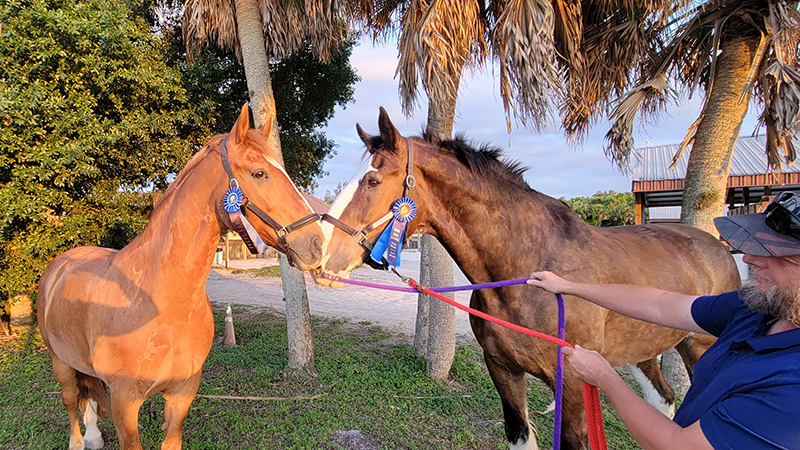 And he's not the only dancing draft in the barn. His best buddy, ADKS Cole, is a full-blooded Clydesdale owned and ridden by Kimball's husband, Brian Kimball. "Cole" won his own USDF All Breeds Award at third level in 2020. He also carried Brian to his USDF bronze; the pair now are just one score shy of their USDF silver medal.
On the competitive central Florida show circuit, the two drafts cause more than a few double-takes.
"We've had quite a few [USDF Technical Delegates] see Cole in a double bridle and have to go check the roster to make sure he's allowed to be wearing it," Amber admitted with a laugh. "When I show up at the stalls with Kellen, people ask what we're doing, probably expecting first level. When I say we're there for the I-1, they get this kind of puzzled look, like, 'Really?!' "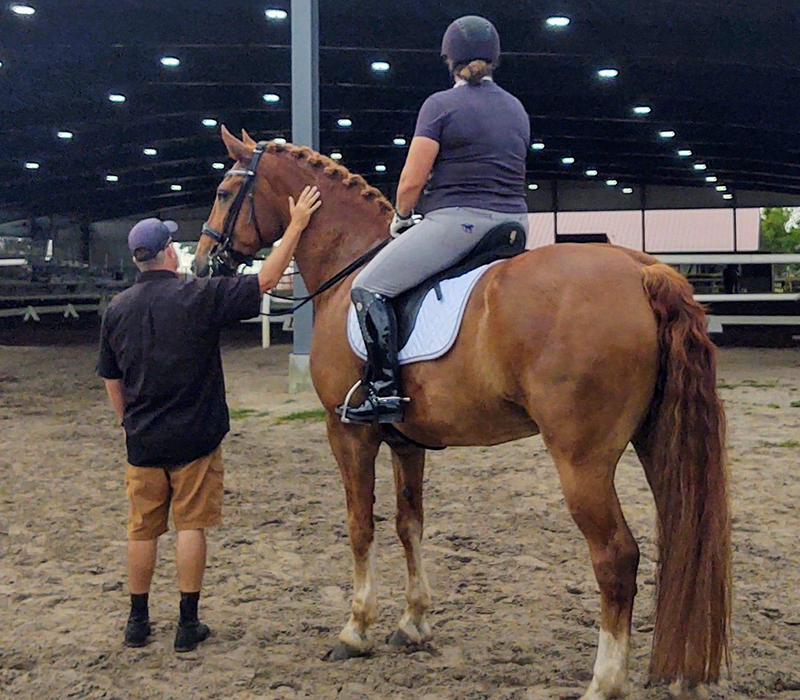 Amber, 42, understands the surprise. She didn't select Kellen—or Cole, for that matter—based on any suspicion of prodigious dressage talent. Raised in Kingston, Ontario, she started out as a working student after high school for Canadian Olympic dressage rider Gina Smith. After grooming Smith's World Cup mount Fledermaus in 2000, she spent 2001 in the Netherlands riding Dutch Warmbloods under the tutelage of Johan and Penny Rockx.
Back stateside, she worked the next eight years for U.S. Olympic dressage rider Belinda Nairn-Wertman.
"I am from a middle-of-the-middle-class family, and growing up, I rode what I had," Amber said. "When I worked for Belinda, I got to ride all kinds of great stuff. I was able to train a lot of young horses, warmbloods and Friesians, and to ride her schoolmasters. But really, I've only ever ridden fancy horses when I worked for other people."
Amber opened her own training facility in Morriston, Florida, in 2009. The same year, she met Brian through online dating.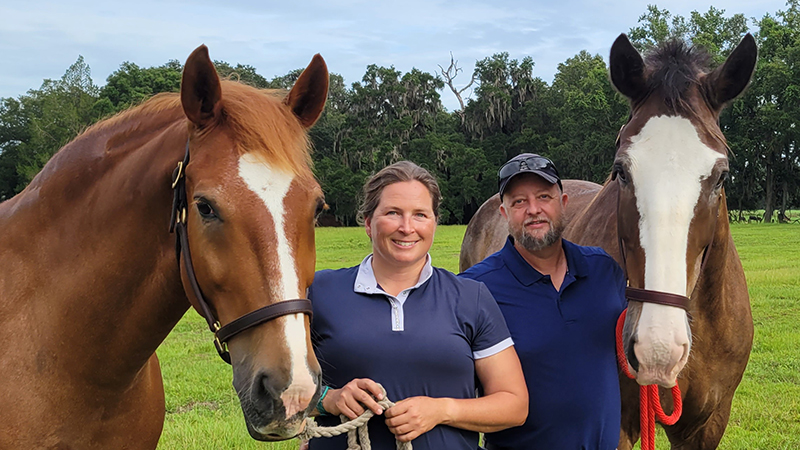 "I didn't start riding horses until after I met Amber," explained Brian, who grew up in West Palm Beach, Florida. "I had a passion for horses, but I never had the opportunity to ride. The first horse I ever rode was her horse, Zamboni."
Amber describes Zamboni, her now-retired Dutch Warmblood, as "the craziest horse in the barn." Her first and only big investment horse, he learned from Amber how to school the entire Grand Prix at home. Unfortunately, his overwhelming anxiety kept them out of the show ring for nearly his entire career.
"Putting Brian on a total goofball to teach him was maybe not the smartest thing, but in a weird way it just kind of worked," Amber said. "Zamboni trusted me, and Brian is kind and non-threatening. They went around together fine."
Amber learned to match horses and riders working for Nairn-Wertman, whose business at the time involved selling imported warmbloods to American clients. At her own facility, Amber hoped to do the same thing for riders of all budgets and needs.
When Brian told her he wanted a Clydesdale, she didn't flinch.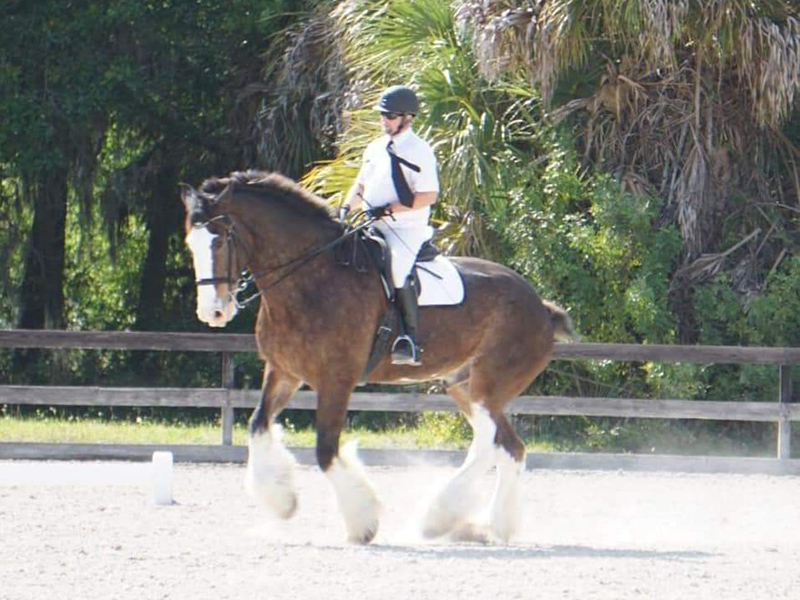 "I always had a passion for the breed," Brian said simply. "They impress me."
Brian and Amber found Cole at the National Clydesdale Sale and Expo held annually at the Michiana Event Center in Shipshewana, Indiana. The auction format only included a walk and trot, both on concrete and seen from a distance. Amber sized up the 100 or so feathered giants as best she could.
"We didn't get to see him canter, but we saw him walk," Amber said. "Watching someone ride him around a parking lot in big Scotch-bottom shoes, you could see he had a clear four-beat walk. I thought, if you can walk, I guess you can canter!"
Back home in Florida, Cole (Tollgate Select King—ADKS CJ) quickly proved he could do more than just canter. He had a knack for collection and sideways movements. Playing with dressage started to feel fun for Brian, who balances riding with his career at a Florida electric utility.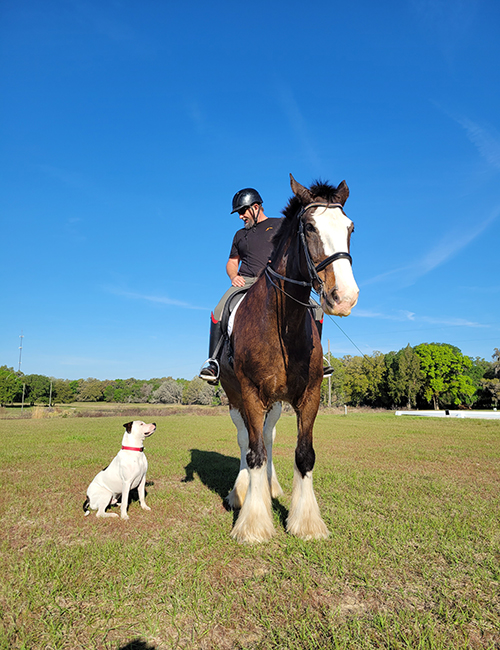 And, as everyone knows, you can only play with dressage so long before someone convinces you to go to a show.
"Everybody else was going!" Amber said. "Somehow, we decided Brian needed to try a test, then after that, we decided he needed to get his [USDF] bronze medal."
"Why not?" Brian conceded with a laugh.
Around the same time Brian found Cole, Amber met Nancy Bolton, an older client feeling over-horsed by her warmblood mount. After an assessment, Amber recommended Bolton sell the warmblood and buy something more appropriate.
Appropriate, to Amber, meant thinking outside the sandbox.
"We bought Kellen off a video, sight unseen," Amber said. "On the video, we saw him driving a cart down a 55-mph road with 18-wheelers roaring past, then being ridden by someone with crutches strapped to the back of the saddle. We thought, that's probably quiet enough!"
Kellen arrived in Florida as a 5-year-old for a 30-day trial. He behaved as quietly under saddle as expected. Yet after several weeks, he remained frustratingly opposed to dressage.
"He hated going in circles," Amber said. "I was ready to send him back, but we got to the end of 30 days, and all of a sudden he turned a corner. It's like on Day 29 he thought, 'I like it here. Maybe I should try to make this work.' "
Kellen proved a steady lower-level horse for Bolton until her health prevented her from riding anymore. Still attached to the blond gelding, Bolton put him in training with Amber.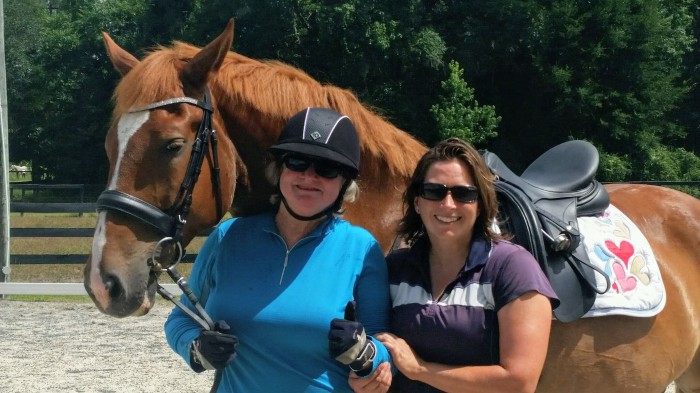 "Nancy has just been fantastically, amazingly supportive in his journey," Amber said. "Whatever Kellen needs, Kellen gets. He's like her kid. And he loves her. When he smells her perfume, and I'm riding him, it's all I can do to get him to concentrate. Once he knows she's on the farm, he's looking for her."
In 2015, Amber began testing Kellen's limits in dressage. She always found them in the same place—further up.
"At first I thought maybe second level would be really cool," Amber said. "He doesn't have a big lofty trot, so going up the levels we had to figure out how to make one. But he's willing to try. He actually learned to trot after he learned to passage. That taught him how to use his back a bit more. Since learning passage, he's gotten an 8 on extended trot, which is not something he comes by naturally."
"Now, he's schooling all of the Grand Prix," Amber continued.
Amber trains with Ilse Schwarz, who she credits with having a good "sense of humor" about Kellen's unusual breeding. Both women have built their training careers primarily on warmbloods purpose-bred for dressage, and Amber admits that some things are just harder with Kellen. But she rejects the idea that a horse's purpose is as predetermined as some people seem inclined to think.
"On my own, I've never had the money to buy anything super fancy, except the one, Zamboni, who didn't even work out," Amber said. "It never occurred to me that I couldn't make horses like Kellen and Cole do dressage.
"I don't think it's fair to make horses without the necessary conformation for sport go past what they can do," she continued, "but if they're physically capable, I don't think they need a set of papers telling you they're warmbloods just to be competitive in dressage."
While the Kimballs enjoy beating the odds with their non-traditional dressage horses, it isn't the surprised faces at shows they find most gratifying. At the end of the day, they enjoy their horses because of, not in spite of, their breed.
"I like draft horses," Amber said. "I like bigger, heavier horses. I always have. And we're not exactly tiny people either!"