The Longines FEI European Para Dressage Championships got off to the most dramatic start possible today with a tie at the top of the Grade I individual competition, an exceptionally rare event in the sport.
Norway's Jens-Lasse Dokkan (Aladdin) and Italy's Sara Morganti (Royal Delight) both scored 75.036%, with Dokkan given the gold after the final four collective marks were tallied. Sport results don't get any closer than that!
Dokkan has been riding at top international level for well over 20 years and competed at the first ever Paralympic equestrian competition in Atlanta, Georgia, in 1996. He hasn't won at this level for 10 years but that changed today. "It feels great, my first ever individual title," he said. "I've only had Aladdin since October and our first competition was in March.
"This is fantastic and gives me motivation to work to hopefully take part in my seventh Paralympics in Tokyo next year," Dokkan continued.
The moment was bittersweet for Morganti. The triple world gold medalist has yet to win a European title, and a nervous start to her test on Royal Delight which scored just 5.9 clearly cost her a comfortable gold here in Rotterdam. "The horse was a little bit behind me today," she explained. "It was difficult for me because I needed a lot of energy to bring her forward. But it's OK. I was dreaming for a medal and coming second with the same score as first place is amazing."
Latvia's Rihards Snikus took a solid bronze with King of the Dance after scoring 74.82%.
There was drama in Grade III too, when Denmark's Tobias Thorning Joergensen upset the form books by taking the individual title ahead of home favorite and triple 2018 world champion, Rixt van der Horst. Riding Jolene Hill, Joergensen scored 75.70% with van der Horst and Findsley N.O.P. one point behind with 74.70%.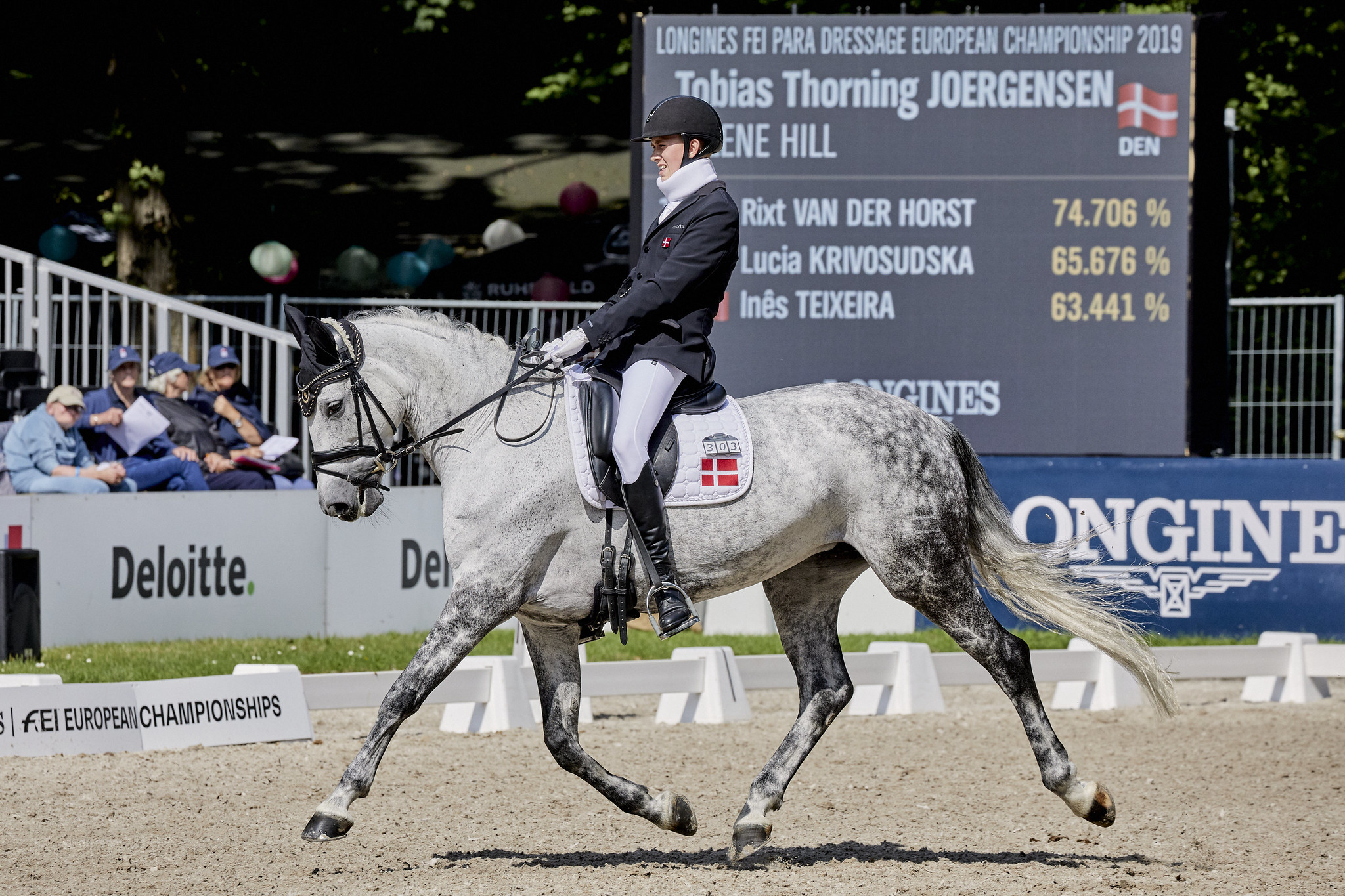 A clearly delighted Joergensen said of being European champion: "It sounds amazing. I'm just so happy. It's incredible. I knew there were a few riders who could beat me. I was nervous but I stayed at the arena and watched every single one, hoping for them not to pass me.
"I've only been on the scene for two years and got my horse just four months ago, so this means everything to me. She is amazing to ride and amazing every day. She is so kind she would go through fire and water for me."
And para-dressage's only side-saddle rider Barbara Minneci picked up her first ever medal at a major international, taking the bronze on Stuart with a score of 70.38%.
In Grade II, Austria's Pepo Puch affirmed his place as one of the biggest names in para-dressage, taking the win on Sailor's Blue with a score of 75.23%. That put him ahead of British debutant Georgia Wilson, who rode Midnight to a mark of 73.47%. The Netherlands' Nicole den Dulk claimed bronze with Wallace N.O.P. on 73.35%.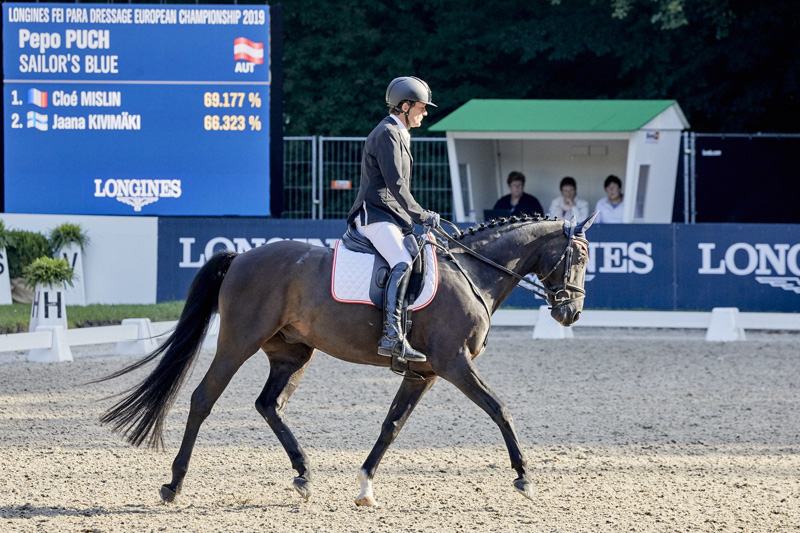 Puch said: "I was so happy. The horse was so concentrated. He's so great. It's difficult for me to sit down and relax which is my problem. So like my horse, I have to train my body to be relaxed and smooth."
And Georgia Wilson was also thrilled with her performance. "It was nerve-wracking but good," she said. "I'm glad the first one's out the way and I can build on things for the second test."
Last—and somewhat surprising—word of the day though belongs to Joergensen. When asked about his plans to celebrate his first major international title he laughed: "I just want to go back to my hotel and sleep," he said. "I'm so tired!"