The course suits Jonathan Sheppard's trainee perfectly.
Dr. Bloomer is a horse you can count on to go to the front of the field, make the pace and still come home with some purse money. But in the $100,000 AFLAC U.S. Championship Supreme Hurdle at Callaway Gardens, Nov. 1, he came back with enough cash to feed the entire stable for months.
Owned by Calvin Houghland, Dr. Bloomer has always been one of the Tennessean's most consistent performers. In May, he won a $50,000 race at Iroquois (Tenn.) and was a nice third in a $75,000 hurdle race at Monmouth (N.J.) in September.
Sometimes Dr. Bloomer gives his competitors a little too much to do in the end to catch him, and this time was no
different. Jockey Robert Walsh let the 7-year-old grandson of Lear Fan go to the front where he was happiest.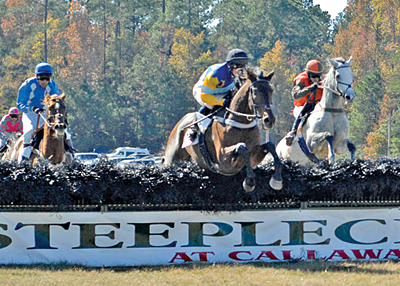 As expected the others tried to get to him, but the veteran was going to have none of it and put his head down after the last to draw almost a length away. Swagger Stick (William Dowling) was second, and The Price Of Love (Richard Boucher) placed third.
Walsh, who also rode him for the win at Iroquois, was not surprised he pulled a fast one on the rest of the field.
"The race set up nicely," Walsh said. "He was the only confirmed speed in the race. He was very relaxed on Saturday, so it went pretty smooth. He did it well in the end."
Pennsylvania trainer Jonathan Sheppard is fond of Dr. Bloomer and said the Pine Mountain, Ga., course was perfect for the way the Florida-bred horse runs.
"It was a wonderful race," Sheppard said. "It was the type of course that suits a front runner like him because it has a lot of turns with a little bit of jumping in between. It's good for the speedy horse."
Since Walsh has ridden him about four times this season, Sheppard had few instructions.
"I wanted him to slow it up just a little bit this time and give him a few breathers," Sheppard said. "Robbie did a great job, and he knows the horse well."
Sheppard said he will likely aim Dr. Bloomer for the inaugural running of the Palm Beach steeplechase (Fla.) on Nov. 29.
"Mr. Houghland has a house in Florida so I think it would be nice for him and his friends to see him run there," Sheppard said.
Fast Girls
In 2007, Maryland trainer Tom Voss was at a loss as to why The Fields Stable's Guelph was not doing well. The National Steeplechase Association's 2005 top filly/mare just was not getting the job done.
But this year Guelph has zoomed up the charts and is a victory away from taking the series again. She started her streak by winning the $30,000 Miles Valentine in May at Fair Hill (Md.) and was a driving second at Far Hills (N.J.) in October. She won again in the $30,000 Sport of Queens hurdle at Callaway.
Up against many of the same fillies and mares she has seen all season and carrying the lion's share of the weight at 152 pounds, Guelph gave them no quarter. By the end she was a good length ahead of second-placed Sarah Jeffords Radcliffe's gray Jellyberry (Boucher).
"She has done well," Voss said. "They are really loading her up with weight though, and she's just taking it. She's tough as nails."
Named for a town in California, the 7-year-old daughter of Sky Classic currently has $78,424 for the season and is second to the leading filly, Star Ten Stable's Class Shadow, who is retired with an injury after winning $88,068.
Not a trainer who worries much about awards or winning a series, and with only two meets left in the season, Voss is not sure where she will run or if she will take on the boys again before the winter break.
Voss made a second trip to the winner's circle with Dictina's Boy (Whelan) in the $25,000 Sport Of Kings maiden hurdle for former steeplechase jockey Sean Clancy of Riverdee Stable.
"Sean liked him," Voss said. "So we started schooling him over logs and stuff in September and he took to it. Some
horses are just naturals. He has a lot of scope and has never made a mistake. We'll see where it goes."
Clancy also discovered 2007 Eclipse Award winner and current leading horse, Sonny Via's Good Night Shirt.
Long Haul
Running 3 miles in a timber race is pretty much a given, but to ask a horse to jump hurdles fast for more than 3 miles while carrying at least 20 pounds more than the average hurdler is quite the task.
Callaway has just such a race with the $15,000 amateur highweight hurdle, run at 31⁄8 miles.
This year, Tennessee trainer Ted Thompson entered Houghland's Say What You See (Adam Helders). The horse had not run all season, so they were not quite sure if he would be able to stay. In addition, Say What You See was carrying 171 pounds.
But by the wire, Say What You See was all alone, some 10 lengths ahead of Anne Haynes' Summersville (Russell Haynes).
Thompson was amazed at his horse's grit. "He's a little horse who has always been right there but has had a lot of things go wrong," Thompson said. "It was really great to have it go our way for a change. We knew he had a pretty good chance in there even though there were some pretty good horses.
"I just wanted Adam to settle him and wait," he added. "We just wanted to make sure he relaxed early on. He had plenty of time. He rode a beautiful race."
Thompson had another win that day on the flat with Jubilee Stable's Dig This Hoss.
"He's coming back from an injury," Thompson said. "He won at High Hope [Ky.] in 2007 then he came back with a leg, actually he had fractured his hock, and we had to do surgery on that, so this was his first race back. Right now, we are kind of calling him Dig This Hock."
Shiny Million
Trainer Jack Fisher reached the $1 million dollar earnings mark at Callaway with the help of Arcadia Stable's Shiny
Emblem and jockey William Dowling in the $15,000 maiden timber over Sheppard's Deb's Delight (Hodsdon).
Up until Callaway, Shiny Emblem had parted ways with his jockeys several times this year, including with Dowling in a maiden timber race at Virginia Fall Races, Oct 4. Dowling was pretty happy to finally get a win out of him.
"He has been the unluckiest horse of all in the barn," Dowling said. "I had almost given up on him, but he was perfect in this race. It was so great that it was Arcadia Stable and Shiny who got Jack his million."
Fisher is the first trainer to get to a million in a single year of National Steeplechase Association racing. He goes into the last two meets with $1,031,267.
Bill Gallo, the NSA director of racing, was impressed: "Surpassing the million dollar mark is a remarkable achievement for Jack. Particularly when you consider that our entire purse structure is only $5 million! He has a formidable stable, including the best steeplechase horse in the country, Good Night Shirt. Jack has a willingness to participate and starts over 100 horses a year in every type of race we write."
Sarah Libbey Greenhalgh