We're down to the last few weeks in Florida, and my horses are humming along. The best thing is that nothing interesting is happening with any of them, and that's more than could be said for really the last 10 months! It's business as usual, and I love it.
For Puck, "usual" means that he finally decided I was in charge about six weeks ago, and he's been an absolute joy to ride. There's no amazing capital-D Dressage going on, but the fact that I can just get on and close my leg and my hand and get to work is a huge, huge deal.
In the last two weeks or so, he's let me open up another gear in the trot. I don't get it consistently, but it's accessible now, whereas in August he'd lock into this big floaty trot with tension in his back and use it as a means of resistance. The trot he offers me now has some expression, which is neat, but more importantly has tremendous swing. It's pretty fun, and I can imagine what a blast it'll be two years from now when there is strength and capacity behind it.
I'm also getting somewhere in the canter, where he's become much more compressible, though I got greedy yesterday and attempted renvers at canter, and he just about tied his legs in a knot. I feel like I'll own that canter sufficiently to start addressing the changes in two months, give or take. Until then it's transitions and repetition of simple things. He comes to work each day with a smile on his face, and I finish work each day with a smile on mine. The rest is gravy!
Danny is also putting a smile on my face because he's been given permission to start trotting. I'm increasing the time he trots each week – today begins the week of seven minutes, which Dan thinks is very very hard – such that we'll be ready to start introducing the canter as soon as we get rolling back at home in Virginia. The joy in getting to feel my super special horse get back to work… I can't even find the words. I also can't find words to describe how it felt that first week, but if I were to try, it would go something like this: alternating moments of Valegro and Inebriated Octopus On Roller Skates.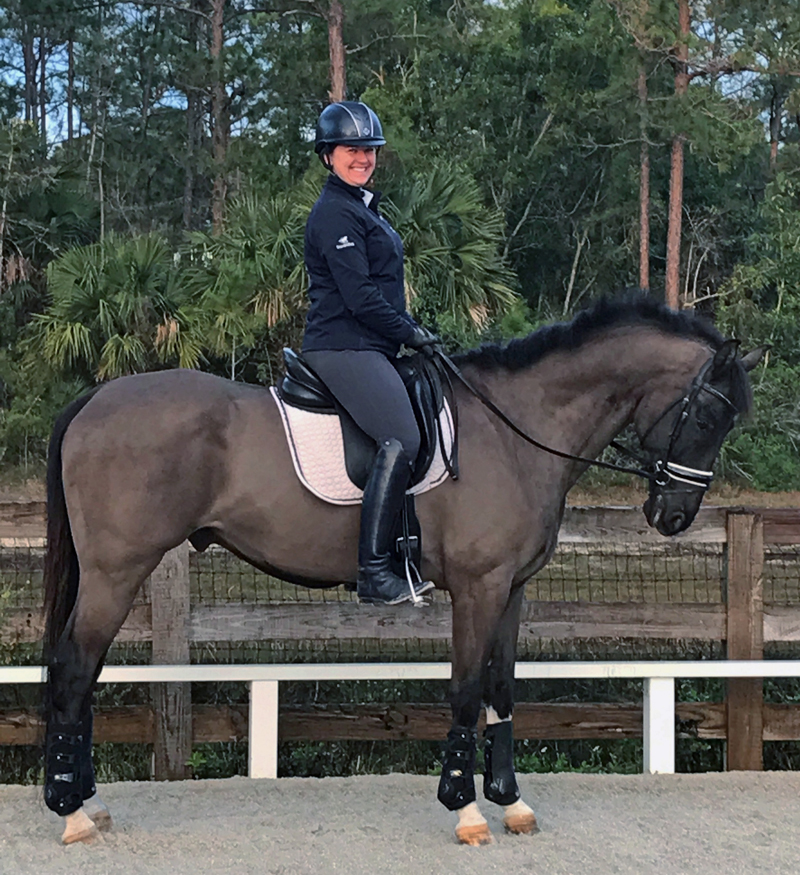 The muscle memory of how he knows he's supposed to trot—poll the highest point, nose out, back lifting, hind legs under and snappy—is all there. The capacity for doing so not so much. At the end of the day he feels like he had 10 months off and a c-section, because he actually did basically have 10 months off and a c-section. But it's coming back fast, particularly on the days when he tries to buck me off. He feels amazing then!
I was at home in Virginia last weekend to teach, and I got to play with Swagger, who just turned 4. Swagger made me nervous for a while because he spent much of this winter looking like a Dover catalogue model and behaving perfectly, which is a nerve wracking quality in a baby horse—I prefer them a little weird looking and a little squirrely, because if they're too perfect as babies, there's really nowhere to go but down. But on this last trip I was greeted by a scrawny creature that is two inches taller behind than in front, so I'm feeling greatly relieved.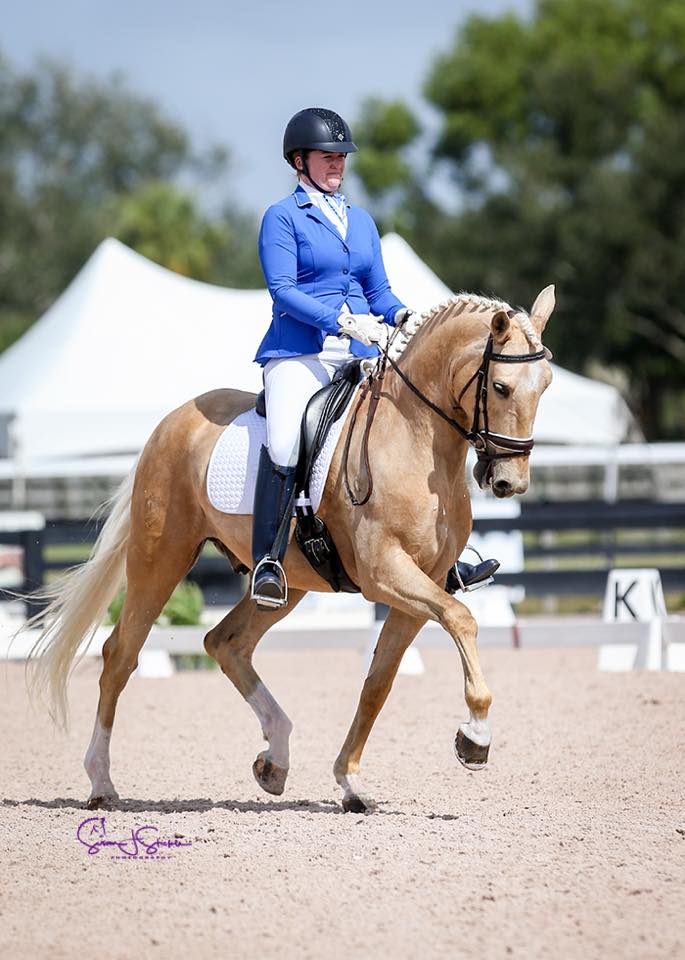 I'm having great fun with my mom's delightful 7-year-old Lusitano, Helio, whom I showed a few weeks ago. Helio thought that straightness and self-carriage were for losers, but his behavior off the farm was foot perfect, and we looked smashing and got nice pictures, so I considered it a great success. He's a few months behind Puck in his ability to coordinate his parts, so I foresee Flying Change Boot Camp for him beginning in late summer. Two at once! Lucky me. (Not.)
My Florida clients have had some great competition successes, and my Virginia contingent is eager to get rolling with our summer season. This is always the time of year where I feel like I'm twiddling my thumbs waiting for it to be two weeks from now, but it's also gorgeous here and snowy and gross at home, so I suppose I'll suffer through my last two weeks!
SprieserSporthorse.com
Lauren Sprieser on Facebook