Piggy March and Vanir Kamira are the new leaders at Land Rover Burghley CCI5*-L (England) at the end of Saturday's cross-country phase.
Ladies ruled the day, as March and Vanir Kamira took the lead by adding just 0.4 time penalties cross-country and Jonelle Price's Classic Moet, at age 19, showed her signature turn of foot by producing the day's only double-clear round. Meanwhile, Burghley first-timers Cornelia Dorr and her mare Daytona Beach 8 made the biggest move up the leaderboard Saturday, jumping clear and adding 8.4 time penalties to launch them from 50th place after dressage to 16th—the top-placed U.S. pair going into show jumping.
As for leaders March and Vanir Kamira, in their four Burghley appearances together, the British rider and Trevor Dickens' 17-year-old Irish Sport Horse mare (Camiro De Haar Z—Fair Caledonian, Dixi) have notched just 4.8 cross-country time penalties in total. They've never finished the event worse that fifth place, taking second in 2017 and 2019, and settling for fifth in 2018.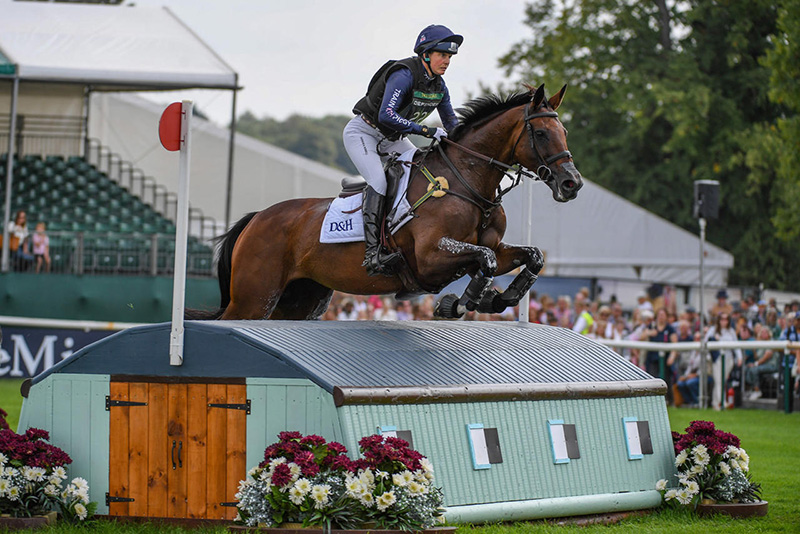 "She's so classy," said a delighted March after her round. "She felt brilliant and was really up for it today—she's a very special little mare. I'm annoyed with the time penalty, to be honest; I'm the queen of being one second over the time. I don't know how I do it!"
Like all riders who made it to the finish, March said Derek Di Grazia's course was tough but fair.
"I was about 12 seconds down on the time at the Trout Hatchery," she said, "and she wasn't really moving on but she filled up her lungs coming down Winners Avenue, put her head down and just flew home."
The pair now sit on a score of 23.0 going into Sunday's show jumping.
New Zealand's Tim Price and Joe and Alex Giannamore's Vitali retained the second place they held after dressage, adding 5.2 cross-country time penalties to their first phase score to finish the day on 26.5. Tim was pleasantly surprised by how well the horse performed Saturday given that it is only his second five-star event.
"That was pretty cool. He's not a Thoroughbred but he's a good stayer, and he fought and fought the whole way round," he said. "It was a big, intense and twisty course, particularly the first four to five minutes, but I thought it was fantastic."
Classic Moet, owned by Tim's wife Jonelle with Trisha and Sophie Rickards, was the only horse to complete the course within the optimum time, an achievement that propelled them up the leaderboard to third place, from 25th after dressage. This was despite Jonelle's watch stopping at around the three-minute mark.
"I had no idea what the time was when we crossed the line," she said, "but I know she's quick so I just let her run in the rhythm she wanted. All I could do was to keep her balanced and be economical with our lines where I could. She's such a tough and gritty little mare. There's no one else I would have rather been sat on today."
The cross-country track caused its fair share of problems for both experienced combinations and first-timers but, equally, the remaining field of 31—from the 52 who completed dressage—comprises both.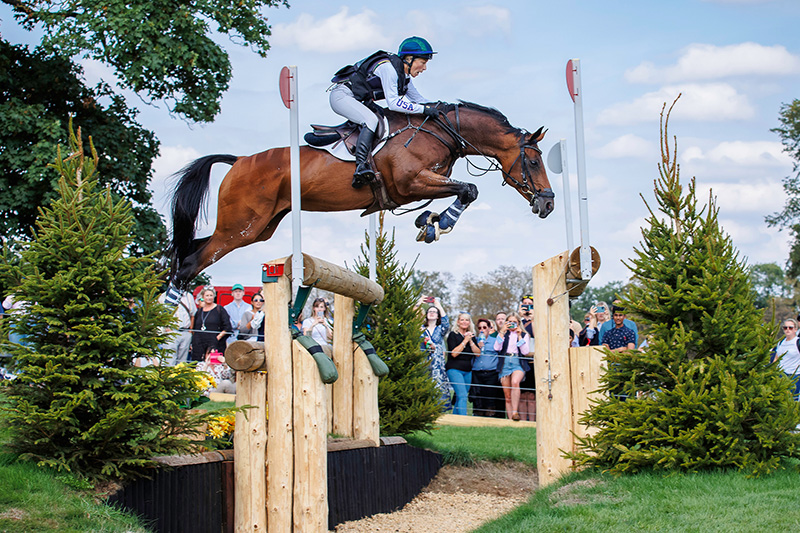 Burghley debutantes Dorr and Daytona Beach's quick, clean round made them the biggest movers of the day, leapfrogging 34 places up the standings to 16th place.
"What a partner, she picked up where I didn't," a beaming Dorr said of her 12-year-old Oldenburg's cross-country performance. "It was really fun; I think I smiled the whole way round!"
Fortunes were mixed for the remainder of the U.S. contingent.
Emily Hamel and her 15-year-old Holsteiner Corvett, who were in 41st place after dressage, initially were assessed 20 penalties for a refusal, but those points were later taken away, so she finished clear with 30.4 time penalties, to put her in 23rd place.
Meghan O'Donoghue and her 16-year-old off-the-track Thoroughbred Palm Crescent, who were the best-placed U.S. pair after dressage in 15th place, picked up a runout at Fence 14B, the Joules at the Malting combination, and 35.6 time penalties to drop to 25th.
"He was absolutely incredible," O'Donoghue said. "The beginning [of the course], it comes up at you really quickly and it's a bit relentless, honestly. The horses really, they have to be kind of on your side from the beginning. There weren't any places at the beginning where you were going to make them a five-star horse that day.
"He fought at the beginning for me, and he just absolutely felt incredible," she continued. "I had a Plan A, and you know, I was seeing B, C and D plans, but nothing felt too difficult, and he was really giving me a super feel. It was just bit unfortunate up at the Maltings. He jumped too well—and you can't fault him for that—and I just got a bit loose."
Woods Baughman and his 14-year-old Hanoverian gelding C'est La Vie 135, tied for 16th after dressage, picked up refusals at Fences 7B, 8B and 10F and were eliminated.
Dressage leaders Kitty King and Vendredi Biats of Great Britain picked up time faults and 11 penalties for activating a MIMclip (a safety device designed to help reduce falls) at Fence 19 and now lie sixth on 38.2.
With less than 4 penalties between the top two horses, one rail could make all the difference in Sunday's show jumping. The action starts with the second horse inspection at 9 a.m. local time (4 a.m. Eastern time).
 Click here for complete results.
Click here for the complete fence-by-fence analysis.