Temecula, Calif.—Jan. 26
As Nick Wagman heads down centerline with Don John to the lyrics from Depeche Mode's "Never Let Me Down Again," he knows the words ring true—"I'm taking a ride with my best friend."
Don John lights up too, especially under the lights in front of a crowd. "You can just feel that swell of energy in his belly when he comes in there," said Wagman. "As long as he keeps going in the right direction for the most part, we're good."
It was only Wagman's third time riding his Grand Prix freestyle tonight at the Adequan West Coast Dressage Festival, and he came home with his second win of the weekend in the CDI-W, scoring a 73.50 percent ahead of the only other competitor, Emily Miles, who rode Quantum Jazz to a 68.90 percent.
"DJ," an 11-year-old Dutch Warmblood gelding (Johnson—Lindalie, Goodtime) owned by Beverly Gepfer, is a highly sensitive horse, and Wagman's been through a lot with him over the years, but after a breakout 2018, they're on the same page and moving ahead to perfecting the Grand Prix.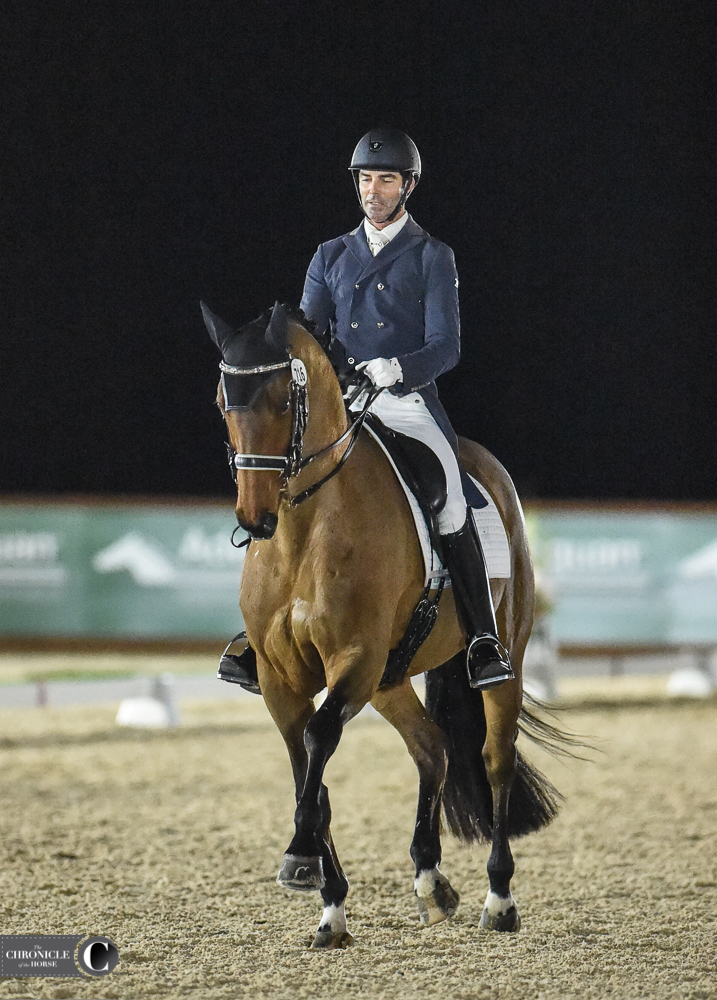 "He was pretty electric because of the atmosphere, so I didn't have to do much at all [in the piaffe and passage,]" said Wagman, who had set a goal to ride a bit bolder in those movements. "It didn't change my game plan, but I relaxed a lot more in the piaffe because I had so much excess energy. He was right there. All that energy stayed in the right direction and made it kind of easy for those movements. The little other things because of his exuberance kind of got away from me here and there, but it was pretty good considering.
"This is the first time I really feel like I hit my music, like I really was on all the cues," he continued. "We're going to probably increase the difficulty now. We wanted to get the first one out of the way, now I can go home and make some changes. I think he's ready for that."
Although there were only two in the class, Wagman was thrilled with his wins this weekend because of the confidence boost he got.
"For me, every time I go out there and push myself to be in a different environment and get through it and feel good about it, it's helping me regain the joy and the confidence I want to get back," he said. "It's always fun because there's so many people aside from me involved in getting us in here—my coach, my owners, my groom. Everybody's so involved, so just to be able to go in and show all of our hard work, for all of us, is what makes it exciting for me. For me, the win is having a good ride, having a happy horse and regaining my confidence. I'm cautiously excited about what the future holds, but I'm not letting that be my guiding motivation right now."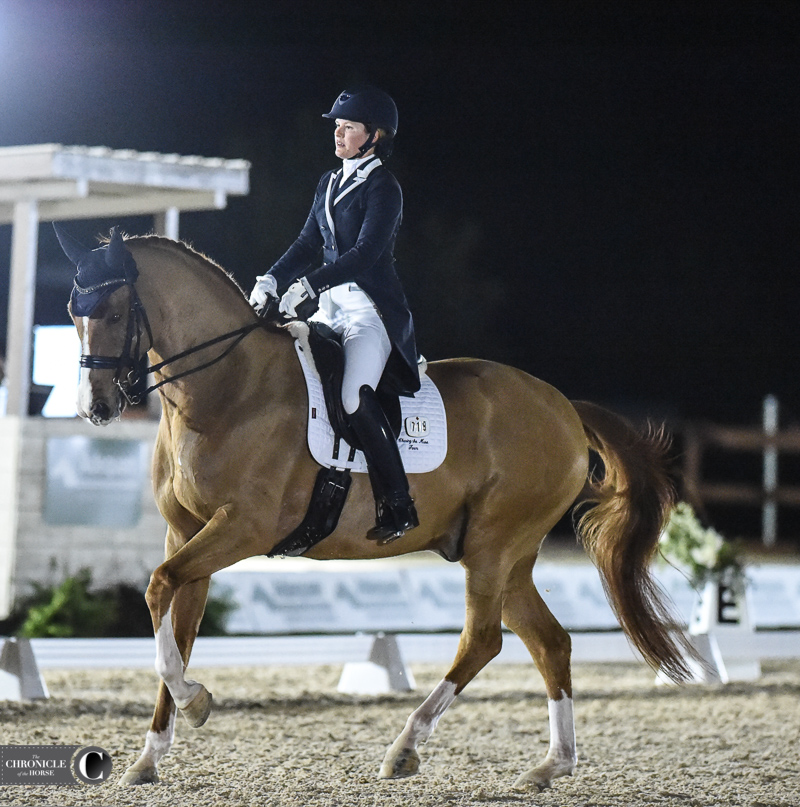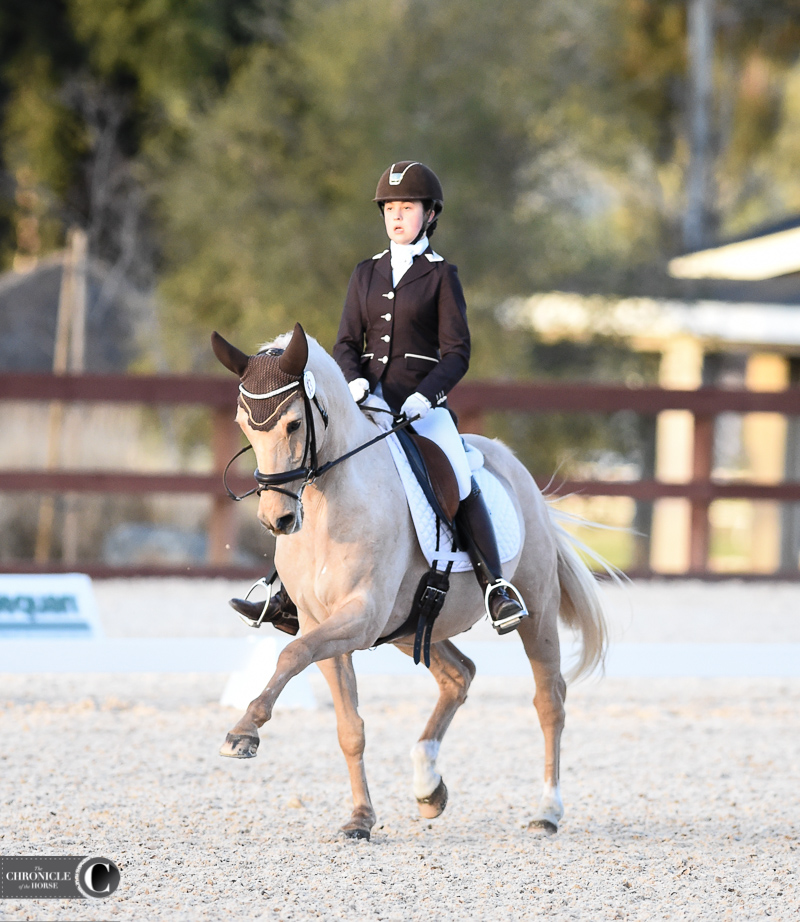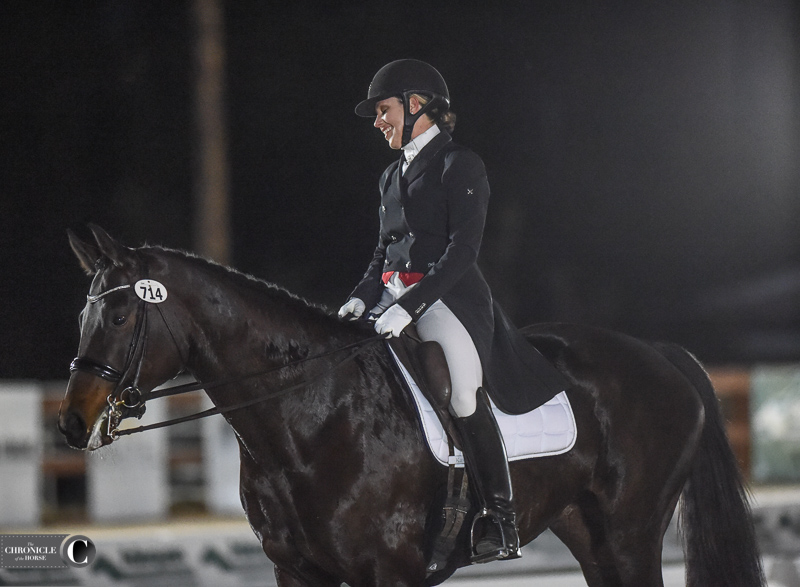 For full results, click here.
The AWCDF is live streaming the international ring. Visit their Facebook page for the feed.
We'll have much more from the AWCDF all weekend at coth.com and in the Feb. 11 print edition of the Chronicle.