U.S.-based Australian eventer Dom Schramm took on Badminton Horse Trials (England) CCI5*-L, May 4-8. Schramm, who runs Schramm Equestrian with his wife Jimmie Schramm from Cochranville, Pennsylvania, and Ocala, Florida, was there with Bolytair B (Polytair—Nobelle, Glennridge), a 16-year-old Dutch Warmblood gelding owned by Team Bolytair B. While it was the pair's fifth five-star, it was the first Badminton for both, and Dom blogged about the experience.
---
I couldn't have asked for a more beautiful day than Sunday to wrap up my Badminton Horse Trials adventure. It was absolutely sensational weather; the crowds turned up in droves, and Bolytair B sprung out of his stall as though Saturday's five-star cross-country hadn't even happened. It's always such a relief to see them so fresh on the final day, particularly when you see other riders' dreams get dashed if their horses come out a bit too sore after cross-country.
I was amazed by how many people turned up to watch the final trot up; it was probably three times the number from Wednesday's first jog. The Brits love their sport—and the drama that comes with it too!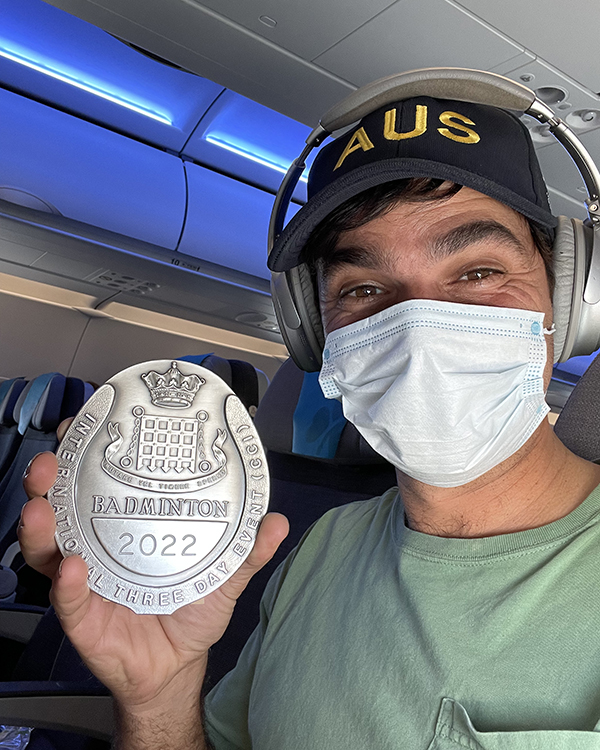 Boly jogged beautifully, and then it was a mad dash to get the course walked and one small jump school in to help encourage a better show jumping shape after all that running and jumping cross-country. Thankfully Peter Wylde was on hand to assist, and I was really happy with how he schooled.
As for the course, all I can say was that it felt big. Maybe a hole or two higher than at Kentucky and Burghley, and when you are jumping on grass it feels even bigger still. It really was a beautiful course though and unlike anything I've ever tackled before.
Before I knew it, it was my turn to go. Going earlier in the lineup, I was a little bit of a crash-test dummy as to how the course was going to ride on a big-striding horse. Boly amped up again in the main ring like he did in the dressage, and he was quite a bit more reactive in the bridle than he normally would be. That meant I ended up going from long stride to hoppy stride, which really affected my rhythm. I was definitely a little disappointed to have two poles down.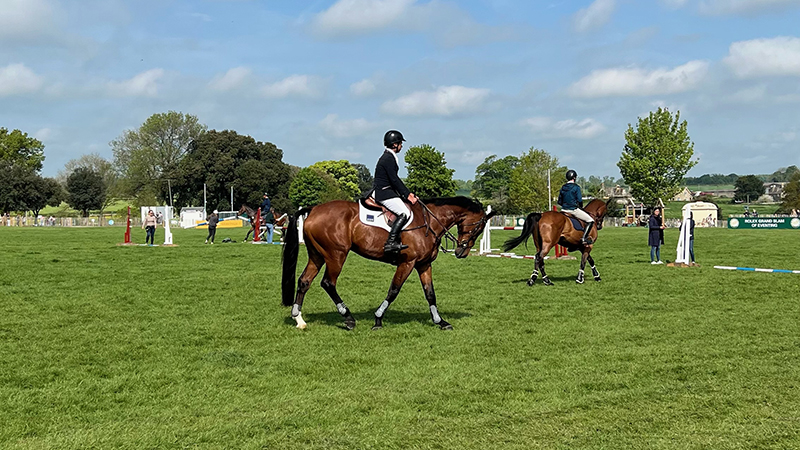 I feel like show jumping is one of our strengths, but it's always a different horse you are riding on the final day of a three-day event at the five-star level. He had plenty of jump left and tried his guts out to make it all the way to the finish line.
And then finally we were done! We made it all the way to the end of Badminton! It's such an immediate release of pressure and stress, knowing you've completed the event, and that is highlighted by leaving the arena to greet your ecstatic support crew.
I was so proud of my horse and myself for finishing this challenge that I had set for myself for 20 years. Regardless of the result, I wanted to just come here and really see if I was capable of doing it, and there is an immense amount of satisfaction in discovering that you are.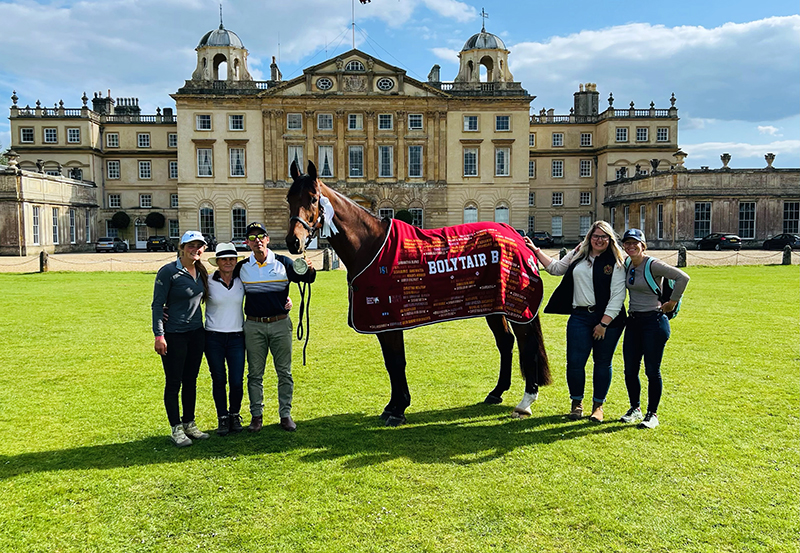 Obviously there is so much I need to work on to improve my results, and I haven't stopped thinking about all the ways we can finish these big events much higher up the standings! However, I'm going to give myself a moment to just enjoy the fact that we had an amazing trip to England and set out to do what we wanted to do, and we are bringing home a healthy horse.
Thank you so much to the countless folks who have followed along with this endeavor. It's made this so fun and rewarding to receive messages and encouragement along the way!
I also want to just extend my deepest gratitude to everyone who contributed to my fundraising efforts. The cooler was a massive hit in England, and we got so much positive feedback on it. Thank you so much.
Last but not least I need to thank my dream team of people around me, my coaches, my vets and blacksmith, my sponsors, my owners and syndicate members, and our clients. In particular I want to thank Boly's longtime groom Emily Lehman, who has taken outstanding care of him for years, Sarah Ihlenfeldt who had the job of holding down the menagerie at home whilst we were gone, and of course my partner in crime Jimmie, who is always there to be my biggest fan and supports me through thick and thin. It simply cannot be done without all these people!
Now it's time to get home and get on the lawnmower! Living the dream!