U.S.-based Australian eventer Dom Schramm is taking on Badminton Horse Trials CCI5*-L, May 4-8. Schramm, who runs Schramm Equestrian with his wife Jimmie Schramm from Cochranville, Pennsylvania, and Ocala, Florida, is there with Bolytair B (Polytair—Nobelle, Glennridge), a 16-year-old Dutch Warmblood gelding owned by Team Bolytair B. While it is the pair's fifth five-star, it is the first Badminton for both, and Dom is blogging about the experience.
---
Well, the dressage is completed here at Badminton. The atmosphere here in the main ring is easily the most I've ever experienced anywhere in this sport. There is just so much happening at any given time that there is a highly palpable energy in the air at all times.
Bolytair B had been quite good on the first day. My main goal was just to get him along the 15-minute trail that runs right through the trade fair and stadium a few times with no dramas.
I succeeded in doing that on Tuesday. Wednesday was a different kettle of fish.
They simultaneously are running an event for lower-level horses called the BE100 Voltaire Designs Grassroots Championships here at Badminton, and the cross-country portion of that event ran all day Wednesday. Needless to say, when I tried to take Boly up for the ring familiarization during the day, with the whistles and noise from the cross-country in the background, my 17.2-hand lamb turned into a 17.2-hand lion pretty quickly. After some exciting moments, we reached the energetic crescendo of him spinning around, falling over and me falling off him in fairly spectacular fashion. Thankfully he made the wise choice not to jump out over the roping, so we were able to continue on, get to a good place, and finish the ride productively.
I had to be cleared by the medical team before the first jog, which is a little premature even by eventing standards, but I am at least getting the most out of my Badminton experience!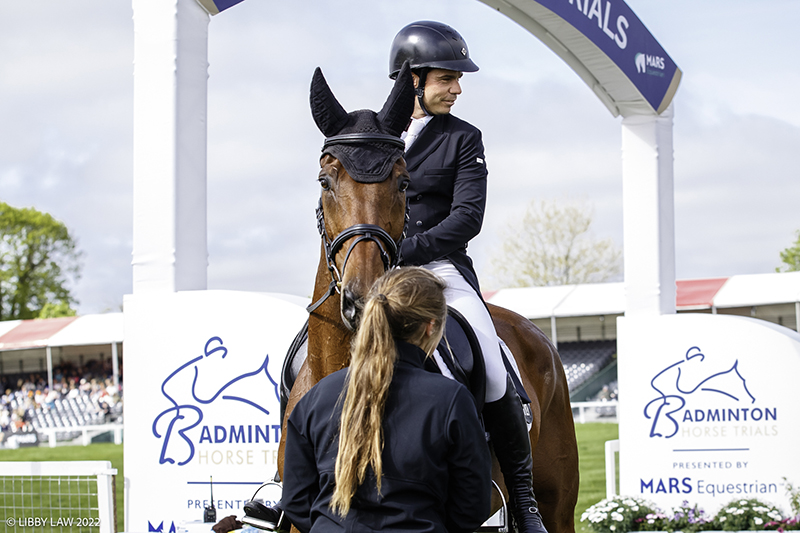 Aside from that, he has been absolutely outstanding on the flat in all his work since being here. I'm not trying to brag, but I have been sharing the warm-ups with the likes of London 52 and Allstar B, and Boly certainly has been holding his own. Unfortunately, for our actual test, he got a little claustrophobic right as we were going around the arena, and that tension followed us into the ring. I was very confident that we would be able to crack into the 20s here, but alas it was not to be. We scored a 39.0.
To my surprise though, I actually didn't feel that disappointed afterward. Don't get me wrong, I'm a competitive person and I've worked really hard, especially this year, at improving this part of our performance. But it's hard to be disappointed when deep down you truly know you've done pretty much everything you can to try and achieve improvement.
I can't be upset with my horse who got nervous when being exposed to the biggest atmosphere of his life. He is a big, fit athlete. I also rode to our game plan—I'm proud of the things we did well, and we have taken note of the things we can improve. Luckily for us, this sport is about finishing, and that's what we are good at, so that's what we will try to do next!
Dom and Bolytair B posted a score of 39.0 in their dressage test Friday. They are scheduled to start cross-country at 2:18 p.m. local time (9:18 a.m. Eastern Time) Saturday.