Lexington, Ky.—Nov. 11
Echo has been a part of Alison Dodd's life for more than 10 years, and when they cantered down centerline at the U.S. Dressage Finals on Thursday for the open Intermediaire II championship, they weren't just competing for themselves.
Echo's owner, Sharon Leyden, died unexpectedly Aug. 22, and Dodd rode in honor of her, with Leyden's family and friends ringside cheering for them. The pair scored a 60.63% for ninth place in the championship class.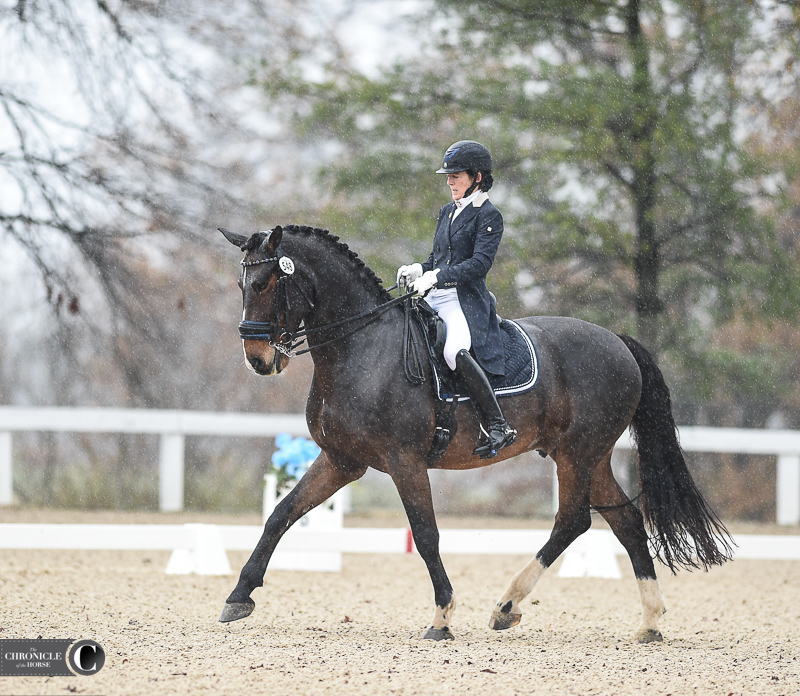 "She's the most generous person ever," Dodd said of Leyden. "She loved the horse, loved the sport."
Echo isn't the usual dressage horse. The 16-year-old gelding is the result of an accidental breeding when a Dutch Harness Horse stallion got into the field of a Saddlebred-Percheron mare at a farm near Dodd's home in Sheridan, Indiana.
Dodd saw the horse as he grew up and liked the way he moved. When Leyden was looking for a horse for her teen daughter, Maureen Craver, a few years later, Dodd suggested then 3-year-old Echo. Leyden bought the young horse for Craver, who showed him at intro level before going off to college. Dodd took over the ride when Echo was 6, and the pair have been working their way steadily up the levels ever since.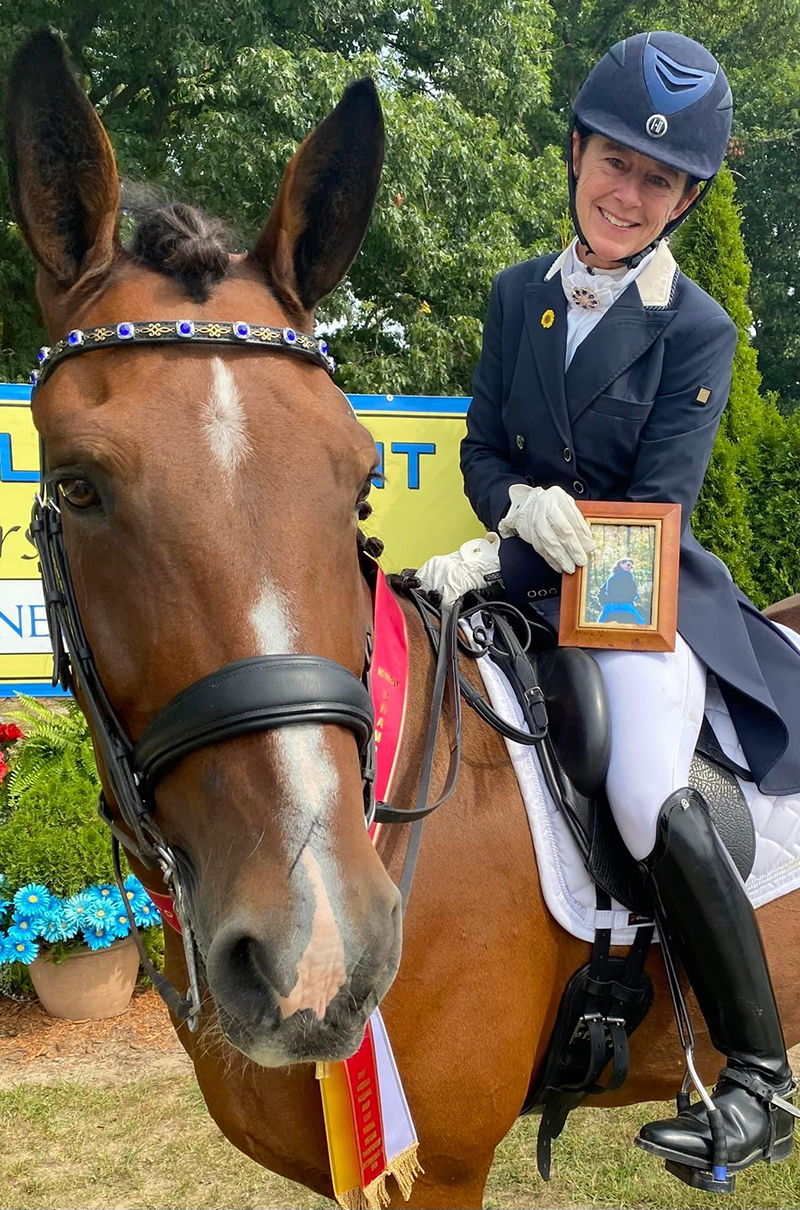 Dodd earned her U.S. Dressage Federation gold medal on Echo in 2021 and was reserve champion on a score of 63.45% this year in the Intermediaire II at the GAIG/USDF Region 2 Championships (Michigan), which earned their ticket to Finals.
Dodd works full-time at a pharmaceutical company, and Echo is the only horse she rides. Bonna McCuiston has trained the pair since the beginning.
"When we went to regionals, all of her support group was there, and we had Sharon pictures everywhere," Dodd said. "She passed away unexpectedly two weeks before. Everyone said, 'Sharon would want you to go.' So that's what we're doing. But we're all here in Sharon's spirit—her whole family is coming down. Her husband, [Tom Leyden], and Mo's [Maureen] sister, [Catherine Donovan], will be here."
Dodd reflected on the outsized impact this one nontraditional dressage horse—"He's a funny, goofy guy with big ears and a short neck and a big butt"—has had on a whole group of people.
"That's Echo," she said. "He's brought us all together, and he's just this backyard horse, and it's just a blessing to be on this journey with him. We're not anything big and fancy. We just have our wonderful community."
COTH's Coverage I Results I Live Stream I Schedule