"You must do flatwork, but don't overdo it." This was the advice from British show jumping maestro Nick Skelton during a master class held at the Dublin Horse Show, where hundreds of spectators had the opportunity to gain some insight into how the Olympic champion prepares his horses for competition.
"Flatwork is so important but 20 minutes is usually enough. Young horses will need it more than older horses, especially when you need to teach a young horse about strides, etcetera," he said while riding a young, inexperienced horse and chatting to Irish legend Eddie Macken, who co-hosted the master class from the ground.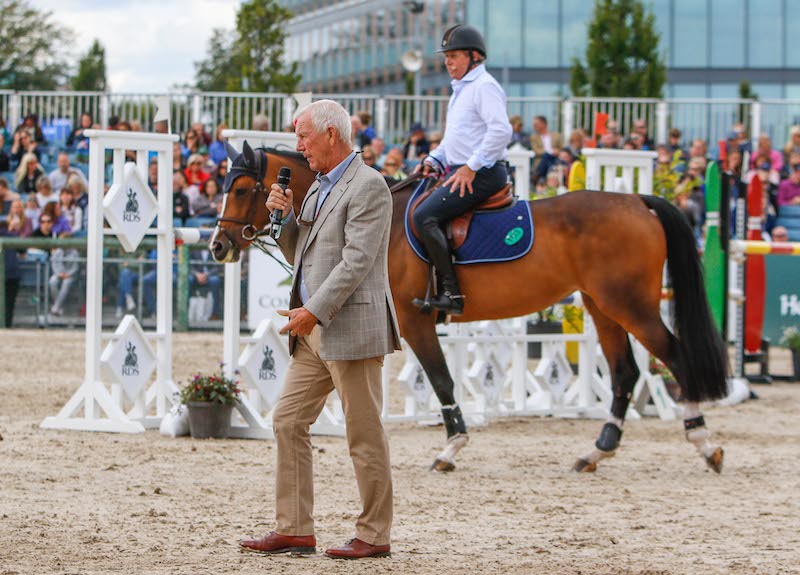 Two young Irish riders, Tim MacDonagh and Jennifer Kuehnle, had also been selected to bring along their horses for assessment. During the 45 minutes they conducted a series of exercises both on the flat and over a course of jumps.
Skelton started off by warming up his own horse, first at a trot and then in a nice, balanced canter. "Everyone has their own ideas but I prefer to work horses in a snaffle and draw reins," he said.
"Control and obedience are so important, so you need to use both your hands and your legs evenly to get a nice balanced movement."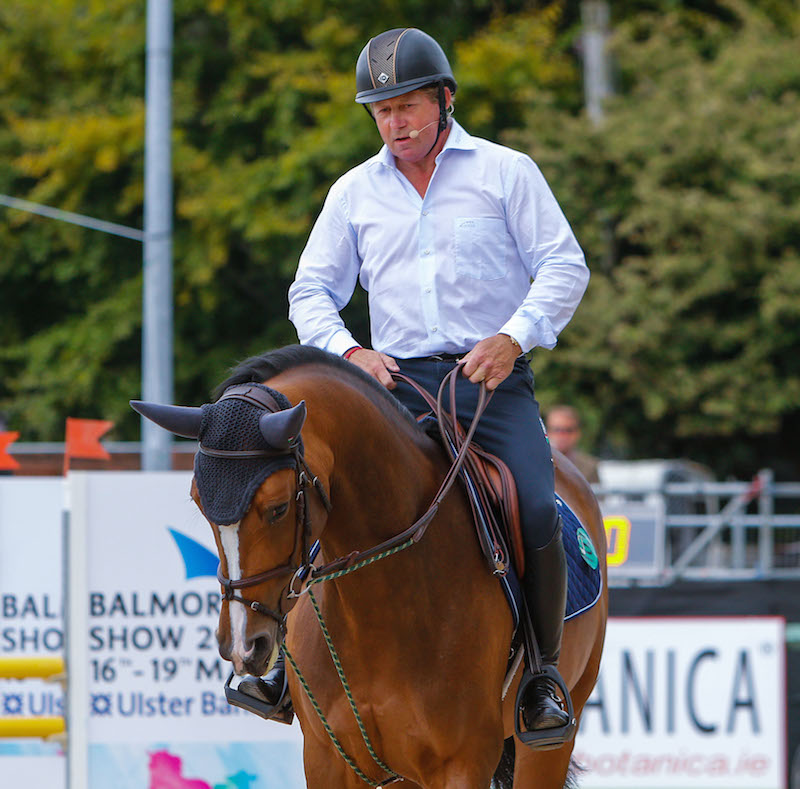 Skelton's aim was the get the mare going at an even pace and this was quickly achieved using a "give and take" approach with the reins. "Loosen for a few strides then tighten. At the same time you want the back end to keep going forward at all times. It is all about even control," he said.
MacDonagh's horse, the 10-year-old Tick Tock Tina, was very experienced, but Skelton noticed she was inclined to lean in on one shoulder. In a bid to eliminate this he encouraged MacDonagh to use the opposite hand and leg to try and balance her a bit better. Within a few minutes MacDonagh noticed a marked improvement.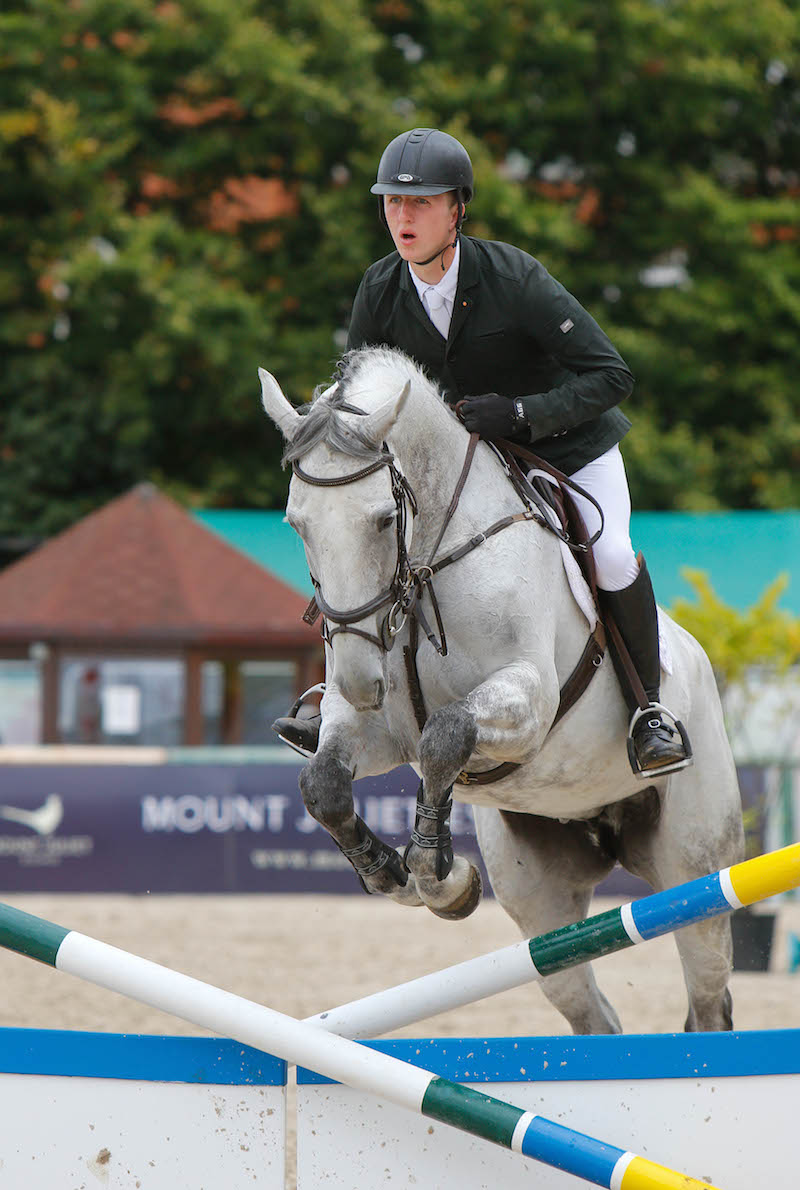 Kuehnle's horse, Ballistic M2S, is also a seasoned show jumper, but Skelton noticed that he had a high head carriage, something that could be improved by using more of her leg and loosening the reins. "It might take a while to sort out but it is a work in progress," he said.
Both horses were also assessed over some jumps, starting with a cross-rail and working up to a set of five fences, including a double.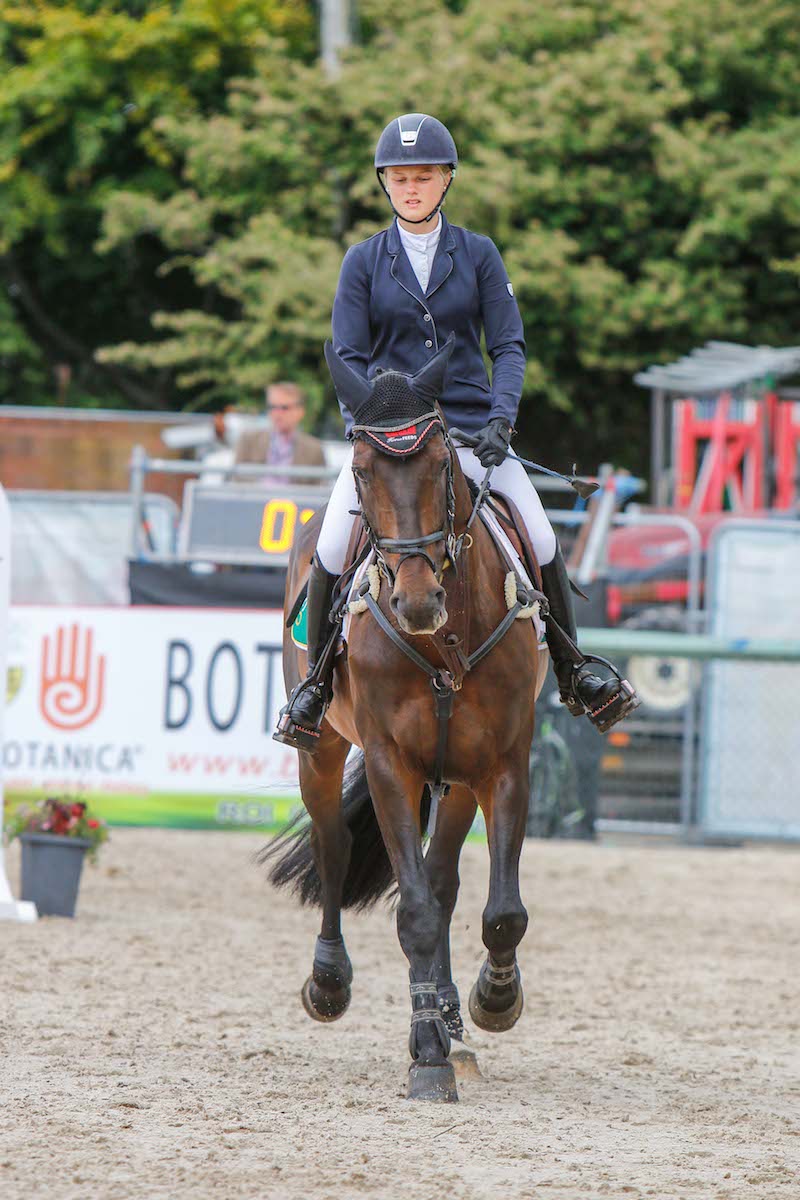 Again Skelton watched as both riders jumped a small cross-rail. He encouraged them to use the same approach when jumping: "again you must be in control so when you need to speed up or slow down, the horse knows exactly what you want him to do."
Skelton stressed that this is crucial when jumping a double with a related distance. "You might want to do it in six strides, or five, so you need to be able to approach that fence either by slowing down for six or a bit quicker if you want to land further out and do it in five strides."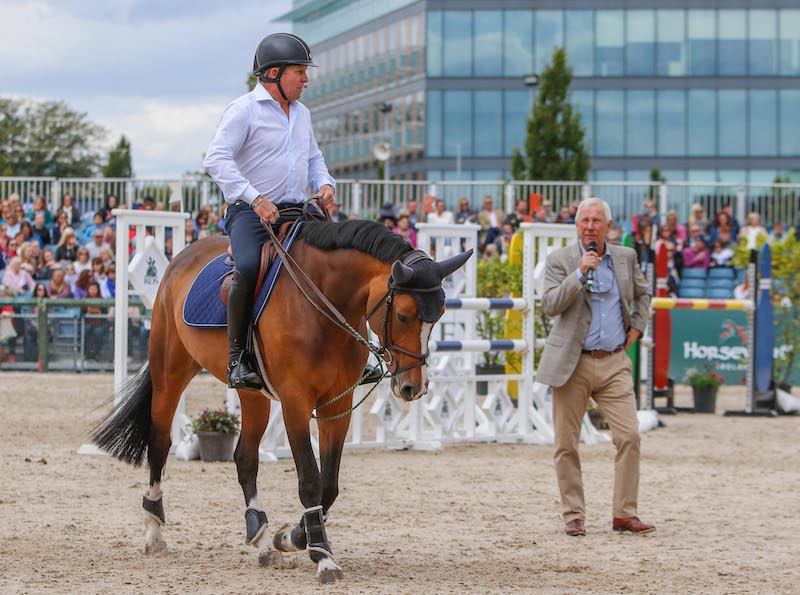 Using the "give and take" approach the two riders were asked to jump it in five and then six strides. "What Nick said made perfect sense," MacDonagh said afterwards, "and I took away plenty of tips."
One of the most interesting points made during the session was Skelton's observation on how riders can "overdo" it in the warm-up arena.
Both Skelton and Macken had watched horses warming up for the Nations Cup at Dublin and had noticed how many times they had jumped before going into the ring. "For me if a horse can jump at 1.60-meter, there should be no need to jump them more than five or six times in the warm-up," Skelton commented. "Any more than that is perhaps overdoing it," he concluded.
Eddie Macken and Nick Skelton have over a century's worth of riding experience between them, and two hugely successful show jumping careers.
A regular at the Dublin Horse Show for decades as part of the British show jumping team, Nick Skelton has also competed in seven Olympic Games and is a double Olympic gold medalist. He won his first as part of the 2012 London Games winning team for Great Britain, before securing his individual medal at the most recent Rio Games in 2016. These achievements are all the more impressive considering the potentially career-ending injury Nick suffered in 2000 which took him away from competition for almost two years. On top of his Olympic medal haul, Nick also has 10 European medals, six World Championship medals, a World Cup title and he has competed on over 170 Nations Cup teams during his career.
Eddie Macken has had an illustrious international career, winning two individual silver medals at the Show Jumping World Championships (1976 to 1979) and an individual silver at the 1977 European Championships. He was also a member of the Irish team that won the Aga Khan Trophy for three consecutive years from 1977 to 1979, thus winning the trophy outright.
Eddie's partnership with the Irish-bred Boomerang is one that remains renowned in the show jumping world. The pair won the Hickstead Derby a record four consecutive years (1976-79), and Eddie topped the rankings in 1976, 1977 and 1978, after amassing £250,000 in winnings—a record for the time.
Although Eddie retired from riding competitively in 2012, he is still sharing his expertise as a coach, both for individual clients, and in 2004 as the team trainer for the Irish Olympic show jumping team. He currently resides in Canada.