Like the college t-shirt that lauds, "This is a football town with a college problem," I am an amateur rider with a work problem.
Work-life balance is a challenge every day, but this week is a particular challenge: It's Devon week.
The question is not how to compete at Devon when I have court hearings, mediations, briefs and other arguments due to be filed with the U.S. government (I am an intellectual property attorney at a large international law firm in Philadelphia). Or, how to practice for Devon while preparing for and attending "Friendship Fruit Salad" day at my 2-year-old's daycare.
Instead, the question is how I will do all of this while getting ready for and competing at Devon.
Cloning myself is not an option. I've tried. As an amateur rider, my horse will tell you that I need to practice for Devon. And by practice, I mean I need to ride long enough to feel comfortable in the saddle but little enough to not undo what The Trainer has spent every day since the last horse show doing ("The Trainer" is Diane Daly, my trainer of 23 years. She's put up with me since my pony days so yes, she's earned every available capital letter).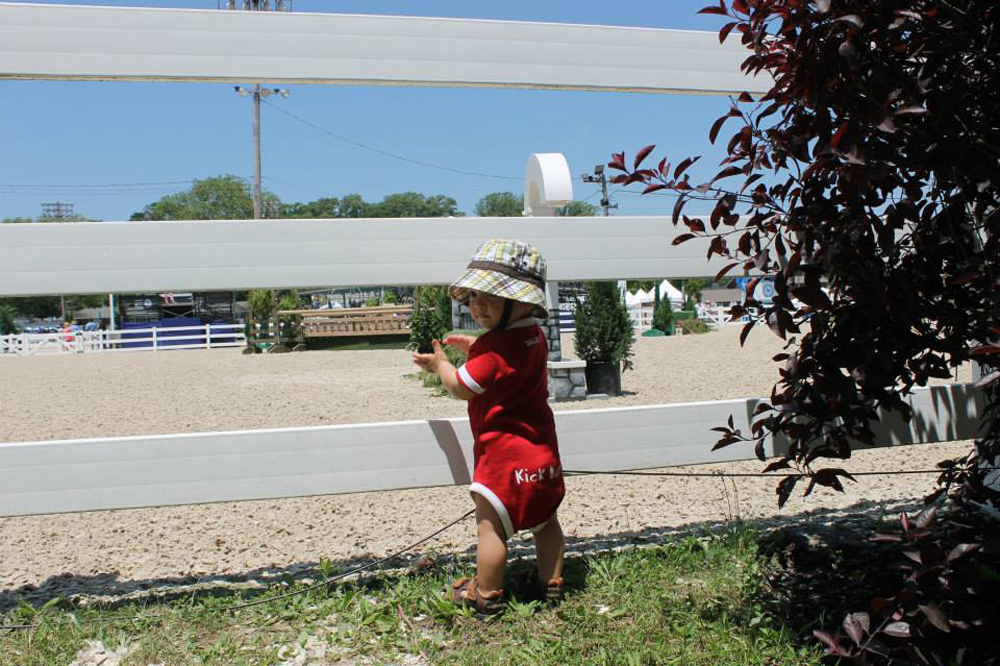 Competing as a working mom has the added
bonus of a pretty cute cheering section.
My traditional pre-Devon lesson ends after the first time I find a distance to a 3'9" oxer. The Trainer makes the jumps in my lesson 3'9" so that the 3'6" looks "small" when I sit on a metal bench in the East 3 Grandstand to watch the first one go.
Oh, wait, what's that—I'm at the top of the order? Fantastic. I didn't need to watch how well that 124′ line rides in a seven strides anyway.
I should note another reason The Trainer makes the jumps 3'9″ is because the last time I arrived at the gate for the 3'6″ amateurs, I politely reminded the jump crew that the course was still set for the 4′ high performance working hunters.
I need to practice because the Dixon Oval has a mind of its own. I practice even though there is no way, as an amateur, to actually prepare for competing there.
The Dixon Oval has this mysterious ability to separate your head from your body from your horse. It is—I imagine—a little like meeting a celebrity for the first time. Time is standing still but moving too fast all at once. Your head gets cluttered and starts spinning and you say and do things that are completely irrational. Things you know you'll kick yourself for later.
Yes, I just compared my pulling a horse off his lead in the approach to a single oxer to groping George Clooney.
During the "de-briefing," we discuss things I barely remember. Like, that swap in the two-stride. The Trainer is bringing this up as a "things we need to fix before the next class" while I'm thinking "I got two strides in a two-stride that was clearly set at 55′. That was pretty slick."
As any amateur understands, "slick" is an adjective juniors wear like a badge and amateurs spend every year after their 18th trying to recapture. "Slick" is a matter of degrees: A slick junior is a triple threat with a resume complete with equitation finals, jumper prix, hunter derbies and spectaculars.
A slick amateur can usually find the majority of the jumps (five or six out of eight) and knows the right lead from the left lead. "Slick" is not a word we sling around the amateur ring that often.
If I've learned one thing as an amateur, it's that autonomy goes out the window when you don't go pro after 18. It is replaced with things like co-dependence and insecurity. I can read a course map and walk the distance for any bending line, but can't find the middle of an 18" cross-rail unless The Trainer is there to tell me where it is.
Showing in the Dixon Oval takes a village. And when you're a working-mom-amateur, it takes a whole city. I could not do what I do without the support from my family, a barn full of wonderfully helpful people (that are willing to change my son's diapers and play trucks and tractors with him while I ride) and, of course, The Trainer.
Being a working mom who rides means sometimes showing up to the office looking chic in an Essex shirt and Ann Taylor pants, complete with hat hair and the smell of "Eau de Sweaty Warmblood." It means waking up to start work at 4:30 so that I can bill a couple of hours before my son gets up, before my riding lesson, and before making the trek into the city for the rest of the work day. It means taking conference calls between trips at Devon and letting my son chase me around the ring on Sundays with his toy trucks.
Being a working mom means that blue ribbons at Devon are a dream, but getting it done is the real reward. It means scores in the 70s—in the Dixon Oval—are a success that I can be proud of.
Being a working mom means that my "slick" days are long behind me, but that I'm OK with that.