Traverse City, Mich.—Aug. 6  
Margie Engle rode Storm Ridge Capital LLC's 8-year-old gelding, Dicas, to his first grand prix win in the $50,000 Grand Traverse Grand Prix CSI2* at the Flintfields Horse Park as the fifth week of the Great Lakes Equestrian Festival came to a close.
"He's a really exciting horse. I've had him since he was 6 years old," Engle said. "We had him in Florida and did some of the 1.35- and 1.40meter classes and then moved him up by the end of the circuit to the 1.45-meter. He learned a lot this summer in Spruce [Meadows], finishing in the 1.50-meter. This is actually his first grand prix won so I was really excited. He's such a game horse. For an 8-year-old, he has the mind of an older horse."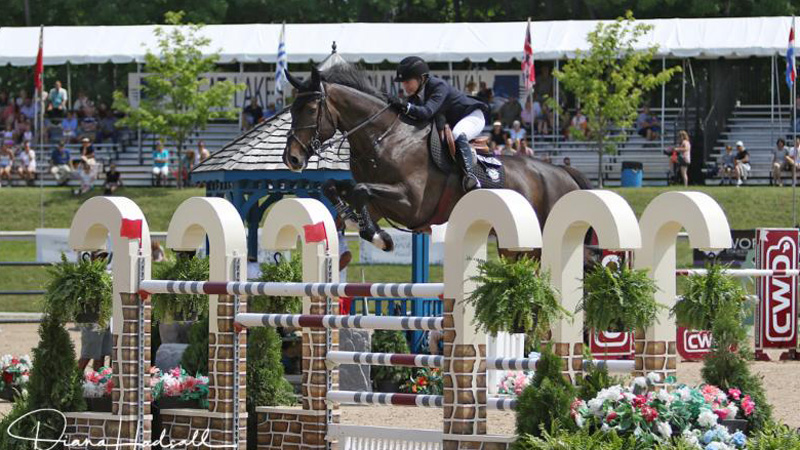 The rainy weather cleared up just in time to see 21 riders challenge Ireland's Alan Wade's course, with 10 riding clear to advance to the jump-off. Engle bested the class putting in a speedy time of 40.56 seconds aboard one of her newer mounts, Dicas, a Rhinelander gelding.
"[Dicas] started off with a good pace to the first jump and he really came forward for me nicely to the second jump," Engle said. "It was easy for me to get up in the seven [strides] to leave out going down the first line, and then he caught the inside angle, which for a lot of young horses could get very confusing. He sighted right in on the angle at the vertical and was super back on the double. He really has a good brain and is brave. Whatever you ask of him he's willing to try. It's a nice combination to have."
Watch Engle and Dicas' jump-off round…
Erynn Ballard of Canada set the pace to beat in the jump-off with a clear round in 42.23 seconds aboard the 11-year-old Dutch Warmblood mare Bella Donna, owned by Sagamore Farms, but at the end of the day she finished the class in third place.
Michael Morrissey finished hot on Ballard's heels, just 2/10 of a second behind, in a time of 42.44 seconds on QBS Equestrian LLC's 11-year-old mare, La Lopez 3, to claim fourth place honors.
The last to go, Santiago Lambre of Mexico, flew down the final line, opting to leave out a stride, but couldn't quite catch Engle, finishing in second place, after also finishing second in Friday's $35,000 Walsh Welcome Stake CSI2*, in a time of 41.50 seconds on his own Dingeman. The pair had recent success when Lambre and the 9-year-old gelding took home the victory in the $50,000 Great Lakes Grand Prix CSI2* two weeks ago during GLEF Week 3. Lambre has consistently placed at the top of the leaderboard during his time in Traverse City, winning the $35,000 Welcome Stake CSI2* and $50,000 Flintfields Farm Grand Prix CSI2* with his mare Doloris during Week 4.
See full results of Week 5 of the Great Lakes Equestrian Festival.