After 16 years of horse shows, DG Bar Ranch and Willy Arts focus on breeding.
She may not have had much experience with them, but Betty DeGroot had always loved horses. So after she and her husband Tony had built up a business and sent their children to college, the family suggested that she follow her unexplored passion.
"They said, 'Why don't you do something you've always wanted to do?' " recalled Tony.
So the DeGroots diverted approximately 20 acres of their property in Hanford, Calif., to a Dutch Warmblood breeding business, with five barns and 65 stalls. The rest of the 2,500 acres contains 9,000 head of dairy cattle, 4,500 of which are milked daily.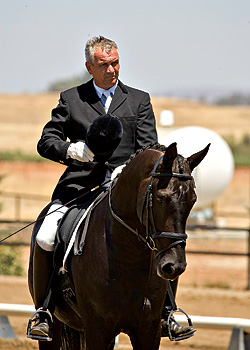 The phenomenon that's become DG Bar Ranch really took off when the DeGroots found Willy Arts, just as they were beginning their equestrian endeavor in 1984.
"It was easy for me to turn it over to someone else. I needed an expert since I didn't know anything," said Tony with a laugh. "My wife had a love for horses, and I liked to look at them. But I've been involved in cattle breeding for over 40 years here, and I know if you want to breed a herd, you need to do it right or stay out of it."
So the DeGroots had the fortune of encountering Arts in the Netherlands, where they had begun buying breeding stock. Arts, who was in his 20s when he met the DeGroots, had grown up with ponies and horses.
"As far as I can remember, we always rode," he said.
He went to a riding school in the Netherlands, followed by a professional school for riders, much like the German National Riding School in Warendorf. He then worked for four years at a stud farm in his native country before the opportunity to head to DG Bar Ranch, an hour outside Fresno, Calif., arose.
"They were in the process of opening [the horse business], and we had an open house in 1985," Arts said. "At first I [was to] stay for a year, but it automatically kept going from one thing to the next."
The DG Bar Shows
In 1990, DG Bar Ranch started hosting recognized dressage shows, which grew
over the years to offer as many as eight rings of competition. But in May of this year, an era ended when they held their final show.
"[Running] the show was a lot on top of the normal workload," said Arts. "It was really not part of the business, and it takes a lot of people to do it. There's a lot going on, and you can only spread yourself so thin. Once you feel like it's getting to be too much, you have to say OK. It's been fun, and we've had a lot of good shows."
Arts has been especially pleased that the DG Bar shows have helped to promote dressage in the San Joaquin Valley. "Twenty-three years ago they didn't know what dressage or warmbloods were in the valley," he said. "But with a lot of spectators, a lot of people locally came to appreciate [what they are]. It's always been a rewarding show."
Tony DeGroot has tremendous memories of the shows at his farm. "It's been an awful lot of fun and an awful lot of work too," he said. "[The shows are] not money makers."
He hopes in the future to run some smaller, unsanctioned shows to raise money for local causes such as a
children's hospital. "I'd rather do it for goodwill, do something for society," he said.
When they first started buying horses, the DeGroots had no idea they'd end up with anything as prominent as DG Bar has become.
"I never dreamed it was going to be an international business or this big," said Tony. "It's turned out way beyond our wishes. I've gotten to know so many people, and it's been so fun."
Most importantly for the DeGroots, the business keeps their family together, with every one of their grown children still pitching in where needed.
Two of their five children are active competitors—their youngest daughter Tamara in dressage and their oldest daughter Ingrid in vaulting—and one daughter, Elizabeth Veenendaal, doesn't ride but runs the breeding program. One of Tony and Betty's 21 grandchildren, Ashlyn, rides at fourth level and Prix St. Georges.
"It's a family-oriented business," said Tony. "I really get a kick out of that."
Producing Horses And Riders
In addition to the shows in Hanford, DG Bar and Willy Arts have been known for breeding, raising, training and selling top young horses as well as producing top young riders.
"I enjoy all of it," Arts said. "I like dressage, jumping, breeding, lessons, starting young horses, buying and selling—I like to be part of it all."
They typically raise six or seven foals per year and mainly sell them as 3-year-olds that have been started. They have approximately 70 horses on the property, most of which belong to them as breeding stock or that have been bred by them and sent back for training.
"Sometimes people try to buy them as 2-year-olds because you can see how they are going to mature, and you can get the X-rays then, and they're more affordable," he said.
Mark, who competed in the 2004 Olympics for Canada with Leslie Reid, has become one of the best-known horses produced by DG Bar Ranch. Mark also won the individual gold medal at the 2003 Pan Am Games. The DeGroots remember their trip to Athens to watch Mark as one of the highlights of their career with horses.
Arts also competes and currently has a horse named Preston, a 10-year-old that he sold eight years ago, at the FEI-level. "I bought him back as a 5-year-old, and he did the young horse classes as a 6-year-old," said Arts. "He's very talented for the upper levels, and I look forward to competing him there."
Tamara DeGroot won the North American Young Riders Championships team gold and individual silver medals in 1995 and now competes at Grand Prix, and Tony and Betty's granddaughter, Ashlyn, is a promising junior already competing at the FEI level.
"They get a variety of horses to ride. They get on the young ones and become broader in their skills. They can feel the difference in horses and learn to evaluate the quality of young horses," said Arts. "They get a broader scale, not just one horse and one test."
DG Bar often hosts clinics and camps for young riders. "Young riders and young horses are the future," said Arts. "You always need to invest in young horses and riders. It keeps the sport going."
Since 1985, DG Bar Ranch has hosted Dutch Warmblood inspections, and the ranch now sponsors a class for 3-, 4-, and 5-year-olds at the keurings.
"It's an under saddle class that they have at every KWPN inspection, and it's like a Materiale class," said Arts, who wants to continue promoting Dutch horses and young horses.
Arts said he's seen the breeding industry change over the past 20 years.
"Breeding is becoming more specialized, and people are starting to see the value of a really good mare," he said. "Not just the
stallion, but the combination of the stallion and mare line. The serious breeders make it an art, a study. It's got to be a little in your blood to want to do the studying of bloodlines to match up horses."
The Perfect Partnership
Arts believes his own education as a young rider, largely taught to him by his father, Gradus Arts, has been invaluable to his career.
"Having the opportunity to grow up with young horses and a lot of breeding, my dad was very much into that," he said. "I've seen so many horses born and started as 2-year-olds; you learn which traits you like and which are important. You don't just see the end product, but you see the whole development."
As a young rider, Arts also had the motivation to take the opportunity at DG Bar.
"It was not easy to move; it was a big step," he said. "But it was a full-time job and an all-around facility with unlimited possibilities. [The DeGroots and I] just clicked, and once you have that, it's pretty unique.
"When you're young and have your dreams and goals, it's what you want to do, and you have to work for it," he added. "No one is going to bring it to you. You have to try and make it happen. It's been a team effort, and the whole family has been behind it."
As for the DeGroots, Tony doesn't think he could have found a better person to handle his horses.
"He is just an unbelievable partner to have. I could not wish for anything better," he said. "He's the most honest guy, totally trustworthy."
Arts is always looking ahead to the future, which will be a little different in 2008, without the shows. "It will be a different spring, but it will be good," he said. "I want to continue with everything, but you have to make choices."
So far for Arts, those choices seem to have all worked out.
---

Memories Of The DG Bar Ranch Shows
Heidi Gaian, a professional trainer and judge in Hollister, Calif., rarely missed one of the DG Bar shows. She rode there in at least 12 of the 16 renewals and also judged there.
"For me, it was always a lucky show. I did well there, so I loved it for many reasons and for that reason," she said with a laugh.
She also recalled great footing and amazing hospitality. "The family would cook for months before, and there would be hospitality tents with home-baked goodies. The kids would drive through the barns with ice cream and carrots, and there wasa huge party, with people from the community, probably close
to 2,000 people. They'd have demonstrations—dressage, barrel racing—and then a big meal and party and dancing until 2 a.m. It was really genuine hospitality; they treated you like you were a guest of theirs."
One year Gaian recalled a particularly amusing party, where Willy Arts, Tom Valter, and a few other male trainers dressed up as women and did skits.
"It was hilarious," she said. "I will miss that part. At most dressage shows we just ride our horses. I think it's good for the dressage community in general to focus on interacting with each other and having a good time."
The central California location was also a good thing, said Gaian, since the northern and southern Californians could meet up and compete against each other.
Gaian said her clients would especially look forward to the show.
"They'd gear up for it because it's bigger than your average show. It was a selection show for young riders and USET [now High Performance], and it was a good opportunity for amateur riders to see a big competition. I've never been to Devon [Pa.], but I would say it's along the lines of the atmosphere at Devon. A lot of my riders had someday wanted to ride there," said Gaian.
"It's such a shame we lost that show; both [my wife] Kathleen [Raine] and I loved going there because the footing was so good, and the people are so nice," said David Wightman, of Murrieta, Calif. "It's a family atmosphere."
Wightman estimated that he and Raine attended the event for 15 years. "It was a great show, and we had so much success there. You know how you have special shows where you do well? There's a lot of fond memories there for us," he said.
He recalled an especially meaningful ride at DG Bar, when he won a selection trial for the USET National Championships at Gladstone (N.J.) aboard Garein.
"Edgar Hotz was judging, and after the test he came out and told me how fantastic it was," recalled Wightman. "That meant a lot to me because he had coached me as a young rider. I had also started that horse at that show at first level."
Wightman said the dressage community will feel a big loss without the DG Bar shows, but he can understand why they decided to cancel it.
"It just got so big, and so much of the public was coming there. No one ever dreamed it would get so big. It sort of outgrew itself," he said.

Beth Rasin