In 2007, Devon Kane stepped into the spotlight as the individual gold and team bronze medalist at the North American Junior and Young Rider Championships. Now 28, she's the head trainer at her family's Diamante Farms in Wellington, Fla. She's earned her U.S. Dressage Federation gold medal and is an international competitor at Grand Prix. She's spent more than a decade training with top professionals such as Olympians Michelle Gibson, Debbie McDonald and now Germany's Hubertus Schmidt. She started her current Grand Prix horse, Destiny, as a 4-year-old and brought him up the levels. She's also a mom to son Colton, who is 9. This summer, she headed to Germany to train with Schmidt, and she agreed to share her experiences there.
A year ago my goal was to bring Destiny up to the Grand Prix. I'd worked with Hubertus Schmidt in Florida for the last four years when he's there for clinics, and I spent four months training with him in Germany a few summers ago. I called and begged Hubertus to come, and he made space for two horses and me to come to his stable, Fleyenhof, in Etteln, Germany for the summer of 2013.
I went alone, with my two geldings, Destiny and Don Angelo, but the trip was all about "Desi." I showed up at Fleyenhof at the end of June with Desi, who at that point had done up to six one-tempi changes, no passage, and freaked out in the zigzag, and I said, "I'm here, and I want to do Grand Prix!" By August we were ready to show the Grand Prix.
While I rode my horse the entire time, Hubertus coached me every step of the way, and we made huge daily improvements. Desi, who is very hot and can be dramatic and immature, was ready to go from the moment we walked into the arena the first day. He never backed down, and we trained hard. Desi (Diamond Hit x Rubenstein I) grew up and flourished and became a horse that I didn't know I had, but I always knew was in there. Hubertus worked magic with us, and we went through our first Grand Prix tests with him, although we were unable to coordinate a show before we left Germany at the end of August.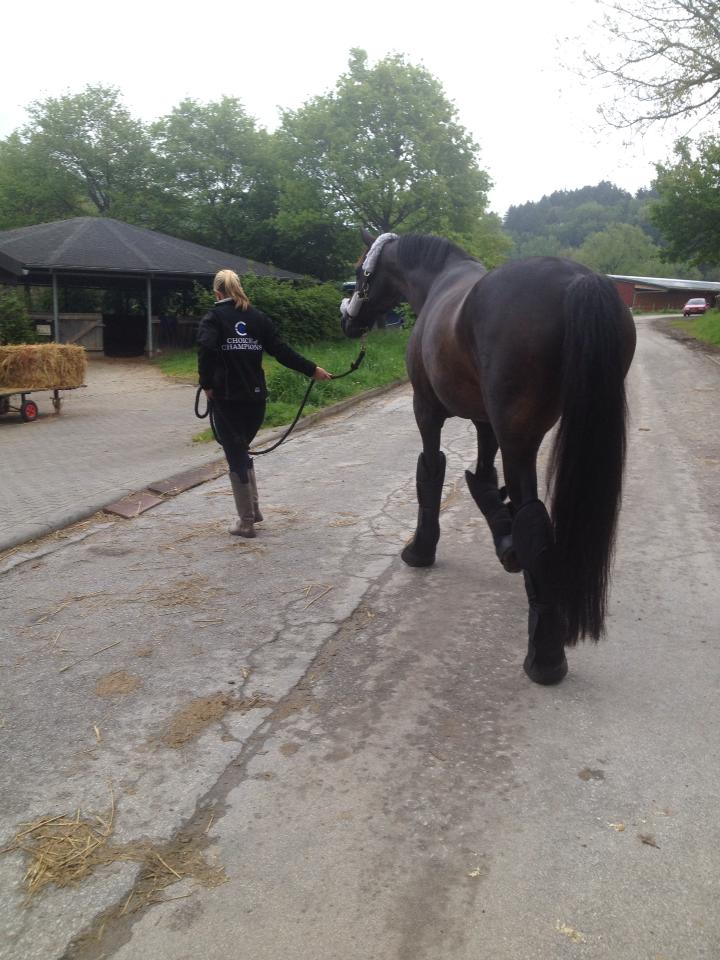 Destiny arrives in Germany.
Our first Grand Prix was at a national show in October at home in Wellington, Fla., and we scored over 70 percent each day. From there we competed in CDIs throughout the season, always placing in the top half. We showed our first four-star CDI in Wellington, earning world-ranking points, and debuted our Grand Prix freestyle under the lights in a night class at a Global Dressage Festival CDI.
After a successful season, we were invited to represent the United States on the CDIO***** team in Rotterdam, the Netherlands, in June. There was no question for me to accept this amazing opportunity, and in preparation for that and our next Grand Prix season, we headed back to Fleyenhof and Hubertus Schmidt.
After being a little lonely and out of place when I first arrived last year, this year I came prepared! I brought my 6-year-old gelding, Winchester, along to get ready for Prix St. Georges. I also coordinated to bring my 4-year-old in Germany to Fleyenhof, and in preparation to show I brought my new working student, McKenzie Jenkins, and a groom, Roberto Gallardo, to stay with the boys when we traveled away.
We were ready and excited for a big summer adventure. First stop was the CDI*** in Munich, May 28-June 1, then CDIO***** in Rotterdam, June 18-22. Then training, training, training and some to-be-decided shows in August.
Desi did not have much down time from the end of season before coming here to Germany. I gave him a few weeks of easier work, but he loves to work, so doing light work or having time off is not optimal for him; it will not elevate his performance or refresh his mind as for some other horses. We worked hard and diligently with Kevin Kohmann to improve our weak points, such as the pirouettes, and once arriving at Hubertus' farm, Destiny went straight to full work.
He was clearly happy to be back here. He settles right in and loves the summertime weather and is comfortable in the stall and the arena, even when it's busy. He loves Hubertus—I really believe his voice calms him—and Desi loves to work hard and be praised enthusiastically. Desi was phenomenal preparing for Munich. He felt incredible, his mind was totally focused, and we had our best work ever. We found the pirouettes, and even in the test training he was remaining calm and confident.
In Great Form
The day before we left for Munich, we had spectacular piaffe and passage. The ride was really right on, and we were very confident and ready for the show.
He always ships well, and he was fine at the showgrounds the night we arrived. I always travel with him so I am there when he gets there, as he really is a "mama's boy" and always relaxes and breathes when he sees me.
The morning workout before the jog was very good. Although the long trek to the arenas was very busy with jumpers, vendors, carriage horses and western horses, Desi stayed calm and looked but never got too upset. Once it was time to go to work, he stayed very focused, and Hubertus commented on how pleased he was that Desi was behaving exactly the same as at home and did not seem to be affected by the show as he had anticipated. He was perfect in all the schooling work, and the first passage was exactly where we left it the day before. It was so nice, my mom even grabbed her phone to video! (Although she is our biggest fan, she is also our biggest critic!) He really felt spectacular and right on with me.
At the end of the ride, we were practicing the passage to extended trot, and something was different. He mis-stepped in the extended trot and could not quite get his balance right. It was not normal and not a normal feeling for him. I stopped to discuss with Hubertus, and he said the horse was perfectly sound, but he completely respected my understanding of the horse and what I was feeling. We worked a few things through to make it better, and although it got better and he was not unsound, I stopped and said, "Something is not right."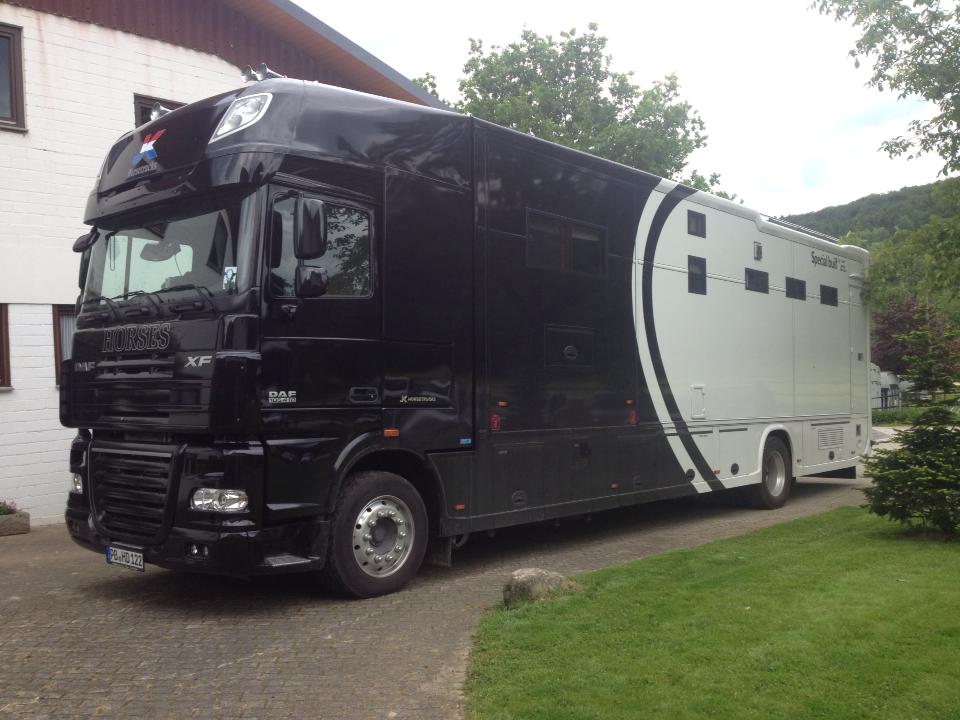 All loaded up and ready to show.
The good thing about having your horse from a baby and spending every step with him is that I know Destiny inside and out. My heart sunk, and I knew there was a problem, whether you could see it or not. He was sound, but I was far from convinced that he was perfectly fine. We made a plan to bring him back to the stable, let him rest, and much later that evening get him out again for a light work to see where we were.
While I was preparing him for the jog, I noticed something that was not quite right on his leg, and jogged him in hand for Hubertus. Again, he was not lame, but there was enough of something there that I knew what I had to do. I pulled him from the show.
Destiny will give me 150 percent even when he is not at his best, and I thought it was very possible for us to continue with the show, but if there is a problem and he is hurting, I owe it to Destiny and respect him enough to make the tough decision not to go further and cause damage to my horse. He is my horse for the future. He continues to get better and better daily, and with as much effort and trust as he gives me, I know him inside and out and am the only person who can make honest decisions for him. The risk of causing a serious injury for one show is not worth it.
It was heartbreaking to pull out of our first European CDI after working so hard to get there and being more than prepared. Hubertus was understanding and disappointed as well; he stood by me and Destiny patting him and consoling us for a long while.
After a full veterinary exam by one of the best and most respected veterinarians in Germany, we discovered the problem: a minor sprain that we caught before anything major happened. Destiny will recover 100 percent or more; the vet explained that sometimes the horse will be even stronger in the area after healing from the sprain, and he will not have further issues. It will, however, take some therapy and time, and I did not want to push him too hard or fast or try to mask it, so we decided to pull out of the CDIO in Rotterdam as well so the U.S. team would have adequate time to find another rider.
Focusing On The Positive
Timing… At first I thought, "Wow, the timing is terrible. This could not have happened at a worse time." But after the initial shock of emotions, I realized how lucky I am to have had it happen in Munich, where renowned Dr. Breems could see and treat him immediately, and that we caught it so quickly that nothing serious occurred. The timing was actually beneficial for Desi. There will be other shows and opportunities for us.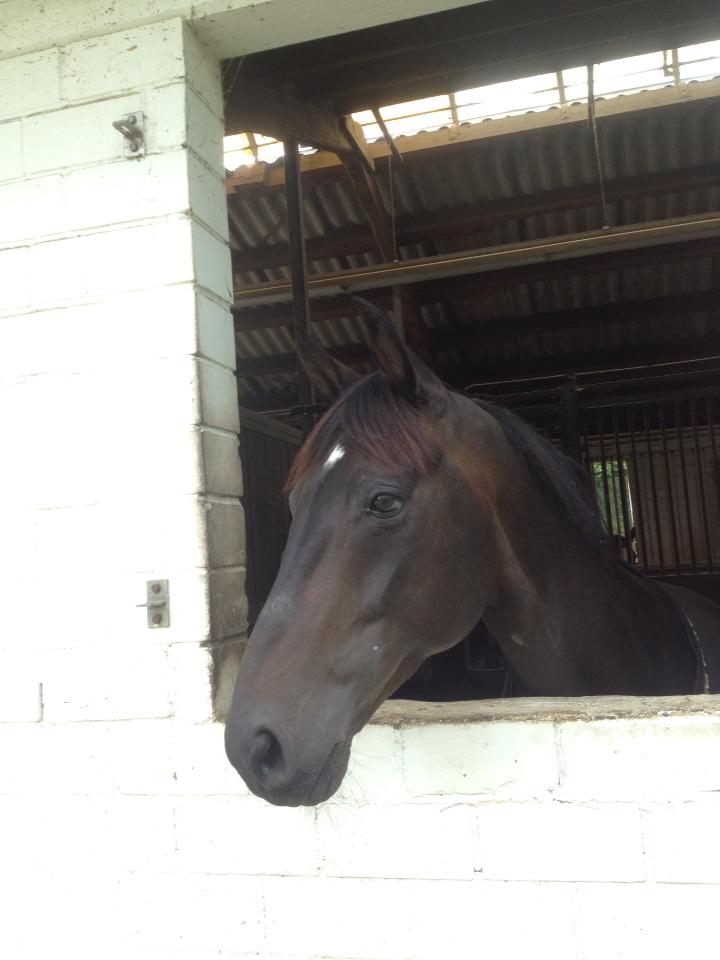 Despite a minor injury, Destiny is happy and already back in work.
Now what? I am so blessed to have a supportive trainer. The first thing Hubertus said to me after the vet evaluation was, "Devon, you will ride some of MY horses when we get back." And he meant his personal horses, not just anything in the barn.
Wow. That was a huge compliment. Hubertus has seen me riding for a few years now, and understands my work ethic and dedication. He gave me two or three of his Grand Prix horse to ride as soon as we arrived back at Fleyenhof. A few weeks later, I am still riding and working some of the nicest horses in the barn and sharing the ride with Hubertus on some very talented Grand Prix horses.
Destiny is perfectly comfortable here and in great spirits. When we arrived back at the stable, the barn staff had already hung a toy ball in his stall for him, and everyone came to give him pats and hugs for me.
It is a wonderful camaraderie between all the riders and staff here at Fleyenhof. Everyone is extremely helpful and supportive of one another. And while the quality and quantity of good riders and horses pushes you to work hard and constantly improve, everyone honestly wants you to be better and better. Hubertus and his barn manager, Britta Lienhardt, do an amazing job keeping a professional but inviting atmosphere.
Like I tell my son, you take what you get, and you don't get upset. I ride horses, and with the thrills and excitement comes the heartbreak. They do get hurt. All of them do. Having pity or feeling sorry for yourself does nothing but hold you back.
The horses respond to our emotions, whether we are letting them show or holding them inside. Having a positive attitude and remaining upbeat, even when it is difficult, is most important to keep Destiny happy and positive. Happy patients heal faster, and I am working hard on self-fulfilling prophesy right now. He will heal fast because he is so fit and strong, and he will be stronger than ever, and we will not have this problem again.
Destiny especially is extremely sensitive to my emotions. He picks up on everything. If I am having a bad day and cannot change my attitude, there is no point at all in riding him. The last thing I want at this point is to make him sad, upset, or God forbid, make him think he did something wrong.
I want to give him as much positive energy as possible and keep him encouraged. Now he is back under saddle and so happy to be working that he is behaving perfectly. He is anxious to work and literally chomping at the bit, but he is only doing what he is asked and keeping his inner dragon under control… for now!
The little letdowns in life are nothing more than detours, and sometimes you end up in a much better place and get to see sights you never would have noticed otherwise. You take what you get, and you don't get upset, and you always learn as much as you can from every experience, good or bad.
So now, Destiny is on the mend. My wonderful 6-year-old, Winchester, is up-and-coming for the small tour and gladly filling Destiny's lessons for the time being, and I am getting to ride world-class horses and watch Hubertus Schmidt ride and teach every day!
Not too shabby! Not exactly what I had planned on doing right now, but certainly not disappointing. I am a lucky girl 🙂