Long Beach, Calif.—Oct. 2
When Daniel Deusser was about to go in the ring at the Longines Masters of Los Angeles for his first class on Equita van't Zorgvliet he had a sudden realization: he'd never shown the horse indoors before.
But when crunch time came, that didn't matter, and "Equita" put all the pieces together to win the $377,500 Longines Grand Prix of Los Angeles.
"The adjustment was quite quick with her," said Deusser, who represents Germany but is based in Belgium.
"The first two days [here] weren't amazing: she had one down the first day and the last fence down yesterday, but today she tried really hard. I saw that on the West Coast they ride really fast, so I knew I had to try everything to beat [the time.] I was a bit lucky on the plank, but in the end she played the game today and she was amazing."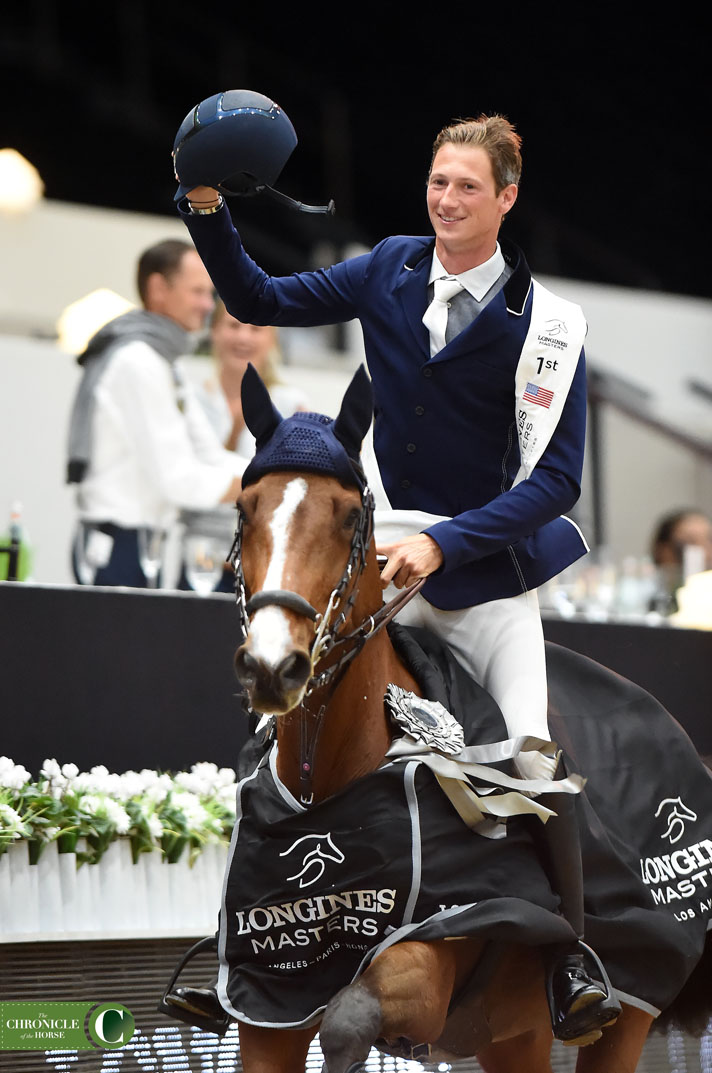 Daniel Deusser topped the Longines Grand Prix of Los Angeles on Equita van't Zorgvliet. Photo by Mollie Bailey.
Deusser and Equita took the top check over Egypt's Nayel Nassar and Lordano, with Harrie Smolders and Don VHP Z jumping to third for the Netherlands.
Thirty-five horses took a turn around course designer Uliano Vezzani's track, and 10 advanced to the short track, and Nassar, first to go, set the pace with a blazing round. Never mind the fact that he lost his stirrup midway through a rollback to the Longines double, he just kept kicking, and his longtime partner answered and left all the rails in the cups.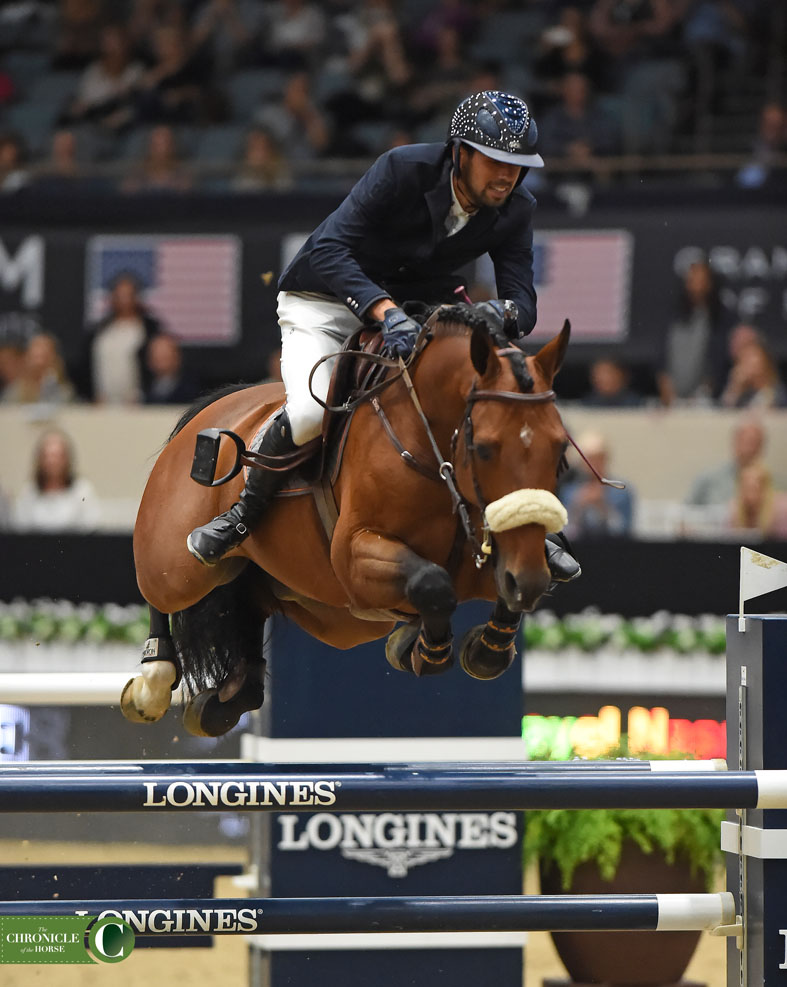 Even though Nayel Nassar lost his stirrup coming into this double, he stayed on form to finish second aboard Lordan. Photo by Mollie Bailey
"My plan was if I got a good [distance] I'd run up there in five strides, but with the whole stirrup thing going on I thought well let's just be safe and come home clean," said Nassar, who won the Longines Speed Challenge earlier in the week. "That's probably a place where I could have been faster, but I'm just so happy to be up here with these amazing riders.
"I gave him the best chance to be good today," Nassar continued. "He's such an incredible horse and incredible partner, and he just came through for me again."
Smolders gave good chase to the leader, but Don VHP Z, owned by the California-based Copurnicous Stables, didn't keep up his pace through the turns.
"For me it was really hard today—those rollback turns are difficult for my horse and he really slowed down some through there," said Smolders. "I think I really had the ideal line; I just think Daniel did it a little bit better."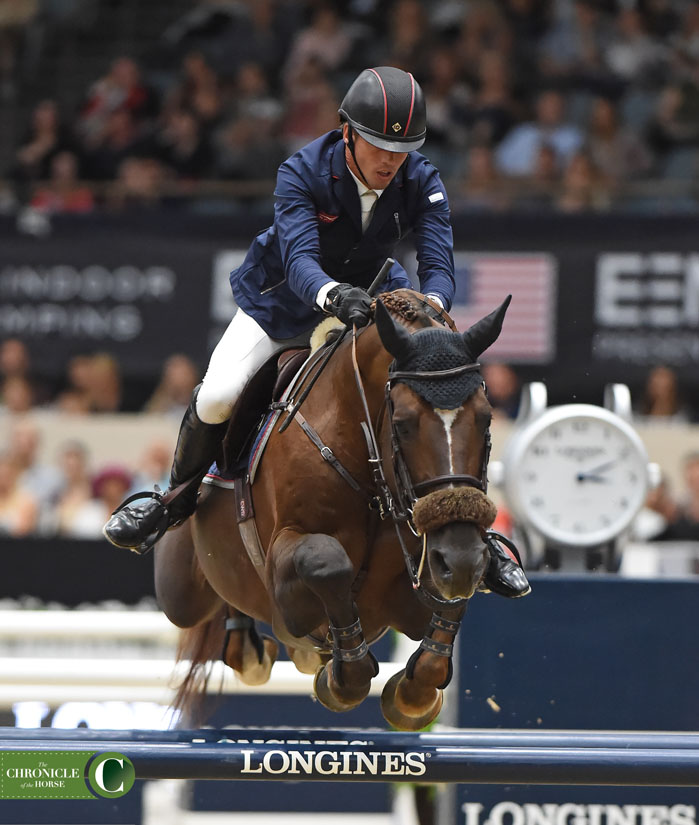 Harrie Smolders and Don VHP Z jumped to third in the Longines Grand Prix of Los Angeles. Photo by Mollie Bailey
Nassar's lead held up until Deusser came in toward the end of the order. His mare nailed a few tight rollbacks to stop the timers nearly a second faster than Nasser, giving the win to the German Deusser, who's still glowing after helping Germany win the Furusiyya FEI Nations Cup Final (Spain) last weekend.
Deusser just paired up with Equita, a 12-year-old Belgian-bred Belgian Warmblood (Cassini I—Ulive van't Zorgvliet, Darco) in May. With his Longines FEI World Cup Final-winning partner Cornet d'Amour still coming back from an injury (he's just started jumping at home) he was short a top horse.
So decided to give Equita, owned by his sponsors Stephex Stables, a try. He hopped aboard once at home, then they went straight to the Global Champions Tour of Madrid CSI***** (Spain) where they jumped respectably in the biggest classes at the show. Before long they won two classes at the Knokke CSI***** (Belgium) and they haven't looked back.
Deusser will have the chance to earn a serious bonus—€2,250,000 to be exact—should he win the signature classes at the other two legs of the Longines Masters series in Paris and Hong Kong. While he'd already put those shows on his schedule, now he's got an extra reason to attend.
Want lots more photos? Click here.
You can find full results on the Longines Timing website
Did you miss yesterday's costume Charity Pro Am? Stop what you're doing and check out the pictures. Plus we have lots more from the Longines Masters of Los Angeles.
For full analysis and lots more from the Longines Masters of Los Angeles, check out the Oct. 17 issue of the magazine.