Hailey Salita was eating dinner at Local Feed in Georgetown, Kentucky, fueling up between rides at the Kentucky Horse Park and preparing to compete in the 2020 USEF Pony Finals in a few days—a goal five years in the making—when the email came: Due to several COVID-19 cases reported on the show grounds, the U.S. Equestrian Federation announced, Pony Finals were canceled.
Salita's disappointment was shared and all too understandable for her mom, Laurie Alberts Salita, and her trainer Hanna Myrdahl, who sat at the table with her, reading the email.
"Since we got Questionable Encounter five years ago, Pony Finals has always been our goal," Hailey said. "It was supposed to be one of my last hurrahs with 'Justin,' and I was a wreck at first. All of us were tearing up."
But now, almost year later, Hailey, 14, has a different perspective.
"Pony Finals getting canceled was honestly one of the best things that happened to me," she said. "I was able to strengthen my riding skills for another year, and I got a whole extra year with my pony. I ride a lot better now, and we both have more experience so we can do better at this year's Pony Finals."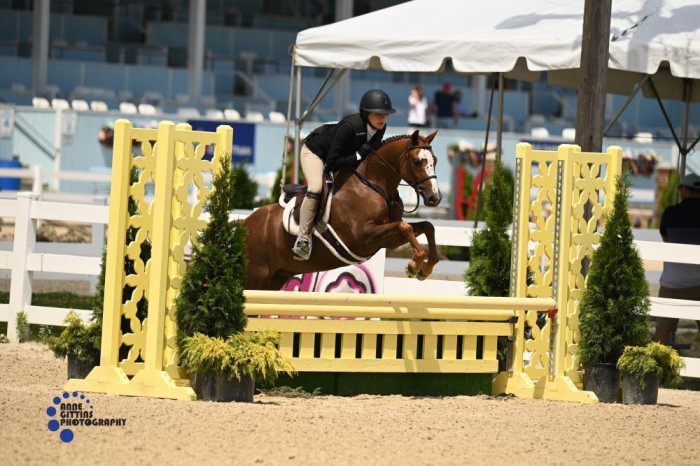 When the Salitas, from Malvern, Pennsylvania, decided to purchase Justin (Midsummer Knight's Encounter—Farnley Christabel), he was turning 3 and only had 30 days under saddle. The medium pony, now 8, was bred by Susan Hansen of Blacksburg, Virginia.
"Our previous trainer really liked Encounter ponies, so we originally bought him as an investment pony," Laurie said. "Our plan was to put some training on him and then potentially sell him. He had such a wonderful personality, fancy step and willingness to learn that we all fell in love with him."
At the time of his purchase, Justin's registered name was "Just In Time Encounter." Hansen named him that because when Justin's dam was foaling, Hansen made it to the barn just in time for his delivery. But Laurie and Hailey decided that they wanted a name with a bit more character. His unusual, question-mark-shaped blaze inspired his new show name, "Questionable Encounter."
"I love him so much, and he is adorable," Hailey said. "At first, it was a little frustrating because he was so green, but you could not stay mad at him for long periods of time."
For most of their time together, Hailey has been Justin's main rider.
"Up until this past year, I could count on one hand the number of times a professional has sat on Justin," Laurie said. "Hailey has done most of the riding with him. At the big shows, Hailey was one of the only kids warming up her pony while many other competitors just jumped on after their trainers tuned the ponies up."
Hailey and Justin started in the short stirrup division, where they found themselves on a steep learning curve at first.
"As it goes with green ponies (and especially when they're ridden by green kids), we had good days and bad days," Laurie said. "We had trouble with lead changes for years. We had challenges finding distances and turning. Once, Hailey jumped him right out of the ring! We threw all kinds of things at Justin, and he handled everything in stride, slowly improving day by day."
Despite sometimes feeling as if they were taking two steps forward, one step back, the pair improved over time, eventually winning several short stirrup championships, year-end series awards, and Pennsylvania Horse Show Association awards.
As Justin gained experience with Hailey, Laurie began to second-guess the plan to sell him. The family had put out word that he was for sale with a few local trainers, but the day another child came to try him was the day the Salitas decided he was off the market.
"Hailey and I watched him go around with this girl, and he was perfect for her the whole time," Laurie said. "We both decided right then and there that we didn't want to sell him after all."
Hailey was 9 at the time and set her sights on qualifying him for Pony Finals one day. But they still had a long way to go, literally.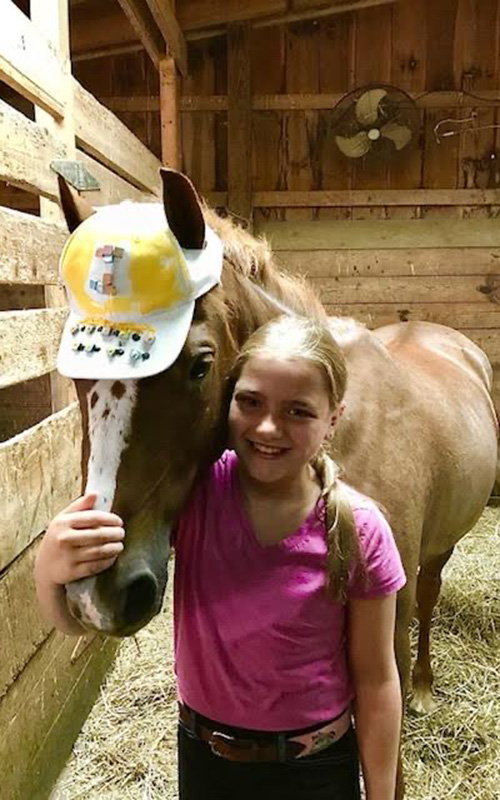 "The most frustrating part of having a green pony is getting all of the mileage," Hailey said. "It can be disheartening when you don't get a ribbon because you're on the green pony. I was trying to get my pony acclimated to everything while the other kids were winning on their made ponies. But when I look back now, it was so worth all of that experience."
When they moved to Myrdahl's barn, HM Sporthorses in West Chester, Pennsylvania, a year and a half ago, Myrdahl helped Hailey connect the pieces of the puzzle for her flatwork. At the time, she was struggling to get lead changes consistently, and Myrdahl immediately put her to work.
"At first, she was so worried about missing the changes that she would psych herself out and just not even try sometimes," Myrdahl said. "I reminded her that a good show round is made up of all facets of the course; it's not just the jumps. It opened up her eyes to the technicalities of riding a course: ride straight lines, get in the corner, don't let him bulge. She has worked really hard for that."
To help with the changes, Myrdahl also rode Justin some herself.
"I said to Hailey at one point, 'You need to let me help you,' meaning that I needed to get on her pony and teach him so he could help her," she explained. "Justin has a beautiful natural lead change. Just those couple of pro rides really helped Hailey understand what I was saying and how to ask Justin properly for the change."
Hailey credits Myrdahl for instilling a drive to pay attention to the little details.
"I talked with Hanna daily so I could make my lead changes better," Hailey said. "My pony can do them; I was the one making mistakes. We took it back to basics, and I learned everything really slowly. Now his changes are auto."
"Hanna has been very instrumental in helping Justin develop a more balanced flatwork routine," Laurie said. "It has helped their performance so much, and Hailey is a better rider because of it."
It took Hailey four years, but she finally achieved her goal in 2020,  qualifying for the medium green pony division in three horse shows amidst COVID-19 cancellations and restrictions.
"I remember coming out of the horse show office with my reserve champion ribbon, and my mom and I were tearing up," she said. "That was the most rewarding feeling for sure."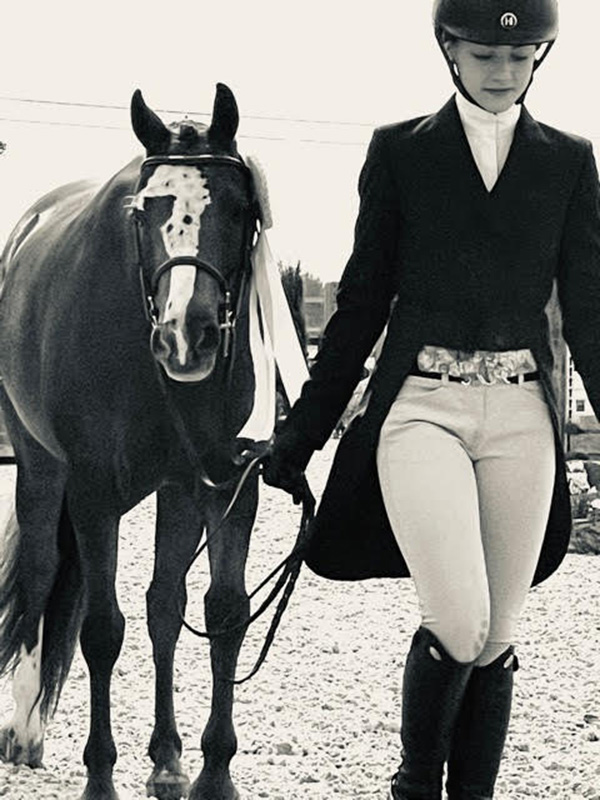 In order to prepare for 2020 Pony Finals, Myrdahl had Hailey doing lots of flatwork with Justin to keep him fit and strong.
"We did a lot of flatwork to prepare for Pony Finals, but I also trailered him to different places to trail ride him and get him out of the ring," Hailey said. "Every athlete needs a mental break once in a while, including me. If I feel like I need a break, I go hang out with friends, watch a movie, or play a different sport."
In addition to focusing on fitness, the Salitas also decided to try eating healthier.
"As a family, all of us realized that this sport is going to be what both of my daughters want to do for years to come," Laurie explained. "The girls need to be athletes. You need to be able to build muscle to be strong and healthy. We started eating healthier foods to aid in proper nutrition for our bodies."
After making the nine-hour trip to the Kentucky Horse Park for the 2020 Pony Finals, Hailey got right to work riding Justin around and getting him acclimated to everything, including the cross-country field. Out of the saddle, she watched videos of her previous show rounds.
"I took all the positive pieces and tried to figure out how to bring them to the show ring at Pony Finals," she said. "I like to visualize and plan my course with a lot of detail."
The week before Pony Finals, they competed in the children's medium pony division at the Kentucky Summer Classic, held at the horse park. Then came the cancellation email from USEF.
"I tried to reassure her the best you can in a situation like that," Myrdahl said. "Hailey was sad for a day, but she bounced right back."
Because they had competed in only three shows at the medium green pony height, Justin was eligible for reinstatement, which meant the pair could have another shot at qualifying for 2021 Pony Finals.
Fast forward to this year, and they qualified again with multiple tricolors. However, the year has brought its own challenges.
"Hailey went through a growth spurt, and her upper body is pretty tall on Justin now," Myrdahl said. "I had to reteach her how to ride without throwing her upper body. I wanted her to be aware of what her body was doing and what her pony was doing beneath her."
Hailey has enjoyed spending the extra year gaining more experience.
"We did a lot of the same prep this year, but we also added more gridwork and flatwork," she said. "Those exercises would have been so incredibly hard last year, and they are easy for both of us this year. It's all about progress."
For Myrdahl, instilling confidence in her young riders is a high priority.
"Hailey's whole heart is in horses, and you don't see that type of passion much anymore," Myrdahl said. "If Hailey goes in to give Justin the best ride she can, I will be thrilled with her no matter what the outcome. She's worked so hard to get here."
After Pony Finals, Hailey doesn't have immediate plans for Justin; she wants to focus first on this experience.
"I just want to have fun with Justin in Kentucky," she said. "He's worked just as hard as me. If we do well at Pony Finals, I want to give him time off. He deserves time to just be a pony and enjoy life."