Mill Sping, N.C.—Oct. 10
When it comes to equitation, Grace Debney has been on a roll. She came to the Dover Saddlery/USEF Hunt Seat Medal Final fresh off a wire-to-wire win in the Gladstone Cup at the Adequan/USEF Junior Hunter National Championships—East Coast (Michigan), and today she topped the preliminary round.
Debney, who trains with Stacey Weiss, Samantha Schaefer and Kate Conover of Shadow Ridge Farm, showed off classic style while laying down a masterful trip around the 11-fence course, beating out 204 other competitors to head into tomorrow's second round on top.
Judges Ralph Caristo and Rachel Kennedy partnered with course designer JP Godard to design a deceptively tricky track.
The course started over a long run to a single oxer with plenty of fill off the left lead. After riding through the corner competitors jumped the outside line away from the gate, an airy vertical with Dover standards and no ground line to an oxer in four strides. Riders turned back through the corner to Fence 4, a natural-looking post-and-rail with no standards, then rode through the corner to an oxer at the end of the ring. Fence 6AB was a one-stride in-and-out set on the rail, then riders went in a broken line to a skinny vertical with no ground line in seven or eight strides. Riders turned right to an airy Swedish oxer, then had a long broken line to a two-stride birch in-and-out, labeled 9AB. Riders then went through a corner to the final five-stride line, an airy vertical to an oxer.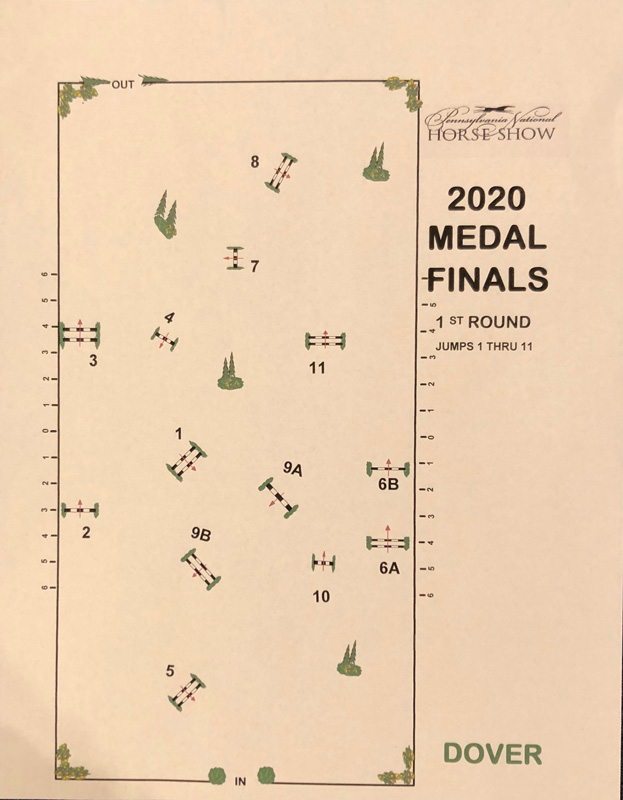 "Today I felt really good about [my ride]," said Debney, Hampden, Massachusetts. "I really trust my horse and I know him so well and I think that's what really helped me around this course. When things got a little tricky in some of the lines he really helped me out. And I felt really good coming out, really comfortable with how my ride went today. I'm looking forward to trying to come in as confident as I can tomorrow and just try to have fun because I don't want to put too much pressure on myself."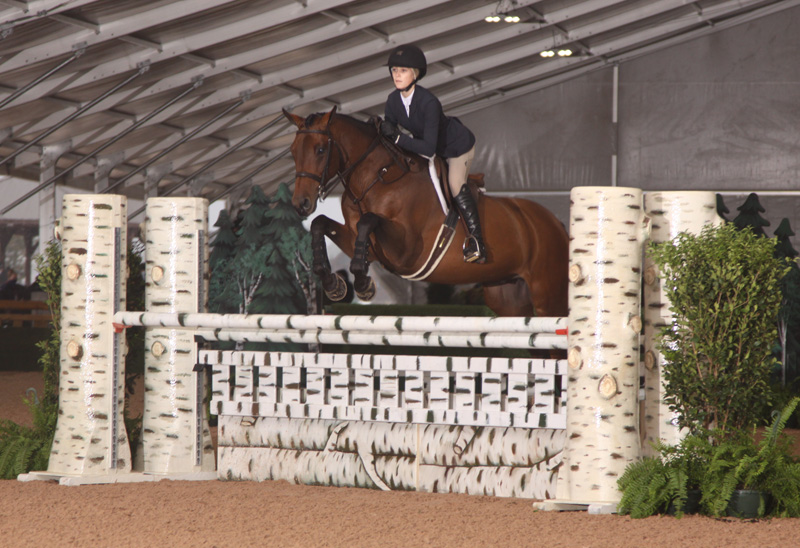 Debney, 16, paired up with her mount, Quimby, two years ago.
"We both started our equitation careers together," she said. "So I really think that Quimby and my relationship has come really far in the last couple months. We had a great winter but ever since then we've had gotten even better. I want to continue to be consistent on him and not put pressure on him because he's been amazing all year."
Twenty-five riders qualified for tomorrow's second round, which will start at 9 a.m. EDT. Here they are in reverse order of preference (i.e. the order in which they will work tomorrow):
1 Maeve O'Donovan
2 Kierstin Antoniadis
3 Alexia Rule
4 Maggie Hill
5 Texie Loyd
6 Tessa Downey
7 Mackenzie Carreras
8 Ashleigh Scully
9 Gigi Moynihan
10 Cara McFadden
11 Mimi Gochman
12 Rylee Shufelt
13 Celia Cram
14 Dominic Gibbs
15 Eva Fisherman
16 Annalise Manoog
17 Augusta Iwasaki
18 Madison Rauschenbach
19 Skyler Fields
20 Elli Yeager
21 Zayna Rizvi
22 Natalie Jayne
23 Sam Walker
24 Taylor Griffiths-Madden
25 Grace Debney
Be sure you're following The Chronicle of the Horse on Instagram, Facebook and Twitter @chronofhorse.
Get a full analysis of the Dover Saddlery/USEF Medal Final in the Nov. 9 issue of The Chronicle of the Horse magazine.