Lexington, Ky.—Aug. 10
The pressure for any rider heading into the over fences at USEF Pony Finals is immense. It's a big ring with plenty of atmosphere, and there are few opportunities for them to compete in it. Not to mention there's just a single jumping round—it's a make it or break it situation, no time for second chances.
Add in being ranked on top and will be the last to show, and the pressure scales up just that much more. That's exactly why Grace Debney was thrilled that Lafayette Park was ranked fifth following the model and under saddle for the large green pony hunters.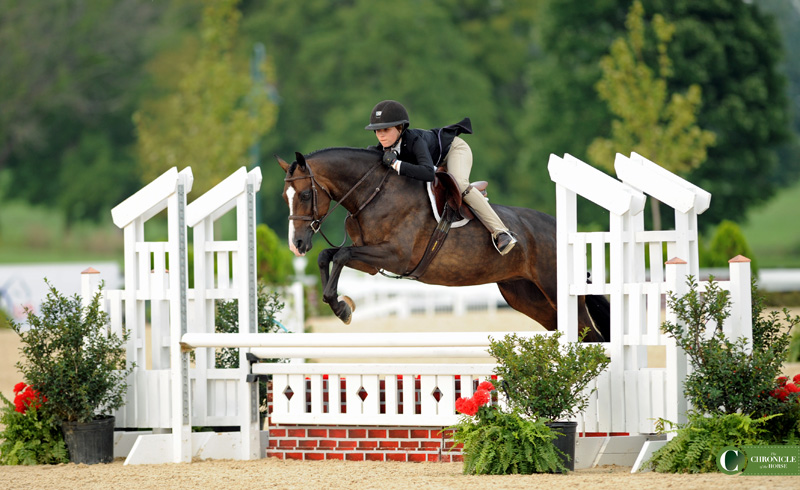 "I definitely didn't want to come in first because I hate that, but I just wanted to go in no pressure because he has been so good this whole year," said Debney, 14. "I was just going to be proud of him either way."
Turns out Debney had nothing to worry about. With scores of 84, 84 and 85 from the three judging panels, she and "Jake" took over the lead in the championship, winning on an overall score of 1018.85. Kierstin Antoniadis rode Pokerface to the reserve title. Debney's performance was good enough to also give her the reserve green pony hunter title behind Samantha Takacs and Galianna, who took the medium green title.
"I think it's just really special [to win at Pony Finals] especially on this pony because I actually took him home for a while and trained on him with my home trainer Leslie Ricardo, so it feels really special to be able to train on him myself," said Debney. "It feels really good."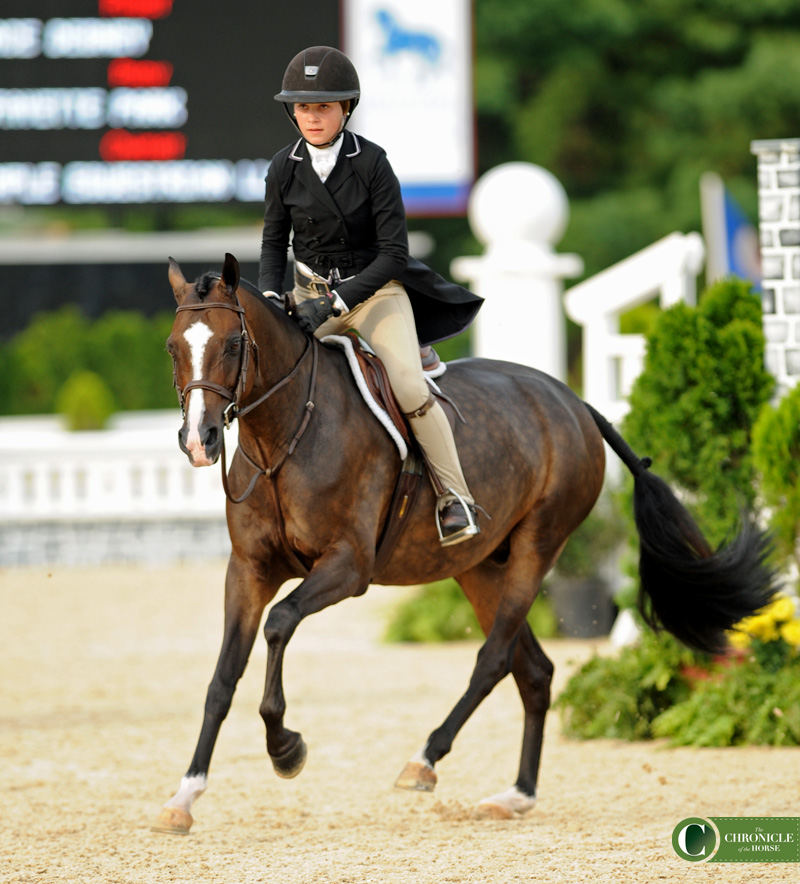 The 11-year-old Welsh Pony cross previously had a career as a short stirrup and children's pony with Margaret Frank. He then sold to Monica Hunt who asked Debney to catch ride him during the winter circuit in Ocala, Florida. Debney ended up falling in love with the affable gelding and purchased him herself.
"He's just so fun," she said. "He has the best gallop; he never changes his pace, which really helped us out a lot. Really he's super brave, but if he ever has a moment where he's a little spooky I just tell him he's fine, and then he's totally over it."
Watch Debney's round, courtesy of USEF Network:
Debney brought Jake home to Massachusetts and kept him at her house through the beginning of July. After that he headed to her show trainer Stacy Weiss at Shadow Ridge Farm in Bedminster, Maryland, in the lead up to Pony Finals.
"Every time I ride him [at home] I was pretty much the groom for him," she said. "We fattened him up for Pony Finals, and I worked on getting a lot of muscle on him. It's been a really good experience for me, learning how to groom a horse like that. You really get to know their personality when you're with them every day grooming them like that."
Full results can be found here.
Don't miss any of the Chronicle's Pony Finals online coverage, with behind-the-scenes stories, lovely photos and more! Be sure you're following along on social media as well, @chronofhorse on Facebook, Twitter and Instagram.