My name is Ketki Hotaling, and I am an Indian American show jumper. I was adopted by two women in Minnesota while I was still an infant. One of their vet technicians invited me out to the barn to see her horse when I was 3, and the rest is history. I was hooked immediately! I began to visit the barn (my sanctuary) at least twice a week. It was the place where all dreams come true.
Sadly, my sanctuary wasn't always the place of safety and security. Almost immediately I was told, "You stand out. Always be on your best behavior." I didn't understand these instructions at such a young age, but as I grew up in a predominantly white area, I quickly understood.
The first time I realized that the color of my skin is such a presence in the equine industry was when I was hand walking a bay school pony after a weekend schooling show. Three other riders pointed out that "she [meaning me] could switch spots with that pony, and no one would know the difference."
I proceeded to smile and wave at them during my laps with the beautiful bay school pony in tow. Already a Type A personality (those who know me will attest to this), I gave showing and learning new skills in and out of saddle 120 percent. After this encounter I realized that my all would never be enough, and so I became obsessed with being perfect.
As time went on, I began to get more invested in the hunter/jumper show world, and with that came new trainers who could help me move up the ranks. Sadly, over the course of 15 years, I never felt fully welcomed into each of the new barns I joined. Always the working student or person who paid off lessons by cleaning stalls, I didn't really fit in with the other riders. With each barn came the new hope of inclusion, and each time I was proved wrong. As people got to know me, small comments (with accompanying facial expressions) were made constantly such as:
"That's your mom?"
"So you don't have a dad?"
"So you're not just a groom?"
"Oh, you just look like the barn help"
"I'm sorry, I didn't know you spoke English"
Each time I answered those questions, interactions became uncomfortable during and after the conversations. The barn was supposed to be my safe space, not a place to feel awkward and hide who I am! So I bounced from trainer to trainer in Minnesota, never really finding a true sanctuary at a show facility until I came back for a summer after my first year of college. Arriving at a well-known facility as a working student, I dreaded the day anyone would find out anything about me outside the barn. For the first month, I was careful never to share the details of my personal life with the trainers. After a long week of working student duties, I accidentally let slip the phrase "my moms" instead of "parents." I cannot even possibly convey the amount of fear that washed over me as I sat, dreading the inevitable. But then…
"Did you say your moms?"
"…Yes."
"No way! I can't wait to introduce you to Tom! He has two moms too! We call him Two Mom Tom."
The rest of the evening passed as if nothing had happened, and I nearly started crying. Finally, after 16 years, I found a barn where I was fully accepted by the trainers and clients! It was official. I was, at last, part of a barn where I have never been discriminated against by trainers or clients because of what I look like or the composition of my family. For this, I will be eternally thankful for them.
Unfortunately, not all of the barns I've been at recently have been as welcoming. Since going to college, I worked for a wide variety of barns and some of the best trainers in this sport with the goal of one day becoming a professional. While working for a well-known trainer in Ohio, I was left stranded in Kentucky after being told I was "never going to be good enough, nor serious enough for the sport." Seventeen years of putting immense pressure on myself to be the best I could be, despite the deck getting stacked against me, and here was a sought-after trainer telling me I wasn't good enough.
Was this something I had done? No, it couldn't be. All that week I had received glowing praise on my work prepping these horses. Was it a race issue? Looking back at it, I remember small comments (that I should have caught sooner) suggesting race was indeed a high contributing factor. But I got caught up in the fact that I was working for a trainer whose family is wildly successful and popular at the World Equestrian Center, with lots of horses at the shows, and I got to ride them.
I landed on my feet with an Olympic medalist and world-renowned trainer. He took a chance on me, and two weeks later, I was headed to Spruce Meadows (Alberta) with them. It was his team that helped me regain the confidence in myself that I belonged in the hunter/jumper world.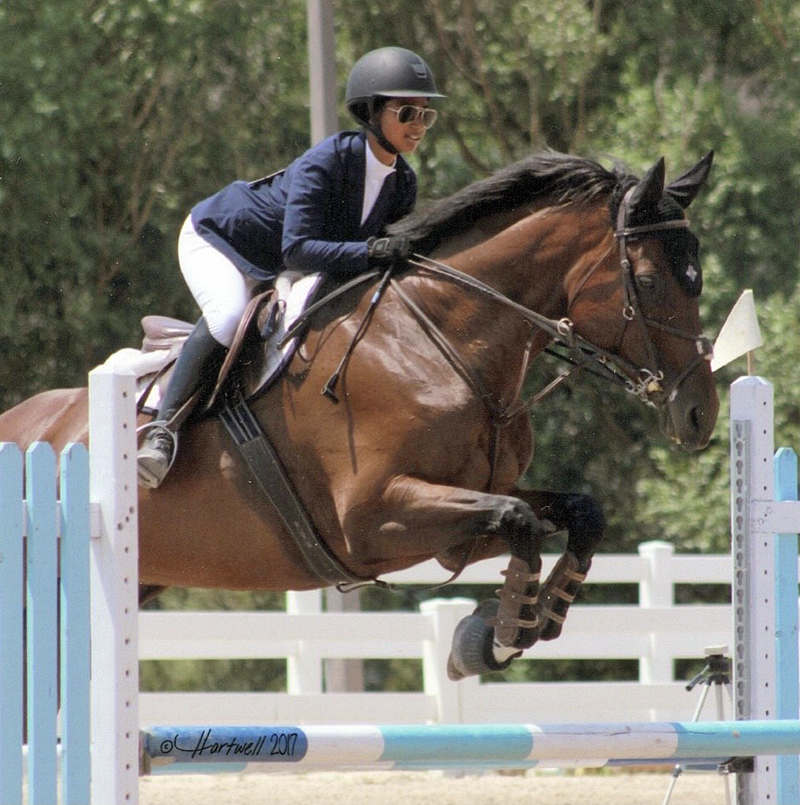 Sadly, my setbacks were far from over. I returned to college, fresh off of a summer of once-in-a-lifetime experiences, where a new coach had begun in the program. A coach who was openly hostile to me on a weekly basis.
Now, I am the first to admit I am an "acquired taste" to say the least! Overeager to please, constantly working to prove myself, especially after the summer I had just had.
But here was a U.S. Equestrian Federation-rated official who attacked my character each time we interacted. I thought at first I was just being overly sensitive; maybe I needed to give people more of a chance. After reaching out to a few of my teammates and fellow officers, I was assured I was not being overly sensitive. I was given feedback from fellow riders, intercollegiate competitors and underclassmen who had noticed how differently and disrespectfully this coach treated me.
Again, race seemed to be the only logical explanation that came to mind, as I was the only person of color in the program at the time. I never heard about such negative interactions from anyone else, so what else was left for me to think? Just as I had begun the process of gaining my confidence back, the feeling of safety, happiness and peace was stripped away and replaced by anxiety and fear.
This is not an uncommon occurrence! In the last 20 years, I have been a member of numerous barns, Olympic caliber dressage and show jumping facilities, A and B circuit show farms, and even a school of equine studies. Of all these barns, I can count on one hand, the number of facilities where I never felt fear or discrimination because of the color of my skin, or had any negative comment made against the color of my skin.
One. Hand.
As students, we will undoubtedly encounter obstacles that shake our confidence, but these obstacles should NEVER be the trainers or professionals in this industry, nor our fellow athletes and competitors. For many of us, the stables are our sanctuaries, the place to unwind and leave the turmoil of life at the door. These are places and mindsets to be protected and preserved, not a place of anxiety and fear!
This last year, we have all seen an influx of cries for justice regarding racism in the industry. Articles and opinion pieces have been published, but many people are left wondering, "What can I do about it?" There are small things that anyone can do to make this sport more welcoming on every level:
Put yourself in the shoes of the people around you. Are you saying anything that could potentially be interpreted as discriminatory? It is far too easy to dismiss racism and discrimination by simply saying, "Oh, it wasn't meant in that way," because it is the easy and comfortable thing to do. Please understand that just because you didn't mean to make insinuations, some of us will always question if race was an unspoken part of a conversation or interaction.
Take a stand against any form of harassment in our sport. It will take copious amounts of courage and strength, but it can be done. Last spring, many people were very upset with the article written by Sophie Gochman regarding white privilege. She made the bold declaration that "I will work to tear down the dazzling structures that uphold my privilege. I'm not asking for applause or attention, but change." Not many people of her age (or in general) have the guts to stand up and speak out the way she did. You can say what you like about her article, but her actions took guts and courage that grown adults don't have. And for this, I will honor her bravery. Sophie if you are reading this, I would like to thank you.
Get to know each other! Meet new people at shows, clinics or even the tack shop. Learn about their background. You might just make a new friend along the way. Learning about new people helps expand your knowledge of other communities and the people they include.
Trainers and professionals: Do you have a Zero Tolerance Policy in regards to discrimination in your barn? If not, would you be open to implementing one? If so, how will you enforce it amongst your students? How much do you actually know about your riders? Is it possible that you could get to know their backgrounds outside of the stable?
World-ranked riders: Are you willing to take a stand against racial discrimination in our sport? Will you encourage your fans to do the same? There has been a startling lack of supporting inclusivity by top athletes in the sport.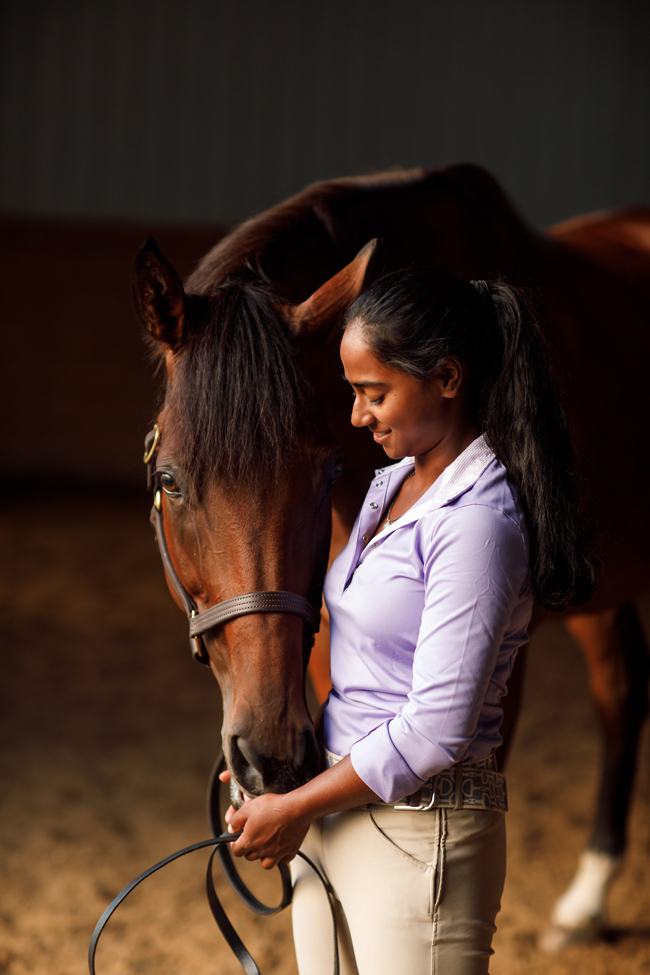 This is the time for each and every single one of you reading this to open your eyes. Accept diversity; accept the idea of getting pushed out of your comfort zone. I know firsthand how uncomfortable these conversations are. It is no longer an option to not have these discussions. Riding is a world of happiness, a safe space for so many; we can do so much more to make it so!
I hope by sharing my story, more people will have the courage to speak up about discrimination. This sport should be welcoming to all with no unspoken rules. Regardless of a person's race, socioeconomic background, sexual identity, gender or religion, they belong in this sport if they so choose. I sincerely hope that more people will embrace this idea and do all they can to embrace inclusivity and positivity.
I do not speak for all people of color in this sport. I am merely looking to draw awareness to the issues I have experienced and witnessed. I am therefore asking each and every one of you to do your part. Even doing one of the five suggestions will help. Change does not happen overnight. It will take time. So let's start now. Together.
---
Ketki Hotaling, 23, has been riding since the age of 3. With an extensive background in dressage and show jumping, Hotaling is hoping to someday return to upper-level show jumping sport upon regaining confidence in the ring. A recent graduate from Lake Erie College (Ohio) with a bachelor's degree in political science, Hotaling is working toward a career as an advocate for victims of human trafficking and civil rights.